This Christmas Pavlova Wreath is my favourite and go to Christmas Dessert. It doesn't feel festive until I have made one of these beautiful Pavlovas.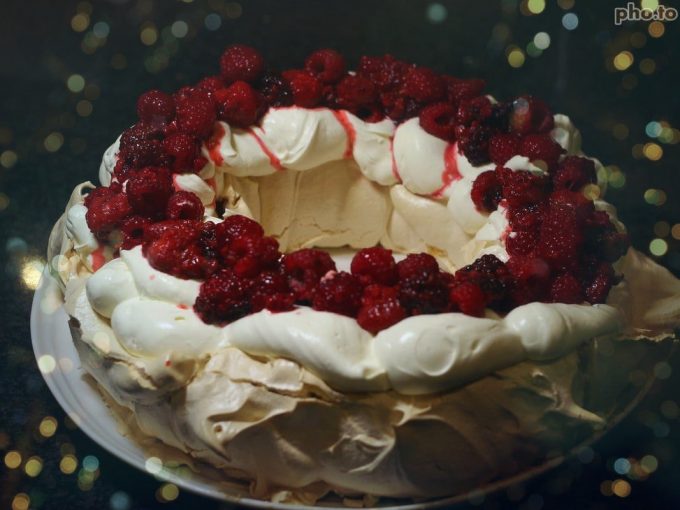 This Christmas Pavlova Wreath is just delicious and so effective. A real show stopper of a dessert. Just what you want to put on your Christmas Table for lot's of "Oooohs and Aaahs.". On top of all that it is really quite simple to put together. At a time that is fraught enough it really is just what is required.
But first…….some Xmas panic….
I am engulfed in a pungent cloud of Christmas panic. I can hear the hours ticking away and I simply DON'T KNOW if I have managed to get my Christmas sh.t together. Such is my perimenopausal brain I fear complete catastrophe at any time. I seem to have become able to completely forget large and important facts sometimes in the space of an hour. The said facts that are forgotten are no longer in the background hovering about anxiously awaiting recollection, they simply do not exist any more in my brain. They are gone, leaving neither trace nor skidmark behind. When the realisation does come that I have forgotten something as big as a house I become convinced of brain disease.
So I am most anxious as the big day looms. It is entirely possible that things will go to hell as I look about wildly (meerkat), my mouth opening and closing (goldfish) as I furrow my brow in disbelief that I could be that clucking stupid………..Lists don't help as I lose or forget them when their moment is up. I cannot remember the last time that my shopping list ever made an actual trip to the supermarket. The same can be said for any calendar or diary that I attempt to use to track or plan my movements……………..Perhaps I should just put the turkey on my head and be done with it.
I will of course attempt to put my best foot forward and forge blindly ahead, leaving a trail of sellotape and empty cardboard rolls in my considerable wake……but I won't be at all surprised if……. "What do you mean there's only a Satsuma for the children?"
Anyways here's hoping that you all have a truly wonderful Christmas and if it's a bit pants then you still get to fill your face with some really, really good food……..or crisps
This recipe for a Christmas Pavlova Wreath is a simple Pavlova recipe blobbed around a bowl. It looks fabulous and is perfect for a Christmas dessert. I love to eat it for breakfast if there are any left overs the next day. Bizarrely I love it with coffee. But let there be no mistake here there are only leftovers if I have over catered, for this is always a big crowd pleaser and I always have seconds……..Fatty Xmas Bum Bum….
IF YOU LIKE THIS RECIPE THEN YOU MAY LIKE THESE
Chocolate and Raspberry Pavlova
White Chocolate and Raspberry Roulade
White Chocolate and Raspberry Cheesecake
Easy Pavlova Wreath Recipe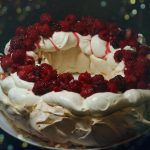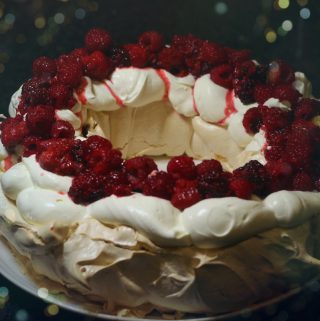 Christmas Pavlova Wreath
This is incredibly good. A pudding that looks as good as it tastes. I use the unrefined caster sugar here as I find it gives a wonderful flavour to the meringue. This is a stunning addition to any table, Xmas or not.
Total Time
1
hour
30
minutes
Ingredients
5

medium

egg whites

300

grams

unrefined caster sugar

1

tsp

cornflour

1

tsp

white wine vinegar
Topping
400

grams

mixed berries

frozen

50

grams

caster sugar

500

mls

double cream

150

grams

fresh raspberries
Instructions
Preheat the oven to 150 C. Whip up the egg whites in a free standing mixer or mixing bowl and electric whisk. Whisk until frothy and quite stiff.

Add the sugar by the tablespoon. It is quite a pain but necessary. Add the corn flour and vinegar. Whip until the meringue is very stiff and glossy. About five minutes.

Using a bowl on a lined (I use bake o glide) baking tray pile the meringue around the bowl in a circle. Then carefully remove the bowl. Your fingers will get covered in meringue but sculpt the meringue back afterwards. Flatten the top of the pavlova a little to form a wide enough platform for the berries and cream.

Bake in the oven for an hour. Remove and leave to cool gently. If poss leave it in the oven after you have switched it off and let it cool there.

In a saucepan place the frozen berries and the 50 grams of caster sugar.Heat gently until the sugar has melted. Taste to see if more sugar is needed. Allow to cool and add the raspberries.

Whip the cream until soft peaks. Be careful not to over whip.

Once the pavlova is cool, carefully peel off the liner and transfer to serving platter. Be brave! The cream will hide a multitude of sins.

Carefully pile on the cream, followed by the berries. If you are serving later in the day, leave the berries off until then or they may bleed like a drunken women's lipstick (mine) into the cream.

Apply to Addled Face.
Nutrition Facts
Christmas Pavlova Wreath
Amount Per Serving
Calories 344
Calories from Fat 162
% Daily Value*
Fat 18g28%
Cholesterol 68mg23%
Sodium 44mg2%
Potassium 106mg3%
Carbohydrates 43g14%
Protein 3g6%
Vitamin A 755IU15%
Vitamin C 5.2mg6%
Calcium 40mg4%
Iron 0.2mg1%
* Percent Daily Values are based on a 2000 calorie diet.
I have linked this post up with Cook Blog share over at https://recipesmadeeasy.co.uk