This No Bake Caramel Cheesecake should come with a warning. It is that good, never mind simple. Just three ingredients are all that are required to provide a silky caramel sensation. Seriously, Serious Lush ness.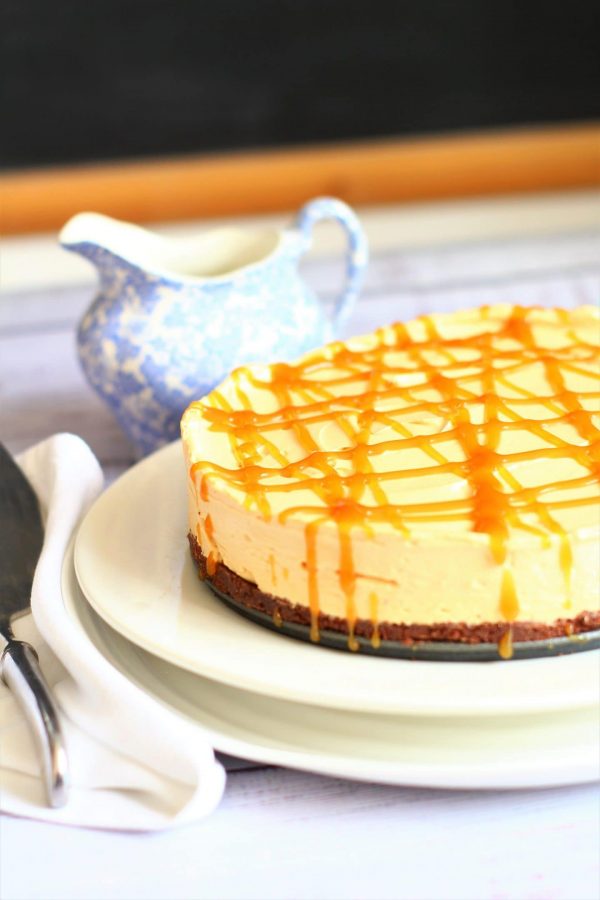 This make ahead dessert recipe is that of the crazily easy and whip it up in five minutes variety. The result is a very special one.
EVERYONE always raves about this cheesecake....EVERYONE. It is velvety and deeply caramel. A luxurious treat fit for a family meal or banquet. It can wear both hats effortlessy. Think designer trainers.
No Bake Caramel Cheesecake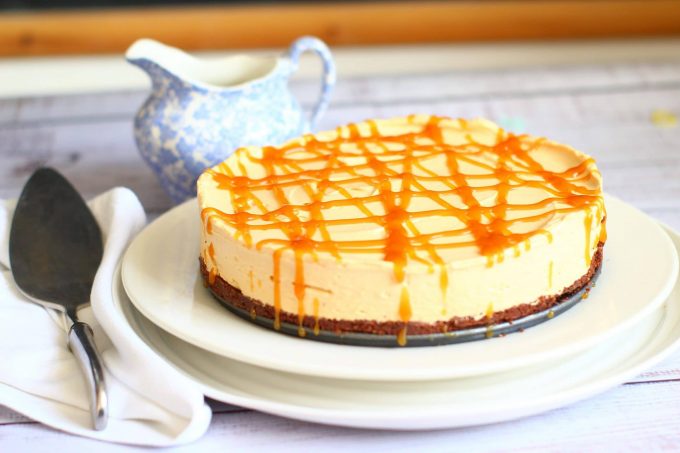 Recipe Steps
You will need:
397 grams (14 oz) tin of condensed milk (not evaporated milk)
300 mls double cream
240 grams (12 oz) cream cheese (full fat)
200 grams ( 7 oz) bourbon biscuits (chocolate biscuits)
70 grams (2.82 oz) butter (melted)
STEP 1 - Making The Base
This recipe is simply a matter of crushing the bourbon biscuits and then smoothing the chocolatey rubble  onto the base of a 8 " spring release tin.
I use my food processor to do this and then add the butter before giving it another couple of pulses.
You can also use a rolling pin and crush your biscuits in a freezer bag.
Tip them into your tin and smooth them evenly over your base.
Chill in the fridge for thirty minutes or ten minutes in the freezer. The base needs to be really hard before the filling goes on top.
STEP 2 - Mixing The Filling
I mix the filling up in two phases. The first is the cream cheese and caramel condensed milk.
When that is well mixed I then add the cream and whip again until very thick.
I use my free standing mixer but a large mixing bowl and hand held electric whisk will work too.
Keep going until it looks like below. You do need it to be really thick.
STEP 3 - Filling The Tin
Dollop into the tin and smooth over with a spatula. Make sure that you push all the filling down so that you don't get any air pockets.
STEP 3 - Chilling The Cheesecake
Chill in the fridge for at least 4 hours or overnight.
A whole 3 hours before you want to serve it, put it in the freezer.....Yes the freezer. So that is 7 hours setting in total at least. 
I usually make it the day before then put it in the freezer 3 hours before I want to serve it.
It is on the soft side if served from the fridge and I have done this many times but it is a whole bunch better/easier to cut for the freezer treatment
It makes the whole recipe damn well perfect. The crowd always goes wild.
You can then keep any left overs in the fridge covered.
I use shop bought caramel/toffee sauce to drizzle on top because I always tend to have it in the cupboard, but of course you can use your own. I squeeze it in a drizzly random fashion.
You can add any toppings that float your caramel boat. Toffee Popcorn is always a good one and looks dead fancy pants.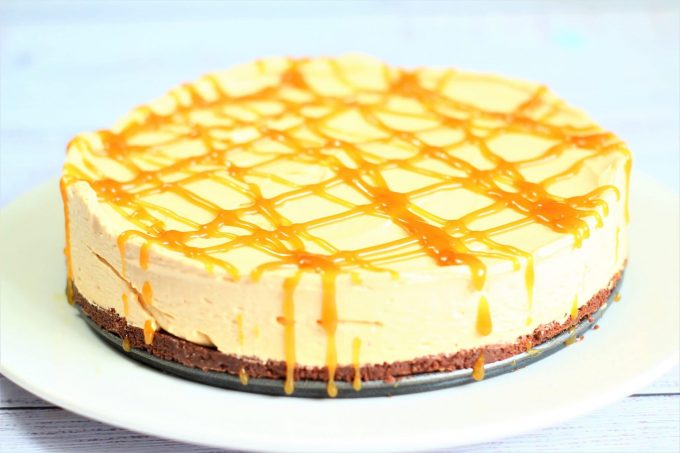 How do I tell if my cheesecake filling is thick enough?
Make sure you use cold from the fridge double cream. The double cream must not be a dairy free or vegan substitute.
Make sure you use full fat cheese.
Use an electric mixer for best whipping results.
The filling should be very thick and not sloppy at all. The whisk should leave lines in it that don't fill back up.
IF YOU LIKE NO BAKE CHEESECAKES THEN YOU MIGHT LIKE THESE
White Chocolate and Raspberry Cheesecake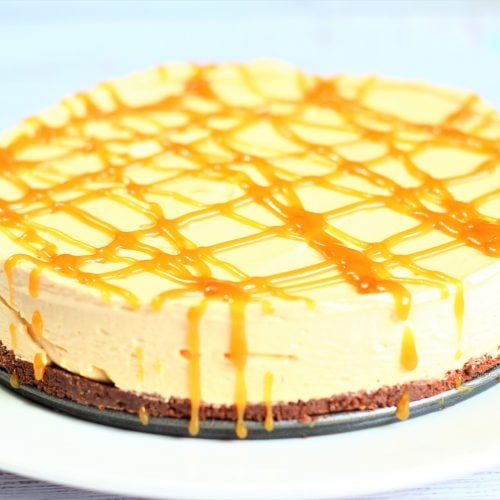 No Bake Caramel Cheesecake
This recipe for No Bake Caramel Cheesecake is so simple yet insanely delicious. Soft and velvety caramel filling lies on a Chocolate Biscuit base.
Ingredients
397

grams

caramel condensed milk

1 tin

300

mls

double cream

340

grams

full fat cream cheese

toffee/caramel sauce

for decorating
Cheesecake Base
200

grams

bourbon biscuits

70

grams

unsalted butter

melted
Instructions
Crush 200 grams bourbon biscuits. I use a food processor but you can put them in a plastic bag and use a rolling pin to crush them. Add 70 grams/2.5 oz butter and mix well. Empty the biscuit crumbs into a 20 cm loose bottomed, spring release tin and smooth evenly with the back of a spoon.

Place in the freezer for ten minutes or the fridge for at least 30 minutes. The base wants to be hard.

Put 340 grams cream cheese and tin of condensed milk caramel into a bowl and whisk for a couple of minutes with an electric hand held whisk or in a free standing mixer. The mixture will become thick. Add 300 mls of double cream and whisk again until very thick.

Dollop the mixture out onto your biscuit base and smooth evenly. Put it in the fridge for at least 4 hours, or overnight. 3 hours before you are going to serve it, put it in the freezer in it's tin and leave it there until you are ready to eat.

I usually make it the day before and then put it in the freezer 3 hours before I am going to serve it.

When ready to serve or earlier if it suits you, drizzle over toffee sauce in a drizzly manner.
Notes
Run a flat edged knife carefully around the inner edge of the cheesecake when you are ready to serve.
Then gently release the outer edge and push the cheesecake up from the bottom and clear of the tin.
I leave the tin base under the cheesecake and just try to be careful when cutting through the base of the cheesecake when slicing.
Alternatively if you are not using a spring release tin use a knife and a flexible thin spatula if you have one. The first slice is the most difficult to remove with cheesecakes after that it's easy!
All nutritional information is approximate and intended only as a guide
Nutrition
Calories:
491
kcal
|
Carbohydrates:
38
g
|
Protein:
7
g
|
Fat:
36
g
|
Saturated Fat:
21
g
|
Cholesterol:
107
mg
|
Sodium:
264
mg
|
Potassium:
260
mg
|
Fiber:
1
g
|
Sugar:
31
g
|
Vitamin A:
1179
IU
|
Vitamin C:
1
mg
|
Calcium:
172
mg
|
Iron:
2
mg
All nutritional information is approximate and intended only as a guide.
Tried this recipe?
Take a pic and tag @applytofaceblog on Instagram. I would so love to see them!
PIN NO BAKE CARAMEL CHEESECAKE FOR LATER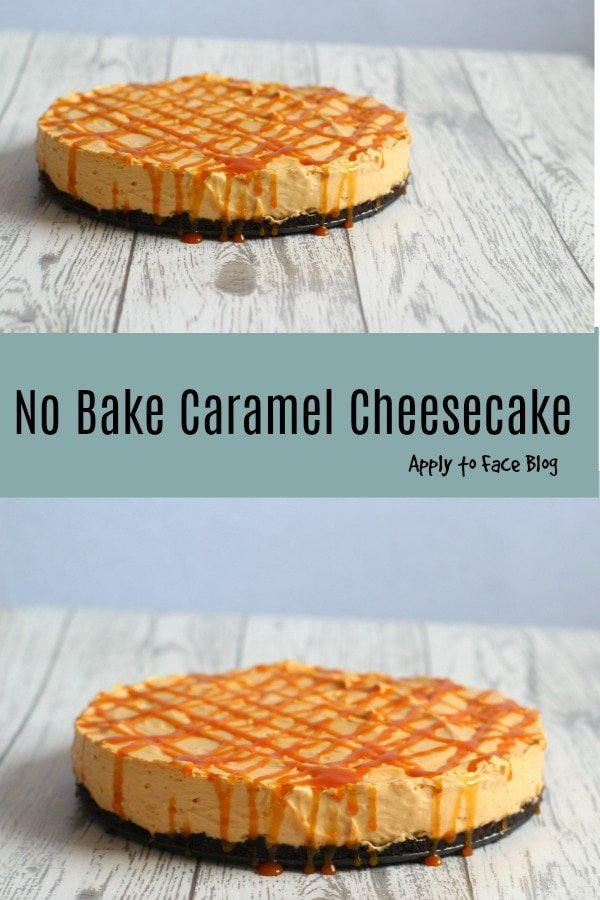 Do let me know how you got on in the comments below. I love a good old hairy chinwag!
I have linked this post with #CookBlogShare over at Easy Peasy Foodie.