This recipe for No Bake Lime Cheesecake is in my top five favourite desserts of all time and perhaps my favourite of all cheesecake recipes. It is zingy and creamy with a chocolate biscuit base that sets off the zesty lime filling so perfectly it makes me want to inhale the whole lot alone in a wardrobe.
I am particulary fond/obsessed with any no bake cheesecake. It's something about the luxury, velvety smoothness of them I think and this one is a belter. The ying and yang lime/ dark chocolate combo adds another level worthy of a home cook michelin star, which I am more than happy to award myself here.
The bourbon biscuit base has just enough mellow chocolatey depth for the zingy lime topping AND it is so light I can eat at least two slices in one sitting. On top of all that it feeds 10 people easily. Get out the Party Poppers immediately...........
I am not going to lie, I have eaten like a starving fatty on a cruise this festive holiday. Not only have I indulged on the biggie days but also in between and I should be ashamed of myself. But I am oddly not. In fact I have become a little fond of my burgeoning paunch and have found myself caressing it much like a Meghan Markle.
I find the gentle swell more than a little comforting.......obviously I am turning into Mother Christmas and quite frankly I am not surprised. I have worked my ar.e off this yuletide.
I read somewhere that it should be Mother Christmas not Father Christmas and that couldn't be more true in my house....... I am responsible for almost every flippin thing in the Christmas Event Management Department.
All Christmas Dramatic Productions - costumes, learning of lines, rehearsal attendances at 8 b.stard o'clock in the morning, tear inducing hair do's and general cheerful "break a leg" attitude at all times.
A hundred quids worth of presents for every single member of school staff that crosses the children's paths at all and whatsoever........ Even the mean ones.
Keeping the children constantly plied with a small fortune to fund a new school mini bus.
Getting hold of Santa lists, buying all on Santa Lists and then buying more because the list has changed and Santa just " know's "
Making sure that all presents are numerically, monetarily and in all other ways comparable to each other.
There are more presents than last year.
The presents are bigger than last year.
No present is touched, sniffed or even looked at by the other child.
Complete logistical and silent delivery of Santa's presents to front room in the correct " Santa's wrapping paper " on Christmas Eve after coping with children that have been completely off they're t.ts all day and finally fallen asleep twitching violently at 1 a.m.
Remaining manically full of festive cheer and solid Santa Belief throughout even when you want to smash his face in.
Stalking, visiting, spotting and tracking Santa/An Old Man.
Engaging in competitive Elf action.
Shopping and cooking food for fifty including everything imaginable wrapped in puff pastry, cold cuts from a small herd and posh cheese that stinks the fridge out.
Ensuring magical and fabulous Christmas for everyone that will stay in their memories until they are 89 years old and can't remember anything anyway.
I SO deserve this Lime Cheesecake.
No Bake Lime and Chocolate Cheesecake
This no bake cheesecake is absolutely super lush. Literally every time I make it I feel ssssspecial. The chocolate, lime thing is one of those combos that just rock.
I have tried it with an Oreo crust but it was too dark. The Bourbon biscuit base has just the right chocolatey depth.
I'm sure too that Delia would suggest some zest in there with the juice but I just don't like the feel of those little bits on my tongue at the end of a mouthful. It just feels wrong, I want smooth and clean.
The making of this cheesecake is just as simple as it gets.
STEP 1 -Making The Base
A thorough breaking down of the biscuits comes first and I use my food processor. You can use a rolling pin and a plastic bag if you are without a whizzer.
After adding the melted butter to the chocolatey rubble smooth the buttery biscuits into an even layer in the bottom of a loose bottomed spring release tin. This is a good system to use if you want to serve the cheesecake out of it's dish.
I put mine in the freezer for 15 mins but half an hour in the fridge is fine too. You are wanting the base to be very hard.
STEP 2 - Making The Filling
I then add the cream cheese, lime juice 175 mls and condensed milk to the mixing bowl. Again I use a free standing mixer but an electric hand held mixer will do the job too.
Whisk until it is thoroughly mixed together. About a minute.
I then add the double (heavy) cream and whisk until it considerably thickens.
Make sure your cream is fridge cold. It will whip up much better for it.
Scoop out the mixture onto the chocolate biscuit base. I love this bit, it feels and sounds glorious. Dolloping is under rated. Smooth the top over with a spatula. Lick that spatula clean.
STEP 3 - Chilling The Cheesecake
Chill for at least four hours or overnight. If I leave it overnight I cover it with clingfilm.
When you are ready for it, grate some lime zest and dark chocolate on top. It really does improve it's kerb appeal and I love to get the little deeply dark chocolate hits here and there.
Don't skip this for the full flavour sensation.
Equipment Required
9"/22 cm spring form loose bottomed tin
Free Standing Mixer or Large Mixing Bowl and Electric Whisk
Juicer or you can just squeeze them very hard!
Zester
Measuring jug
Digital Scales
Spatula
Food Processor if you are using to blitz your biscuits.
Expert Tips
Make sure your double cream and cream cheese are fridge cold
Have the limes at room temperature, warm even.
Break up your cream cheese a little as you put it in the bowl
If it doesn't set as much as you would like (which is rare) put it in the freezer an hour before serving.
When grating the chocolate be careful with your fingers and try not to handle the grated chocolate as it will melt on your fingers very quickly. I use a teaspoon to scatter it on the top or put the gratings in the fridge before I need them.
Limes can vary greatly as to how much juice they give. 175 mls here is the correct ratio. Any more and it can be difficult to set and a little too tart.
If your filling has not thickened enough try putting it in the freezer for an hour.
Here are a couple of other of my incredible fave No Bake Cheesecakes.
Lemon Cheesecake
White Chocolate and Raspberry Cheesecake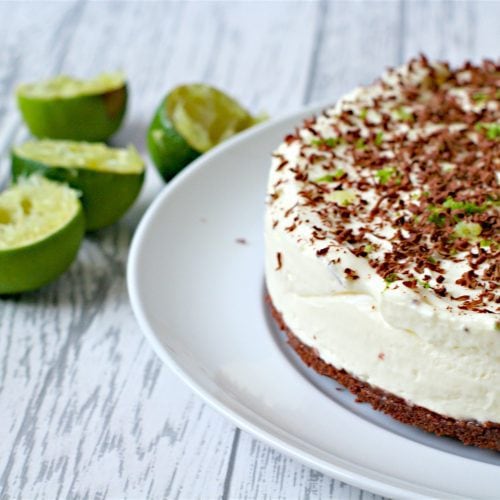 Lime Cheesecake
This recipe for No Bake Lime Cheesecake is in my top five favourite desserts of all time and perhaps my favourite of all cheesecake recipes. It is zingy and creamy with a chocolate biscuit base that sets off the zesty lime filling just perfectly.
Ingredients
Cheesecake Filling
397

grams

condensed milk

1 tin

5

medium

limes

juice (175 mls)

300

mls

double cream

180

grams

full fat cheese

20

grams

dark chocolate

grating over the top
Cheesecake Base
200

grams

bourbon biscuits

filling too

70

grams

unsalted butter
Instructions
Crush the 200 grams/7 oz biscuits finely in a food processor or using a plastic bag and rolling pin. Add the 70 grams/2.5 oz butter and mix together. The mixture will be a dark brown sandy rubble.

Empty out into the bottom of your 9 "/22 cm tin/dish and smooth evenly over with the back of a spoon. Place in the freezer for fifteen mins or fridge for about half an hour or until hard.

Using a free standing mixer or an electric hand held whisk whisk the 180 grams/ 6.35 oz cream cheese, 175 mls lime juice and tin of condensed milk together. About a minute. Add the 300 mls double cream and whisk until really thick.

Dollop very satisfyingly onto your base and smooth over well. When you are ready to serve, grate over the dark chocolate and lime zest. Check out my tips for handling the chocolate.

Place in the fridge for at least four hours or overnight. Cover with clingfilm if you are leaving overnight.

When ready to serve run a flat edged knife carefully around the outside of the cheesecake before releasing the tin.
Recipe Notes
This Lime Cheesecake can be made earlier in the day or the day before in the fridge. It does keep for a few days well as left overs with a little weeping.
I do often time make this in a fluted flan dish without easy releasing sides. It generally comes out well with a little confident cutting and digging.
If you warm the limes up they are much easier to juice. The radiator for half an hour is a good one.
Limes can vary greatly as to how much juice they give. 175 mls here is the correct ratio. Any more and it can be difficult to set and a little too tart.
Make sure your double cream and cream cheese are fridge cold.
Nutrition Facts
Lime Cheesecake
Amount Per Serving
Calories 415
Calories from Fat 234
% Daily Value*
Fat 26g40%
Cholesterol 73mg24%
Sodium 221mg10%
Potassium 280mg8%
Carbohydrates 42g14%
Protein 7g14%
Vitamin A 765IU15%
Vitamin C 11mg13%
Calcium 166mg17%
Iron 2.3mg13%
* Percent Daily Values are based on a 2000 calorie diet.
Please let me know how you got on in the comments below.
I have linked this post with Fiesta Friday cohosted by Mollie @ Frugal Hausfrau and Liz @ spades, spatulas & spoons