This Nutella Cheesecake is absolutely DIVINE. And I mean it. I have tried others and boastfully perhaps, I this recipe is the best of all.
I am starting to actually enjoy this heat wave. Being able to live in holiday mode i.e leave everything out in the garden really suits my way of housekeeping. Yesterday I found 3 socks, a pair of pants and 5 glittery nail varnishes not to mention a varying selection of cuddly toys and lots of shoes scattered casually across the lawn……..I left them there. I loves it. I romanticise it into a carefree, Famous Five kind of childhood home vibe. But why I think that Aunt Fanny wasn't keeping a tidy house I couldn't tell you. Perhaps it was all those picnics.There is however one big problem with all this outdoor weather. My children have become mad keen on playing out in the garden. Football, Tennis and anything else in between and, here's the thing, they want me to join in……..WTF!!!!!That's why Aunt Fanny was nowhere to be seen the clever whatnot…….For the Love of God my athletic prowess left me sometime in 2010. Heaving my body around in the heat sweating and flapping all over the lawn is never going to be medically sensible or a good look. I am bound to go over on a cankle or wet myself a little bit……. My daughter actually turned round to me yesterday and said, "Get those bingo wings in goal Mum"……………she's seven. Cheeky, but accurate, little minx. Every time Summer comes around again I berate myself for eating like a very, very hungry person throughout all of Winter. I usually sweat and chafe right through to August completely in the shade before emerging in loose clothing for the few days of an Indian Summer come September. I then vow to be in shape for the next one imagining myself in little shorts and off the shoulder tops. The truth in reality is much more of the same. But I have nowhere to hide here. I have to get my ass out there and bob about at least a little enthusiastically…….F.ck……pass me the Ginger Beer.
Nutella Cheesecake.
I have found that as gorgeous as Nutella is it can be a little too rich in a cheesecake but this baby is just right. I have allowed myself full indulgence here due to all my recent activity and Oh My God all that sweating was worth it. This is a deeply chocolatey cheesecake in a completely Nutella way. It has a chocolate Oreo base that is just perfect with the creamy and luxurious Nutella Cheesecake filling. I love an Oreo base at the best of times but it's darkness is just perfect here. This no bake chocolate cheesecake is so incredible it is perhaps the best cheesecake recipe I have ever created. Speciality cheesecakes are not usually my bag but this is the exception. Incredibly moreish I served mine coupled with Strawberries and Cream. It was stupendous. One of the most delicious cheesecakes I have ever eaten. This is a cheesecake of the most highest order if I do say so myself….and I absolutely do. The sort to make you feel deeply satisfied for days……
All that is required for this glorious base is a whizz in the food processor before smoothing all over the base of the serving dish. I use a 22cm deep Springform Loose bottomed pan. It is so easy to get the baby out then.
The cream is whipped first in my free standing mixer before emptying out into another bowl on standby. It needs to be quite firm.
Next I whip together the Cream Cheese and Icing Sugar before adding the Nutella at room temperature, mixing again and then folding back in the cream.
The whole delicious lot is then dolloped onto the base and evened out for a smooth finish. I put mine in the freezer for an hour before putting back into the fridge for another three hours and it was just right. I do normally make cheesecakes the night before and then I wouldn't bother with the freezer at all. I was just needing it in four hours.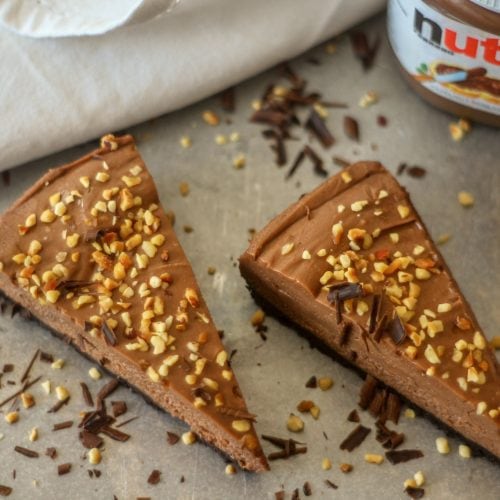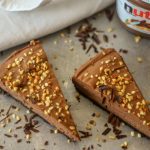 Nutella Cheesecake
This is a stupendous recipe for Nutella Cheesecake. It has a chocolate Oreo base and an incredible Nutella filling. A seriously delicious dessert.
Total Time
5
hours
15
minutes
Ingredients
500

grams

Nutella

250

grams

Oreo Biscuits including filling

75

grams

melted butter

100

grams

Icing Sugar

500

mls

Double Cream

400

grams

Full Fat Cream Cheese

100

grams

Roasted Chopped Hazelnuts
Instructions
I whizz the biscuits and melted butter together in a food processor until damp and rubbly.

Smooth into the base with a metal spoon.

Chill for half an hour in the fridge.

Whip the cream until softly whipped and put in another bowl. Whip the cream cheese and icing sugar together and then do the same with the Nutella.

Fold the whipped cream in thoroughly.

Smooth the filling onto the base. Chill the cheesecake for at least five hours.

Apply to Sweaty but Deeply Satisfied Face.
Nutrition Facts
Nutella Cheesecake
Amount Per Serving
Calories 852
Calories from Fat 576
% Daily Value*
Fat 64g98%
Cholesterol 128mg43%
Sodium 336mg15%
Potassium 417mg12%
Carbohydrates 63g21%
Protein 9g18%
Vitamin A 1460IU29%
Vitamin C 0.9mg1%
Calcium 144mg14%
Iron 5mg28%
* Percent Daily Values are based on a 2000 calorie diet.
Apparently I am not alone in my Nutella Love….here are more recipes from myself and fellow fabulous bloggers.
Nutella Hot Chocolate from Munchies and Munchkins – Banana, Avocado and Nutella Smoothie from Searching for Spice
Easy Nutella Cupcakes from Charlotte's Lively Kitchen – Giant Nutella Scone from Baking Queen 74
Nutella Pavlova from Jo's Kitchen Larder
Gluten Free Nutella Choux Buns from Curly's Cooking  – Nutella in Pancakes from Foodie Quine
Nutella Cake from The Baking Explorer – Easiest Ever Nutella Cookies from Something Sweet Something Savoury
Bananatella Muffins from Munchies and Munchkins – Banana and Nutella Cake from Baking Queen 74
Banana and Nutella Loaf from Cooking With My Kids – WholeWheat Almond and Nutella sheet Pancake from Latthi's Kitchen
I am cohosting this week at Fiesta Friday along with Deb from Pantry Portfolio .Do come over and see what's cooking……….
I have also linked this post with #We Should Cocoa over at Tin and Thyme –  Cook Blog Share over this week at Lost in Food
Here is another fabulous No Bake Cheesecake recipe – Lemon Cheesecake