For a long time I have been looking for a No Bake Strawberry Cheesecake recipe. I wanted a real strawberry hit with a creamy background and here she so is cheesecake people. Beautifully full of strawberries and cream, one mouthful and I swear Tim Henman is sitting opposite me. Make it and weep.
But first some cavorting……..
I made this (mark 2) for my girlfriends. Although not quite there yet it was met with suitable noises as we discussed the important matters that were on the table……..an all girls holiday. Oh my days…….can it really be????? A no responsibility whatsoever holiday. WTF?????? NO providing of snacks, endless sunscreen applications, entertainment, swimming partners/supervisors or refereeing. NO going to bed at 9 p.m, drinking sensibly and thinking before I speak. Sweet Lord all my Xmases have come at once.
Back in the day the same group of girls partied hard on fabulous holidays away in dodgy destinations. God knows how we stayed safe. We got away with incredibly stupid behaviour that would literally mortify me in my daughter and make me handcuff her to the bed for the whole of her teenage years. What's more it was the absolute best of times. So many laughs and so many adventures………and we get to do it all again….well sort of………. Long gone is the propensity to down Tequila Slammers and stay on our feet. Absolutely long gone is the ability to be sick in a bush, and come back to the bar for more and, most regrettably of all, long gone is the ability to get away with a Bikini, at least upright. Some of us wouldn't look too bad horizontal, as long as we didn't move……..
No Bake Strawberry Cheesecake
I am almost just as excited about this Strawberry Cheesecake. As I say countless times, these recipes are all those that I think are BRILLIANT. This Cheesecake is sooooo that. Full of strawberry flavour but creamy as hell you are practically catapulted right onto Henman's Hill one gloriously sunny July day within the very first smooth savour. Just dreamy. Think Strawberry Thickshake. As per usual it is super easy and make ahead for a no stress situation. There is nothing worse than it all going t.ts five minutes before the door bell. I break out in a cold/raging hot sweat just thinking about it….
I make the biscuit base in my food processor but of course you can bash away in a bag with a rolling pin. I just love my appliances. I'm all for the flick of a switch. I smooth the rubbly biscuit with the back of a spoon into my serving dish. I usually use an 8″ loose bottomed spring release tin.
I then rinse the processor out before pureeing the strawberries and jam. I use my free standing mixer too for the filling. Whisking the condensed milk and cream until thick before adding the pureed strawberries and jam, cream cheese, sour cream and melted jelly. Another jolly good whisk and then the filling is pastel pink and ready to be poured onto the chilled biscuit base. You can do the same with a hand held electric whisk but the pureeing of the strawberries and jam does require a food processor of some sort. The jelly will set the filling quite quickly so it is ready for slicing in a couple of hours but I have also made it the night before and it is perfect either way. As I mentioned earlier, Make it and weep…..
IF YOU LIKED THIS RECIPE YOU MAY LIKE THESE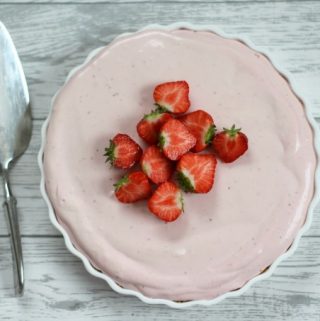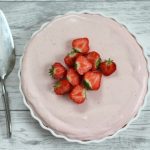 No Bake Strawberry Cheesecake
This is a heavenly Strawberry Cheesecake recipe. Easy to make ahead and completely delicious to eat. It has become a family favourite.
Ingredients
250

grams

digestive biscuits

80

grams

unsalted butter

melted

200

grams

already hulled strawberries

I just slice the green tops off

100

grams

strawberry jam

1

packet

strawberry jelly

135grams

180

grams

full fat cream cheese

200

mls

double cream

100

grams

sour cream

397

grams

condensed milk

1 tin
Instructions
Blitz the biscuits and melted butter in a food processor until you're left with a sandy rubble. Empty into your serving dish. I use mostly a loose bottomed, spring release 8" tin. Smooth the biscuit level with the back of a spoon. Put in the fridge for 30 mins or the freezer for ten mins.

Cut up the jelly into cubes and place into a mug, add 4 tbsp boiling water. Stir until dissolved. If it is taking a while to all melt you can blast in the microwave for ten seconds at a time. Allow to cool until just warm.

Empty out the tin of condensed milk into a mixing bowl and add the cream. Whisk until thick and then add the strawberry mixture followed by all the rest. The mixture will be pink and not thick any more. Fear not the jelly will set it in the fridge.

Pour onto your now chilled biscuit base and place in the fridge for 2/3 hours. Keep it in there until ready to serve. I slice it into half then five slices to each half.

Apply to Mutton Dressed as Lamb Face.
Nutrition Facts
No Bake Strawberry Cheesecake
Amount Per Serving
Calories 474
Calories from Fat 252
% Daily Value*
Fat 28g43%
Cholesterol 83mg28%
Sodium 247mg11%
Potassium 273mg8%
Carbohydrates 50g17%
Protein 6g12%
Vitamin A 905IU18%
Vitamin C 13.9mg17%
Calcium 168mg17%
Iron 1.2mg7%
* Percent Daily Values are based on a 2000 calorie diet.
I am linking this post with Fiesta Friday. A fabulous round up of bloggers posts. I have the absolute pleasure of co-hosting it with Diann at Goats and Greens. Please pop along and take a look at the huge cosmopolitan array of recipes etc that are linked there. It blows my mind every time!!