I am very particular here. I want deliciously chewy meringues in the middle with a crisp crust on the outside. Nothing else is good enough…..nothing. To that end this meringues recipe has become one of my most favourite and most followed recipes ever.
I came to Meringues semi late in life. I was at least 36 years of age before I tried my first homemade one. It was an epiphany. The crisp and sweet outer caved in at the merest touch of my spoon. But the slightly chewy middle proved a different story. I was hooked.
I think that it was at that moment that my small/massive obsession for home cooking really began. Who knew that such wonders could be simply created on your own work top? Who knew you could create absolute taste sensations with a packet of hobnobs and a cabbage? The world of the home cook drew me in, fattened me up and still hasn't spat me out.
Nowadays they still stop me in my tracks and served with a big bowl of cream and good strawberries there is NOT much better. My children go potty for them. As a result I feel like the best Mother in the world whenever I see their excitement and watch them literally open mouthed ramming in big bites ……….only a Mother could find it endearing. I wish I felt the same about brown rice.
This recipe is made with French Meringue. The easiest type to make. The other two, Italian and French Meringue, use heat to cook the egg whites as you whisk. That requires some technique where as the French version is just about a jolly good whipping. I can easily manage that and so can you.
This week saw me filling in at my children's school as a dinner lady. Of course it was only an excuse to get in a few extra squeezes and the odd undercover sniff. How wonderful it was to see them in the middle of the day. I felt strange policing the playground, a cut throat place as I remember. Unfortunately there wasn't a spare whistle so I only had my snarl and a pair of gloves (it was chilly) to break up any funny business.
Obviously I just wanted to play hopscotch and British Bulldogs with my children but it wouldn't have been very P.C. So I set to, saving little boys from kiss chase and lots of general thumping. I found it a little unsettling to be honest. I am obviously much more in my comfort zone feeding than policing. I wished I could have handed out some of these meringues. They would have been much more effective than a whistle.
Meringues are just the best picnic food too. I cook them throughout Summer for day's out and weekends away camping in the caravan. They travel and keep well, and I take along a punnet of strawberries or raspberries and a tupperware pot of whipped cream in a cold bag.
I hand them out and people simply use them to scoop out the cream and eat the strawberries out of the bowl. I'm talking Enid Blyton here. No plates required just a packet of wet wipes. No washing up. Genius.
This brings me to my final and very important point. They are really, really, really EASY! I am not exaggerating either. If you follow some simple rules they are so simple and quick to do you really won't believe how good they are for almost no effort.
How To Make a Chewy Meringue.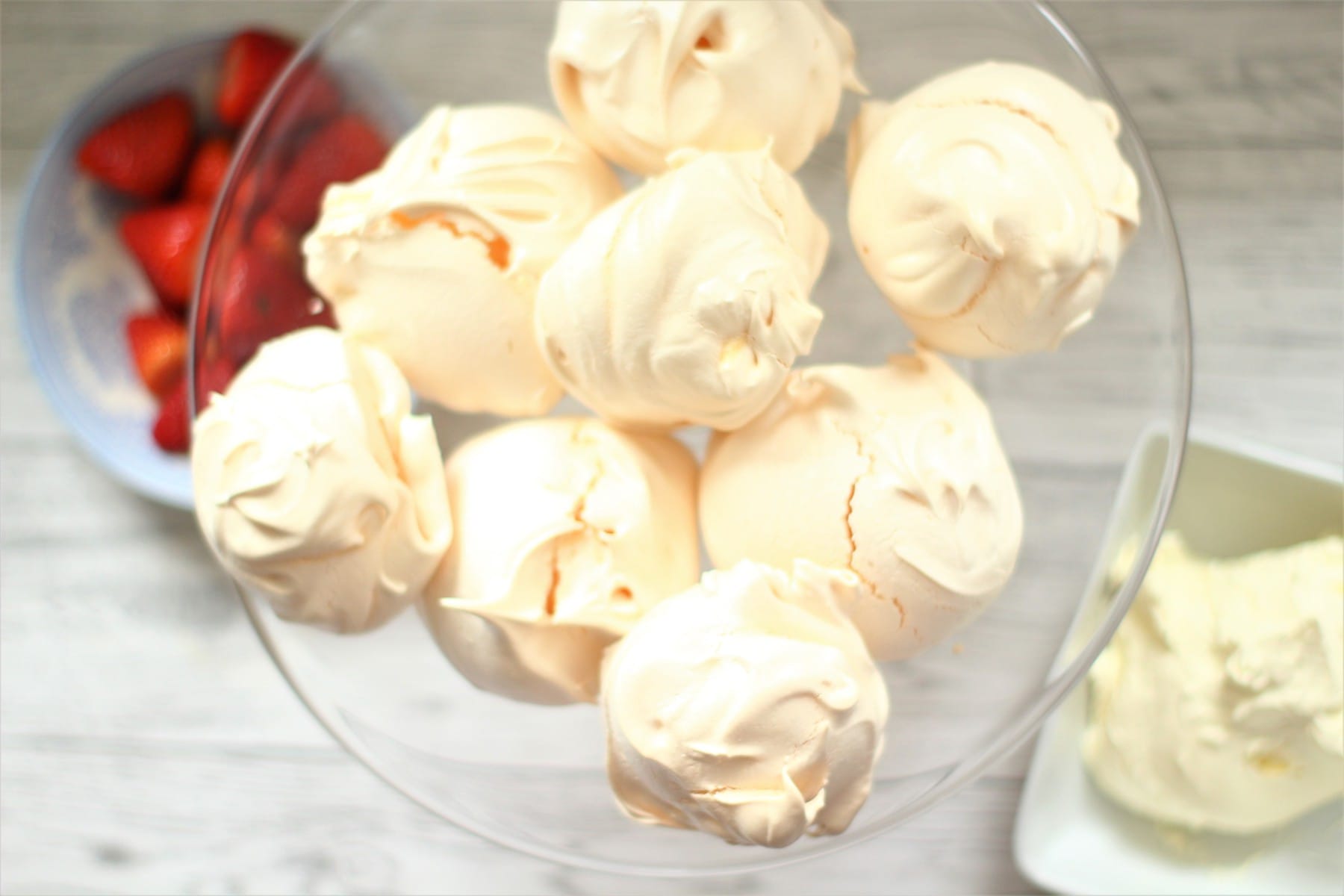 I have scoured and scoured meringue recipes in my search for a consistent chewy middle and crisp outside shell. This recipe delivers. I have tried them out at all oven temperatures but 140 C/275 F/Gas Mark 1 is without doubt the right temperature for the desired results. Any hotter and the crust is too thick.
For years I have baked them by eye so in order to spread the word I have trialled many variables and realised the importance of the oven temperature. To this end I do recommend that you buy a oven thermometer. I bought mine for £3 so it is not an expensive item. It makes all the difference when baking.
My ovens have never been 100 % reliable and quite often are out by 20 C here and there. The thermometer allows you to dial up or down accordingly to get it consistently right.
I also add cornflour. This, I believe, helps create a chewy texture along with the right amount of time baked at the correct temperature.
How Do You Make Meringue?
Firstly whisk the egg whites in a mixing bowl with an electric handheld whisk or free standing mixer until frothy.
This is then followed by more whisking and the addition of the sugar, 1 heaped tbsp at a time. This takes about 3-4 minutes. Use refined caster sugar. That is the standard white sugar. Unrefined caster sugar will alter the cooking time as well as the whole bake. Don't be tempted to put all the sugar in at once.
It's not that they are not good with unrefined sugar but they won't be chewy within the time. As the meringue becomes glossy and super thick add the cornflour.
Whisk again until it becomes satiny, shiny and VERY thick. If you lift the whisk out it will stay completely in a peak. The peak does not move at all. Think Mr. Whippy Ice-cream.
On a flat baking tray lined with a silicone liner or baking paper dollop out about 9 meringue shapes. I use a big spoon and my finger but you could use 2 spoons.
Pop these shiny beauties in the oven for exactly an hour. Remove and carefully peel off the paper if using and allow to cool on a wire rack. They may well have a couple of cracks it's the nature of the beast.
When are Meringues Done?
Meringues are done when they are slightly chewy within and the crust is not too thick. I have baked so many I have got to know how heavy they feel in my hand when they are baked. But that does not help you!
Every time though I still take a knife with a small blade and break into the bottom of one of the meringues. I make the hole just big enough so that I can check that the insides are not still wet and foamy. Usually with these timings they are perfect but different ovens do vary so I still use this test just in case.
Meringues Recipe Tips
Make sure your bowl and whisk are very clean. i.e no grease
Do not let any yolk get into the whites.
Put each egg white into separate cups as you separate them. Then add that egg white to the mixing bowl. This way you prevent the whole lot getting ruined if one breaks.
Make sure to whisk until the mixture is very thick and stiff. If you lift the whisk out the mixture it completely stays in a peak.
Bake at 140 C/275 F/Gas Mark 1 for an hour only.
Use refined caster sugar (standard white caster sugar)- you can use unrefined but the crust will be thicker and the meringues more of a golden colour. If using unrefined sugar or even granulated sugar then only add 1 tsp of cornflour.
If you want to add another egg white for an extra 2 or so meringues then simply add another 50 grams/1.8 ozs of sugar.
How To Store
They do keep rather well stored in an air tight container. At least 1 or 2 days in a cool, dry place. Moisture is their enemy and they will lose their crispness.
You can freeze meringues. Stored carefully in an air tight container they will freeze well for up to a month. It is important to defrost them out of their container to keep them away from any moisture, so a wire rack is perfect. Just let them come up to room temperature and use as normal.
You can freeze raw egg whites too. Simply put them in a freezer bag, plastic container or even in an ice cube tray. If using an ice cube tray when the whites are frozen transfer to a freezer bag or container for long term storage. They will keep for up to a year but it is wise to label them with the date. Defrost in the fridge and remember that freezing does not kill salmonella so the usual rules still apply.
The remaining egg yolks are great for adding richness to everything from pasta dishes to ice cream, custard to breads. I am careful to store them in a particular way. I use clingfilm scrunched up and pushed closely onto the surface of them and then another layer of clingfilm over the container they are in, usually a mug. This way it prevents a tough skin forming on the top.
You can experiment with a little red food colour to make some pretty pink meringues just perfect for Birthdays or Valentines Day.
Simply swirl a small amount of food colour/gel on the top with a teaspoon or cocktail stick.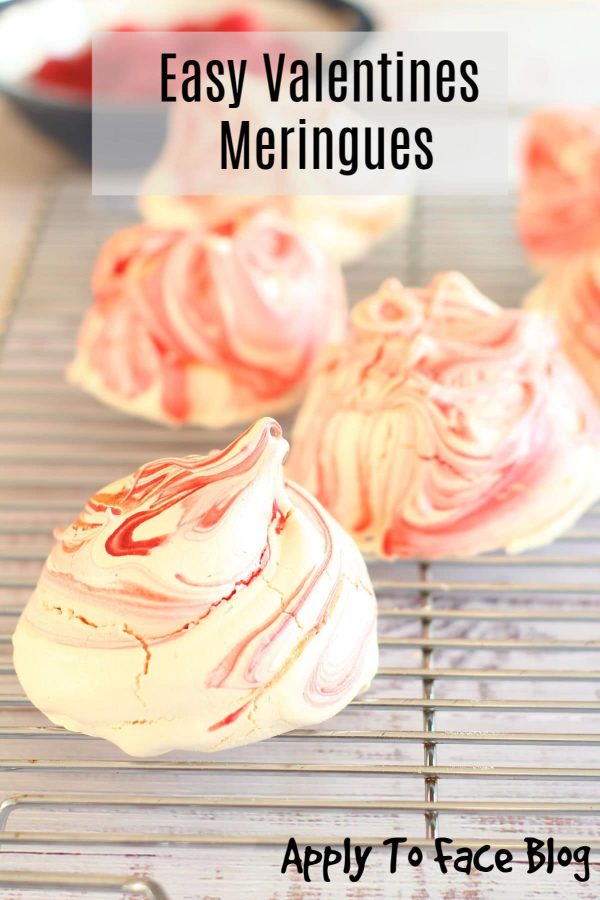 What to serve with Meringues?
I like to serve Strawberries and a bowl of softly whipped cream. I try hard to watch carefully as I whip the cream as it can become too firm very quickly and split. This is especially important if you are serving them as a hand held dessert al fresco for people to use the meringue to scoop out the cream from the bowl.
I have also served them with Stewed Apples and whipped cream.
Another favourite is to whip some melted dark chocolate into the cream. You can make the meringues half the size and then sandwich them together with the chocolate cream and serve some raspberries along side. You could substitute any fruit really. Kiwis work particularly well. I think if you can have a little bit of tartness in the fruit it works very well with the sweetness coming from the meringue.
Equipment Required
Free Standing Mixer or Electric Whisk and Bowl
2 mugs
Large Flat Lined Baking Tray (reusable liner or baking paper)
Spoons
Digital Scales
Oven Thermometer (optional)
Wire rack
Try my other incredible meringue recipes.
White Chocolate and Raspberry Roulade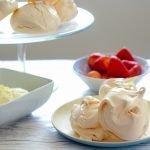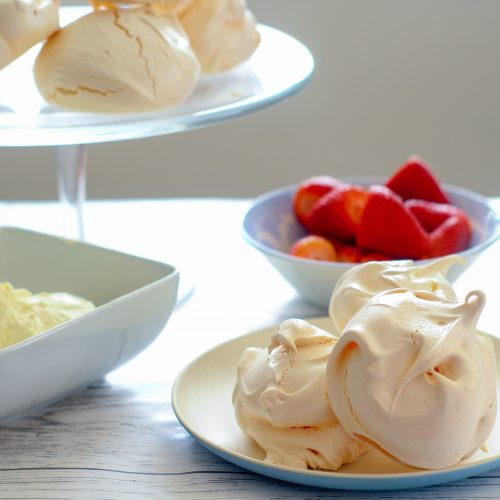 Meringues
These are crisp and chewy Meringues guaranteed to please a crowd. Perfect for easy entertaining and outdoor eating.
Total Time
1
hour
10
minutes
Ingredients
3

large

egg whites

200

grams

caster sugar

1

tsp

cornflour
Instructions
Pre heat your oven to 140° C/275°F/Gas Mark 1. Separate your 3 egg whites into a clean mixing bowl. Whisk the egg whites until frothy and white.

Add the 200 grams/7 ozs sugar a heaped tbsp at a time. The meringue will start to thicken, whiten and become shiny. Add the 1 tsp cornflour and and mix again. The whole whisking for the second time takes about 2 minutes in a free standing mixer at speed 6. Whatever you are using when it becomes very thick and shiny it is ready. The whisk should leave a peak when removed that does not move.

Spoon onto a lined baking tray 9 individual meringues. Use your spoon to make them look as you want. I like to try and make a peak on the top.

Bake for an hour before removing carefully onto a wire rack to fully cool. Give them a few minutes to cool on the baking tray before using a flat bladed knife or thin spatula to remove onto the wire rack.

Apply to Meringue Moustached Face
Recipe Video
Recipe Notes
All Nutritional Information is a guide only.
Separate your egg whites into a mug each time before placing in your mixing bowl. This way if your yolk breaks then it does not ruin the whole amount of separated whites. If the yolk does break and mix in to the whites then it is best to not use and rinse out the mug and use a fresh egg. Even a small amount of egg yolk in a egg white will prevent the whites whipping up thickly.
Make sure your bowl and whisk are very clean. i.e no grease
Do not let any yolk get into the whites.
Make sure to whisk until the mixture is very thick and stiff. If you lift the whisk out the mixture it completely stays in a peak.
Bake at 140 C/275 F/Gas Mark 1 for an hour only.
Use refined caster sugar (standard white caster sugar)- you can use unrefined but the crust will be thicker and the meringues more of a golden colour. Only add 1 tsp of cornflour
If you want to add another egg white for an extra 2 or so meringues then simply add another 50 grams/1.8 ozs of sugar.
Nutrition Facts
Meringues
Amount Per Serving
Calories 139
% Daily Value*
Sodium 27mg1%
Potassium 26mg1%
Carbohydrates 33g11%
Protein 1g2%
* Percent Daily Values are based on a 2000 calorie diet.
Pin Me For Later!
Check out this article about Meringues that I wrote for BritMums. Lots of more fabulous meringue recipes.
Fiesta Friday with Angie and Julianna @ Foodie on Board