This Chocolate Pavlova is a dessert of joy, love and calm. Crispy, chewy, soft, chocolatey meringue studded with dark chocolate chunks and topped with a thick blanket of cream and raspberries.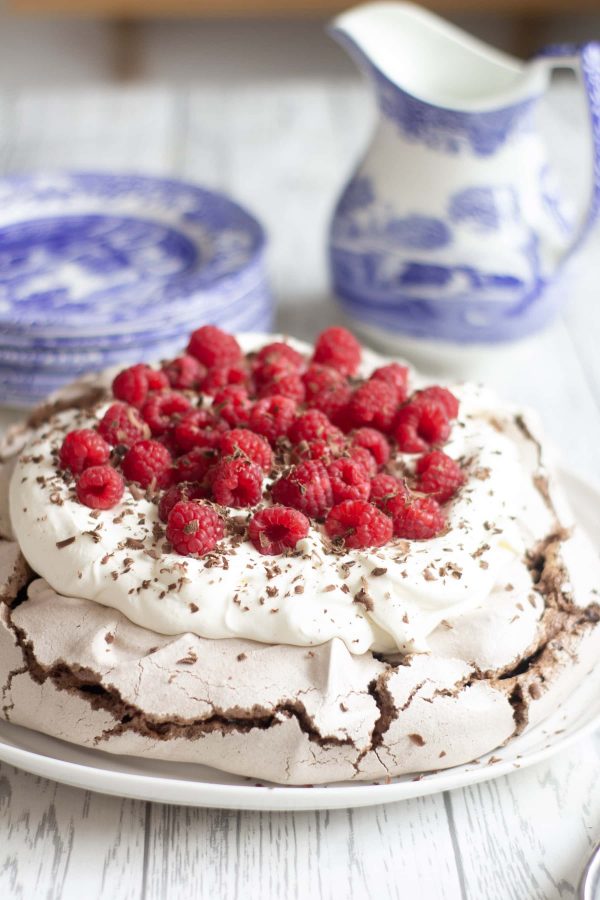 It has been a success every time I have made it, such is it's reliability. It can be dressed up or down to suit you sir but effortlessly brings a sense of serious style to any Soiree.
I have come to think of this as a perfect Sunday Lunch Pudding when I am entertaining a small crowd. It is super easy and quick to put together allowing you more time for other prep and panic. I try to pick all my recipes for their ability to be almost completed before people arrive.
I also do the same with my other favourite Pavlova recipe- Strawberry Pavlova.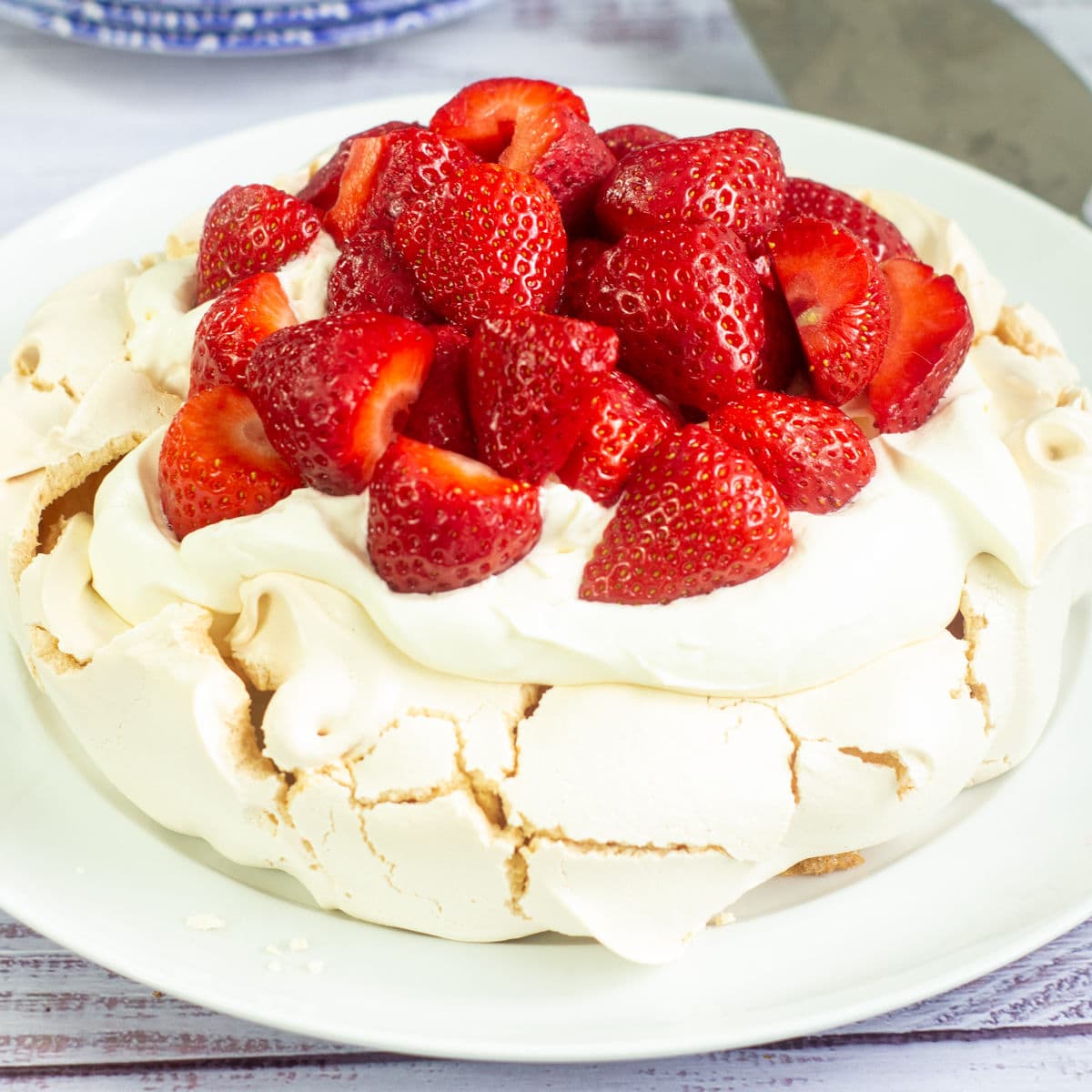 This recipe is mostly borrowed from Nigella Lawson. As always I find her recipes outstanding in all the ways that matter to me, no fuss with great style and taste and I can't help but love her muchly for it.
*Scroll down to the bottom of the post for the full printable recipe card.*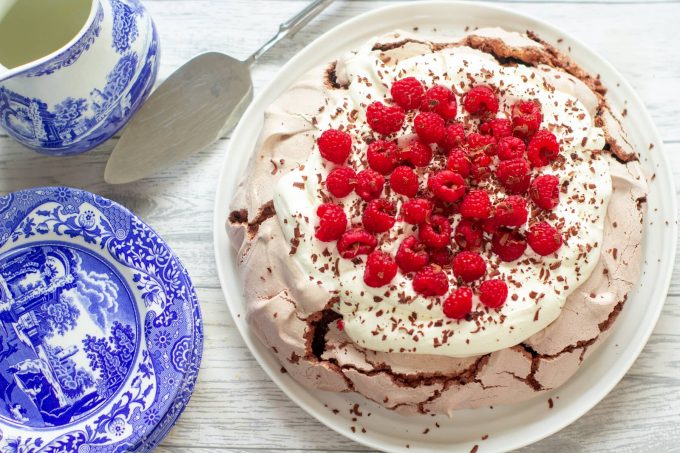 Chocolate Pavlova Recipe
You will need:
6 large egg whites
300 grams (11 oz) caster sugar
3 tbsp cocoa powder
50 grams (2 oz) dark chocolate
500 mls double cream (heavy Cream if you're American)
500 grams (18 oz) raspberries
grated dark chocolate to decorate
Method
Don't be afraid it really is easy. Just be careful to have a clean bowl and make sure that no egg yolk gets in the whites. I crack them in one at a time.
It is just a matter of whisking the egg whites until they are frothy and fluffy. I use a free standing mixer and it makes making meringue an absolute doddle but a hand held electric whisk will do the job very well.
Whisk until they go frothy and white.

Add the sugar a tbsp at a time and keep whisking and you will see the meringue mixture change and become thicker, shiny and satiny as you keep whisking. If you are using a hand held whisk perhaps get someone to help you add the sugar, it will make things a lot quicker.

When the meringue is very stiff and holds a peak, sieve over the cocoa and gently drop the chocolate chunks in.

Fold in carefully with a metal spoon making scooping motions up and through the mixture so as not squish the air out of the meringues although it is quite a stable mixture so don't worry too much. Just be light handed.

Tip out the meringue mixture onto a lined baking tray and form into a round disc about 9 ". You could draw out the circle on your baking paper for easiness.
Form into a pavlova shape ready to hold the cream and raspberries later. I shape the outside edges to stand a tiny bit higher to hold the cream later.
Bake at 150 C/300 F/Gas Mark 2 for about an hour and fifteen minutes. Ovens really do vary enormously. I use a little independent thermometer.
Bake for an hour and fifteen minutes. At the end of that open the oven door slightly and allow to cool.
Dollop on the whipped cream and place the raspberries on top. This is a real wow factor dessert and it tastes just as good as it looks baby.
I like to grate on a little dark chocolate for jazz.
INCREDIBLE!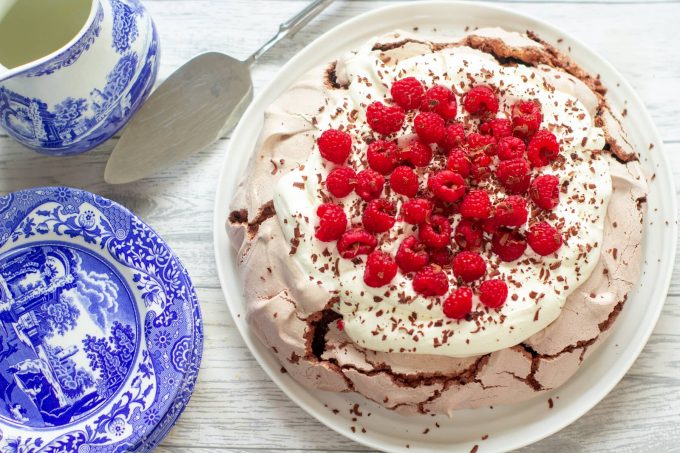 Chocolate Pavlova Tips
Crack your egg whites into a mug before tipping into the mixing bowl to avoid getting accidental egg yolk in all of them.
Make sure the meringue is really, really stiff.
Make sure your mixing bowl and hands are clean as any grease may stop the egg whites whipping up properly.
Fold the raspberries and chocolate chunks in lightly, carefully cutting through the mixture with the edge of the spoon, working in a gentle figure of eight.
Use an independent oven thermometer to make sure your temperature is correct.
Only whip the cream until it is softly whipped, too thick and it may be hard to spread on the pavlova.
Get ahead by baking the meringue up to 12 hours before and decorate with cream and raspberries an hour or so before you are ready to serve.
How To Store A Pavlova
Store in a cool place in an air tight container. At least 1 or 2 days in a cool, dry place. Moisture is the enemy and it will lose crispness in damp air.
You can freeze meringue. Stored carefully in an air tight container it will freeze well for up to a month. It is important to defrost out of it's container to keep it away from any moisture, so a wire rack is perfect. Just let it come up to room temperature and go ahead as normal.
You can actually freeze raw egg whites too. Simply put them in a freezer bag, plastic container or even in an ice cube tray. If using an ice cube tray when the whites are frozen transfer to a freezer bag or container for long term storage. They will keep for up to a year but it is wise to label them with the date. Defrost in the fridge and remember that freezing does not kill salmonella so the usual rules still apply.
*The remaining egg yolks are great for adding richness to everything from pasta dishes to ice cream, custard to breads. I am careful to store them in a particular way. I use clingfilm scrunched up and pushed closely onto the surface of them and then another layer of clingfilm over the container they are in, usually a mug. This way it prevents a tough skin forming on the top.*
If you like this meringue recipe then you may like these lovelies:
White Chocolate and Raspberry Roulade
White Chocolate and Raspberry Cheesecake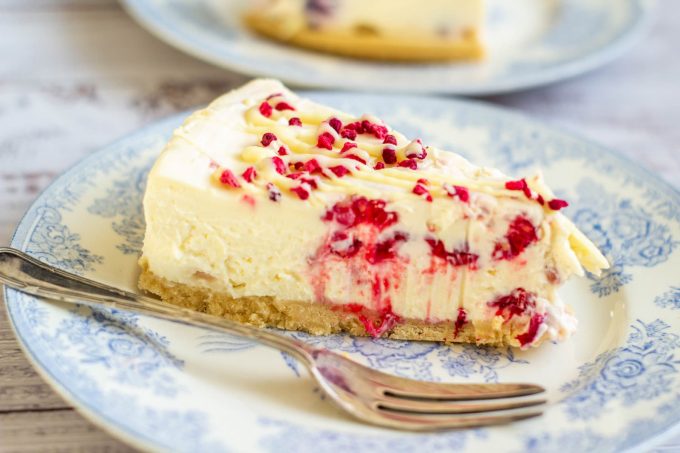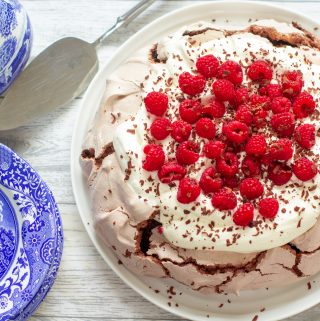 Chocolate Pavlova Recipe.
This recipe for Chocolate Pavlova is courtesy of Nigella and it is absolutely stunning. One of my absolute faves
Ingredients
6

large

egg whites

300

grams

caster sugar

3

tbsp

quality cocoa powder

50

grams

of quality dark chocolate

500

ml

of double cream

500

grams

of raspberries

grated dark choc to decorate
Instructions
Preheat the oven to 150° C/300°F/Gas Mark 2 and line tray with baking parchment.

Beat the egg whites until fluffed up and stiff. Beat in the sugar until stiff and shiny. Do this a tbsp of sugar at a time

Sprinkle over the cocoa and chocolate and then fold it all in. I sometimes whisk the cocoa in before folding in the chocolate and it does not seem to matter at all.

Shape into a disc shape  about 9 inches in diameter whilst drawing up the sides a little so as to contain all the cream and raspberries later.

Place into the oven and then bake for 1 to 1 hour fifteen minutes. I sometimes do it in my Aga simmer oven for about 2 hours. (110 C)

Let the pav cool completely before whisking the cream to soft peaks and tumbling on the raspberries (love a tumble)

You could also decorate with dark chocolate gratings for a bit of razzle.

Apply to Unflushed face.
Nutrition
Calories:
388
kcal
|
Carbohydrates:
43
g
|
Protein:
4
g
|
Fat:
23
g
|
Saturated Fat:
14
g
|
Cholesterol:
68
mg
|
Sodium:
55
mg
|
Potassium:
241
mg
|
Fiber:
4
g
|
Sugar:
34
g
|
Vitamin A:
750
IU
|
Vitamin C:
13.4
mg
|
Calcium:
56
mg
|
Iron:
1.8
mg
All nutritional information is approximate and intended only as a guide.
Tried this recipe?
Take a pic and tag @applytofaceblog on Instagram. I would so love to see them!
I have linked this post with I should Cocoa and Tin and Thyme as well as CookBlogShare Week 26