This recipe for White Chocolate and Raspberry Roulade is one of those recipes that I have been meaning to make but just never got round to. I am completely bowled over by it. It is sensational. By their very good looks roulades are a bit of a centre piece dessert so perfect for a special occasion or entertaining.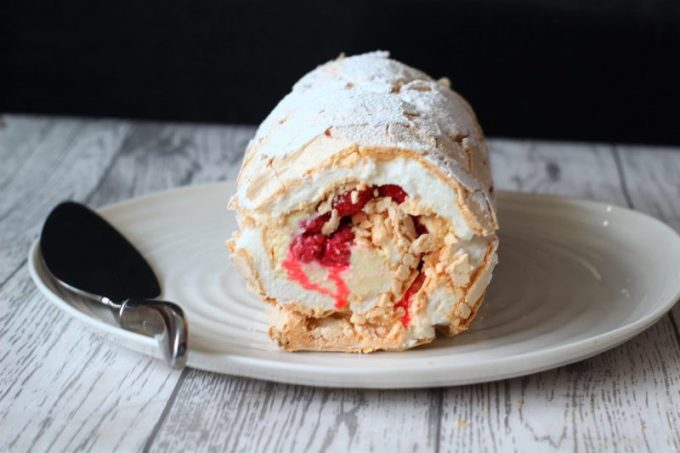 So, how do you roll a Roulade?
In general there seems to be a mystique to roulades that I feel is quite unfounded. Much ado about nothing in fact, honestly please believe me roulade wannabees.
All that is required to make sure that it rolls like a big fat sweet cigar is to flip the baked meringue onto a piece of greaseproof/baking paper and make a heavy indentation all the way across the short side about two inches in from the edge once you have slathered it with your filling, and I mean slathered. What's the point otherwise......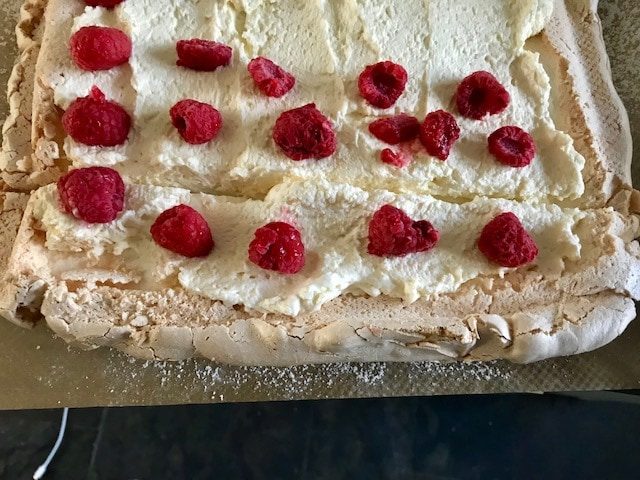 Following that you simply use the paper to pull/roll the edge upwards as it folds/collapses along the indentation automatically. Keep pulling the paper tightly upwards and it just rolls up sweet as a nut.
Here's a video to show you exactly how to roll it up using the baking paper.
Wallop, rolled roulade.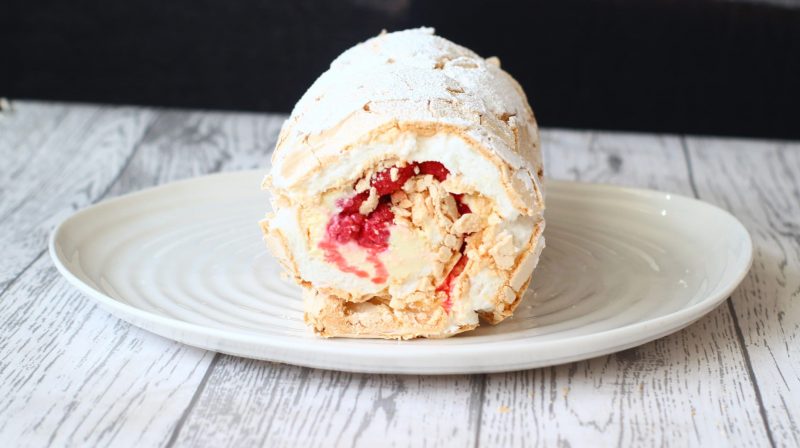 Once mastered you can make incredible Roulades. Chocolate ones, Lemon Ones, you name it.
Roulades are obviously made with meringue which requires only a few ingredients - egg whites and sugar. You can make pavlovas and plain meringues too with the same recipe. I can't get enough.

The above INCREDIBLE Chocolate Pavlova includes cocoa, raspberries and dark chocolate and I am ALWAYS making this simple individual Meringue mixture below at home for Sunday Lunches etc.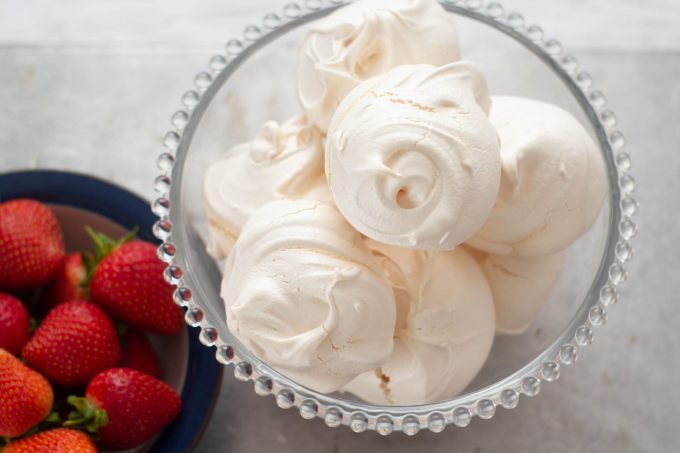 There is a printable recipe card at the bottom of the post with full ingredients and instructions.
How to make Meringue for Roulade.
Equipment Required
free standing mixer or large mixing bowl and electric whisk
spatula
scales
lined baking tray about 33 x 23cm
Ingredients
5 medium egg whites
300 grams (11 oz) caster sugar
1 tsp corn flour
1 tsp white wine vinegar
150 grams (5.3 oz) white chocolate
400 mls double cream
200 grams (7 oz) fresh raspberries
Method
Firstly you whip the egg whites to a frothy stage, usually about a minute or so.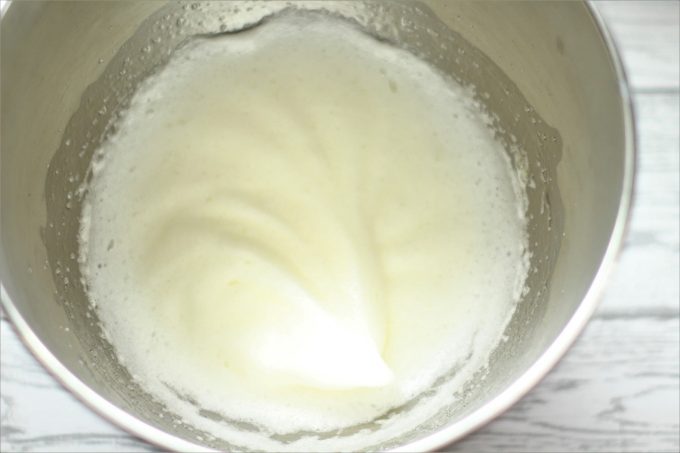 Then you add your sugar to the bowl a dessert spoon at a time. Allowing the sugar to be efficiently incorporated into the whites.
Keep whipping then for about another three minutes. The result is a very glossy mixture that is super stiff.
Put in the corn flour and vinegar and whisk for another thirty seconds. Keep going until it quivers.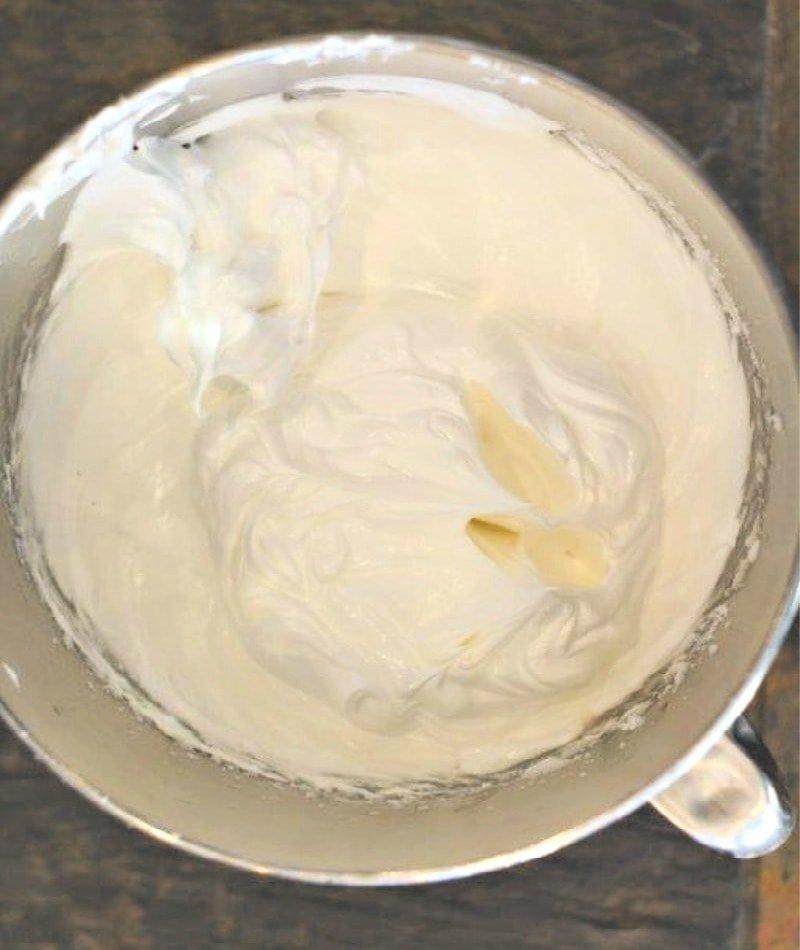 For this roulade spread it out onto a baking tray lined with baking paper. I use a 33 cm x 23 cm baking tray.
But if making meringues just dollop little free form mountains onto a lined flat baking tray and if making Pavlova then form into a 8 "circular island.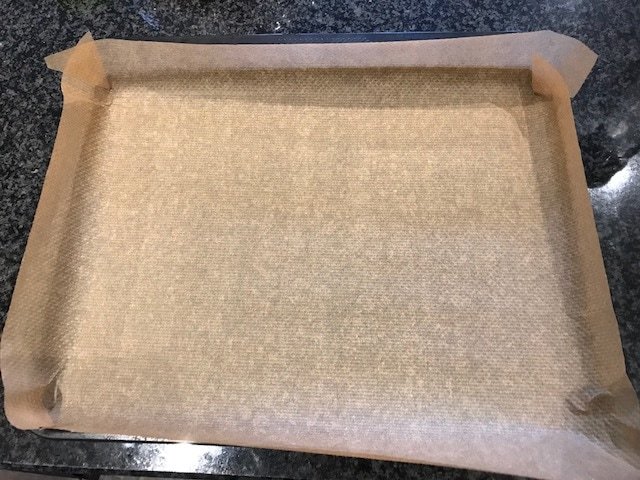 Bake at 140 C for 25 minutes (about an hour for the meringues and an hour and fifteen for the Pavlova).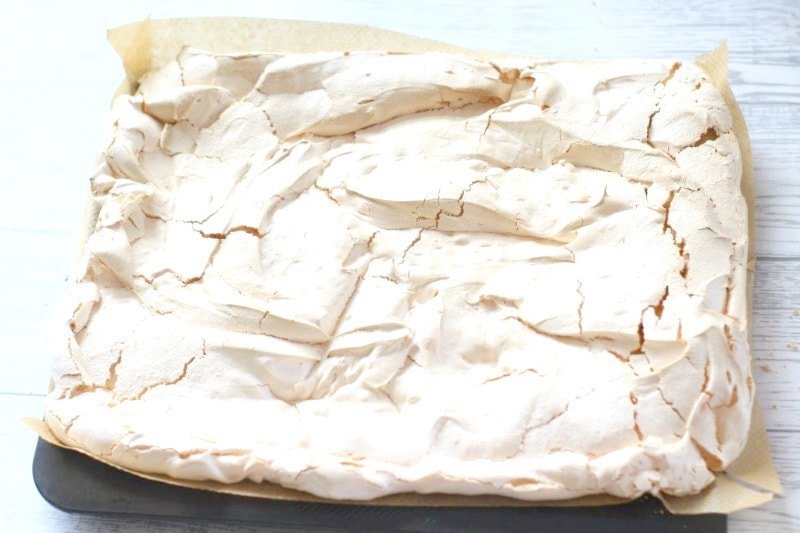 When cool flip the meringue over onto another large piece of baking paper dusted with icing sugar.
Carefully peel the original baking paper from the meringue and discard.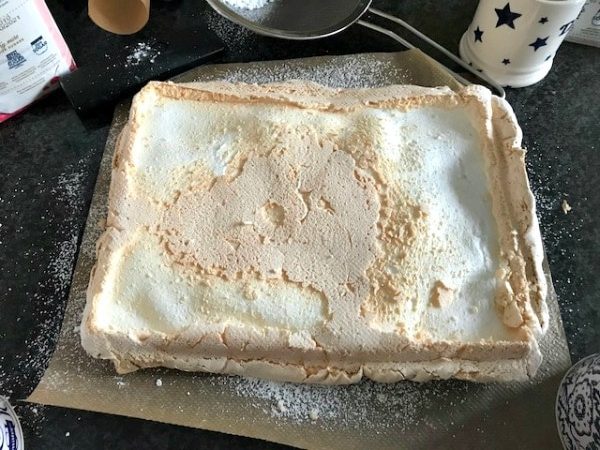 Melt the chocolate in the microwave in 20 second bursts or in a metal bowl over a pan of simmering water. Be careful not to let the water touch the bottom of the bowl and when cool mix into the whipped cream.
Spread the chocolate and cream mixture onto the underside of the meringue which is now uppermost and staring you in the face just begging for some slathering.
Tumble on those raspberries and roll up as above.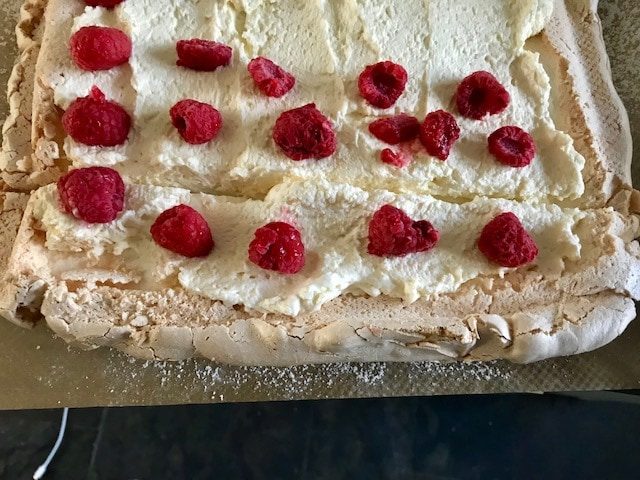 Cushty....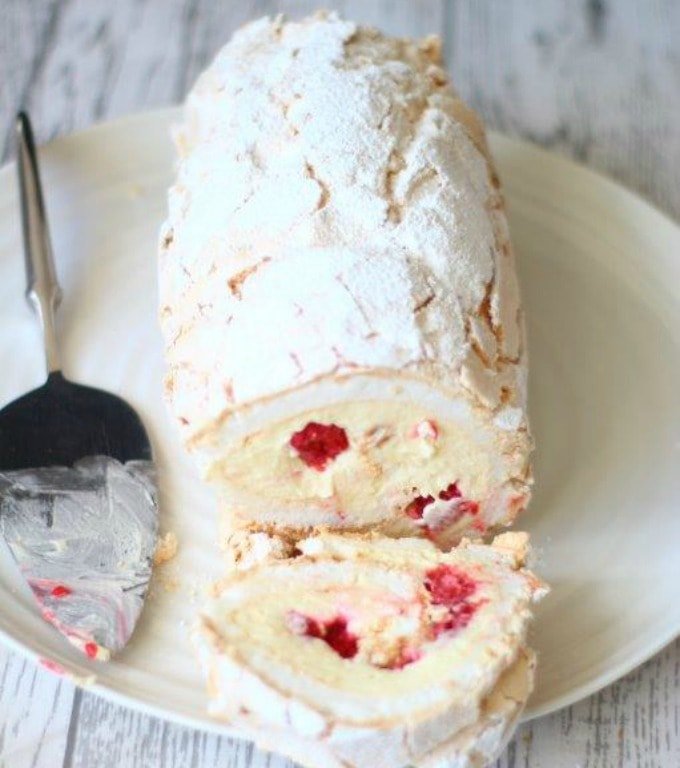 I do think some Raspberry Coulis poured over each slice would be a fabulous idea. The tartness of the raspberry would go very well with the richness of the white chocolate cream.
IF YOU LIKE THIS DESSERT THEN YOU MAY LIKE THESE
No Bake Lime and Chocolate Cheesecake
White Chocolate and Raspberry Cheesecake.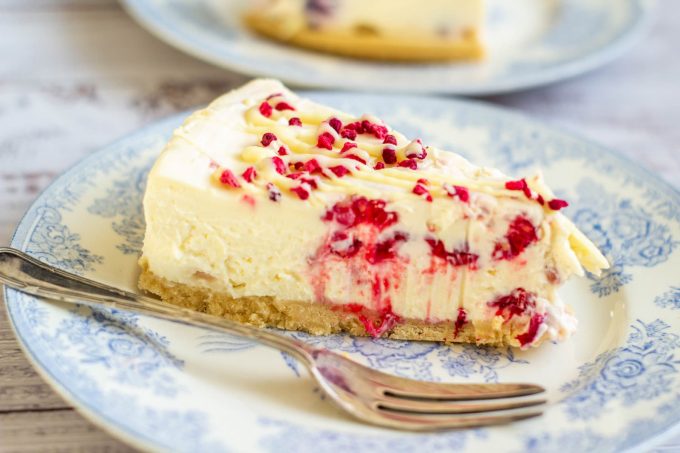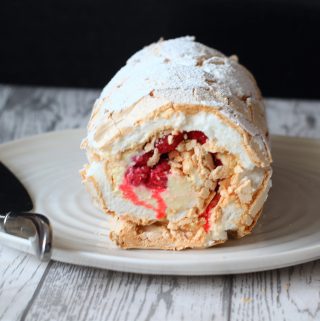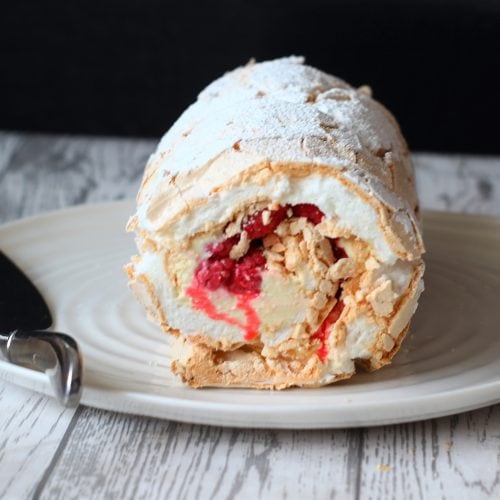 White Chocolate Roulade
This White Chocolate and Raspberry Roulade is spectacular and a perfect dessert for a special occasion or Christmas.
Ingredients
Meringue
5

medium

egg whites

300

grams

caster sugar

1

tsp

cornflour

1

tsp

white wine vinegar
White Chocolate Cream
150

grams

white chocolate

cooking

400

mls

double cream

200

grams

raspberries
Instructions
Preheat the oven to 160 C/ 320 F/ Gas Mark 3. Separate your egg whites into two separate bowls. Make sure there is no yolk in the whites bowl at all. Whisk the whites for a couple of minutes until frothy. Add the sugar then a spoon at a time. A free standing mixer makes this super easy. Carry on whisking until the mixture is glossy and super stiff. Add the corn flour and vinegar and whisk for another thirty seconds.

Line a baking tray with baking paper. Empty out the meringue mixture and smooth out evenly. Make sure there are no air pockets.

Bake for about 25 minutes or until the meringue is golden brown all over.

Meanwhile melt the white chocolate. I melt it on the back of my Aga but you can melt it in the microwave in twenty seconds bursts giving it a stir after each burst or over a saucepan of simmering water.

Whip the cream until it is softly whipped and still a bit slack. Add the melted chocolate and mix again. The cream mixture will now thicken up. Try to be mindful of not over whipping it at this point. Otherwise it will be difficult to spread.

Remove the meringue from the oven and allow to cool in the tin for five minutes. Dust another piece of baking paper a bit larger than the meringue it self with icing sugar and flip a sgently as you can the meringue out onto it. You are then looking at the underside of the meringue with the paper still attached. Carefully peel off the paper.

When fully cool spread the cream mixture onto the meringue covering it well and leaving a 1 cm border all round from the edge.

Tumble on the raspberries evenly and then make an indentation about two inches all along one of the short sides. Make sure you do not go all the way through.

Using the paper start to roll the roulade up from the short side. Pull tightly as you go and finish when the seam is more or less underneath the roulade.

Transport to your serving dish and dust with more icing.
Notes
Break your egg whites into two separate bowls and have your mixing bowl to the side too. After each egg white is separated tip it from that bowl into the mixing bowl so as to keep each egg white uncontaminated if the yolk breaks as you handle it.
The golden rule with meringues is for each egg white you add 50 grams of sugar. I always add a bit extra though once you get past 3 egg whites. When I get to 5 I just add another 50 grams.
I would serve a raspberry coulis with this plus some more fresh raspberries.
Meringues can be stored in an air tight container for up to two weeks and frozen for up to a month.
Nutrition
Calories:
433
kcal
|
Carbohydrates:
53
g
|
Protein:
2
g
|
Fat:
24
g
|
Saturated Fat:
15
g
|
Cholesterol:
72
mg
|
Sodium:
37
mg
|
Potassium:
128
mg
|
Fiber:
1
g
|
Sugar:
49
g
|
Vitamin A:
745
IU
|
Vitamin C:
6.8
mg
|
Calcium:
76
mg
|
Iron:
0.2
mg
All nutritional information is approximate and intended only as a guide.
Tried this recipe?
Take a pic and tag @applytofaceblog on Instagram. I would so love to see them!
PIN FOR LATER