This Sticky Toffee Pudding is light, meldingly soft and just delicious. The caramel toffee sauce is pretty amazing too. An exceptional recipe if I do say so myself.
As I write I am sat in That chair by That hospital bed awaiting the instruction to put on That gown…….
I am in to have a three gnashers removed…..and I am bricking it. All I can think of is throbbing, raw empty sockets and cheeks like a woodchuck. I've never seen a woodchuck but I just feel they must have massive fat cheeks. Some years ago I heard someone talk about a terrible condition called dry tooth, I bet I get that too, never mind the toothless old crone look. This aging thing just keeps on giving. Not only do I have brows like my Grandmother but now I have the gum line  to match. What if my cheeks cave in? What if I now can't help but make a smacking sound when I eat?………. At least there's always, always, Haagen-Dazs.
On the plus side I have just fallen deeply in love with my surgeon. Good looking, suave and kind I was a gonna in about thirty seconds flat. Standing there terribly loose breasted in a dressing gown with jam on, I actually got lost in his amazingly deep and lovely eyes.  My husband has the bedside manner of an old school Catholic Nun so all it took was a concerned knitting together of the fabulously well groomed eyebrows and I was already slack jawed without even a whiff of anaesthesia. "Be gentle with me", I sighed…………..Goodness it seems like there's life in the old bitch yet ………somewhere…. but definitely not in the next couple of days….. and he definitely wasn't gentle with me ????
This is a Sticky Toffee Recipe to cheer even the downest of days. It is always a universal winner and with serious good reason. Soft delicious sponge smothered in a toffee sauce that is to die for. Can be eaten straight out of the oven or made ahead and warmed through in the  microwave to suit you sir. Serve it with custard, cream or ice-cream. I try to offer all three. I feel people should not be denied their preference where sticky toffee is concerned. Nothing should stand in the way of optimum pleasure. This is a great Sunday Lunch or Dinner Party dessert as well as perfect for swollen gums.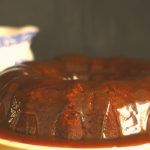 Sticky Toffee Pudding
This is a stupendous dessert as delicious as it is comforting. Make ahead or devour straight from the oven smothered in toffee sauce.
Ingredients
Sponge
200

grams

light brown sugar

2

medium

eggs

75

grams

butter

soft

2

tbsp

golden syrup

2

tbsp

black treacle

1

tsp

vanilla extract

200

grams

pitted dates

1

tbsp

bicarbonate of soda

200

grams

plain flour

2

tsp

baking powder

300

mls

water
Toffee sauce
200

grams

light brown sugar

200

grams

butter

2

tbsps

black treacle

200

mls

double cream
Instructions
Sponge
Although the recipe is a simple and straight forward one there are a lot of diff ingredients so I find I prefer to get them all ready in order to avoid dashing about like a t.at. You do require a food processor to puree the dates and a large baking tin or dish. I have often used a ceramic dish measuring 25cm by 25cm so quite a large one or a bundt tin. I love to serve it smothered in toffee sauce.

Grease the dish/tin and dust the inside with flour. Pre heat the oven to 180 C.

Cream/Beat the butter and sugar together in a food mixer or with an electric whisk.

Add the eggs, syrup, black treacle and vanilla extract. Turn the mixer on to a slow speed and then add the flour and baking powder.

In a saucepan bring the dates to a boil with the 300 mls of water. Remove from the heat and puree in a food processor.

Add the bicarb to the date mixture and whizz once more.

Whilst hot quickly add to the sponge mix and mix again.

Tip the batter out into the tin or dish. Bake for about 35-45 mins. A skewer inserted should come out clean.
Toffee Sauce
Melt the butter and sugar together and bubble quite hard for a few mins until it starts to colour.

Take off the heat and add the cream. It will splutter, be brave. Add the treacle and mix well. Put it back on a gentle heat for it to bubble again for a couple of mins.Taste the sauce and add more treacle to taste. Pour some over the sponge before serving and decant the rest into a jug for people to add more themselves.

Apply to swooning and swollen face and gums.
Nutrition Facts
Sticky Toffee Pudding
Amount Per Serving
Calories 435
Calories from Fat 72
% Daily Value*
Fat 8g12%
Cholesterol 64mg21%
Sodium 364mg16%
Potassium 595mg17%
Carbohydrates 85g28%
Protein 6g12%
Vitamin A 350IU7%
Vitamin C 0.1mg0%
Calcium 151mg15%
Iron 3.5mg19%
* Percent Daily Values are based on a 2000 calorie diet.
Here is another fabulous Sunday Lunch pudding- Apple Pie