Garlic Bread Rolls
But first…..some painful gnasher removal…….
Having my wisdom teeth out proved to be as hard core as child birth. There were no warnings from health care officials, no have you got anyone to look after your whole life for the next few days, no are you aware we are about to carry out serious trauma to your face?  Just afterwards a cursory, over the shoulder, "You can get dressed now", WT serious F?!! I feel like my mouth has been in a  car crash, my gown is completely open at the back, I can't talk or think straight and the room is full of people that have no desire to see my bloodhound breasts and craterous thighs…..at least draw  the curtains for me b.tch.
It was a sign of things to come. My husband had in the few hours after he had dropped me off clutching a carrier bag stuffed with a jammy dressing gown and mangy slippers, forgotten completely to listen out for my text to come pick me up. It took 2 hours before he appeared sheepishly at my bedside citing traffic issues and a difficult time at Tescos finding Heinz Chicken Soup………..I ask you?…….
In the interim I was handed an aftercare do's and don'ts sheet. I poured over these instructions with the fear of the seriously injured. Being the scared sh.tless type that I am, I became concerned about one of the instructions and tried to seek clarification from the nurses. Each one gave a completely different answer and the last one found me obviously stupid so I desisted and just gave into worrying about it neurotically for the next 24 hours.
Obviously my appetite remained undaunted and once over the initial shock of the extraction and resulting moon face, I began settling into slurping soup and even started ramming soft food through the 1 cm gap between my top and bottom teeth. It's amazing what you can achieve when desperate and a big fatty. It also made me realise that a gastric band would be of no use to me. I would push through the pain and stretch the mofo.
True to form I developed a raging infection in the worst affected tooth socket and desperately rang the number on the back of the aftercare sheet. The receptionist simply instructed me to see my doctor…..Bloody marvellous, we all know doctor's appointments are as difficult to acquire as rocking horse poop and so with dread in my pounding heart I went through the motions and made the 45 minute call to no avail. Enough of this nonsense I thought, I will get my ass down there and go face to face with the receptionist bossy boots b.tch…….whatever it takes………. However Lady Luck was on my side and the receptionist was a kind lady with the bedside manner of a hospice nurse. " Sit there my love, you look awful/monstrous, I will put you on the triage list and tell the doctor that you are here awaiting his call" I felt like I had practically gone private….Hurrah.. It was of course too good to be true……..
The doctor proceeded to do nothing more than  rant  about me being the Hospital's responsibility and not his, how sick and tired he was about it and so on and so on and then on some more. I  chose this moment to give in and weep like a girl, I couldn't stop it. I had come to the end of my stiff and swollen upper lip and needed a Doc with an axe to grind like a big chunk of toffee, it deterred him not. He eventually obliged with the antibiotics but it left me wondering after another rubbish consultation in time of need………that program on Channel 5 – "Behind Closed Doors" with all the smiling doctors listening intently and sympathetically to their patients problems…….. it has to be an absolute load of horse s.it…….
Garlic Bread Rolls Recipe
Anyways I have passed the time dreaming about tear and share garlic rolls. It has taken me a few experiments to come up with this fabulous recipe but it has been well worth the wait. These soft garlicky buns of love have fitted perfectly between my gnashers when split in half and I have been able to practically inhale them so soft is their crumb. I bake them in my cast iron frying pan and bring them warm to the table for immediate devouring but you can cover and keep them to reheat again over a couple of days if it suits your garlic bread wants.
After the initial rise I roll pieces of the dough into balls and nestle into my skillet pan with gaps in between. I brush the garlic butter all over them and cover to allow to prove somewhere warm.
Bake in the oven until gloriously brown and burnished with the Garlic Butter…..Inhale.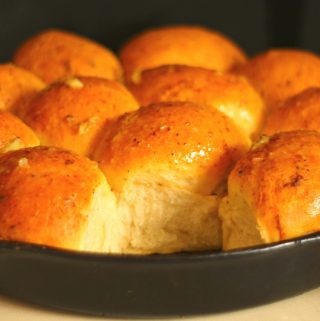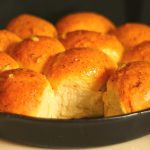 Garlic Rolls
This is a recipe of love. These tear and share rolls are stupendous and pretty impressive placed in the middle of the table for everyone to help themselves. Perfect for a friends or family get together especially to accompany the colder weather and a chilli or such like. They will now become one of my favourite bakes. Enjoy. I make mine in a cast iron frying pan but you can use any roasting dish.
Total Time
2
hours
50
minutes
Ingredients
Rolls
500

grams

strong white flour

7

grams

dry instant yeast

1 packet

7

grams

salt

1

tsps

garlic powder

rounded

70

grams

unsalted butter

soft

1

tbsp

sugar

250

mls

milk

luke warm

1

large

egg

room temp and beaten
Garlic butter
1

head

garlic

50

grams

unsalted butter

2

tbsps

quality olive oil

1

big pinch

sea salt flakes
Instructions
I make my bread rolls in a free standing mixer with a dough hook. But you can do it all by hand. Put the flour, yeast, butter, garlic powder, sugar and salt all in your large mixing bowl. Make sure to put your yeast and salt on opposite sides of the bowl. Warm the milk and egg together slightly in a jug so that they are luke warm. This helps the yeast to activate quickly. Preheat the oven to 180 C.

Pour the wet ingredients into the bowl and mix well until a dough forms. Knead by hand for about ten mins or five if using a dough hook and mixer. Keep going until the dough is smooth and elastic. This dough may start off quite wet and sticky but that will disappear as you knead.

Oil the bowl and cover it with clingfilm or suchlike. Place it somewhere warm.

Slice the top off the garlic head and parcel loosely in a square of silver foil and roast in an oven for about 40 mins. Leave till cool enough to handle.

In a small food processor squeeze out the garlic cloves. Sorry but they pop out just like giant blackheads!!!Extremely satisfying!!!Add the butter, oil and salt. Whizz until it forms a paste. Set aside.

Once the dough has doubled in size (this may take an hour and a half) tip out onto the work surface and knock back. I then paint my roasting dish or frying pan with some of the garlic butter and begin to chop off bits of the dough and roll them into balls. I place them in the dish with gaps in between. This allows them to puff up. It is important to roll the balls tightly as it is this that helps them rise. Sometimes I roll them between the flat of my palm and the work surface and others just pull them into a drawstring purse shape pulling the outer surface tight underneath the ball. Brush liberally with half of the garlic butter paste.

Cover with a large carrier bag and fasten the edges shut. Place your dish somewhere warm. You can just use clingfilm if there is room for the buns to rise in your dish. If I use the frying pan it isn't deep enough so I slip it inside a clean carrier bag. Wait for about forty minutes for the buns to puff up.

Place in the oven for about thirty minutes or until they are golden brown. If the tops start to catch then place a sheet of silver foil loosely on top to prevent the rolls becoming too dark. If not eating immediately cool on a wire rack.

Apply three immediately to chipmunk face. Strictly for medicinal purposes you understand.
Recipe Notes
Nutrition Information is intended as a guide only
Nutrition Facts
Garlic Rolls
Amount Per Serving
Calories 410
Calories from Fat 162
% Daily Value*
Fat 18g28%
Cholesterol 61mg20%
Sodium 415mg18%
Potassium 144mg4%
Carbohydrates 52g17%
Protein 9g18%
Vitamin A 465IU9%
Vitamin C 1.1mg1%
Calcium 59mg6%
Iron 3.1mg17%
* Percent Daily Values are based on a 2000 calorie diet.
Here are another couple of seriously delicious bread recipes – The Best Soft Rolls
I have linked this Garlic Rolls recipe with Cook, Blog, Share and Brilliant Blog Posts
Here is another fabulous recipe for Buns