This Garlic Naan Bread recipe is absolutely outstanding. They are as good as the real thing and that is saying something. Buttery, garlic yeasted dough charred in places……oh lord pass me the Butter Chicken.
Homemade Garlic Naan Bread
This Naan Bread is downright epic. For ages I had searched in vain for such a recipe. A recipe to rival that of the real thing.
The Naan Breads that you get at curry houses are pretty special things but the ones in supermarkets are not worth the chewing.
I longed to be able to produce something seriously good to mop up a curry sauce. Longed….
But first………some downward dog.
Last week I went to a yoga class…… I found myself with ten mins to go before I was due to leave standing in my bedroom in crisis and panic mode. …….
True to form I had not given an appropriate outfit a single thought. What on earth did I have in my wardrobe that would cover everything sufficiently when doing the downward dog????
Instinctively I knew that no one should see my downward dog……..
Christ what does everyone wear to a yoga class anyway????…..
Could I get away with a clucking kaftan???……
For so long I have been exercising in my bedroom in my pyjama bottoms (nice bit of cotton) and old t shirts from slimmer days that, by the end of my treadmill workout, have rolled up over my upper belly rolls (you know the ones) to become crop tops.
Can you see it ??? I really am not joking people, alone I have no excercising shame……..
In truth I did not have many options to choose from….Threadbare leggings and my husbands T shirt with an oil patch on the front…….I am officially a frumpy old bird.
In truth I was glad to take frumpy, it could so easily have gone crop top and camel toe.
Naan Bread Recipe
This following recipe for Homemade Garlic Naan has transformed my entertaining at home and given me a whole new feather to my soireeing (made up word).
I now can cook currys and other delish Indian meals safe in the knowledge that I can easily knock up outstanding naan breads…..
Kiss my butt if you will. This is truly fabulous news.
For so long I have not done so because I felt it always a disappointment that I couldn't provide a really goood Naan Bread.
I have adapted a Naan Bread recipe I found by Madhu Jaffrey. I have changed it to suit what I wanted to create and this Garlic Naan Recipe is DAMN, DAMN good even if I say so myself.
It is an enriched dough left to prove until doubled in size.
Simply mix the wet and dry ingredients together in a free standing mixer with a dough hook until smooth and stretchy. I find that takes my mixer about 5 mins on a medium speed
Cover and leave in a clean oiled bowl somewhere warm to prove.
It needs to double in size. This one got a little alien on me and threatened to come out over the top of my bowl…..
I beat it back and then divided the whole lot by eight.
I did this using scales and a calculator just to make it easier. I am rubbish at guessing.
You need to cover the dough with a damp tea towel as you go otherwise the idle dough will develop a bit of a crust.
The trick then is to oil the surface as well as the rolling pin and roll out each naan bread to about a 20 cm by 15 cm trefoil. Think Brownies or Guides……
Any shape is fine really. You want a thickness of about a 1 pound coin on the work surface. In reality as you pick the dough up it will shrink in size and thicken on it's way to the pan.
Worry not, God loves them all……..
I use a flat pancake pan to dry fry my Naan Breads. If you own a plain cast iron one then you're in the money….
I leave it to heat up on the hottest heat for five mins. I then test a piece of bread on it for 2-3 mins just to test that it will not burn the bread.
Adjust your heat if it does.
Then proceed one at a time to dry fry the Garlic Naan Breads.
To the side I have a pot of garlic butter and nigella seeds ready along with a brush and as each one emerges from the pan I paint it with the garlic butter. Lush or what?????
I like to pile them up when serving for some reason. I think it's the feeder in me but I usually make them way ahead, brush with butter and then cover with foil in a baking tray.
I reheat them still covered in foil at 180 C for five or ten mins.
IF YOU LIKE THIS GARLIC NAAN BREAD RECIPE THEN YOU MAY LIKE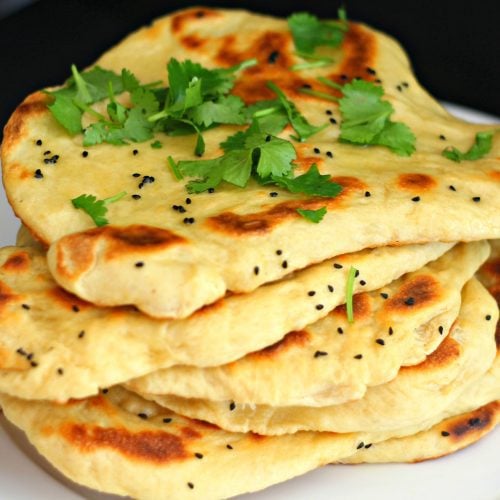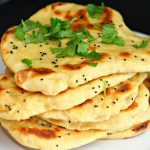 Homemade Garlic Naan Bread.
This is a recipe for fabulous Garlic Naan Breads. They are delicious served with any Curry, bronzed and burnished with garlic butter and Nigella seeds. They can be made ahead and heated up just in time to be piled high for sharing.
Ingredients
Naan Bread.
500

grams

strong white flour.

1

tbsp

sugar

7

grams

salt

1

tsp

baking powder

200

mls

warm milk

3

tbsp

vegetable oil

2 x 7

grams

dried yeast

packets are easiest

1

medium

beaten egg

150

mls

plain yoghurt
Garlic Butter
50

grams

salted butter

1

tsp

garlic powder

1

tsp

nigella seeds
Instructions
I use a free standing mixer to make my dough but you can do it by hand in a large bowl. Put the flour, salt, oil, sugar, yeast and baking powder in your bowl. In a measuring jug measure out your yoghurt and milk. Add your egg and using a fork or small whisk mix the whole lot up well in the jug.

Add the liquid to the bowl and using a dough hook with your mixer or by hand bring the whole lot together and then knead for about 5 mins with your mixer or ten by hand. Once the dough has become smooth and elastic it's ready. If the dough still sticks around the bowl stop the mixer and scrape it all down. If mixing by hand it can be a bit sticky. try to be frugal with your flour on your surface as you don't want it to become too dry. A bit of oil on the surface might help.

Oil your bowl and cover. Put it somewhere warm to prove for about an hour or until at least doubled in size.

When ready turn out the dough and knock back. Put your pan on the heat empty. Measure the whole lot on some digital scales and divide by 8. It's usually about 115 grams each Naan. Roll it out as best you can to about a pound coin thickness and pop it in the pan.

It usually takes a couple of mins each side and I do time it. Otherwise I daydream. Some may be thicker and need one minute more each side.

I have ready the melted butter, garlic powder and Nigella seeds just mixed together in a mug or pot and as they come out I brush them with it.....Yum. I usually leave them then piled up together and covered in foil and simply reheat when I need them. I keep them covered when I reheat them at 180 C for 5/10 mins or so.

Apply to Downward Dog Face.
Recipe Notes
When reheating for added lushness I refresh mine with another light brush of garlic butter. I just make the butter with another 25 g of salted butter and 1/2 tsp of garlic powder melted and stirred well.
Nutrition Facts
Homemade Garlic Naan Bread.
Amount Per Serving
Calories 359
Calories from Fat 108
% Daily Value*
Fat 12g18%
Cholesterol 41mg14%
Sodium 413mg18%
Potassium 205mg6%
Carbohydrates 51g17%
Protein 8g16%
Vitamin A 250IU5%
Calcium 92mg9%
Iron 3.1mg17%
* Percent Daily Values are based on a 2000 calorie diet.
This Garlic Naan recipe is perfect with my delicious Butter Chicken.
Thai Spiced Chicken Noodle Soup
PIN ME FOR LATER!
I have linked this post with Big Pink LInk over at Just Hannah Jane – Recipe of the Week over at A Mummy Too – Cook, Blog, Share over at Easy Peasy Foodie.