This Garlic Naan Bread recipe is absolutely outstanding. They are as good as the real thing and that is saying something. Buttery, garlic yeasted dough charred in places......oh lord pass me the Butter Chicken.
Homemade Garlic Naan Bread
This Naan Bread is downright epic. For ages I had searched in vain for such a recipe. A recipe to rival that of the real thing.
The Naan Breads that you get at curry houses are pretty special things but the ones in supermarkets are not worth the chewing.
I longed to be able to produce something seriously good to mop up a curry sauce. Longed....
And here she is.This following recipe for Homemade Garlic Naan has transformed my entertaining at home and given me a whole new feather to my soireeing (made up word).
I now can cook currys and other delish Indian meals safe in the knowledge that I can easily knock up outstanding naan breads.....a good blogging friend makes them into egg and bacon wraps! Obviously without the garlic butter. I keep meaning to try them that way.
It is a rather sticky dough to knead. To that end I do recommend you make them in a mixer with a dough hook. But they are doable by hand, just keep the faith, the dough gets much more manageable as you keep kneading.
Another point that you should keep in mind is that when you are rolling them out do roll them out as thinly as you can. They do spring back thicker as soon as they hit the hot pan.
Scroll Down For The Recipe Card Below If You Do Not Need The Step By Step Photos.
Naan Bread Recipe
I have adapted a Naan Bread recipe I found by Madhu Jaffrey. I have changed it to suit what I wanted to create and this Garlic Naan Recipe is DAMN, DAMN good even if I say so myself.
It is an enriched dough left to prove until doubled in size.
Simply mix the wet and dry ingredients together in a free standing mixer with a dough hook until smooth and stretchy. I find that takes my mixer about 5 mins on a medium speed. It is a sticky dough but as the dough mixes it gets less sticky.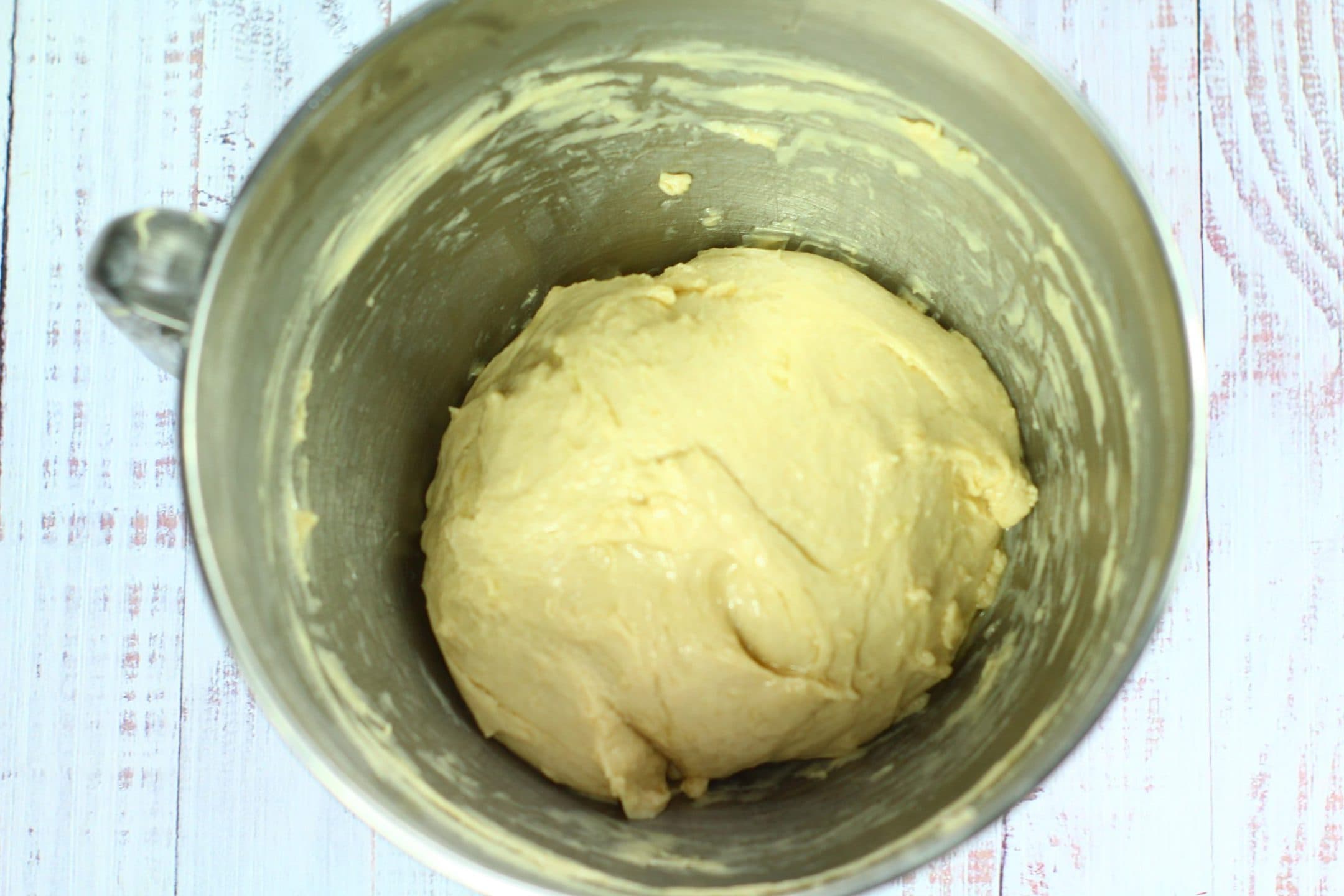 Cover and leave in a clean oiled bowl somewhere warm to prove.
It needs to double in size.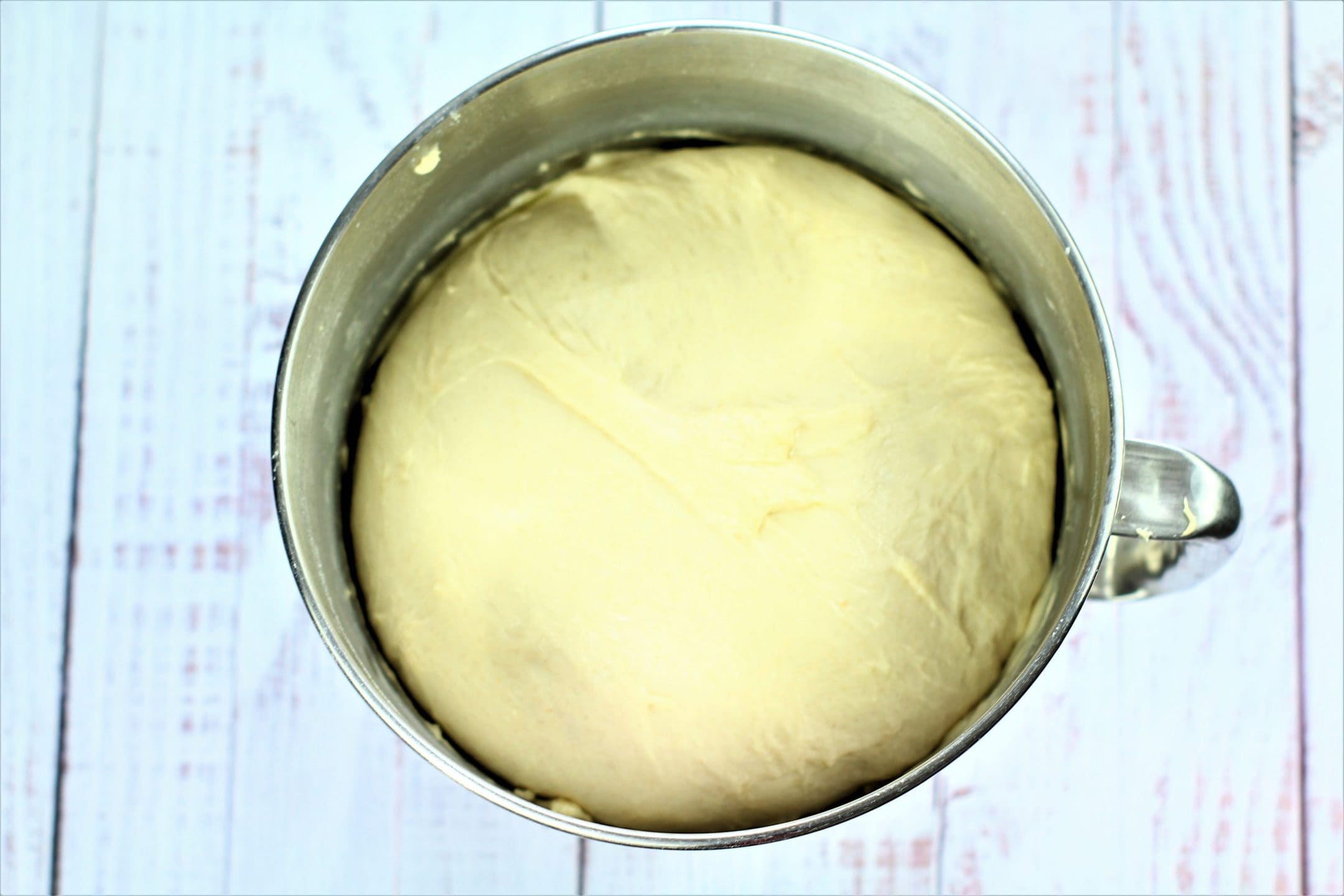 I beat it back and then divided the whole lot by eight.
I did this using scales and a calculator just to make it easier. I am rubbish at guessing. Its about 115 grams per Naan.
You need to cover the dough with a damp tea towel or cling film as you go otherwise the idle dough will develop a bit of a crust.
The trick then is to flour the surface a little bit as well as the rolling pin and roll out each naan bread to about a 20 cm by 15 cm trefoil. Think Brownies or Guides......
Any shape is fine really. You want a thickness of about 2 mm. In reality as you pick the dough up it will shrink in size and thicken on it's way to the pan so it needs to be super thin. I often roll it out and leave it for 20 seconds or so and then roll again just to keep the dough from snapping back thicker on the way to the pan.
Worry not, God loves them all........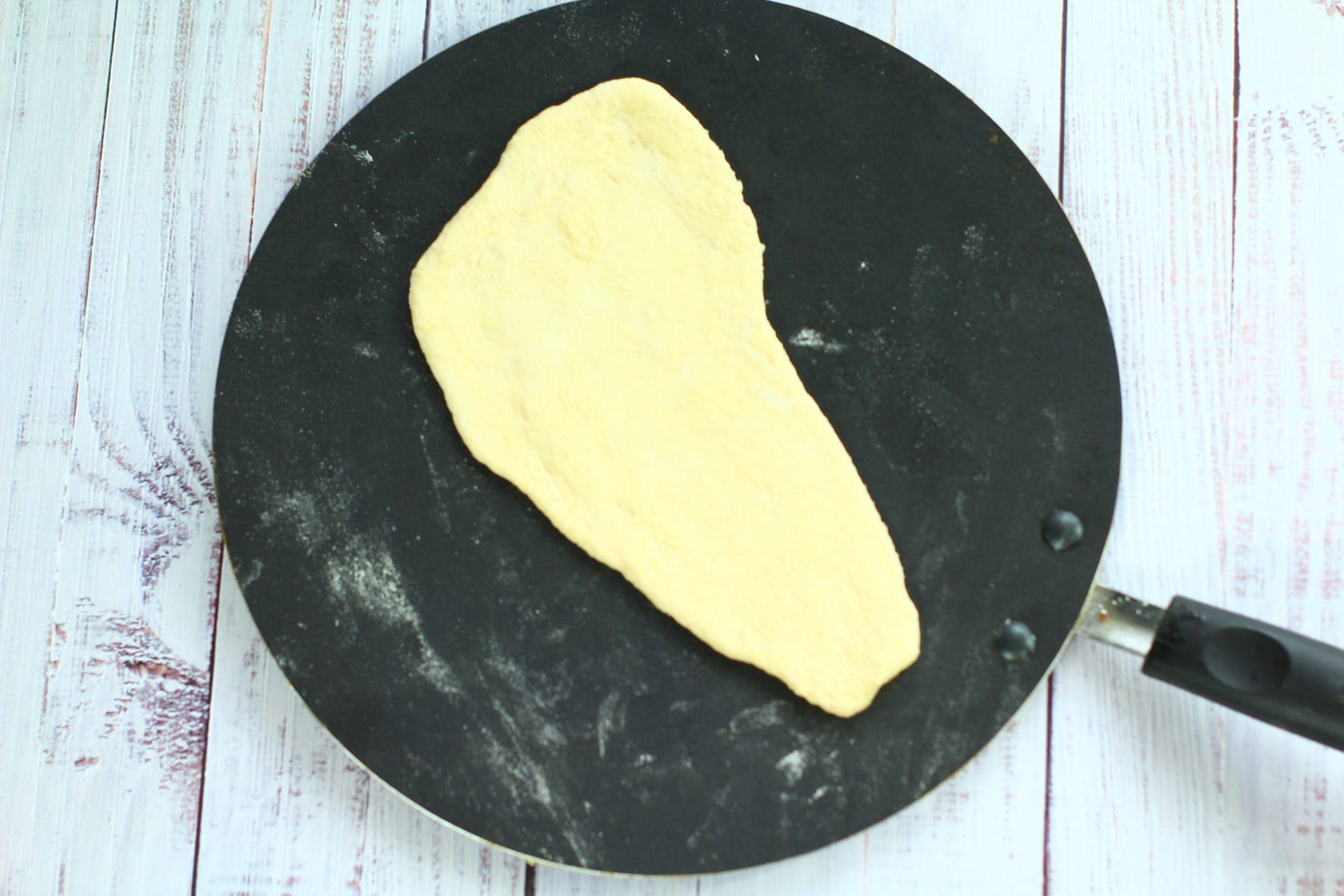 I use a flat pancake pan to fry my Naan Breads. If you own a plain cast iron one then you're in the money....
I put in a tbsp of oil and leave it to heat up on the hottest heat for five mins. I then test a piece of bread on it for 1 min just to test that it will not burn the bread. But if you know your pan then you can miss this test.
Then proceed one at a time to fry the Garlic Naan Breads. I put one in to fry and then roll out the next whilst that one is in the pan. Keeping the remaining dough covered so it doesn't get a crust. I fry them for about a minute on each side but it will vary from pan to pan. The uppermost side will puff up in bubbles here and there.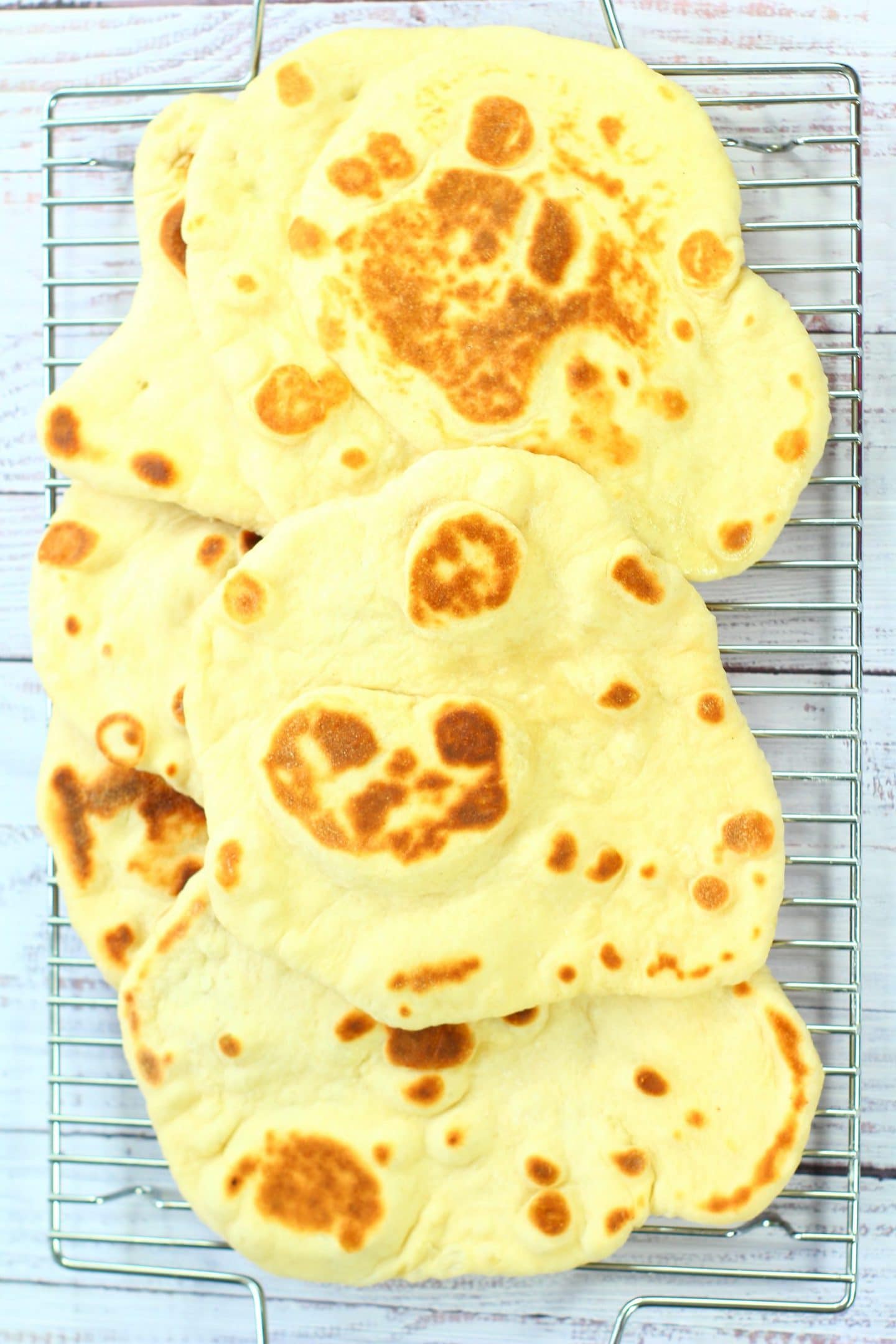 To the side I have a pot of garlic butter and nigella seeds ready along with a brush and as each one emerges from the pan I paint it with the garlic butter. Lush or what?????
I like to pile them up when serving for some reason. I think it's the feeder in me but I usually make them way ahead, brush with butter and then cover with foil in a baking tray.
I reheat them still covered in foil at 180 C for five or ten mins.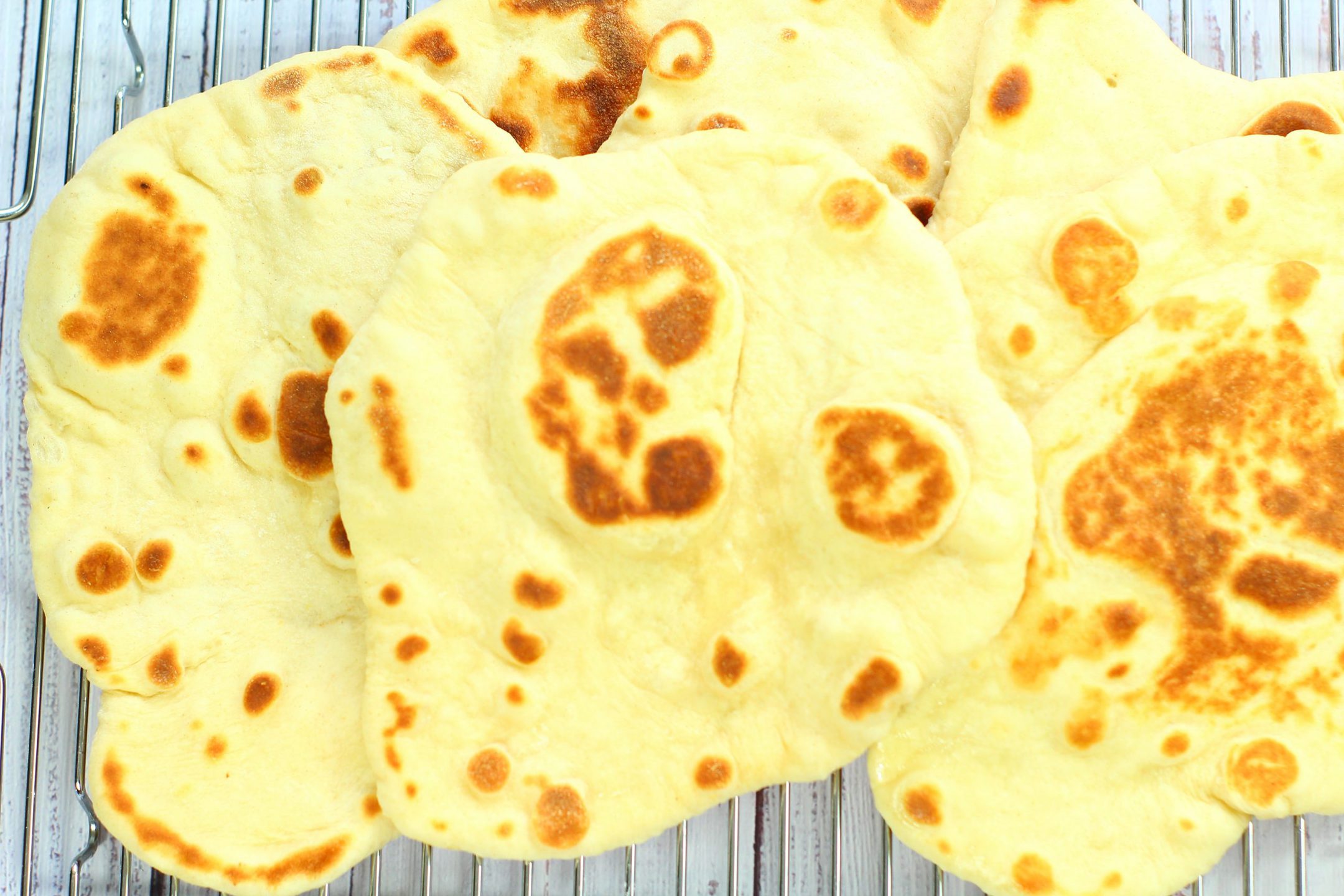 Tips For Making Naan Breads
Roll out the Naan Breads as thinly as you can. About 2 mm. Roll them out once and leave in place before rolling out again 20 seconds later or so. This way they don't spring back thicker as you lift them from the work surface.
Flour your work surface and rolling pin only a little to keep the naans from getting too dry and floury.
Can You Freeze Naan Breads?
Yes you can. Simply double wrap them without the garlic butter in clingfilm and then silver foil. Freeze for up to 3 months. defrost at room temperature still wrapped before warming through in the oven and brushing with garlic butter and sprinkling with the nigella seeds.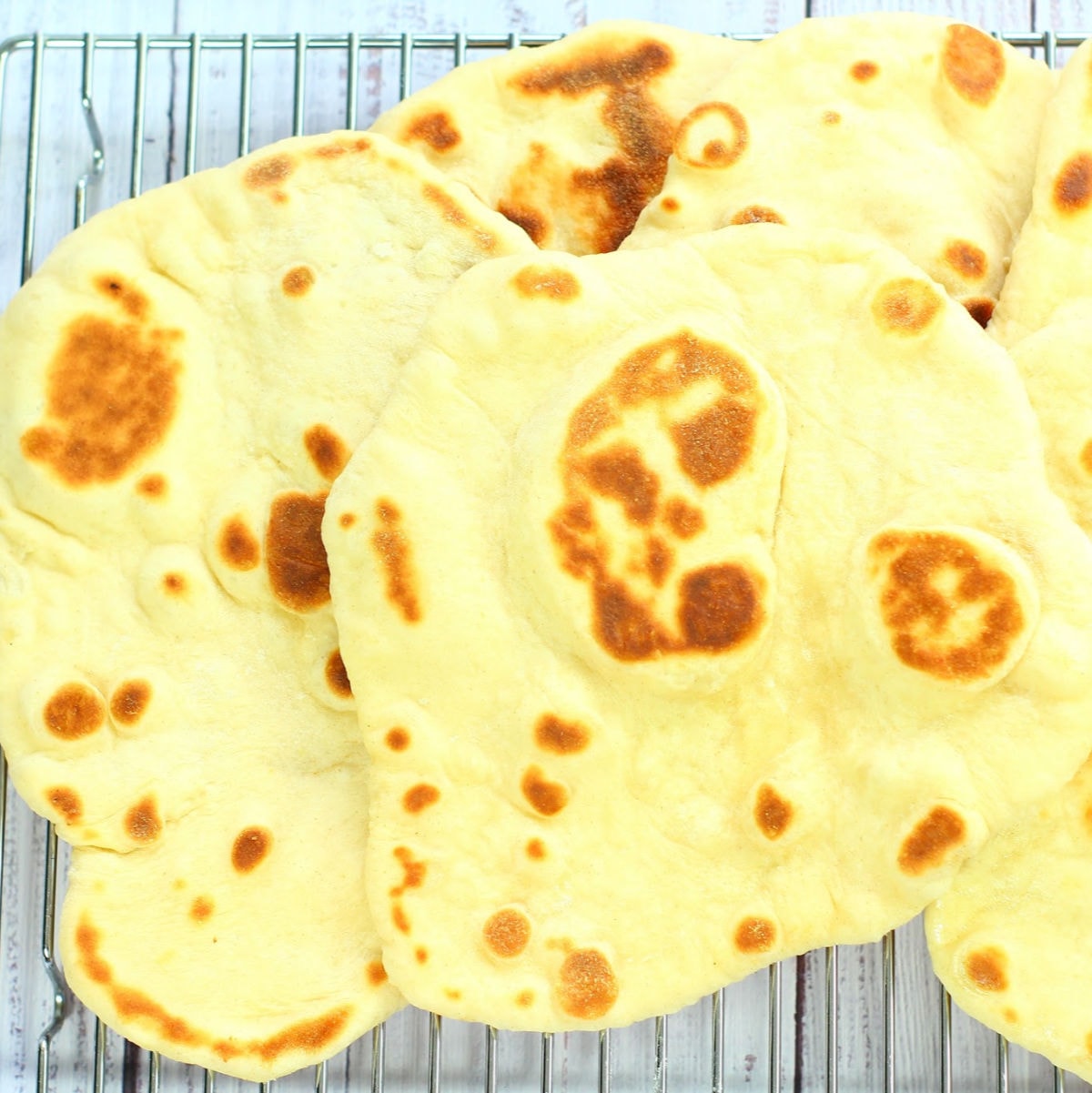 IF YOU LIKE THIS GARLIC NAAN BREAD RECIPE THEN YOU MAY LIKE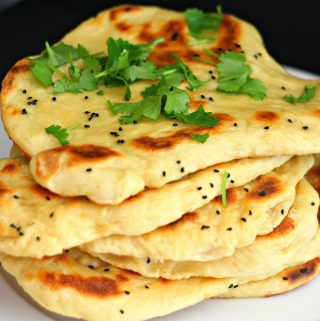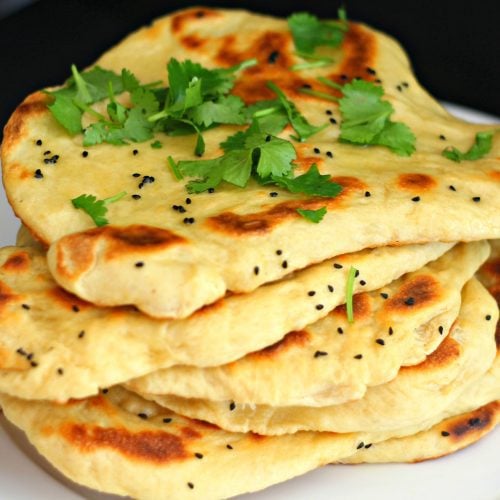 Homemade Garlic Naan Bread.
This is a recipe for fabulous Garlic Naan Breads. They are delicious served with any Curry, bronzed and burnished with garlic butter and Nigella seeds. They can be made ahead and heated up just in time to be piled high for sharing.
Ingredients
Naan Bread.
500

grams

strong white flour.

1

tbsp

sugar

7

grams

salt

1

tsp

baking powder

200

mls

warm milk

3

tbsp

vegetable oil

2 x 7

grams

dried yeast

packets are easiest

1

medium

beaten egg

150

mls

plain yoghurt
Garlic Butter
50

grams

salted butter

1

tsp

garlic powder

1

tsp

nigella seeds

6

tbp

oil for frying
Instructions
I use a free standing mixer to make my dough but you can do it by hand in a large bowl. It is a very sticky dough though.

Put 500 grams of bread flour, 9 grams salt, 1 tbsp sugar,14 grams yeast (2 packets) and 1 tsp of baking powder in your bowl. In a measuring jug measure out your 150 grams yoghurt and 200 mls milk and 1 egg. Using a fork or small whisk mix the whole lot up well in the jug.

Add the liquid to the bowl and using a dough hook with your mixer or by hand bring the whole lot together and then knead for about 8 mins with your mixer or ten by hand.

Once the dough has become smooth and elastic it's ready. If the dough still sticks around the bowl stop the mixer and scrape it all down.

If mixing by hand it can be a bit sticky. try to be frugal with your flour on your surface as you don't want it to become too dry. A bit of oil on the surface might help.

Oil your bowl and cover. Put it somewhere warm to prove for about an hour or until at least doubled in size.

When ready turn out the dough and knock back. Put your pan on the heat with 1 tbsp of oil. Measure the whole lot on some digital scales and divide by 8. It's usually about 115 grams each Naan. Roll it out as best you can to about2 mm thickness and pop it in the pan. I roll it out once and leave it for 20 seconds before going back and rolling it out again to help it stop shrinking back when it gets in the pan.

It usually takes about 1-2 mins each side and I do time it. Otherwise I daydream. Some may be thicker and need one minute more each side. Add more oil as you need to.

I have ready the melted butter, garlic powder and Nigella seeds just mixed together in a mug or pot and as they come out I brush them with it.....Yum.

I usually leave them then piled up together and covered in foil and simply reheat when I need them. I keep them covered when I reheat them at 180 C for 5/10 mins or so.

Apply to My Life Is Complete Face.
Notes
When reheating for added lushness I refresh mine with another light brush of garlic butter. I just make the butter with another 25 g of salted butter and ½ tsp of garlic powder melted and stirred well.
Nutrition
Calories:
461
kcal
|
Carbohydrates:
52
g
|
Protein:
9
g
|
Fat:
24
g
|
Saturated Fat:
9
g
|
Cholesterol:
39
mg
|
Sodium:
414
mg
|
Potassium:
215
mg
|
Fiber:
2
g
|
Sugar:
4
g
|
Vitamin A:
245
IU
|
Calcium:
92
mg
|
Iron:
3
mg
All nutritional information is approximate and intended only as a guide.
Tried this recipe?
Take a pic and tag @applytofaceblog on Instagram. I would so love to see them!
This Garlic Naan recipe is perfect with my delicious Butter Chicken.
Thai Spiced Chicken Noodle Soup
PIN ME FOR LATER!
I have linked this post with Big Pink LInk over at Just Hannah Jane - Recipe of the Week over at A Mummy Too - Cook, Blog, Share over at Easy Peasy Foodie.