This recipe for Bread Rolls is a real humdinger. Sweet, soft and slathered with butter they are outstanding. Perfect served with soup or alongside a meal. These come to me in my sleep…….
But first…….hormones.
Just as Santa squeezed his big and no doubt hairy butt down our chimney I had one of my older lady mofo hormonal situations. I suppose I should be grateful for feeling 12 again but to be honest you can f'fing stick it…….I could feel a thick blanket of anxiety and sweat settle over my carefully/obsessively crafted Xmas world as the hormonal fog descended and my brain became useless, agitated mush. Where once I had felt wholeheartedly dedicated to my little ones Yuletide magic and wonder, I now just wanted them to "LEAVE ME ALONE FOR JUST FIVE B.STARD MINUTES " ……….. she screamed whilst gesticulating in a very ridiculously over the top and hysterical manner……..crazy….. Has anyone seen my copy of Smash Hits?……This time around I can't seek solace alone in my bedroom with Siouxsie and the Banshees, an eyeliner and a hot water bottle. I have vol au vents to fill.
But try as I might, I just couldn't see my way through the damn old woman hormones. Even complete cessation of housework didn't relieve the symptoms, something that I always try first…..just in case. It seemed the very stupid, very miserable b.tch was here for the duration. I attempted to cook a meal of amazingness the day after Boxing Day………..we should have gone to Iceland……. Mother Nature's timing was sh.t…….but on the plus side I could legitimately eat like an Olympic Weightlifter on speed ………I was like a Labrador, no sausage roll, peanut or chicken skewer was safe. Woof.
Of course this Xmas binging, like all good things, has to come to an abrupt halt as the New Year begins and my mofo cycle ends. My fat rolls have increased significantly in mass and even my massive pants are giving me very obvious V.P.L…..So this recipe is my traditional last Hurrah and it is a most glorious send off.
Best Bread Rolls Recipe.
These Bread Rolls are sweet, fluffy and "OMG!" good. The best I have ever eaten and I have got through some bread. My children go bananas for them as do I. Most perfect I feel with just butter, perhaps with some soup, but I am a traditionalist. The fact of the matter is these babies are delicious however you choose to fill your face with them. One necessary word of caution though. It is a sticky dough to work with so I think it is best to use a free standing mixer with dough hook and perhaps have made a more traditional batch of rolls before, just so you can keep calm as you roll the sticky dough but don't let me boss you about your virginity in this matter. Clever Clogs are always welcome here………….N.B A friend of mine has recently made these several times without a dough hook and all was well in fact fantastic. She simply mixed the mixture like hell in a bowl with a wooden spoon……good on her…..
As you keep mixing it comes together to a smooth dough. Leave covered somewhere warm to prove and double in size.
I roll them into balls and nestle them into a roasting tray for the second prove.
Bake your way to heaven…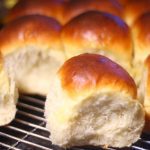 The Best Bread Rolls.
These rolls are incredible. Soft, sweet and fluffy they are the stuff of nostalgia. Absolutely to die for.
Proving Time
1
hour
30
minutes
Total Time
2
hours
15
minutes
Ingredients
500

grams

strong white flour

200

mls

milk

warm

100

mls

water

warm

2

packets

dry instant yeast

2 x 7 grams

50

grams

melted butter

cool or warm

40

grams

caster sugar

2

medium

eggs

1

tbsp

butter melted

to brush rolls when warm out of the oven

1 1/2

tsp

salt
Instructions
Place the dry ingredients in a free standing mixer. Put the salt and yeast on separate sides of the bowl.

Add all the wet ingredients together in a jug and give a whisk with a fork before pouring into the dry ingredients.

Mix on a medium speed with the dough hook for five minutes. The dough will be a sticky batter.

Cover and leave in a warm place for an hour. It will triple in size so don't be alarmed if it makes a break for it! Cover with oiled clingfilm so the dough doesn't stick to it.

When ready punch the dough back down into the bowl and give it some more pushing down with your hands to remove most of the air. Heavily flour your work surface and tip the dough out. Flour the top of the dough too and if poss weigh it. Flouring the dough will make it easier to handle but it is a sticky fellow so just bear with. Keep flouring it if it gets sticky again. Weigh out 12 equal balls give or take a few grams.

I line my baking tray with Bakoglide but if you don't use it make sure your tray is oiled. Take each piece, flouring gently as you go, and make each into a tight ball. The easiest way to do this is to pull the sides of your dough ball tightly downwards to the bottom. If you keep pulling the dough sides downwards, tucking them underneath, a tight, smooth ball will form. Keep you fingers floured too to help. If unsure how to do this there are videos on youtube but be careful what you type in.......

Cover with oiled clingfilm and put somewhere warm to rise for half an hour until significantly puffed up. Pre-heat the oven to 200 C.

Bake for about 15-20 minutes. I have found that the tops of these rolls can colour up too quickly in my oven so I have a silver foil rectangle made to hand to slide quickly upon the top if need be. The best way to check these rolls are baked is really the colour of them. Leave them as long as you dare.

Remove from the oven and brush the tops with melted butter. Leave for five mins before putting on a wire rack to cool down a little. Eaten still warm from the oven slathered with butter these rolls are completely INCREDIBLE. They are best eaten on the day so plan accordingly but still lovely 24 hours later.

Apply to Drooling Face.
Nutrition Facts
The Best Bread Rolls.
Amount Per Serving
Calories 225
Calories from Fat 54
% Daily Value*
Fat 6g9%
Cholesterol 43mg14%
Sodium 349mg15%
Potassium 77mg2%
Carbohydrates 36g12%
Protein 5g10%
Vitamin A 205IU4%
Calcium 31mg3%
Iron 2.1mg12%
* Percent Daily Values are based on a 2000 calorie diet.
Here are some more fabulous bread recipes
and Garlic Rolls.
I have linked this post with Honest Mum – Cook Blog Share over at Every Day Healthy Recipes – Bake of the Week over at Mummy Mishaps and Casa Costello