This Slow Cooker Pulled Pork recipe is an outstanding one. Super easy and off the scale delicious. All of my family love it and the left overs are just so versatile. Sweet and smoky with a piggy back note, it's god damn good.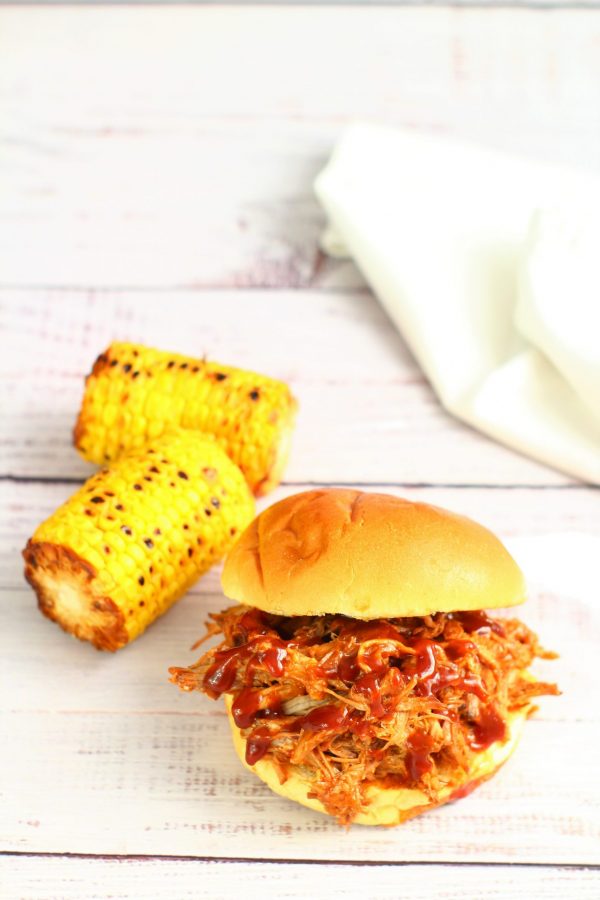 Everyone I have ever served this BBQ Shredded Pork to goes honkytonk wild for it. It is a BBQ taste sensation. Perfect for a relaxed family meal or easy entertaining. It is super easy and practically makes itself. You could add whatever sauce floats your boat, it doesn't have to be BBQ, it just DOES for me.
Here at Apply To Face Blog HQ I am constantly looking for recipes that produce a taste wallop with virtually very little effort. I can't be doing with too much faff in any area of my life. So if you're a skip stepper then I'm your gal. Today I am very excited to share this humdinger of a said recipe with you all.
This recipe tastes as if it was started last Tuesday by a cooking cult that have been studying their subject for the past 500 years and have been living isolated in the wilderness with nothing but pork shoulder joints, the finest spices and an endless supply of slow cookers.
That's how much it fits the bill.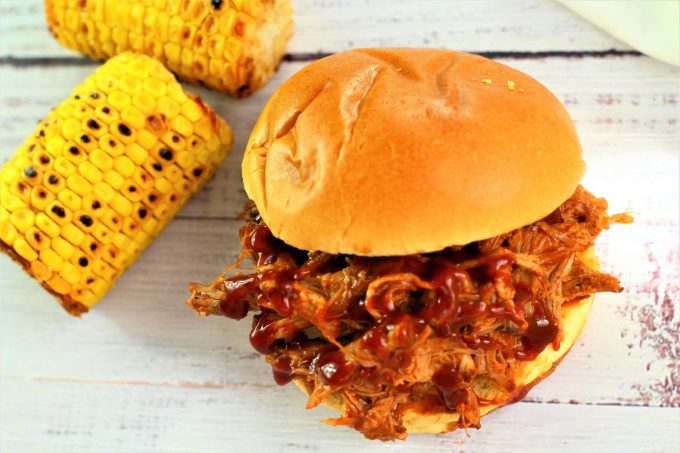 What Cut of Pork Should You Use For Pulled Pork?
The best cut of Pork to use here is a boned Shoulder Joint and don't let anyone tell you different. Long and slow cooking makes it all just fall apart in a big old juicy pile.
I like to remove the big layer of fat/rind that you get on top. It's usually tied around the joint with string. I simply snip the string and then carefully remove the bulk of the fat.
What BBQ Sauce Should I Use For BBQ Pulled Pork?
I use my favourite Bottled BBQ Sauce. You can of course make your own but I can't be bothered I'm afraid. I am more than happy with my choice. I do add Garlic Granules, Onion Powder and Fine Salt along with Fajita seasoning in there. That is as faffy as it gets.
What Slow Cooker/Crock Pot Do I Need?
I have the cheapest Slow Cooker on the planet and it is a smaller one too. It doesn't need to be fancy pants. All it needs to be able to do is cook the pork consistently on Low for a minimum of 8 hours. You could cook it on High for ⅘ hours but it will not give you such soft and tender meat.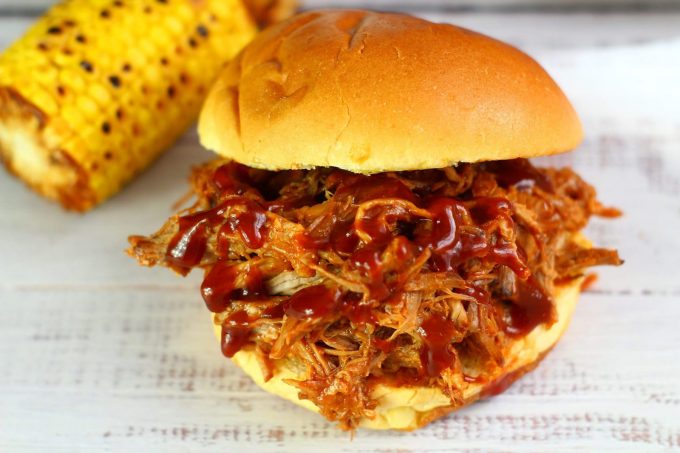 Slow Cooker Pulled Pork Recipe Steps
You don't need to marinate the joint ahead of time. You're not going to get enough flavour into it cold in the fridge to rival that which you will get into it in 8 hours in the slow cooker. Let's save our strength people.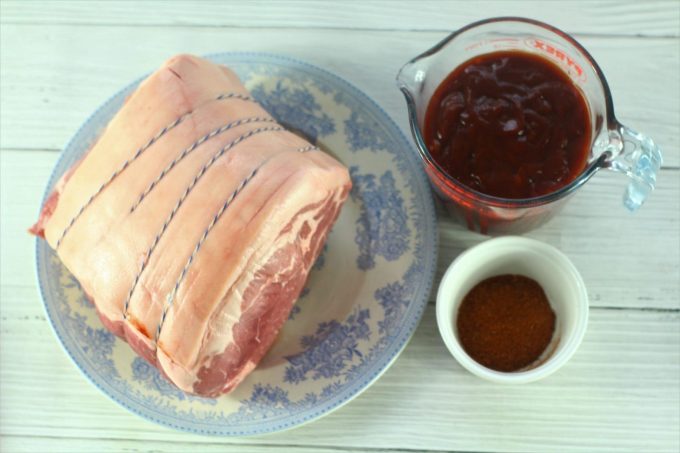 I use a 2 kg deboned pork shoulder joint for this recipe. It serves a family of four generously with enough for leftovers or 6 people at a time.
I remove the rind/skin by snipping the string and carefully trimming it off along with most of the fat directly underneath.
I mix 1 tbsp of Fajita Seasoning and 1 tsp of Garlic Granules and Salt together into 250 mls of pre bought BBQ Sauce.
Simply put the Pork Shoulder Joint into the Slow Cooker and pour 100 mls of the BBQ Sauce in on top.
Give it all a jolly good rub about.
I then cook it on Low baby for at least 8 hours.
I'm sure I can hear the I Was Born Under A Wandering Star Sound Track in the distance? Anyone else?
You can actually leave it for longer than 8 hours if it suits you. I am talking another couple or so hours even. This joint of meat is crazy accommodating.
Now for the best bit, apart from eating it of course.
I lift it out the best I can. It may break up as you do so. Make sure you're not wearing white!
I place it on a chopping board and use two forks to shred the whole lot. I do remove any remaining fatty pieces and discard.
I also discard the cooking juice, I'm sure controversially. You could keep it and simmer it down until thicker in consistency and mix it back into the pork, lessening the amount of shop bought BBQ sauce you then require.
I just don't want to wait or spend 15 minutes getting the sauce tasting right. I'm too busy. Ask me again in ten years time when life is slower and I can hear myself think.
I then place all the pork in a large mixing bowl with the remaining BBQ Sauce and mix well.
Do add more sauce to get the exact flavour you like if this amount is not enough. I then put the whole lot back in the slow cooker pot to keep warm on Low if I'm not ready for it straight away.
How To Serve Slow Cooker BBQ Pulled Pork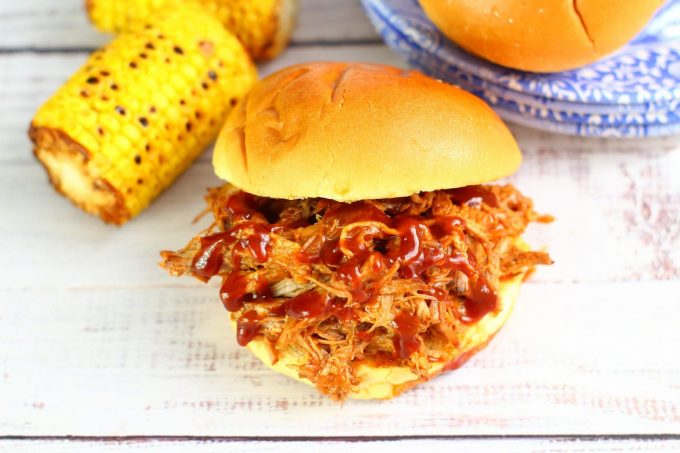 My absolute favourite way to serve this is in toasted Brioche Buns with coleslaw, sweetcorn cobs and potato wedges. The whole meal just flat out sings together. It's the Fred and Ginger of the Pulled Pork World.
I toast the Brioche Buns for 5-7 mins in a hot oven before filling them generously with the shredded pork.
I roast the sweetcorn cobs wrapped in silver foil in a hot oven until tender. About 45 mins to an hour. Obviously I melt a little salted butter over them.
Other options are
Sweet Potato Fries
Apple and Carrot Salad
Rainbow Slaw
Any vegetable or salad that goes with pork is applicable here.
If you are looking to feed more of a crowd then simply double the ingredients as long as you have a big enough Slow Cooker/Crock Pot. if you don't then make it in 2 batches.
How To Store Leftovers
Store cold leftovers in an airtight container in the fridge for up to 4 days. I reheat until piping hot in the microwave, making sure the meat is covered.
I use it for more Brioche Pulled Pork Burgers or sandwiches and rolls. You could also use the leftover pork for Burritos filled with beans, rice and cheese.
I sometimes mix it together with fried rice, soy sauce and a handful of sweetcorn and petit pois.
If You Like This Recipe You May Like These
Slow Cooker Spaghetti Bolognese
Slow Cooker Moroccan Lamb Stew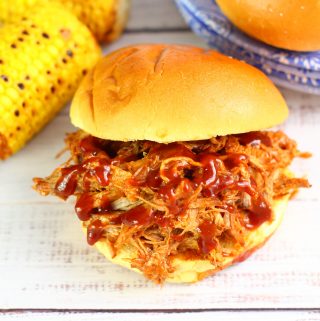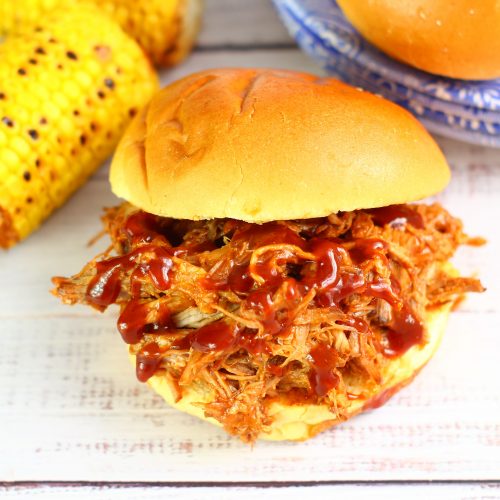 Slow Cooker Pulled Pork
This very easy Slow Cooker Pulled Pork recipe is a real family favourite. Perfect for feeding your family or a crowd. Super versatile and incredibly delicious.
Total Time
8
hours
10
minutes
Ingredients
2

kg

boneless pork shoulder

250

mls

bbq sauce

1

tsp

garlic granules

1

tbsp

fajita seasoning

1

tsp

salt
Instructions
Mix the spices and salt into the bbq sauce. I put mine in a measuring jug.

Remove the outer fat and rind on the pork shoulder by snipping the string and carefully cutting away most of the fat. Discard it.

Put the shoulder joint in the slow cooker pot and pour over 100 mls of the bbq sauce and rub it all over.

Put the lid on and cook on Low for at least 8 hours.

Remove the joint to a chopping board. It may well fall apart as you're doing so. Discard or decant the liquid left behind.

Use two forks to shred the pork, discarding any fatty pieces as you go.

Put the shredded meat into a mixing bowl and pour over the remaining bbq sauce and mix well until evenly coated. Add more sauce from your bottle if you need to.

Serve immediately or put back into the slow cooker pot on low until needed.

Apply To The Nearest Cowboy's Face
Recipe Video
Nutrition Facts
Slow Cooker Pulled Pork
Amount Per Serving
Calories 500
Calories from Fat 108
% Daily Value*
Fat 12g18%
Cholesterol 200mg67%
Sodium 1384mg60%
Potassium 1389mg40%
Carbohydrates 18g6%
Protein 76g152%
Vitamin A 668IU13%
Vitamin C 1mg1%
Calcium 40mg4%
Iron 3mg17%
* Percent Daily Values are based on a 2000 calorie diet.
Do let me know how you got on in the comments below. I do love a good old hairy chinwag.