This Slow Cooker Spaghetti Bolognese recipe is one of my best. Really simple but really delicious. Absolutely perfect for a super easy mid week meal. Everyone in my house LOVES it and I would even call it stupendous on the taste front. A heady claim I knows.
Slow Cooker Spaghetti sauce is a big crowd pleaser in my house. It is a great one for batch cooking and, in a rush, I have even put the mince in the slow cooker without browning. It is so accommodating it's crazy.
But first some rage….
. This last two weeks I have been plagued with The Menopausal Rage. From where it has come I am not aware and now that it has gone I feel emotionally exhausted. What a "Flippin Liberty." Who knew it could come in on a Tuesday calm as you like, without warning and produce such a fury that you would swear it was real.
The fact I haven't drop kicked the poor children out of the car five mins in from school pick up proves I have a steely self control that I did not know I possessed. Well done me…..sort of.
It seems that as each emotional wave hits, it stays for longer and gets stronger. Seriously……. The one thing that I cling on to is knowing that it will pass.
The more disorganised I become the more I feel it. To that end I have started back on my treadmill and taken up yoga with my sporty friend.
She definitely has her wotsit together, she's younger. It has taken me a month not only to commit but to finally find some sporty bottoms that didn't show my raging cellulite or muffin tops.
I'm not sure who I'm kidding
I really quite like it…..
Who knew a bit of downward dogging could be so calming….
Slow Cooker Spaghetti Bolognese
This recipe for Spaghetti Bolognese is one of my family's favourites and a perfect easy midweek meal. This slow cooker spaghetti sauce is just incredible.
Without fail they will always clear their plates. I know it's a fail safe and that is worth it's weight in gold. My children still make retching noises at half of the meals I produce, leaving me wondering why the flip I bother……but not this this one. This one they ask for seconds.
It has such a lack of ingredients every time I make it I am incredulous. It is a true bish, bash, bosh recipe that shouldn't taste so good but it so does.
I have tried adding to it but it never tastes any better and in fact it's not so good. So don't tinker with it busy people just let it be and you won't be disappointed.
It is deeply mellow with just the right amount of sweetness and the rosemary flavours it so expertly you're in Umbria at 5pm on a Wednesday evening. Wallop.
STEP 1 -Browning The Mince
Firstly I grate or blitz the chopped carrots in the food processor until they are titchy. I then fry them along with the minced garlic in a large frying pan for a couple of mins in some olive oil.
Then I add the mince and brown it over a medium heat. Scatter the two tbsps of flour over the top and stir until well incorporated.
Tip the mince mixture into the slow cooker pot.
STEP 2 – Adding the bolognese sauce ingredients
Empty the passata, salt and pepper into the slow cooker pot along with the ketchup and stir to combine.
Push the rosemary sprigs into the mixture and place the lid on top. Cook on low for 4 hours. You can leave it for longer if you are at work all day but 6 hours is the longest. Any more and it can start to burn on the bottom. However all slow cookers are different so you may find you can leave it longer in yours.
Slow Cooker Spaghetti Bolognese Tips
You can make this without browning the mince first. I place the mince in the slow cooker and add the flour. Mix it well into the mince then add the rest of the ingredients on top. Give a quick stir and then cook as normal.
A point to mention is that you can make this in a large frying pan or saucepan too. It doesn't have to be made just in a slow cooker. Let the bolognese bubble in the pan on a low heat for 45 minutes. Stir occasionally.
I try not to stir too much as it will cause the leaves to come off the rosemary sprigs and my children don't like to munch on them. I scoop them out before serving.
Don't omit the flour as it thickens the spaghetti sauce.
Use the best mince you can afford. It does make a difference.
Reheat the leftovers in the microwave covered until piping hot for super easy midweek meals.
What To Serve With Slow Cooker Spaghetti Bolognese.
I like to serve it with fresh egg pasta. Either tagliatelli or spaghetti. I tend to keep it frozen in the freezer for readiness.
If it suits you though dried pasta is perfectly fine. Wholewheat spaghetti is very good too. My children don't notice the difference and it is a great healthy choice.
I find that 300 grams of fresh pasta feeds our family of four (2 children) really easily although the official amount is 100 grams per person.
I also tend to always include green veg. I love broccoli or french beans dusted with black pepper.
A Jacket Potato or Potato Wedges would work very well too as would white long grain rice. White rice is usually about 60 grams dried rice per person.
I like to top with a little grated cheese. Real and proper comfort food.
Equipment Required
Standard Slow Cooker
Food Processor or Grater for carrots
Saucepan
Large Frying Pan
Wooden Spoon
Digital Scales
Tbsp measure
Garlic crush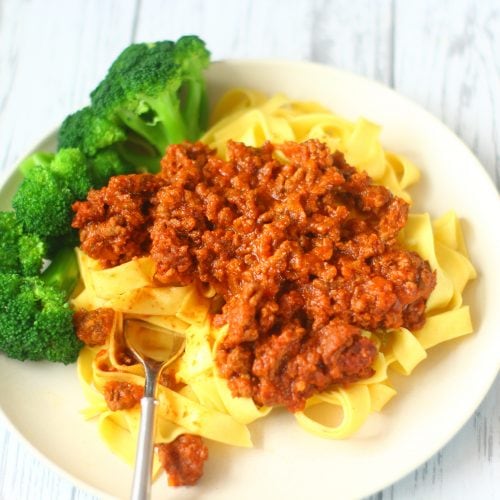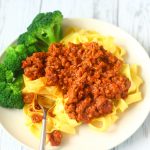 Slow Cooker Spaghetti Bolognese
This recipe for Slow Cooker Spaghetti Bolognese is a firm family favourite. It is absolutely delicious and so low effort it's scandalous.
Total Time
6
hours
5
minutes
Ingredients
500

grams

beef mince

500

mls

tomato passata

1

sprig

rosemary

3

tbsps

tomato ketchup

2

medium/large

carrots

peeled

1

large

garlic clove

minced

1

tsp

salt

1/2

tsp

pepper

2

tbsp

flour

2

tbsp

olive oil
Instructions
Grate or blitz in the food processor 2 medium/large carrots. Gently fry them in a large frying pan in the olive oil for a couple of minutes add the minced garlic and fry for a couple more minutes.

Empty 500 grams/ 17.5 oz mince into the frying pan. Break it up well and brown for a couple of minutes over a medium heat. Shake over 2 tbsp flour and mix well until the flour is no longer visible.

Empty it all into the slow cooker pot. Tip the 500 mls of passata, 3 tbsp of ketchup and salt and pepper on top and stir through.



Push in the rosemary sprig and put the lid on. Cook on low for 4 hours. It will be ok for 6 but not for any longer as it may start to burn on the bottom of the pot.

Scoop out the rosemary when you are ready to go. I try not to stir it to keep the rosemary all in one place so I can remove it easily.
Recipe Notes
This keeps in the fridge very well. I simply reheat until piping hot in the microwave or in a saucepan.
Season to taste. I have given 1 tsp as a guide. You may need more.
Nutrition Facts
Slow Cooker Spaghetti Bolognese
Amount Per Serving
Calories 297
Calories from Fat 117
% Daily Value*
Fat 13g20%
Cholesterol 77mg26%
Sodium 679mg30%
Potassium 818mg23%
Carbohydrates 14g5%
Protein 28g56%
Vitamin A 6220IU124%
Vitamin C 14.4mg17%
Calcium 62mg6%
Iron 4.5mg25%
* Percent Daily Values are based on a 2000 calorie diet.
Here are some other fabulous slow cooker recipes to try.
I have linked this recipe with Cook, Blog, Share over at Recipes Made Easy
Fiesta Friday with Angie and Jhuls @ The Not So Creative Cook
Pin Slow Cooker Bolognese For Later!