This Slow Cooker Spaghetti Bolognese recipe is one of my best. Absolutely perfect for a super easy mid week meal. Everyone in my house LOVES it and I would even call it stupendous on the taste front. It is deeply mellow with just the right amount of sweetness and the rosemary flavours it so expertly you're in Umbria at 5pm on a Wednesday evening. Wallop.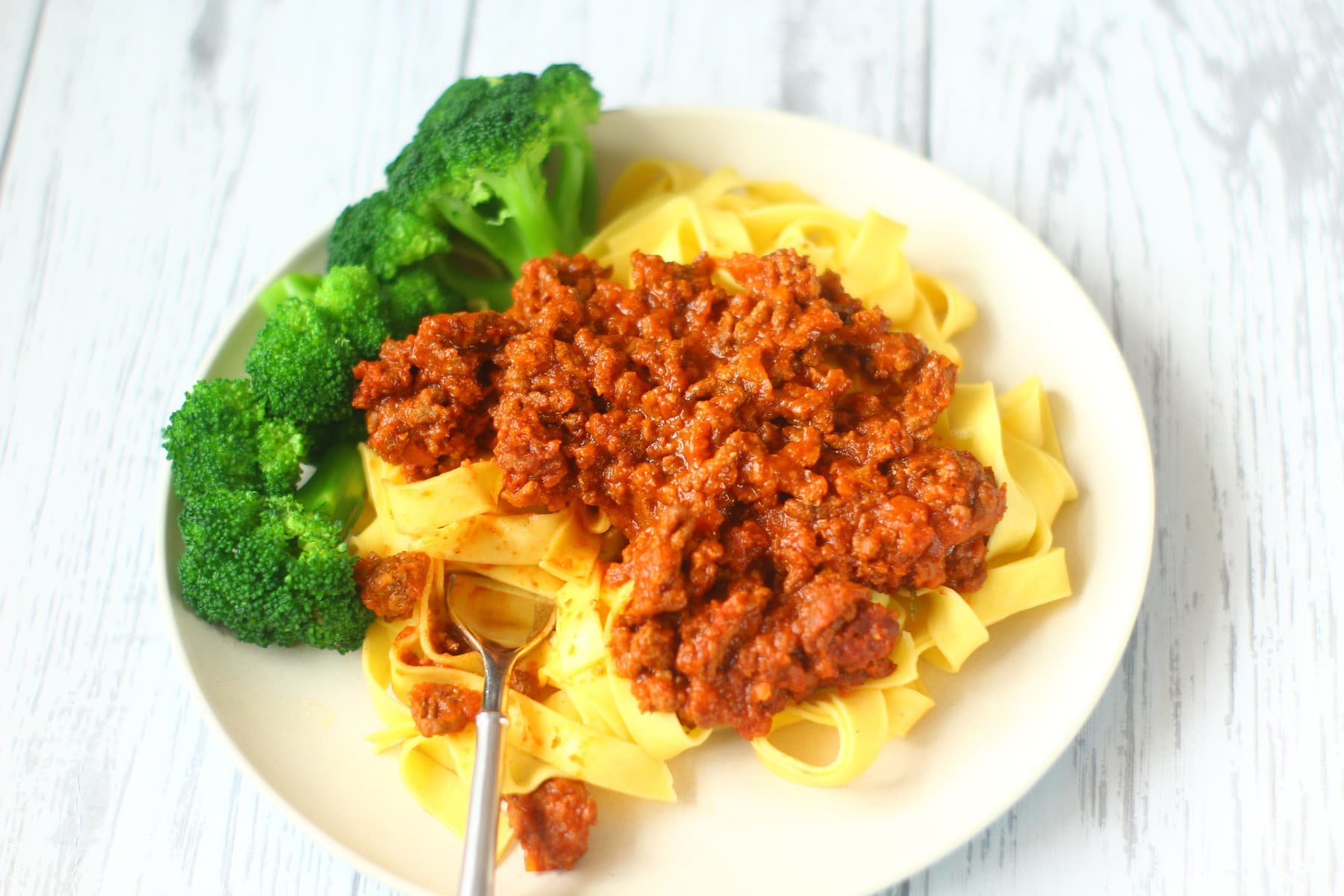 This is a big crowd pleaser in my house. It is a great one for batch cooking and is so accommodating it's crazy.
It is savoury with a sweet edge brought to it by the carrots and ketchup. That is the reason my children love it so much.
The hidden veg in there also helps my parenting conscience. One of my children is vegetable phobic so any chance I get to sneak them down his throat makes me feel like Annabel Karmel.
Recipe
*There is a full printable recipe card at the bottom of the post.*
Ingredients
500 grams (17 oz) beef mince
500 grams (17 oz) passata
1 sprig rosemary
4 tbsp tomato ketchup
2 medium carrots peeled
1 large garlic clove
1 tsp salt
half a tsp pepper
2 tbsp flour
2 tbsp olive oil
Equipment
Standard Slow Cooker
Food Processor or Grater for carrots
Saucepan
Large Frying Pan
Wooden Spoon
Digital Scales
Tbsp measure
Garlic crush
Method
Add the mince to the slow cooker and sprinkle the flour on top. Using a wooden spoon or spatula mix the flour into the mince completely.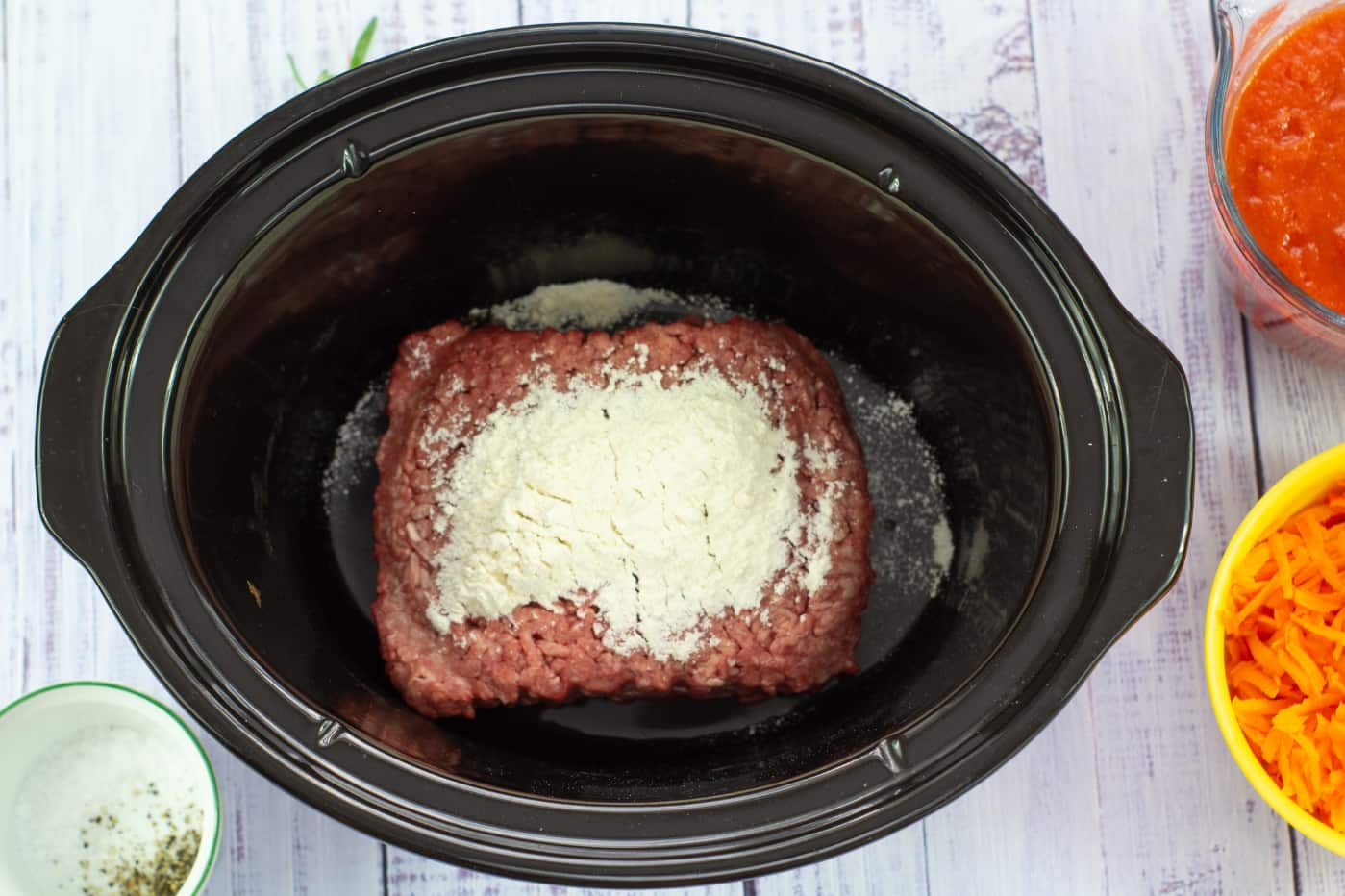 Empty the passata, carrots, salt and pepper into the slow cooker pot along with the ketchup and stir to combine.
Push the rosemary sprigs into the mixture and place the lid on top.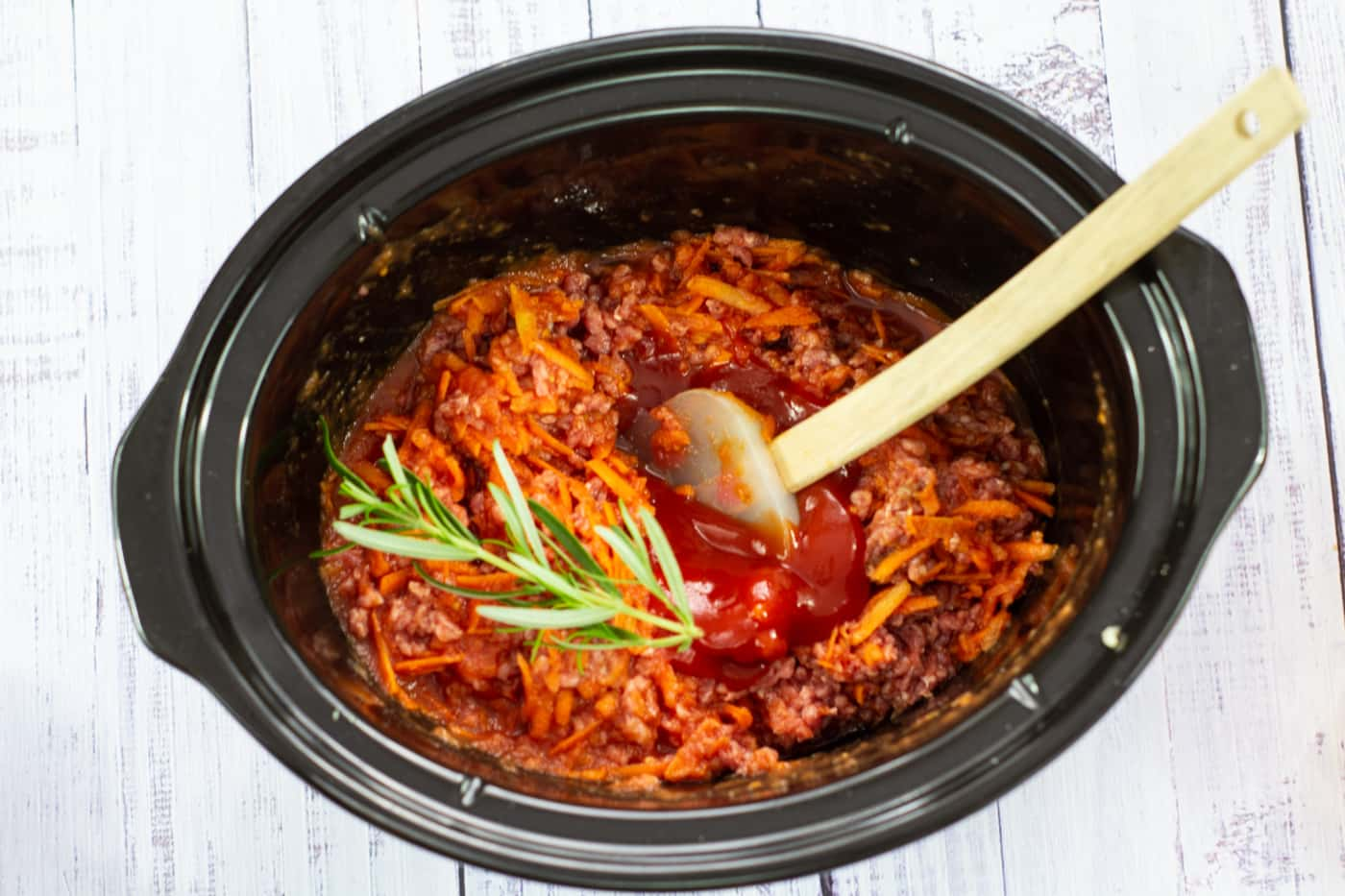 Cook on low for 4 hours. You can leave it for longer if you are at work all day but 6 hours is the longest. Any more and it can start to burn on the bottom. However all slow cookers are different so you may find you can leave it longer in yours.
Taste for final seasoning.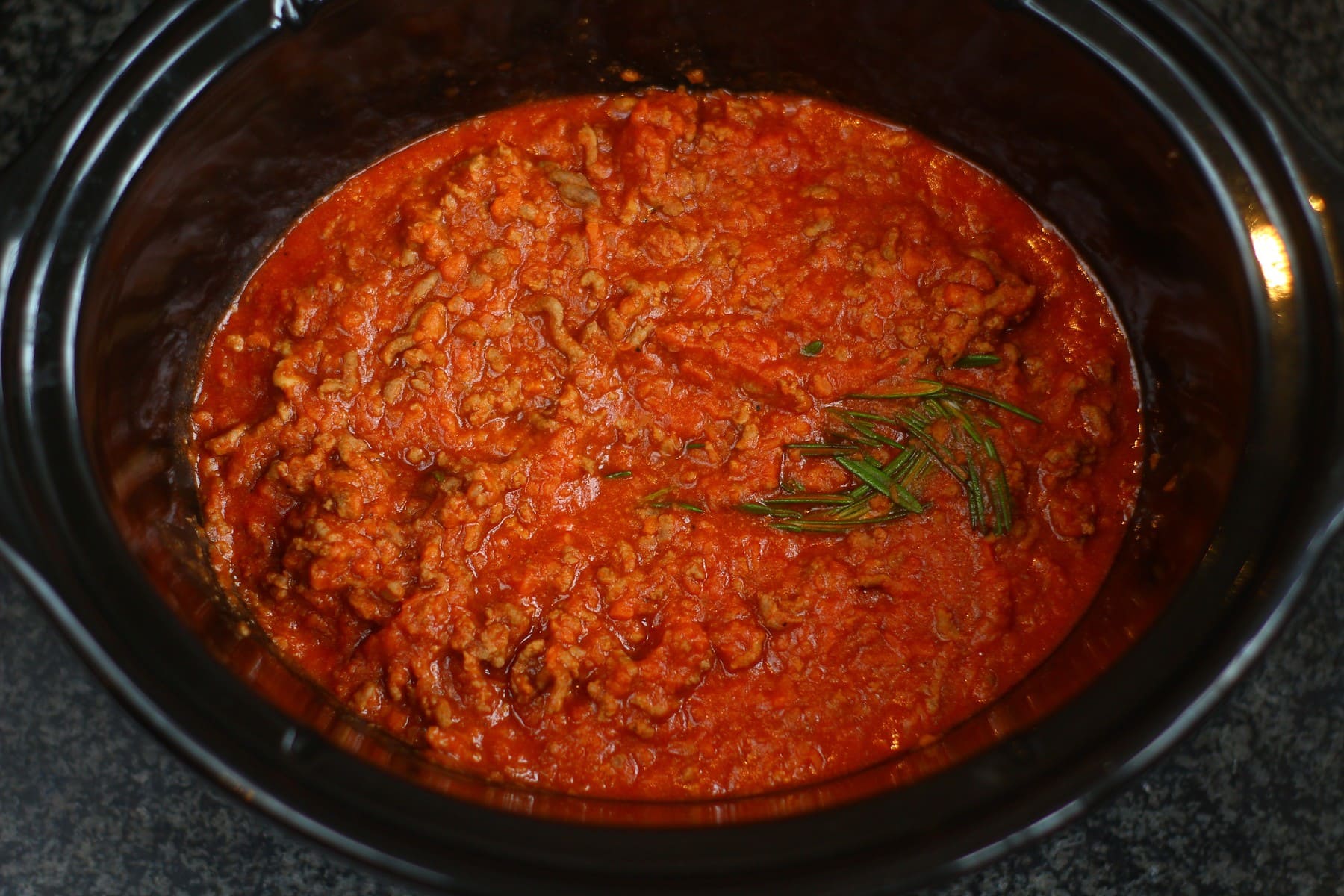 Serving Suggestions
I like to serve it with fresh egg pasta. Either tagliatelle or spaghetti. I tend to keep it frozen in the freezer for readiness.
If it suits you though dried pasta is perfectly fine. Wholewheat spaghetti is very good too. My children don't notice the difference and it is a great healthy choice.
I find that 300 grams of fresh pasta feeds our family of four (2 children) really easily although the official amount is 100 grams per person.
I also tend to always include green veg. I love broccoli or french beans dusted with black pepper.
A Jacket Potato or Potato Wedges would work very well too as would white long grain rice. White rice is usually about 60 grams dried rice per person.
I like to top with a little grated cheese. Real and proper comfort food.
Top Tips
Season well, this dish benefits from quite a bit of salt.
If you prefer it sweeter then add another 2 tbsps of ketchup or a tsp of sugar.
A point to mention is that you can make this in a large frying pan or saucepan too. It doesn't have to be made just in a slow cooker. Let the bolognese bubble in the pan on a low heat for 45 minutes. Stir occasionally.
I try not to stir too much as it will cause the leaves to come off the rosemary sprigs and my children don't like to munch on them. I scoop them out before serving.
Don't omit the flour as it thickens the spaghetti sauce.
Use the best mince you can afford. It does make a difference.
Reheat the leftovers in the microwave covered until piping hot for super easy midweek meals.
Equipment Required
IF YOU LIKE SLOW COOKER SPAGHETTI BOLOGNESE THEN YOU MIGHT LIKE
Easy Slow Cooker Chicken Pasta
Slow Cooker Butternut Squash Risotto
Easy Slow Cooker Beef Stroganoff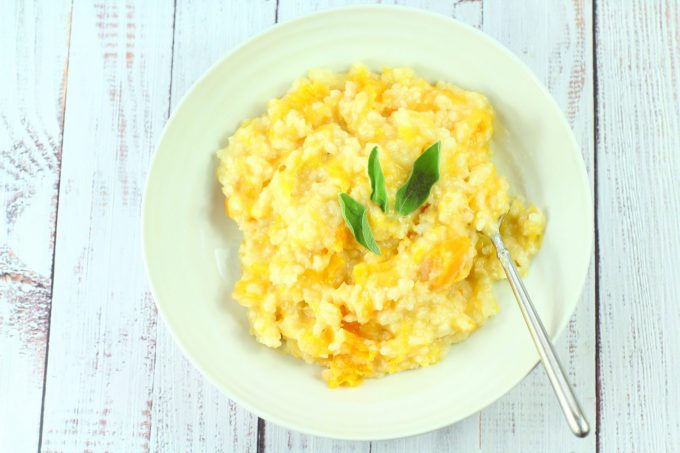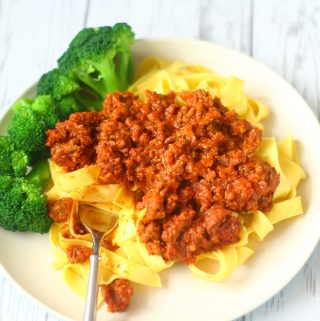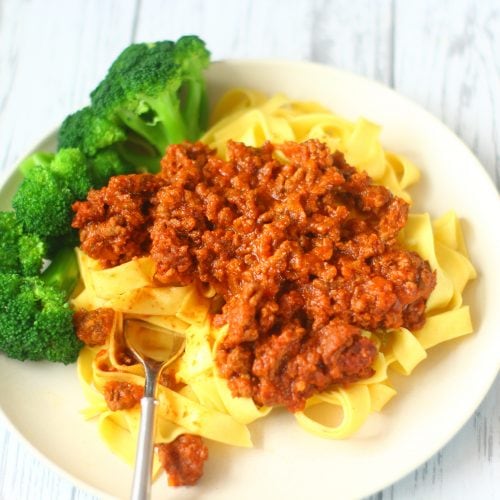 Slow Cooker Spaghetti Bolognese
This recipe for Slow Cooker Spaghetti Bolognese is a firm family favourite. It is absolutely delicious and so low effort it's scandalous.
Ingredients
500

grams

beef mince

500

grams

tomato passata

1

sprig

rosemary

4

tbsps

tomato ketchup

2

medium/large

carrots

peeled

1

large

garlic clove

minced

1

tsp

salt

may need more

½

tsp

pepper

2

tbsp

flour

2

tbsp

olive oil
Instructions
Grate or blitz in the food processor 2 medium/large carrots. Gently fry them in a large frying pan in the olive oil for a couple of minutes add the minced garlic and fry for a couple more minutes.

Empty 500 grams/ 17.5 oz mince into the frying pan. Break it up well and brown for a couple of minutes over a medium heat. Shake over 2 tbsp flour and mix well until the flour is no longer visible. You can also just put the mince in raw to the slow cooker pot and sprinkle with flour before adding the carrots and carrying on as normal.

Empty it all into the slow cooker pot. Tip the 500 mls of passata, 3 tbsp of ketchup and salt and pepper on top and stir through.



Push in the rosemary sprig and put the lid on. Cook on low for 4 hours. It will be ok for 6 but not for any longer as it may start to burn on the bottom of the pot.

Scoop out the rosemary when you are ready to go. I try not to stir it to keep the rosemary all in one place so I can remove it easily.
Notes
This keeps in the fridge very well. I simply reheat until piping hot in the microwave or in a saucepan.
Season to taste. I have given 1 tsp as a guide. But you may well need more. Seasoning is very important.
Nutrition information is meant only as an approximate guide.
Nutrition
Calories:
295
kcal
|
Carbohydrates:
14
g
|
Protein:
29
g
|
Fat:
14
g
|
Saturated Fat:
4
g
|
Cholesterol:
78
mg
|
Sodium:
1047
mg
|
Potassium:
804
mg
|
Fiber:
2
g
|
Sugar:
7
g
|
Vitamin A:
362
IU
|
Vitamin C:
17
mg
|
Calcium:
65
mg
|
Iron:
5
mg
All nutritional information is approximate and intended only as a guide.
Tried this recipe?
Take a pic and tag @applytofaceblog on Instagram. I would so love to see them!
Do let me know how you got on in the comments below. I do love a good old hairy chin wag! Or come on over and join me on social media. I would love to connect with you.