Like most things, I have come late in life to the Slow Cooker but I am absolutely revelling in it's many fabulous foodie facets. This amazing recipe for a Slow Cooker Beef Joint has knocked me bandy.
I am usually a Roast Beef Brisket girl through and through when cooking Roast Beef but I used Silverside here as it was on an half price offer and it was seriously good. So good in fact that I promptly went out and bought another of these joints to freeze for next time.
Topside is another good choice and one that is often on offer at the supermarkets. I like to buy when discounted and freeze.
I have found that even with different pieces of meat cut from within the same areas of the cow e.g Topside or Silverside there can be a real difference in how long the particular pieces of meat need to be cooked to become tender.
Its just the way it is. There are very many different ways of rearing cattle. That is why I advocate using a carving fork to test how soft the meat is when assessing if it is ready or not.
Obviously experience is needed here and that can only come with cooking this several times. Not a real hardship though! Eventually you will get to know easily. I can tell immediately just by giving it a prod when raw if it will tenderise quicker than usual. The softer it feels the quicker it will cook.
How To Cook A Joint Of Beef In A Slow Cooker With Gravy .
Basically you have 2 options. Cook for 4/5 hours on High or 7/8 hours on Low. Use your time constraints to make your choice.
I personally prefer to cook this for 8 hours rather than 4 /5 hours as it produces softer meat but if you are planning on having it at noon then you would probably need to get up super early or put it in last thing at night and get up early to switch it off which kind of ruins the whole lazy vibe we've got going on in the first place.
So you could cook it the day before and reheat. In fact that is the way I usually go, as if you leave it to go cold and then wrap it up and put it in the fridge, it is super easy to slice the next day and does not crumble at all. Something that can sometimes happen if you cook it for the 8 hours. I then put the slices back in the slow cooker an hour before I need it hot and cover with gravy and reheat it on high until it is piping hot. So damn easy.
The other alternative is to simply have a later lunch or even supper. Or, as mentioned above, cook for 4/5 hours on High.
I suggest you use Topside when cooking it for 4-5 hours as it is not as lean as Silverside and therefore generally requires less cooking time to tenderise.
I would still allow for more time if your joint is on the large size and I do find that generally the longer you can give it the better.
Cooking a Joint of Beef, whatever the cut, in the Slow Cooker for 4-8 hours is never going to give you pink, bloody beef but it will give you beautifully soft and tender beef that is full of flavour.
The boon here is, of course, the complete simpleness of it. Put it in your slow cooker,, put your feet up and hours later you have the centrepiece of a fabulous meal.
What To Serve Beef Joint With.
I have served it as a Sunday Lunch here and this is in fact the way I always cook my Sunday Lunch Beef. Low on effort and washing up as well as super easy peasy reheating options. I serve it with roast potatoes, vegetables and yorkshire puddings.
You could also slice it thickly for serious Roast Beef Rolls. I'm thinking caramelised onions and mustard or horseradish and rocket served with chunky chips and coleslaw.
I do something similar with my Brisket Buns here. In fact it's one of my favourite ways to easily feed a crowd.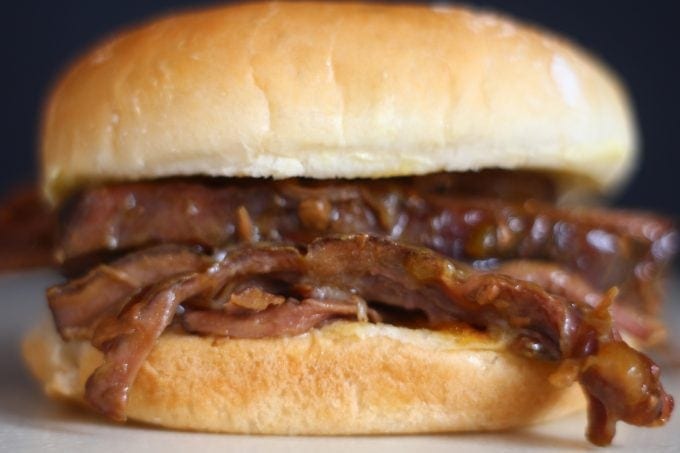 I serve it in big dirty baps with spoonfuls of gravy and have done so for many a standing ovation.
You could also serve it sliced with beautiful creamy mash, lots of gravy and peppery green beans and I would also love to have it just simply sitting cold in the fridge already sliced for sandwiches or whatnot throughout the week.
The children go bonkers for warm roast beef sandwiches and ketchup and one of my husband's all time favourites is cold roast beef and chips.
Beef brownie points all round.
Slow Cooker Beef Joint Recipe
I'm afraid I DON'T like my beef gravy to have anything else other than beef in it but I do understand that most do. So I have added a couple of carrots, celery and an onion in the bottom of the slow cooker here for the beef to hunker down on and flavour the gravy. But you don't have to either.
Feel free to add your favourite flavours. Jamie Oliver would have bay leaves and rosemary tucked in there I'm sure.
Obviously the joint requires a jolly good salt and peppering on all sides before being seared in a very hot to trot pan, also on all sides. It is this that gives a good flavour to the whole shebang. You want serious browning. Don't be shy.
If you would rather you can put the joint into a very hot oven 220 C/425F/Gas Mark 7 for 30 minutes to sear instead of the frying pan.
Place the beef in the slow cooker on top of the vegetables and pour in 500 mls of hot Beef Stock.
Set the timer on low and let the bronzed beauty cook away for the next 4/5 or high 6/8 hours.
When you are ready for the joint, remove and rest for at least 30 minutes. Ideally 71 C internal temperature
I then cover mine in silver foil.
Meanwhile remove all the vegetables from the remaining liquid and decant the liquid into a saucepan. Discard those cooked vegetables. Put two heaped teaspoons of cornflour into a mug and add a couple of inches of cold water. Stir to dissolve all the corn flour into the water.
Put the saucepan on the heat. Once the liquid is bubbling a little, pour in the cornflour mixture and, using a whisk, stir until it begins to thicken.
Repeat if the gravy is not thick enough. So simple I'm snoozing….
Carve the meat when ready and serve with gravy to rapturous applause
TOP TIPS
I use any left over gravy for a Cottage Pie or Sausage Bake. The gravy is almost as good as the joint. Keep sharing the leftover love.
A smaller or bigger piece of meat may require shorter or longer cooking times although not significantly. The best test is to plunge a fork in to feel if it is soft yet.
The meat should have an internal temperature of 71 C.
I like to make it the day before and allow to go cold before wrapping up and putting in the fridge. It slices very well then. I reheat it in the slow cooker sliced and covered with the gravy.
IF YOU LIKE THIS RECIPE YOU MAY LIKE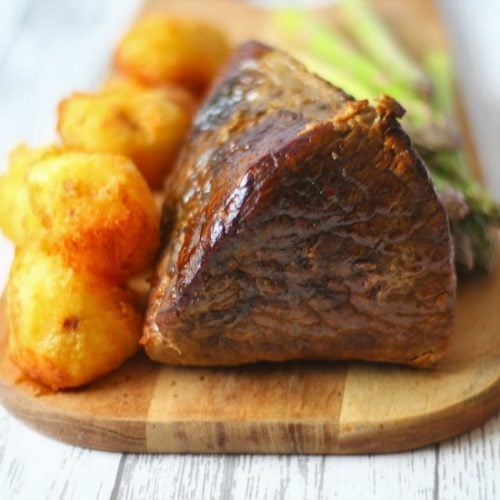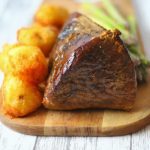 Slow Cooker Beef Joint
This recipe for Slow Cooker Beef Joint delivers on all fronts. Not only is it super delicious it is super easy too. The options are endless.
Total Time
6
hours
10
minutes
Ingredients
1.5

kgs

joint of beef

at room temp

500

mls

double strength beef stock

2 x stock pot jelly/cube

2

medium

carrots

1

medium

onion

2

heaped tsps

corn flour

2

tbsps

olive oil
Instructions
Take out the beef from the fridge 30 mins before you are ready to go so as to allow the joint to reach room temp. Chop the carrots into three and the onion into four. Place them in the slow cooker. Season the joint generously all over with salt and pepper. Switch the slow cooker onto low.

Put a large frying pan on a high heat and add the olive oil. Standing in the braced position and using some serious tongs, sear the bejesus out of your joint. It will hiss and spit. Don't do it in a bikini or speedos.

Place the browned joint onto the veg in the slow cooker. Pour over the 500 mls stock and put on the lid. Cook for 4-5 hours on High or Low 6/8 hours.

When the hours are up push a carving fork right into the centre. If the meat is medium soft then you are done if not cook for another hour and repeat. Don't do it longer than 8 hours. Remove the beef and set aside to rest for 30 mins covered with foil. Remove the left behind stock and decant into a saucepan. Carve the beef when you are ready for it. If you are serving the beef at a later date allow to cool before putting in the fridge covered.

To make the gravy put the cornflour in a mug and add a couple of inches of cold water. Stir well to dissolve. Put the saucepan on the heat and making sure the stock in the saucepan is bubbling a bit add the cornflour mixture. Using a whisk keep whisking as the stock bubbles. It should be nicely thickened, if it isn't then repeat with another couple of tsps of cornflour and water.

Use the joint in whatever way you want. If you are just using the beef without gravy then cover gravy when cool and put in the fridge for sausages and mash or a cottage pie. Having homemade gravy in the fridge always makes me feel like Delia.
Recipe Notes
This feeds four with left overs or six in the one sitting as a meal. Obviously it will go a little further served in rolls and sandwiches.
If you do use for rolls and sandwiches then keep the gravy in the fridge for sausages and mash, cottage pie etc.
A smaller or bigger piece of meat may require shorter or longer cooking times although not significantly. The best test is to plunge a fork in to feel if it is soft yet. The meat should be 71 C. It can become crumbly so if it does thick slices are the way to serve.
I like to make it the day before and allow to go cold before wrapping up and putting in the fridge. It slices very well then.
Nutrition Facts
Slow Cooker Beef Joint
Amount Per Serving
Calories 519
Calories from Fat 297
% Daily Value*
Fat 33g51%
Cholesterol 172mg57%
Sodium 382mg17%
Potassium 1076mg31%
Carbohydrates 4g1%
Protein 49g98%
Vitamin A 3430IU69%
Vitamin C 2.6mg3%
Calcium 60mg6%
Iron 5.5mg31%
* Percent Daily Values are based on a 2000 calorie diet.
Here is another incredibly easy and delicious slow cooker recipe.
Slow Cooker Spaghetti Bolognese
I have entered this post with #CookOnceEatTwice over at Searching for Spice
#CookBlogShare over at Everyday Healthy Recipes