Slow Cooker Roast Chicken is something that I cook almost every week. Cooking a whole chicken in a slow cooker is about as simple as it gets and I do like to keep it exactly that. Easy with a capital E. Tender and juicy chicken every time tasting exactly as if I had roasted it in the oven.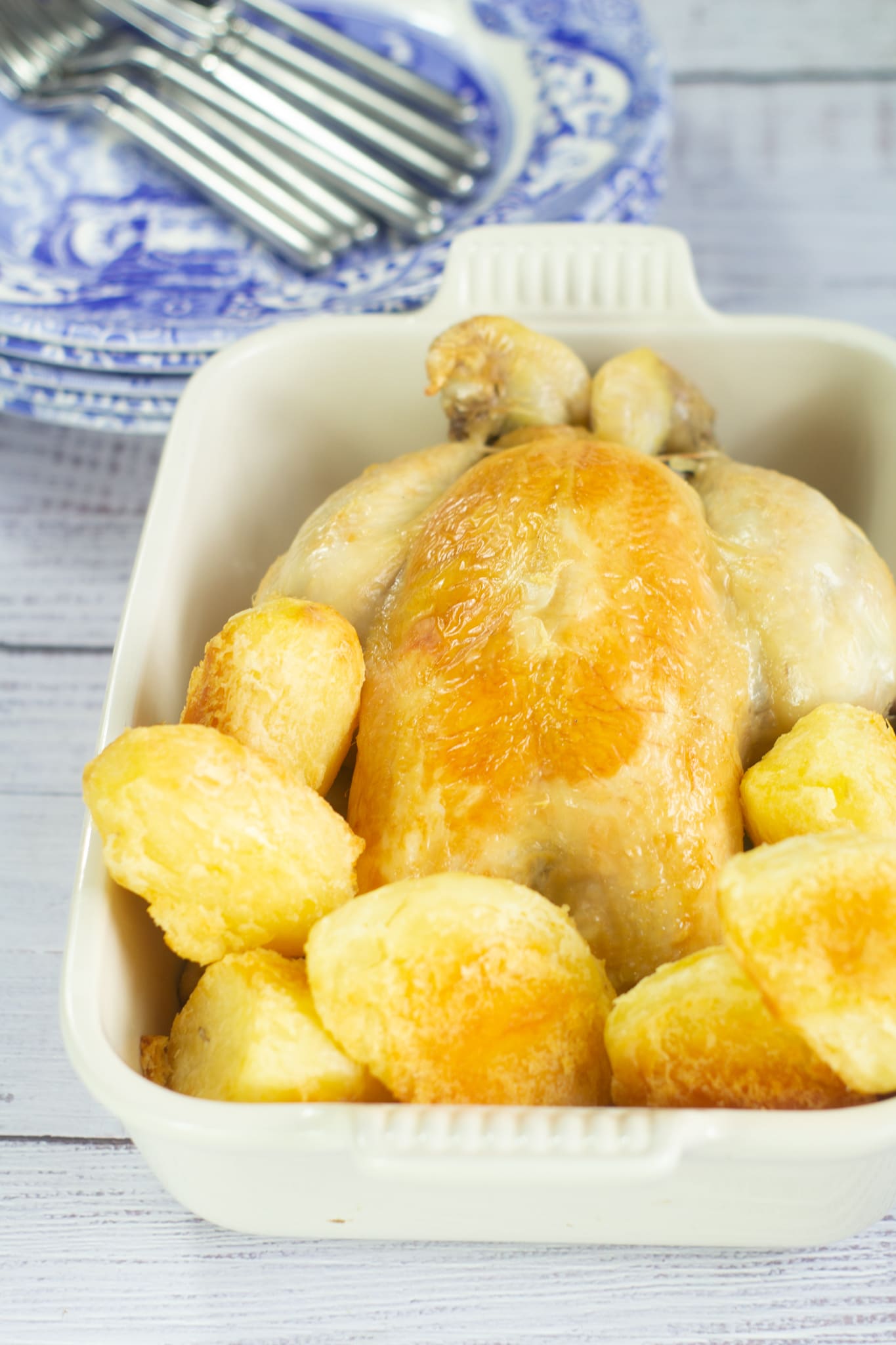 I am quite a bit in love with my slow cooker. It's not just a teenage crush either. It is such a genius bit of equipment and I would be lost without it.
I feel like I almost have my own little kitchen helper. It frees you up so much time and washing up. And how flipping cheap are they???
At Christmas I always have Slow Cooker Roast Beef and Slow Cooker Gammon sitting there in the fridge awaiting passers by (me) and for picky bit teas.
The amount of steam produced keeps everything super moist and even the stringiest of birds can't resist melting more than a little. I should try it some time...
*There is a full printable recipe card at the bottom of this post*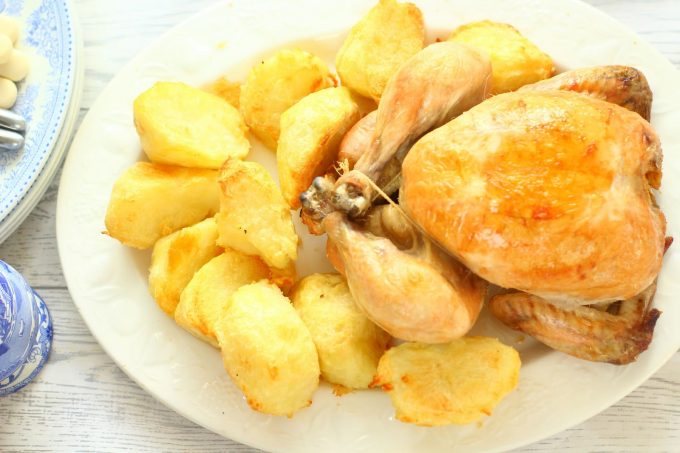 Recipe
It is as easy as it gets. It's really not a recipe at all just a method and a small one at that. Generally speaking it is 4-5 hours on high and 6-8 hours on low.
This recipe is hugely forgiving too, an hour or so extra and it matters not. Slow Cookers flipping rock! I even do my Christmas Turkey in there.
Equipment Required
slow cooker or crock pot
measuring jug
small bowl or mug and fork for the cornflour mixing
pastry brush
tbsp measure
saucepan
whisk
Traditional Roast Chicken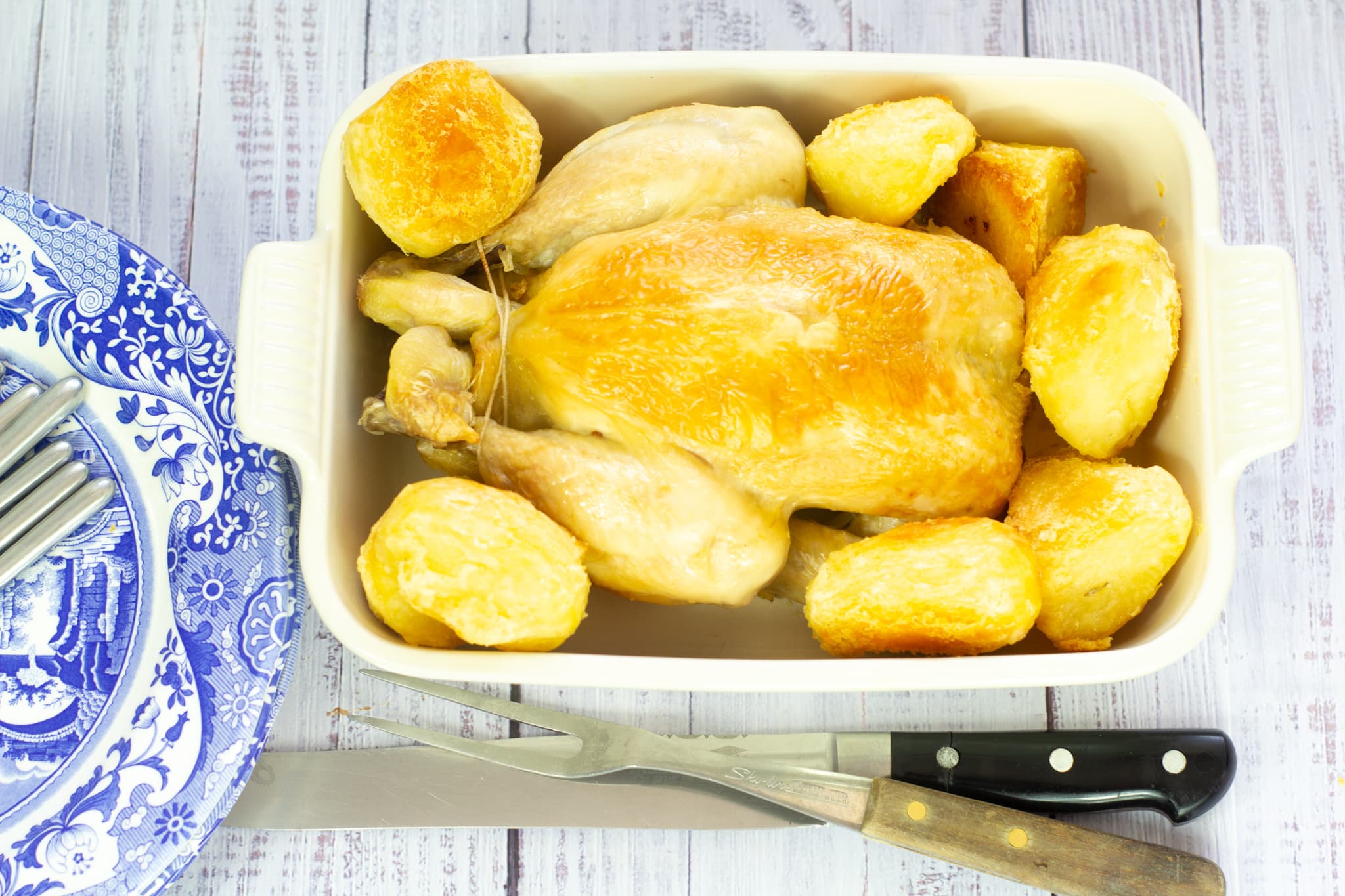 This is a more Sunday Roast recipe but I still make it mid week simply because it is so flipping easy.
Ingredients
1.3 - 1.5 kg whole chicken
3 large carrots
1 medium onion
250 mls double strength chicken stock
2 tbsp oil
2 tbsp corn flour
For a family of four I use a medium chicken -1.3 - 1.5 kg. Use a larger one for 6 people but depending on the size of your slow cooker you may not be able to fit much veg in. The bigger the bird the longer it will take to cook too.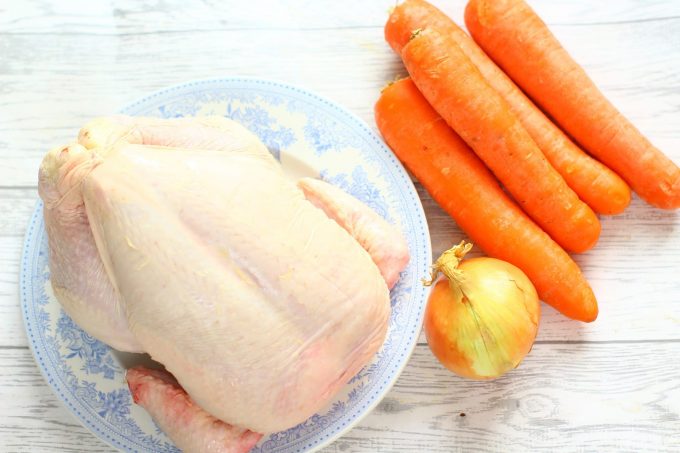 And so to a small point. I have made this recipe with carrots and onions and without. I prefer it without as I don't like to flavour the gravy with anything other than chicken.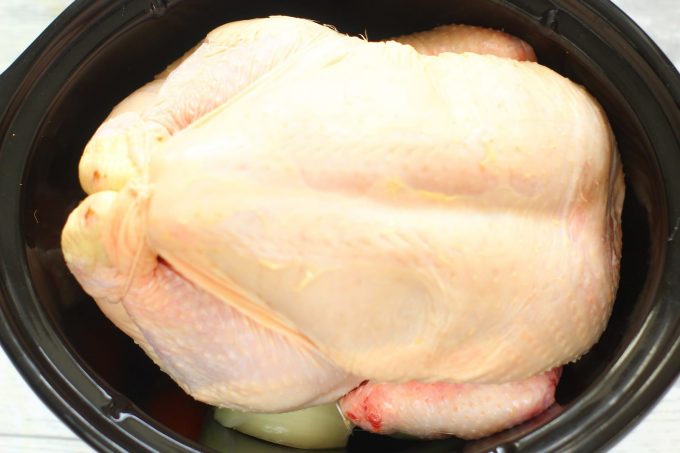 If you make it without the veg then ball up 3 pieces of silver foil and put them on the bottom of the pot to keep the chicken off the bottom.
I season the chicken and then cook it for 4-5 hours on high. Use a meat thermometer to check it has reached 75 Celsius/165 Fahrenheit. Test the thickest part of the thigh without touching bone.
I also check that the juices running from the bird are clear. I tip the bird up so that they run from the cavity and all gather in the slow cooker bowl.
If all is good and ready then I remove the chicken and put it under a hot grill after brushing it quickly with olive oil. Otherwise the chicken looks a little bit grey for the table. I wish I could burnish so easily.
I put it close to the grill for about 5/7 minutes until browned. Set it aside to rest for 15 minutes. I cover mine loosely with a sheet of tin foil.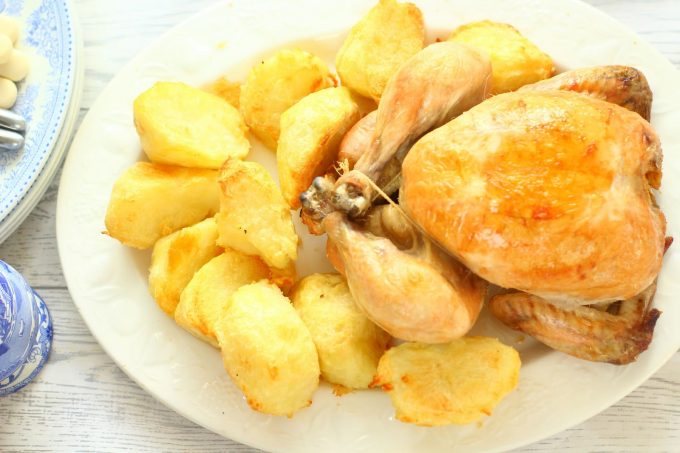 When serving this chicken as a traditional roast I make some gravy from the juices. I spoon off as much fat as I can be bothered to. Bearing in mind that you want a little in there for flavour.
I then pour in 250 mls of double strength chicken stock. I mean that you make the 250 mls with the ratio of stock cube/pot for 500 mls.
If you make your own chicken stock then flipping well done and use 250 mls of it.
I use a corn flour slurry to thicken the gravy. I use 2 tbsps of corn flour and mix 4 tbsps of cold water into it. Tip it in, stir it well and wait for it to start to bubble and thicken. Season to taste.
Serving Suggestions
I serve it as a Sunday Roast with all the trimmings, roast potatoes, cauliflower cheese, yorkshire puddings, braised red cabbage and in the midweek usually with mashed potatoes and corn on the cob. I also love, love, love to serve it with this Pork, Sage and Onion Stuffing, albeit a smaller version.
Leftovers
Obviously we have the above traditional Roast Chicken that is perfect for your Sunday Roast with all the sides but I also use the leftovers or indeed the whole chicken in lots of other ways.
I use it for great salads such as my Easy Thai Salad or Easy Chicken Caesar Salad.

Or my delicious quick and easy Spiced Creamy Thai Coconut Chicken Soup and all time favourite mid week meal Bang Bang Chicken.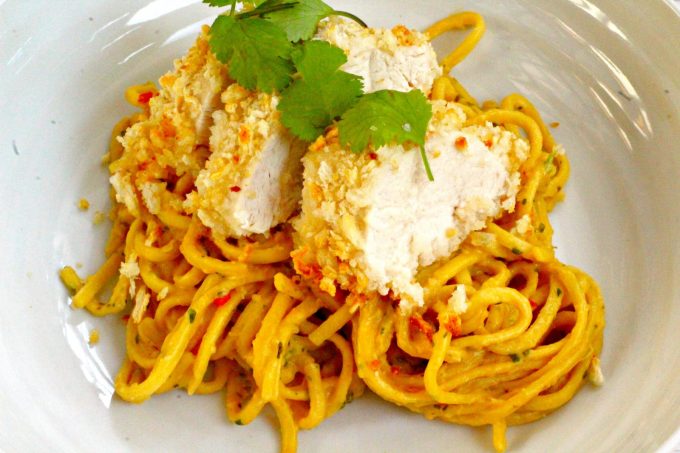 I use it for my Easy Butter Chicken too, throwing it all in after the sauce is made.
I stick it in sandwiches and rolls and, as previously confessed, eat strips of it soused in salad cream secretly from the fridge.
I love it served alongside my Tomato Salad, a perfect outdoor lunch or supper.
Let's face it this is about as versatile as it gets. I can thoughtlessly chuck a chicken in and then make my mind up how I'm going to run with it later when I have time to think or can remember how many I have for dinner or why I came into the kitchen in the first place..
Dress it up or down, it's always good.
Here are some other more traditional Sunday Dinner Ideas:
Slow Cooker Thai Peanut Chicken
Roast Pork with Perfect Crackling
You can always add twists to this recipe to suit your family and the guests expected at your table. Here are a few of mine.
Fajita/Spiced Chicken
I often use a Spice Rub. I have to be honest and admit that I don't make my own but use a heaped tbsp of fajita spices.
I brush the chicken with olive oil and then rub the spices all over the chicken. I do brush the chicken lightly again with olive oil and brown under the grill to give a fabulous burnished look to the whole thing after the slow cooking is done.
I then serve the chicken carved in wraps/tortillas with roasted peppers (also cooked in fajita spice), sour cream and grated cheese.
Any leftovers make a great salad.
Garlic Chicken
Omit the vegetables below and add about 6 whole unpeeled garlic cloves into the bowl with the chicken.
At the end of the cooking time I put 100 mls of white wine and 250 mls of chicken stock into a saucepan and transfer the gravy in there too. I squeeze out the soft insides of the garlic cloves into the gravy. Spoon off some of the chicken fat but leave a little behind for flavour.
Bring the gravy to a gentle bubble and add a cornflour slurry (2 tbsps cornflour and 4 tbsps cold water) to thicken the gravy. Mixing it all together thoroughly. Simmer for a few minutes.
Serve with jacket potatoes or mashed and choice of vegetables.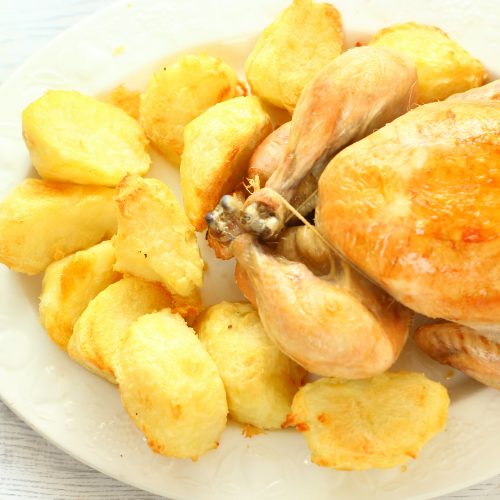 Slow Cooker Roast Chicken
Super easy slow cooker roast chicken that produces tender and juicy roast chicken every time. As perfect for midweek meals as it is for a Sunday Roast.
Ingredients
1.5

kg

chicken

medium

3

large

carrots

1

small

onion

1

tbsp

olive oil

250

mls

double strength chicken stock

2

tbsps

cornflour
Instructions
Peel the onion and ¼ it. Peel the carrots if using and lay them whole in the bottom of the slow cooker with the onion. Place your chicken on top.

Cook on High for 4-5 hours. Check the internal temperature with a meat thermometer is 75 Celcius/165 Fahrenheit at the thickest part of the thigh but not touching bone.

Remove Chicken and set aside to rest. I cover the chicken with a sheet of silver foil. Decant all the juices to a saucepan and remove as much of the fat that is sitting on top as you can easily do. Add the 250 mls of chicken stock and bring to a gentle bubble.

Tip in the cornflour slurry and mix through thoroughly. I use a whisk. Simmer for a couple of minutes.

Carve the chicken as required and serve with the gravy.
Nutrition
Calories:
485
kcal
|
Carbohydrates:
13
g
|
Protein:
36
g
|
Fat:
32
g
|
Saturated Fat:
8
g
|
Cholesterol:
137
mg
|
Sodium:
254
mg
|
Potassium:
604
mg
|
Fiber:
2
g
|
Sugar:
4
g
|
Vitamin A:
9273
IU
|
Vitamin C:
7
mg
|
Calcium:
42
mg
|
Iron:
2
mg
All nutritional information is approximate and intended only as a guide.
Tried this recipe?
Take a pic and tag @applytofaceblog on Instagram. I would so love to see them!
I have linked this post with Cook, Blog, Share.
Do let me know and comment below what you think and how you got on with it. Or come on over and join me on social media. I LOVE a good hairy chinwag-
Jenny x