This is a classic Caesar Salad with crunchy garlic croutons, chargrilled chicken and a punchy but dreamy dressing. I kid you not it is to die for! I fell completely and utterly in love with it at first lick of the spoon. Super easy to throw together I am ecstatic to have it now up my sticky culinary sleeve. I can't sing it's cheesy praises enough.
Caesar Salad is a bit of an elusive and posh salad, or so I had always thought. It has always been one of my favourites to order when out, especially with a side order of french fries baby.
Seriously delicious.......however until now the few attempts I had made to recreate it's deliciousness at home had never quite worked out for me.
Too acidic, too cheesy or just plain wrong. I seemingly always ended up defeated and disappointed.
But last week I became determined to up my salad game and research exactly what I needed to do to easily bring together an incredible Chicken Caesar Salad at home......to finally end this rubbish salad nonsense and be able to put something as good as on the table....no pressure there then.
Easy Chicken Caesar Salad Recipe
This recipe contains some shortcuts but adheres to the most important principles of a good Caesar Salad.
I have taken a lot of time working out what was important to do right and what you could shortcut without compromising any fabulousness whatsoever and quite frankly, I've smashed it. Let me let you into my little secrets....
Top Tips
I use Anchovy Paste. It can sit in your fridge happily meaning that you don't have to open one of those tricky tins for only a couple of anchovy fillets. Truth be told they unnerve me slightly anyway.
I also use store bought mayonnaise. Why wouldn't you? It provides a delicious and perfect creamy background for the big flavours here. Plus all you have to do is squeeze or spoon it out of the jar/bottle.
I do however recommend that you grate your own parmesan. It does need to be super fine but the flavour is far superior to store bought grated parmesan.
Recipe Steps
Firstly I make my garlic croutons. I use garlic oil instead of minced garlic. It is stunning stuff and soooo much better than raw garlic in this salady situation.
It is also so much easier to use for these croutons than rubbing away with a garlic clove.
I take half a large ciabatta and cut the crusts off before cutting into 1 " cubes which I bake in a hot oven for about 10 minutes until golden brown.
I don't worry if the ciabatta isn't stale but I do buy the best ciabatta I can manage. The supermarkets bake some very good fresh ones themselves.
In a mixing bowl I have already swooshed around a tbsp of garlic oil and a good pinch of salt. I tip the baked croutons into the bowl and shake and turn them around in there to coat with the oil.
When they have all had their turn in the oil I put them on a wire rack to cool and stay crisp.
I then cut the chicken breasts in half length ways. This allows a quicker cooking time.
I like to use my ridged griddle frying pan to fry them as it adds a char grilled flavour and I like the pattern.
I season and coat them in olive oil before frying.
I use a mixture of lettuce leaves to suit what's in the supermarkets.
For the photos I used Sweet Gems but Romaine or Cos Lettuce is just as good too. I do wash the leaves and then dry in my salad spinner.
From then on in it is a mere whisk and assembly job.
All the dressing ingredients go in the mixing bowl, followed by a good whisk until all is smooth and dreamy. Taste to season and then stand by your beds.
I like to pour the dressing into the serving bowl before the lettuce leaves. I use my hands to turn them gently until all have had a good coating.
The chicken is then sliced and scattered over the leaves along with the croutons and some extra parmesan shavings.
Tips for Caesar Salad with Chicken
To get ahead you can make the dressing, croutons and fry the chicken beforehand. Refrigerate and assemble when required. Allow the salad and dressing to come back up to room temp before serving.
Always season the chicken well before frying it makes a whole heap of difference to the flavour.
Serve the salad at room temperature. All salad tastes better that way.
Use garlic oil instead of raw garlic. So much easier and it tastes so much better in my opinion.
Coat the croutons after baking in the garlic oil. That way the croutons remain all about the crouton not the oil.
Season the croutons, it takes them to a whole other level.
Make sure you FINELY grate the parmesan. On a box grater it is the tiny star shaped side. It makes the dressing that much smoother.
Add more or less milk to get the dressing to the consistency that you are looking for.
Equipment Required
Box Grater
Whisk
Wire Rack
Digital Scales
Baking Tray
2 Mixing Bowls
Serving Dish
Knife
Tsp/Tbsp measure
This salad is perfect for outdoor eating, easy weekend food and even summer dinner parties. At the moment I feel seriously committed to always having some under clingfilm in the fridge allowing me to eat like a lady every day of the week.
If you are serving this straight after cooking the chicken then great but otherwise you need to stick to the usual rules that apply for storing and reheating cooked chicken.
The dressing will keep for at least a week covered in the refrigerator.
Check out these other incredible salad recipes....if I do say so myself.
Or these other recipes that are ideal for a lunch date.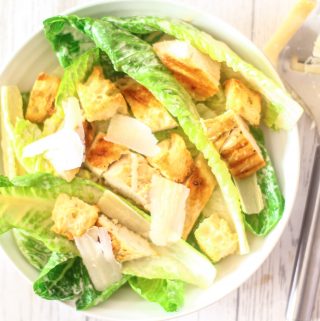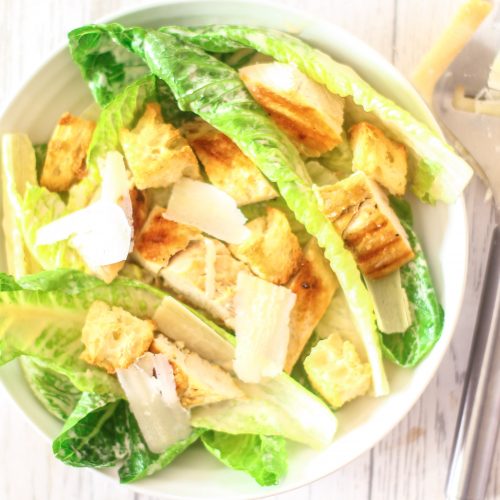 Easy Chicken Caesar Salad
This is a classic Caesar Salad  with crunchy garlic croutons, chargrilled chicken and a punchy but dreamy dressing.  It is outstanding.


Ingredients
200

grams

ciabatta

3

large

chicken breasts

2

large

romaine lettuces

4

tbsp

garlic oil

1

tsp

anchovy paste

1

tbsp

lemon juice

1 ½

tsp

dijon mustard

2

tsp

worcestershire sauce

160

grams

mayonnaise

40

grams

parmesan

finely ground

1

tsp

fine sea salt

2

tbsp

milk
Instructions
Preheat the oven to 180°C. Trim the crusts off the ciabatta and cut into 1" cubes. It can be a fiddly job so go carefully.

Place on a baking tray and bake until golden brown. About 10 minutes. Depending on how they bake you may need to turn them over to get the underside brown too.

In a medium size bowl tip 1 tbsp of garlic oil and ½ tsp salt. Smoosh it around so that the inside of the bowl is coated in it. Tip the croutons in and lightly toss the croutons in the oil and salt. It's not much oil but it is strong stuff. Put the croutons on a wire rack and set aside.

Season the chicken breasts and pour over 2 tbsp of olive oil. Use your hands to massage the oil and salt all over both sides of the chicken. Fry until cooked through. Set aside and slice.

Put 1 tbsp garlic olive oil, 1 tsp anchovy paste, 1 tbsp lemon juice,1 ½ tsp dijon mustard, 2 tsp worcestershire sauce, 160 grams mayonnaise, 40 grams parmesan, 2 tbsp of milk and ½ tsp salt into a mixing bowl. Whisk all the ingredients together until smooth.

Wash and dry your lettuce leaves and pour the dressing into your serving bowl. Tip in the lettuce leaves and toss carefully in the dressing. When all coated well then scatter over the chicken and croutons. Add some extra parmesan if you like it extra cheesy.
Nutrition Facts
Easy Chicken Caesar Salad
Amount Per Serving
Calories 691
Calories from Fat 405
% Daily Value*
Fat 45g69%
Cholesterol 133mg44%
Sodium 1544mg67%
Potassium 695mg20%
Carbohydrates 25g8%
Protein 45g90%
Vitamin A 1375IU28%
Vitamin C 4.5mg5%
Calcium 141mg14%
Iron 1.2mg7%
* Percent Daily Values are based on a 2000 calorie diet.
Do let me know how you got on in the comments below. I love a good old hairy chin wag,