This Watermelon and Feta Salad is just incredible. Perfect for outdoor eating and bursting with fabulous summer flavours it refreshes with every sweet yet sharp bite.
This Watermelon and Feta Salad is a real stunner. Not only is it very easy on the eye it also packs a flavour punch that is both gentle and loud at the same time. The tangy cheese and vibrant mint is offset perfectly by a chunky red sea of sweet watermelon and mellow chopped cucumber. It really is stupendous and I have taken it straight to my heart. I actually took it to bed one night too. I ate it with a fork cold from the fridge and straight out of the dish and it was better than wine….
But first……..
What a pickle I got into with my HRT patches last week. true to form I had neglected my levels until they were all gone….. I'm an idiot obviously…….So there I was last Wednesday finally facing up to the situation at last knockings and putting my order/prescription in for another few boxes of youth juice on line. Something that I had not done before but bizarrely it went without a hitch…..what a great system I thought…….
So I dutifully turned up at my doctor's reception on Friday to pick up said prescription and that is when it all started to go a bit Pete Tong. It wasn't there in the little box……apparently it had been sent to Tesco's……..What the flip???? However I was too scared to argue with her and jumped back in the car and took the groaning kids right across town in the rush hour to Tesco's, trying to explain/not explain why I needed this "medicine" without scarring them for life.
I queued up once more and gave my name. The chemist frowned as she looked at her computer and then delivered a sucker punch to my ovaries. "We've run out…….there's a real shortage and we don't know when any more is coming in. It's the same everywhere….." Seriously????
She stepped away from her screen and came closer to me, sympathetically tilting her head as we both came together at the counter bonded in our sisterhood of shrivelling (she was an older lady too). " Everyone wants some," she said, "You need to go back to your doctor"
Panicked at the thought of having come so far in so many ways, I retreated to the car park and text my friend that works for the NHS and is partial to her patches as much as I. "Quick," she said, "I use a small chemist a little out of town, I bet they will have some. But they close in 20 minutes and you will have to get your prescription emailed over to them."
The A Team music kicked in…..as I desperately rang my doctors, it took another 10 minutes for the doctor's receptionist to work out how to move the prescription across, I hurriedly shoved my shopping in the back of my car with one hand. Not realising my shopping trolley had started to move down the hill after I had removed the last of my bags, I looked up just in time to see it heading at speed towards a posh BMW.
I sprinted full pelt across the car park and miraculously caught it before it hit the passenger door, still one handed and still with the receptionist tapping away with one finger……"Right," she said, "I've done that, but you only have ten minutes to get there and apparently they only have one box left"
The A Team music abruptly cut out and "The Eye of the Tiger" started up at deafening levels……Obviously I couldn't get my sat nav to work, I got caught in road works and my children fought like cat and dog all the way there.
I did end up doing my psycho b.tch routine at the last set of traffic lights but do you know what? I got that last box in my puffy hands and half an hour later slapped a new patch right onto my butt and I was most triumphant.
Watermelon and Feta Salad
Let's face it summer eating can be very good indeed but often doesn't help the swimsuit situation. This sensational salad is so here to save the day.
Sweet, refreshing chunks of watermelon and crumbled tangy feta cheese combine to bring you THE most delicious stand alone salad or incredible accompaniment to a meal.
I have served it at a BBQ as a side for people to help themselves to and as a complete meal with some toasted pita bread. It was wonderful wearing either hat.
The ingredients are super simple.
The hardest part of the whole thing is removing the watermelon seeds.
I can't be doing with fiddling about getting bored so I slice the watermelon into wedges and use a teaspoon to scoop out the seeds in an arc.
After that it is merely a matter of chopping everything into chunks.
I tend to cut my cucumber chunks smaller than the watermelon chunks. I would say 1.5 cm squares roughly for the cucumber and 3 cm squares for the watermelon.
I also remove the seeds in the cucumber with a teaspoon.
I cut the red onion very thinly too and put it in cup or mug and then tip in 1 tbsp of white wine vinegar. I leave for about 10 minutes so that the rawness of the onion is diminished by the vinegar.
I also like to cut the mint leaves up into ribbons rather than tear, it gets about a bit better like that.
Put the watermelon and cucumber into a large shallow serving dish with the mint strips, onions and feta cheese. Pour over the olive oil and carefully/gently mix.
Only mix the least you have too.
Reserve 100 grams of the cheese to crumble over the top of the salad after it has been mixed otherwise the cheese can break down too much in the turning.
How to Store
If you are not serving immediately then cover and put in the fridge until required. I have eaten it the next day and it was still very good but I feel after a couple of days you would lose some of the freshness that makes this salad so very good.
Equipment Required
Sharp Knife
Teaspoon
Large Shallow Serving Dish
Measuring Jug
Digital Scales
Cup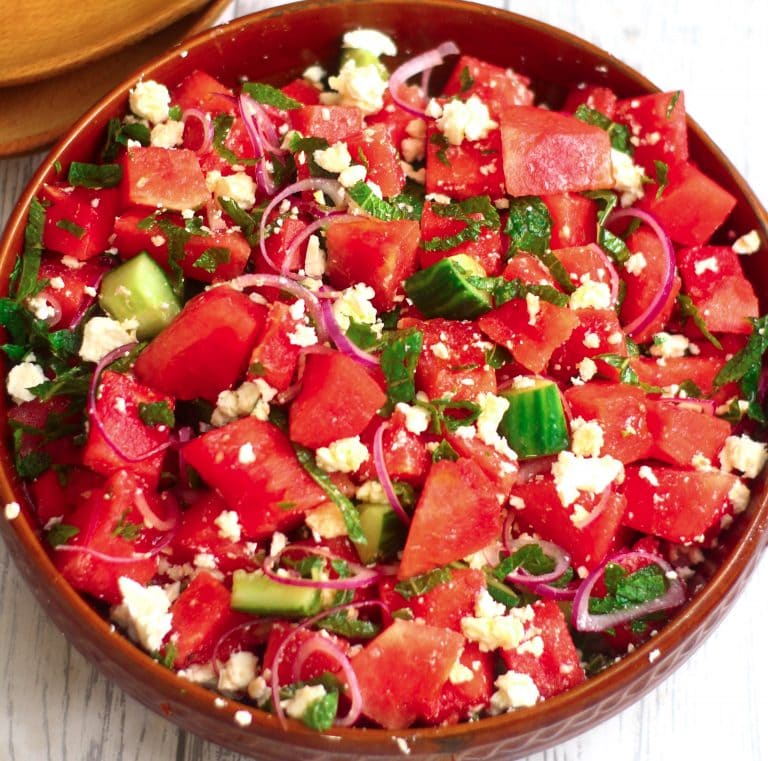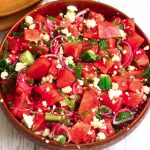 Watermelon and Feta Salad
This is a salad of sunshine, full of refreshing flavours and tangy feta cheese. So simple to put together and perfect for outdoor eating, BBQ or a picnic.
Ingredients
1200

grams

watermelon

with rind still on

1

small

red onion

10

grams

mint leaves

300

grams

feta cheese

1

medium

cucumber

1

tbsp

white wine vinegar
Instructions
Slice the red onion thinly, about 1 mm thickness and put in a cup or mug. Tip 1 tbsp of white wine vinegar on top and push them about a bit with a fork to make sure they all get a good coating.

Cut the melon into slim wedges and using a teaspoon scoop out the seeds. Remove the rind and cut into 3/4 cm chunks and put directly into the serving dish. Cut the cucumber in half length ways and remove the seeds before cutting into chunks, about 1.5 cm and put those too in the serving bowl. Give them both a light mix together.

Roll all the mint leaves into a sausage and cut into strips. Put on top of the chunks in the bowl and then add the steeped onions. Finally crumble 200 grams of the feta on top. Keep the crumbles quite big so that they don't "melt" too much in the mixing. Pour on the olive oil and give it all a good grind of black pepper.

Carefully turn the chunks and toppings together. When ready to serve, crumble the remaining feta on top of the salad.

Apply To Triumphant/Psycho B.tch Face
Nutrition Facts
Watermelon and Feta Salad
Amount Per Serving
Calories 205
Calories from Fat 99
% Daily Value*
Fat 11g17%
Cholesterol 45mg15%
Sodium 562mg24%
Potassium 337mg10%
Carbohydrates 20g7%
Protein 9g18%
Vitamin A 1445IU29%
Vitamin C 19.1mg23%
Calcium 273mg27%
Iron 1mg6%
* Percent Daily Values are based on a 2000 calorie diet.
Here are some more fabulous salads
I have linked this post with Cook Blog Share and Fiesta Friday co-hosts this week are