This Potato salad is very, very good indeed. It is my staple summer salad and one of my favourite left overs to snaffle from the fridge late at night.
Potato Salad
But first ………..some scary stuff.
My son was badly bullied at the weekend and I am afraid I can think of nothing much else at the moment. Not even the littlest giggle……. It happened in a situation that he will be returning to in a couple of weeks and I simply do not know what to do about it.The four culprits were considerably older and bigger than him and only stopped when an adult spotted what was happening and intervened.
My options seem endless but the right solution alludes me. At the time they denied it and I mistakenly thought I had said enough to prevent it happening again but in retrospect I doubt it.
But what to damn well do??????
I have a friend of a friend who would wait for the bullies of her children when they were walking home from school and making sure they were alone, would pounce. She would lean in menacingly before threatening terrible physical violence if  one more finger was laid upon her child. Her theory was/is that bullies only understand one language and she was prepared to talk it to keep her child safe…… it worked every single time and wouldn't it feel fabulous to carry out? How dare the little sh.ts hurt and frighten my child.
I could contact the parents although I am unsure of exactly who the children were or I could wait until we return to the situation and see if it happens again…….Happens again???? I feel like it CAN'T happen again. In my horror at what he had gone through and seeking to mitigate his distress I assured him that it WOULDN'T happen again and he believes me……god love him.
Where's the f.cking Equalizer when you need him…..
Potato Salad Recipe
This is a recipe for Potato Salad with Chives and Red Onion that I made for this past fateful weekend and will continue to for every summer trip or outside Soiree. In my opinion it is what Tupperware was made for. It is my go to Potato Salad recipe throughout the whole of Summer. It is at it's best served straight out of the fridge or cool box and goes with about everything and anything that you can imagine on a summer plate. God it is  good as well as super simple to put together. I often just keep a tub of it permanently in the fridge for simple midweek meals, stick a Sausage Roll or slice of Quiche with it and suddenly you're eating like a King. Pass me the Swan….
It is simply a matter of boiling the potatoes and mixing in the dressing, onions and chives………simplesssss
In fact such ease belies it's cold, bold deliciousness. Summer for me on a fork.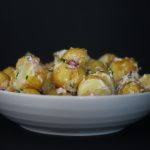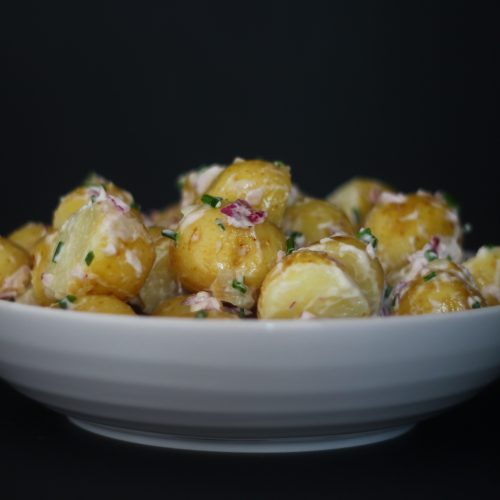 Potato Salad
This is my go to Potato salad recipe. It is divine! Served cold it goes with about everything that you can think of.
Ingredients
1

kg

new potatoes

5

tbsps

mayonnaise

50

grams

red onion

12

grams

chives

1

tbsp

yoghurt/sour cream
Instructions
Boil the potatoes in salted water for about ten mins until tender.

Meanwhile blitz the red onion in a small food processor.

Drain the potatoes and allow to cool to room temp . Scatter in the red onion and snip the chives in with scissors. Add the mayo and yoghurt and then gently mix well together. Chill the ass off it.
Nutrition Facts
Potato Salad
Amount Per Serving
Calories 160
Calories from Fat 54
% Daily Value*
Total Fat 6g 9%
Cholesterol 4mg 1%
Sodium 64mg 3%
Potassium 539mg 15%
Total Carbohydrates 22g 7%
Protein 2g 4%
* Percent Daily Values are based on a 2000 calorie diet.
Here are some more fabulous Summer recipes – Moroccan Roast Vegetable Salad
I have linked this post with Blogger Club UK over at My Random Musings –  The Dream Team Linky –  Brilliant Blog Posts over at a Honest Mum –  Recipe of the Week over at A Mummy Too –  Cook, Blog, Share over at HIjacked by Twins