---
Easy Cheese and Onion Quiche
This recipe for Cheese and Onion Quiche is one of my favourites. Baked without cream it has a depth of savoury flavour that makes it into my dreams. Mellow with sweet onions and mature cheddar there is something very special about this quiche.
..I love to self medicate with food…… joyous, melancholy, furious, it matters not. I have a menu for all my emotional afflictions.
Interestingly I read a brilliant article recently that gave relevant recipes for all my menopausal maladies and for the duration of reading said article my intent was to do just as she recommended.
But here's the thing…..it looked awful. So awful I cannot explain…think dog food cake with burnt orange bits……In reality I just knew I couldn't.
So after scrolling through these all clever and all encompassing recipes. I realised one very important thing. I liked hardly any of the ingredients. I hadn't even heard of a couple…….
Try as I might I cannot get enthusiastic over millet and mung beans. I feel positively indifferent to buckwheat and flax. Uneducated I am sure and a great loss to my ovaries but there you have it.
I do of course remain open to the possibility of enlightenment as I am sure in the right hands they could be delicious. Just so not mine……pass me the cheese.
Cheese and Onion Quiche Recipe
So until an epiphany here's one of the recipes that I turn to in my hour of emotional need. This is my out of the ball park delicious Cheese and Onion Quiche recipe.
It is my comfort and solace when I am feeling melancholy or in need of an embrace. Importantly it is also perfect for Summer eating and always brightens a colder day. Served warm or cold it always delivers a fabulous flavour combo.
Cheesy and mellow with some buttery onion tones in the background it blows me away every time. I cannot tell you enough how good this is. Cheese and Onion comfort lovin that is as good as a bear hug from Father Christmas.
Cheese and Onion Quiche recipes are generally made with cream but I use cream cheese instead and eggs, a cheese and onion flan if you will, it is this that gives it a softness and comforting cheesy mellowness.
The onions are sauteed in a little butter and oil so they too have a deepness that complements the sharpness of the cheese. I challenge anyone to not feel uplifted after a slice.
I make the pastry as always in my food processor and this is always the recipe I use for shortcrust pastry for quiches. My favourite pie crust. It is just perfect. If I want to make a sweet version I just add in some caster sugar.
The knack to it is to whizz as little as possible but enough for it to come together without adding too much water. So keep going until you are sure the water has mixed through before adding anymore.
It is easy to add too much if not careful. You can of course use your hands to make the pastry with the rubbing in method to make to the breadcrumbs stage before stirring in the water with a knife.
The less it is pummelled or whizzed the better. Shortcrust pastry is a sensitive soul.
STEP 1 – Making The Pastry
I whizz the butter, salt and flour until it looks like breadcrumbs.
Add the water and pulse until it starts to come together. Pulse a couple more times to make sure it doesn't need any more water. Touch the dough if you are not sure but make sure the food processor is switched off!
Alternatively rub the butter into the flour with your fingers and mix the water into the mixture with a knife.
This is at the point where it is ready to be tipped out onto a work surface and using your hands brought together to form a ball of dough.
Flour the surface before rolling out large enough to fit your flan dish.
Mine is 23cm/9″. You can use a loose bottomed one too. It is easier to get it out after baking.
STEP 2-
There is too much dough but I like it this way as it allows for errors and the margins are not so tight when aligning the pastry onto your dish/tin. I let my daughter make jam tarts out of the remaining.
I use a rolling pin rolled across the top to remove the excess and then pinch each flute back up to thin the pastry out where the pin has blunted and squashed it.
After rolling the excess off.
I pierce the bottom with a fork and then bake blind for 20 mins.
After I have removed the beans and lining I brush with beaten egg to seal the holes and put back in the oven for 5 minutes.
STEP 3 – Making The Filling
I soften the onions for five mins or so in a little butter and oil beforehand.
I empty out the softened onions onto the bottom, sprinkle over the cheese and then mix together the remaining ingredients before pouring the eggy mix into the case.
Carefully carry it to the oven to avoid spilling the egg mixture over the sides.
Sometimes I half fill the quiche and then use a jug to pour the rest in whilst it is sitting half in the oven.
STEP 4 -Baking The Cheese And Onion Quiche
I bake it at 180 C for about 25/30 minutes until brown on top in patches and your house smells INCREDIBLE.
Leave it to cool for ten minutes before serving.
Any leftovers can be reheated in the microwave or oven.
Also great cold for picnics and general outdoor stuffing of face perched on a bench or a picnic blanket.
IF YOU LIKE THIS RECIPE THEN YOU MAY LIKE THESE
Moroccan Roast Vegetable Salad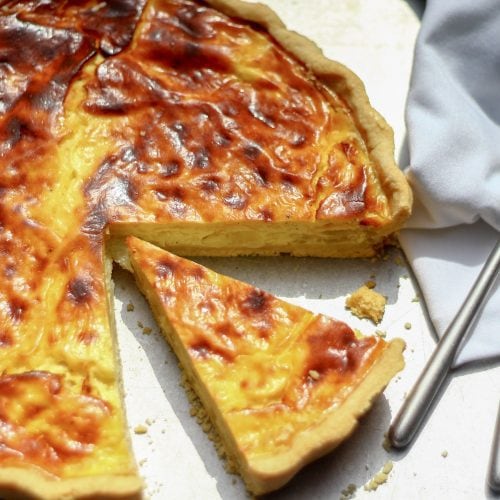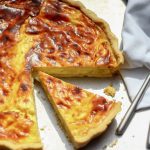 Easy Cheese and Onion Quiche
This is an amazingly delicious recipe for Cheese and Onion Quiche. It is perfect for Summer eating served warm with a salad or as picnic food.
Total Time
1
hour
5
minutes
Ingredients
Pastry
300

grams

plain flour

150

grams

unsalted butter

1

pinch

salt

5/6

tbsp

water
Quiche Filling
300

grams

full fat cream cheese

3

medium

eggs

100

grams

mature cheddar

1

medium

onion

cut into half moons

1

tsp

butter

for frying the onions

1

tsp

olive oil

for frying the onions

salt and pepper
Instructions
I use a food processor to whizz the 150 grams/5 oz butter, 300 grams/10 oz flour and salt together until they look like breadcrumbs. About 10/15 seconds.

Alternatively rub the butter into the flour with your fingers.

Then add the water whilst pulsing. You may need to add more or less so just 1 tbsp at a time. As soon as it starts to come together tip it out onto a work surface and bring it completely together with your hands into a disc. See photos.

Alternatively use a knife to mix in the water.

Pre heat your oven to 180 C/350 F/Gas Mark 4.

Flour the work surface and begin to roll out into a circle of about 5mm thick. This pastry will easily roll out to fit a 23 cm dish with a little extra. I use the rolling pin to drape the pastry over to lower it into the dish. You can chill it for 30 minutes before rolling out but I never do!

Use the rolling pin to roll off the overhang and then press your thumb into each flute to un squash the top. Using a fork prick the base of the pastry all over. Line the pastry case and fill with baking beans to bake blind for 25 minutes.

Fry your chopped onion gently for about five/ten minutes until soft and golden. Set aside.

Beat your 3 large eggs together in a small bowl and then brush the bottom of the pastry case with a little of the beaten egg to seal all the holes. Return to the oven for five mins.

In a medium bowl add your eggs, 280 grams/10 oz cream cheese, salt and pepper and mix well. Add the onions onto the base of the pastry case and sprinkle in the 100 grams/3.5 oz mature cheese before pouring over the egg mixture.

Bake for 20/30 minutes or until golden and lightly scorched in places.

Apply to Heart Warmed Face
Recipe Notes
This can be kept for several days in the fridge and reheated gently.
Nutrition Facts
Easy Cheese and Onion Quiche
Amount Per Serving
Calories 387
Calories from Fat 243
% Daily Value*
Fat 27g42%
Cholesterol 81mg27%
Sodium 183mg8%
Potassium 122mg3%
Carbohydrates 25g8%
Protein 9g18%
Vitamin A 935IU19%
Vitamin C 0.8mg1%
Calcium 117mg12%
Iron 1.8mg10%
* Percent Daily Values are based on a 2000 calorie diet.
I have linked this recipe with Fiesta Friday and Julianna @ Foodie on Board and Debanita @ Canvassed Recipes
Cook Blog Share over at Recipes made Easy