A light and fluffy Cheese Scone is a very, very delicious thing. So delicious that every time I bite into one warm and slathered with the obligatory salted butter, I actually swoon. I always feel like I've suddenly joined the W.I and cannot understand why I don't bake a batch every morning.
This week has found me back on an even keel. I imagine I have about 5 days more of balance before plunging off the deep end again.
Sweet Jesus……what a massive pain in the a.se this hormonal nonsense is……… for instance I have been wondering what all the spots on the back of my neck were.
I had lazily come to the conclusion that I must be somewhat allergic to my hair dye (needs must) or have shingles. I almost constantly have them but this last week or so they were annoying me more than usual.
So obviously I got onto google……apparently they are hormonal…very common it seems….Where have I been on that one??? Zits at my age?? Seemingly they come with hormone surges. But I thought I was running out????
The final insult…… I'm turning into Adrian Mole at 47 1/4. Anyway I have lost my psycho bitch edge for now so I'm busy sticking my head in the sand and making hay or scones while the sun shines…..pass me a big fistful of cheese….
Light and Fluffy Cheese Scones
A light and fluffy scone warm from the oven can be moment stopping. Whether fruit or savoury I care not as long as they are slathered in butter.
They speak to me of log fires and days out, of English summers and days back when. Just quietly gorgeous.
However it seems impossible to replicate the experience with a scone bought from the supermarket. Invariably they seem to have a heavy thickness to them almost always accompanied with a squeaky tooth feeling about three bites in. I never ever go there.
The real fact of the matter is that scones are very easy and quick to make. Who knew you are only ever half an hour away from some serious, swooning pleasure……
These Cheese scones are super simple to make. I am not into faffing if I can help it so this is as simple as a scone recipe can be. The faffiest I get here is a bit of grating.
It is a recipe that provides maximum flavour too. I could snip some chives here and add some mustard powder there but it's extra work and in my opinion actually not required. They need no more than a pile of mature cheddar to knock your little scone socks off.
The ingredients are simples.
I tend to use my food processor to "rub" the butter in as it takes about 20 seconds. You are looking for fine breadcrumbs.
I then tip the rubble into a bowl and add the cheese. You can of course rub the butter in with just your fingers.
Tip in the wet ingredients and using a wide bladed knife mix until it starts to mostly come together into a shaggy dough.
I then get in there with my hands and squish it gently together into a more complete dough.
Try to handle it the least amount that you can. The lighter you go the higher they will rise.
Tip the dough out onto a very lightly floured surface and GENTLY shape and roll into a thickness of about 2.5 cm. Try to get the whole thing even.
However it matters not to me to have a bit of a slope going on. Who cares about the rustic look, you're baking with cheese here. Nothing else truly matters….
I use a 6 cm cutter and get about 6 out of the dough.
I usually get 3 out of my first shape/roll and then keep shaping and cutting often times one at a time as I can't keep the thickness and get 2 rounds cut at the same time. Sometimes I have to fashion the last one the best I can as there is not enough dough to be cut out with the scone cutter. That's the one I eat first scorchio from the oven.
Go very gently when you get the scones out of the cutter. I try to get them drop out by their own accord by a bit of shaking. Also don't twist the cutter just push straight down.
Brush the tops with milk and put on a lined baking tray.
Bake for about 12-15 minutes. I find it is usually the full 15 minutes but all ovens are different.
Cool on a wire rack.
I always advise an oven thermometer as the temperature can really vary oven to oven. My last oven was always much hotter than the dial indicated.
Don't be afraid of the deepening colour as they bake. It gives a good flavour but obviously step in if the tops look close to burning.
Can you freeze Cheese Scones ?
The answer is yes. This batch is a small batch so easily eaten in a day but if you do a double batch then freeze away. They should be frozen on the day of baking once completely cold. I put them in a plastic bag and then another so there is a double plastic layer.
I use the large sandwich freezer bags but you could put them in a tupperware tub after the first bagging to protect them from getting knocked if your freezer is rammed.
They will freeze well for at least 2 months.
When I want them again I retrieve the bag out of the freezer and leave them in there to thaw for 4 hours. Take them out of the bag and reheat gently at 150 C for ten minutes.
Gluten Free Cheese Scones.
To make these cheese scones gluten free simply exchange the plain flour with gluten free flour. A expert gluten free fellow blogger advised me that a lot of times gluten free flours absorb more liquid than standard flour so add 50 mls more milk to the mixture.
What to Serve with Cheese Scones.
I usually just serve with butter but you could try some chutney and pair them with a salad or soup. I particularly like to serve them with my Baked Onion and Garlic Soup, Leek and Cauliflower Cheese Soup, Tomato Soup or a Winter Salad – Moroccan Salad –Roast Butternut Squash and Feta Salad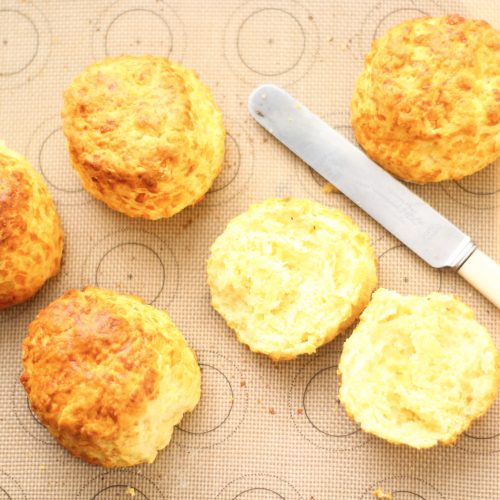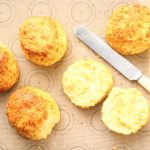 Easy Cheese Scones
These are so simple and absolutely delicious. Light and fluffy these Cheese Scones are a perfect snack or treat.
Ingredients
225

grams

plain flour

50

grams

unsalted butter

cold

150

mls

milk

100

grams

mature cheddar

2

grams

salt

2

tsps

baking powder.
Instructions
Preheat your oven to 200 C.

Put the flour and salt into a large mixing bowl or food processor.

Rub the butter into the flour with your fingertips or whizz with the flour in the food processor for 20 seconds or so until you are looking at fine breadcrumbs in your bowl.

If using a food processor then tip the fine rubble into a large mixing bowl.

Tip the cheese in and then pour in the milk.

Using a wide bladed blunt knife or similar stir the milk into the mixture until you get a shaggy dough.

Now is the time to get your hands in and squish the dough into a smoother mass still in the bowl. Tip it out onto a very lightly floured surface.

Using your hands and a rolling pin very gently roll out the dough to 2.5 cm thick. It will be a relatively small shape. Using a 6 cm cutter or similar cut out the scones.

Reshape the left overs and gently repeat until you run out. If the last is not enough to fashion a whole scone then just use your hands to make a scone shape. That one is yours......cooks perks.

Brush with milk and bake for about 15 minutes.

Cool on a wire rack a little before slicing open warm and slathering with butter.

Apply to Adrian Mole Face.
Nutrition Facts
Easy Cheese Scones
Amount Per Serving
Calories 335
Calories from Fat 144
% Daily Value*
Fat 16g25%
Cholesterol 45mg15%
Sodium 295mg13%
Potassium 268mg8%
Carbohydrates 36g12%
Protein 10g20%
Vitamin A 500IU10%
Calcium 257mg26%
Iron 2.4mg13%
* Percent Daily Values are based on a 2000 calorie diet.
Click here for other cheesy baking treats.
Or some more sweet baking treats.
Pin this for later.
I have linked this post with Cook, Blog, Share over at Easy Peasy Foodie.
Baking Crumbs over at Jo's Kitchen Larder