This Easy Slow Cooker Chilli Con Carne is absolutely incredible if I do say so myself and perfect for easily feeding a crowd. A bowl of this bad boy topped with sour cream is a delicious winter warmer and just bursting with big, full flavours and deep meaty spiciness. This is the sort of meal that makes the bleak weather almost worth it…. I promise.
But first some welcome chaos……
I have unfortunately emerged from my Christmas Chrysalis nearly a stone heavier. I forced myself to get on the scales after I realised that neither my bra nor my pyjamas fit me any more.
As I struggled to wrestle the waistband of my favourite p.j's over my fat rolls, I knew I had to mount those scales. I believed it would only be the reality of digital poundage that would stop me reaching for the carbs.
I needed some tough love…….and she so delivered. Horrified at the digital reveal I made my way downstairs for a last cinnamon bagel smothered in salted butter…….
As I mentioned before in a strange way I quite like my new curves. I have no idea why apart from maybe it plumps up the sagging a bit.
I also have clothes that cover up the bulging bits so I'm not stressing about my bum looking wtflip massive and cellulitey in public. The trouble is the reality of the flesh without clothes.
I try to avoid the mirror at all costs. A good friend confessed to me this week as we were exchanging stories of how fat we had become (one of our favourite subjects), that she now had her Granny's legs.
These were first fully glimpsed as she bent over the gas fire in her nightie nearly forty years ago and the shock has stayed with her to this day allowing her to recognise the grisly truth reflected back to her in the mirror. Harsh.
What is a fat girl to do when her genetic truth starts to mercilessly chase her down? Get her ass exercising is the obvious choice and I am full of withdrawal symptoms and best intentions at the moment.
So far, from my chair obvs, I am intending to join the gym, start running and attend numerous yoga classes. I figure if I start big it will allow for some typical tailing off but still leave me with a healthier lifestyle than just the hoovering.
For me I think it has to be the way to go. I need to exercise my way forward to a thinner, if saggier, me. Bring on the even flappier bingo wings if that's possible……… but I won't be bending over any gas fires in my nightie just to be sure.
Slow Cooker Chilli Con Carne
This is a recipe that I am seriously and deeply in love with. It is a recipe that delivers SO much flavour on SO many levels and is perfect for feeding a crowd whilst still creating a Wow factor. Not always the easiest thing to do.
It is also and always the most delicious mid week tea to brighten up even the dullest Monday, Tuesday, Wednesday or Thursday.
Left in the slow cooker all day with just a few steps when you return, it is a recipe that just keeps giving. You can freeze half of it for another meal, another time.
This recipe feeds 8 but just simply double up for 16. I like to serve it with crusty bread, sour cream and coriander scattered on top.
I make it super special by using braising steak and shoulder of pork. This way it's the same as pulled pork and beef. Genius….. I cover the meat in half of a spice paste that I make.
After rubbing the meat in a spice paste I sear it in a hot frying pan.
Following a jolly good seeing or searing to, it's off to the crock pot they go.
A softening of the onion comes next along with the garlic. I add the tomato puree, passata, apple puree, balsamic vinegar, worcestershire sauce and black treacle to the pan and bring it all to a simmer. Pour on top of the seared meat and slow cook on high for four hours or eight on low.
The remaining spice paste I rub into 350 grams of Butternut Squash chunks. I generally use frozen chunks that I buy from the supermarket. I either blast them in the microwave for a minute or so until mostly thawed or if I am doing this later when I get home, then I will leave out to thaw covered and rub the paste in when I am ready later on.
I roast them for 30 mins at 200 C. When they are ready I add 2 roast peppers from a jar to them and blitz in a food processor.
Using a potato masher I mash the now soft meat in the slow cooker. It mashes very easily into shreds. I add the blitzed peppers and squash to the bowl.
Followed by the cocoa and a tin of rinsed kidney beans. Simmer on high for 20 minutes. When ready to serve chop up half of the coriander and stir through.
You can keep it warm but after about an hour the coriander does darken.
I love to serve it with not just rice but Cheese Scones. Delicious!
Here are other great and very delicious Slow Cooker Recipes.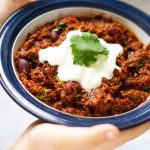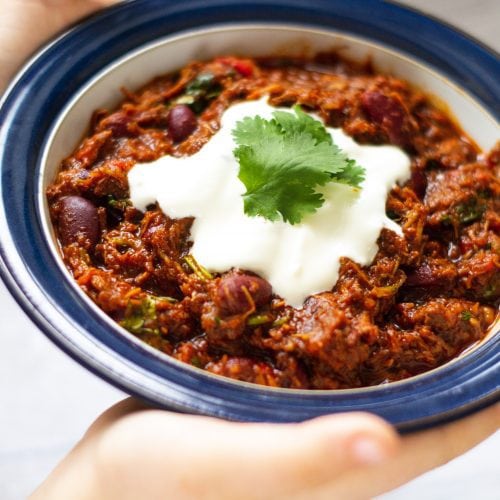 Slow Cooker Chilli Con Carne
This Slow Cooker Chilli Con Carne is bursting with chilli flavours and winter warmth. It is made with pulled beef and pork for an incredible slow cooker meal.
Total Time
8
hours
15
minutes
Ingredients
Spice Mix
1

tbsp

fennel seeds

crushed

1

tsp

ground coriander

1

tsp

ground cumin

1

tsp

cajun seasoning

2

tsp

hot chilli powder

2

tbsp

olive oil
Chilli Con Carne
3

tbsp

olive oil

400

grams

pork shoulder cubes

400

grams

beef stewing/braising steak cubes

1

large

onion

2

medium

garlic cloves

3

tbsp

double concentrate tomato puree

110

grams

apple sauce

2

tbsp

worcestershire sauce

2

tbsp

black treacle

2

tbsp

balsamic vinegar

1

tbsp

cocoa powder

not drinking chocolate

300

grams

kidney beans

350

grams

butternut squash

2

large

roasted peppers

jarred

30

grams

coriander

including stalks
Instructions
Put your empty slow cooker on high. Make your spice rub by simply mixing all the ingredients together in a small bowl.

Add half to the meat in another bowl and coat well. I use my hands as it's much easier and quicker.

If you are using frozen squash and want to coat with the spice rub straight way then blast in the micro wave for a minute or so and do the same in another bowl. If you are making it later then set aside and cover.

If you are roasting the squash now then roast for 30 minutes at 200 C and set aside covered.

In a large frying pan heat up the olive oil on a high heat. Sear the meat so as to get a good colour. I do it in two batches as you want to keep the heat high. Put the seared meat in the slow cooker bowl.

Turn the heat down and fry the onion for a few mins before adding the garlic, passata, tomato puree, apple sauce, balsamic vinegar, black treacle and worcestershire sauce. Let it simmer for a few minutes before pouring onto the meat in the slow cooker.

Either turn down the slow cooker to low and leave for 8 hours or leave on high for 4.

30 minutes before you are ready to serve blitz the squash and peppers in a food processor. Then use a potato masher to mash the meat down into shreds before adding the pureed squash and peppers to the slow cooker bowl. Sprinkle over the cocoa powder and add the kidney beans. Stir to combine.

Leave on high for 20 minutes. Chop the coriander finely and when you are ready to serve add and stir through.

Apply to Best Intentioned Face
Recipe Notes
I know I have not used up a whole tin of kidney beans. I find a whole tin here a little too many but feel free to add the whole lot or omit them entirely.
You can of course add more or less heat to your chilli by adjusting the chilli powder.
If you are intending to double up for a fantastic feast then allow an extra hour of cooking.
I do use the roasted peppers from a jar for convenience. Feel free to roast your own. You want to blacken them a little for the flavour.
Black treacle can be a pain in the butt to store in your cupboard once used from the tin. So I keep a squeezy bottle of it from Marks & Spencers in the cupboard. It is so much less sticky!
To crush your fennel seeds use a pestle and mortar or the end of a rolling pin.
Nutrition Facts
Slow Cooker Chilli Con Carne
Amount Per Serving
Calories 313
Calories from Fat 126
% Daily Value*
Fat 14g22%
Cholesterol 51mg17%
Sodium 122mg5%
Potassium 974mg28%
Carbohydrates 25g8%
Protein 22g44%
Vitamin A 5240IU105%
Vitamin C 34.2mg41%
Calcium 143mg14%
Iron 6.2mg34%
* Percent Daily Values are based on a 2000 calorie diet.