This Slow Cooker Sausage Casserole is just delicious. What's more it can be waiting at home for you all day in the slow cooker just getting more and more fabulous darling. It is warming and so full of big flavours I get excited as soon as I walk through the front door.
Slow Cooker Sausage Casserole recipe is a real family favourite. Super easy with only a handful of ingredients. One that is always making a midweek meal appearance at my house.
Child friendly this is a warming recipe that can be served with simple sides. I prefer fresh pasta as my kids love the whole tagliatelli/spaghetti vibe. Anything to keep them quiet.
As with most slow cooker meals it makes itself while I amuse myself with household chores….not. The sausages almost walk themselves into the pot.
It is reliable, warming, easy and delicious. What more could a hassled girl ask for?
But first………..do scroll past the story for the recipe below if you're hungry…..
This week has found me up to my turkey neck in Birthday preparations. It's at this time every year that I feel seriously stressed as both my children have their birthdays within a week.
Over the years I have shot myself in the foot and concocted numerous birthday traditions. Why I feel I the need to be Mary Poppins I haven't a damn clue……Idiot.
This year, luckily or unluckily, depending on which hat I'm wearing, I have only had to organise one party as my son has a broken arm. This has made a huge difference but still had me pulling my sparse and receding hair out. I would be rubbish as a wedding organiser.
Without fail I develop "Children's Party Fever" and end up obsessed with everything especially the party bags. Wtflip????
I spend hours tortured in the supermarket Tat aisles musing over how to come up with the thriftiest but still coolest party bag and I never quite manage it.
Invariably in an attempt not to spend another £1 k, I buy only just enough and then spend the remaining few days anxiously/hysterically counting them every 30 minutes whilst checking the party replies.
Every year I vow to do some extra to afford myself some peace but every year I always find myself down to the wire, sweating profusely as the last couple of expectant children, their arms outstretched, approach in slow motion to the "Jaws" soundtrack.
By the end of it all I am tachycardic,have a massive headache and very sweaty armpits……..
Slow Cooker Sausage Casserole
This is a fabulous winter warmer of a stew and, first and foremost, an easy sausage casserole recipe. I simply adore it's deeply mellow flavours.
I do strongly recommend that you use sausages with a high percentage of meat in. This gives the whole thing a much better flavour and the sausages stay meaty and intact during cooking.
The small amount of butter gives it yet another level of classic flavour and a good grind of black pepper and splosh of worcestershire sauce bring a warmth that goes perfectly with the meaty sausages.
I cook it on Low for 7-8 hours or High for 4. You too can come home to this meaty hug in a pot. Seriously delicious winter comfort food.
The preparation too is another Brucey Bonus. It is simplicity itself with only a few ingredients alongside some from your store cupboard.
You can of course add extra vegetables. I am thinking chunks of butternut squash or swede, button mushrooms (put in a couple of hours before the end of cooking) or carrots. The vegetable aisle is your oyster.
This is just my own personal preference but it is only a template. Empty out your vegetable drawer baby to suit.
The herbs too can be replaced to suit your tastes. Thyme is an obvious one to add due to it's great compatibility with pork but you could crush some fennel seeds in there or add some basil or oregano. Jamie would be proud.
I sometimes make this the day before, allow to cool and then refrigerate in the slow cooker pot. I then reheat it back in the slow cooker until it's piping hot for when I need it. I'm on fire…..
Really the only technical bit is the browning of the sausages. After that you simply put it all in the slow cooker pot and get on with your exciting/partied out life.
Slow Cooker Sausage Casserole is also one of the only meals that gets my son off his x box without a hysterical hissy fit……it just keeps on giving.
How To Make Slow Cooker Sausage Casserole Recipe
This is almost not a recipe and more of a plonk it all in kinda vibe situation. That is exactly what I love about slow cookers. The only ingredients that need some attention here are the sausages. A quick scorching and flick that switch.
Step 1 – Making the Sauce
Simply add all the ingredients apart from the sausages into the slow cooker pot and flick the switch to high.
Step 2 – Browning the Sausages
Brown the sausages over a high heat in a frying pan. You are not wanting to cook them all the way through just get some colour on them. Add them to the pot.
Step 3 – Cooking the Sausage Casserole
Cook on High for 4 hours or Low for 6-8 hours. Simples.
What To Serve With Slow Cooker Sausage Casserole.
I almost always like to serve this with buttered Fresh Egg Tagliatelli and green vegetables such as Tender Stem Broccoli.
I buy the Tagliatelli from the Supermarket and simply put a tbsp of butter through the pasta after I have drained it. I usually have the packets stashed in the freezer so I pull out a packet in the morning that I plan to make the Sausage Casserole.
It is usually 100 grams fresh pasta per adult. I have two young children so use 300 grams for our family of 4.
Other great ways to serve this is with mashed potatoes and peppery green beans. You would usually use about 700- 900 grams of raw potatoes for 4 people. I like to add a generous knob of butter and carefully season.
Brown or White Rice is another good option. It is usually 60-90 grams of dried rice per person. Remember that brown rice takes significantly longer to cook than white. Follow the packet instructions but it is at least 30 minutes.
A Jacket Potato or is of course another great choice or 1/2 a tin of Cannellini Beans directly in the pot at the beginning of cooking.
When I am on a Low Carb Diet I serve alongside a pile of any green veg. They all work really well.
One important note to mention is that bread and butter served alongside this is a fantastic way to mop up the sauce. Serious Lushness……
Tips For Slow Cooker Sausage Casserole
If you don't have balsamic vinegar in the cupboard then any standard vinegar will do.
Simply double up to feed 8.
I sometimes make this the day before, allow to cool before refrigerating. I then reheat it through until piping hot in the slow cooker the next day.
These servings are generous.
Choose sausages with a high meat % so they don't break up.
IF YOU LIKE THIS SLOW COOKER RECIPE THEN YOU MAY LIKE THESE
Slow Cooker Butternut Squash Risotto
Slow Cooker Spaghetti Bolognese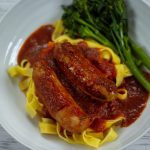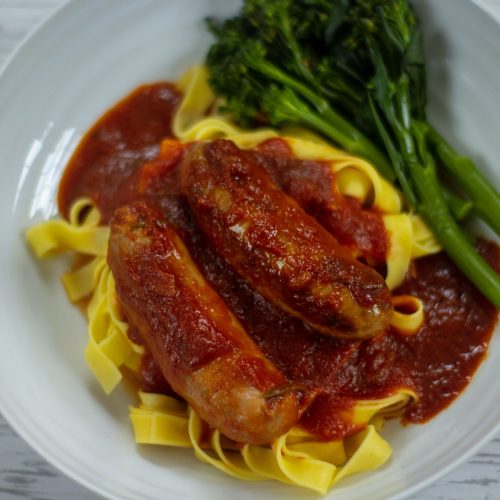 Slow Cooker Sausage Casserole
This recipe for Slow Cooker Sausage Casserole is a classic winter warmer and so simple. Served with buttered fresh pasta and greens it's a veritable feast.
Total Time
8
hours
5
minutes
Ingredients
8

pork sausages

500

mls

tomato passata

1

large

garlic clove

minced

1

large

rosemary sprig

1

medium

onion

chopped into half moons

1/2

tsp

ground black pepper

1/2

tsp

salt

2

tbsp

tomato ketchup

1

tsp

sugar

30

grams

unsalted butter

1

tbsp

balsamic vinegar

1

tbsp

worcestershire sauce

2

tbsp

olive oil
Instructions
Add all the ingredients apart from the sausages to the slow cooker and put on High.

Brown the sausages in a very hot frying pan in the olive oil. Give the pot a stir and add the sausages to the pot. Push them down into the sauce.


Cook on Low for 7-8 hours or for 4 on High. Remove the Rosemary Sprig.

Season carefully to taste

Apply to Partied Out Face
Recipe Notes
If you don't have balsamic vinegar in the cupboard then any standard vinegar will do.
Simply double up to feed 8.
I sometimes make this the day before, allow to cool before refrigerating. I then reheat it through until piping hot in the slow cooker the next day.
These servings are generous.
Nutrition Facts
Slow Cooker Sausage Casserole
Amount Per Serving
Calories 616
Calories from Fat 603
% Daily Value*
Fat 67g103%
Cholesterol 162mg54%
Sodium 2028mg88%
Potassium 896mg26%
Carbohydrates 12g4%
Protein 35g70%
Vitamin A 375IU8%
Vitamin C 16.4mg20%
Calcium 70mg7%
Iron 4mg22%
* Percent Daily Values are based on a 2000 calorie diet.
Not the Slow Cooker but amazing easy and ideal for mid week meals recipes here-
PIN FOR LATER!
I have joined this post with Cook, Blog, Share over at Casa Costello
Do let me know how you got on in the comments below. I love a good old hairy chinwag!