This Moroccan Salad is absolutely delicious. Warmly spiced couscous, chunks of feta cheese and roasted vegetables combine together to make a taste sensation. Obviously it looks beautiful in it's bowl but it is also a great one bowl side to serve alongside many main dishes.  I love to serve it at a Summer BBQ where it will happily sit alongside everything that comes off the BBQ.
Moroccan Salad with Feta.
This Vegetable Salad is absolutely delicious and I don't say it lightly. Packed with flavour it is perfect for easily feeding a small crowd and a real centrepiece when you want to impress.
That said I would make it to eat alone in my slippers. Served warm my Cheese Scones, Cheese and Onion Scones or Bad Boy Brioche are incredible with it.
The caramelised roast vegetables marry together amazingly with the moroccan spices and salty acidity of the feta cheese. Deeeelicious.
However this salad has brought much comfort to my erratic soul this week. I have had it in my mind for at least a year.
It is based on a Delia recipe from her Summer Collection. I have heavily tweaked it. My tastes are a little less travelled than hers.
But ever one for my comfort zone of recipes, I have never quite seemed to get round to it. But I am so glad I finally did.
It is knock your pop socks off delicious and a plonk it on the table, one bowl veg and carb serving. It can be made a little ahead and looks impressive and accomplished  served in a glass bowl.
Perfect for a BBQ or any get together. It is, quite simply, outstanding and I need you to understand how much I really, really, really  love it........
Recipe.
It is a very simple recipe but does require a little chopping.
Chop the veg, season and drizzle with olive oil and herbs.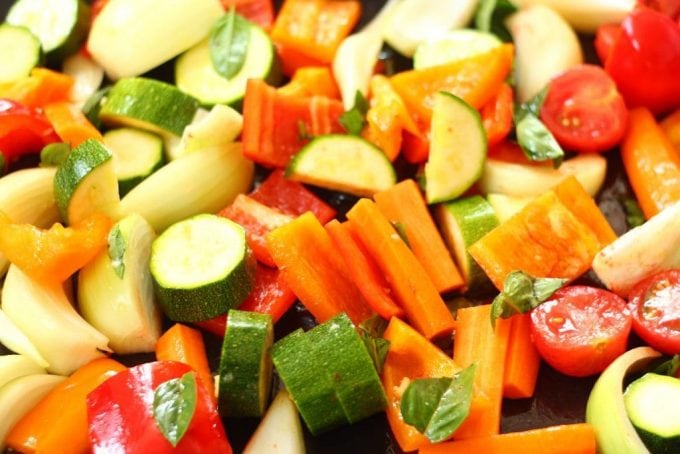 Give them a jolly good roasting for about 40 minutes at 220 C/425 F/Gas Mark 7.
Set aside.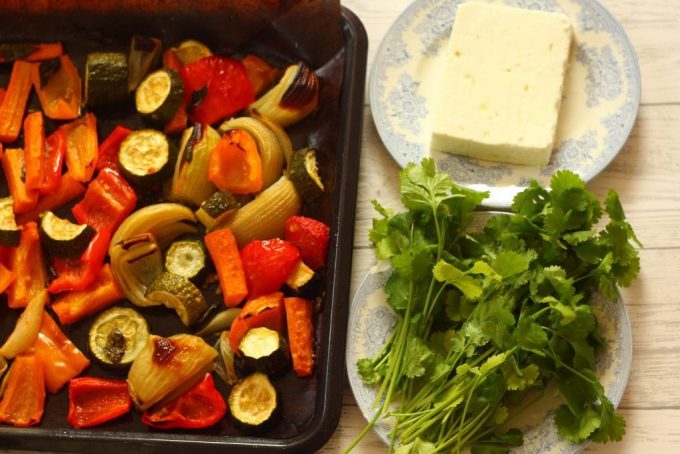 Whisk the couscous marinade ingredients together in a bowl.
Pour the boiling vegetable stock onto the couscous in the serving bowl and add 2 tbsps of your dressing, cover with clingfilm to steep for about 5 minutes.
When ready to serve add the roasted vegetables and chunks of feta cheese.
Finally add the salad leaves and drizzle the remaining dressing over the top.
This Moroccan Salad is best eaten in the first sitting. However I have eaten it the day after having stored it covered in the fridge.
Here are more fabulous Summer Recipes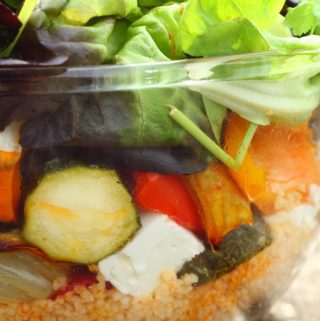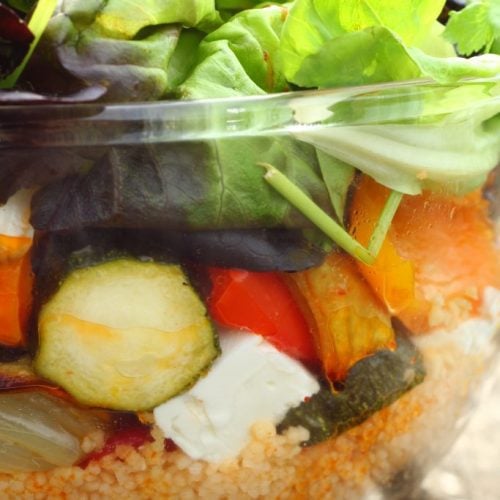 Moroccan Salad.
This is a King of Salads. It is absolutely fabulous.With something for everyone it's heat can be controlled to let the other flavours shine through too.I couldn't stuff it in fast enough.
Ingredients
Roast Vegetables
3

medium

courgetttes

sliced into 2 cm discs

3

yellow/red

peppers

cut into 5cm ish squares

3

medium

carrots

peeled and cut into batons

500

grams

medium tomatoes

skinless-pour over boiling water and steep to remove skins.

3

medium

onions

2

fat

garlic cloves

minced

2

tbsps

torn basil leaves

3

tbsps

extra virgin olive oil

1

generous

pinch of sea salt
Dressing
80

mls

extra virgin olive oil

1

tsp

cayenne pepper

2

tbsps

cumin

2

heaped tsps

tomato puree

1

medium

juice of a lemon
Cous-cous
275

grams

medium cous-cous

2

tbsps

dressing

500

mls

vegetable stock

200

grams

feta cheese
Salad
30

grams

coriander

stalks removed

200

grams

salad leaves
Instructions
Preheat the oven to 220° C/425°F/Gas Mark 7

Prepare all the veg and put on a large baking tray. Mix up all the oil, basil, garlic and salt and pour over. Give a good rummage around to coat all the veg. Roast for about 40 mins or until the edges begin to char. Set aside to cool.

Whilst the veg are roasting make the dressing. Mix all the ingredients together. I use a little mini whisk. You could just use a fork. It's all in the wrist...Pour into a small jug.

Put the cous-cous into the bowl that you will be serving the salad in. Pour over the just boiled stock and then stir through 2 tbsps of the dressing. Cover with clingfilm and set aside for 5 mins.

When ready to assemble chop the cheese into 2 cm chunks and place along with the roasted veg on top of the cous cous. Cover it all with the salad leaves and coriander. When you are ready to take to the table drizzle a little of the dressing on top of the salad and serve the rest in the jug on the table.

Apply to Face as the tears run down your cheeks.
Notes
The dressing is quite hot so by serving it at the table it can allow for all palates. It is best served at room temperature.
I do sometimes roast the veg beforehand and warm through when needed.
Seriously fill your face. Enjoy!
Nutrition
Calories:
419
kcal
|
Carbohydrates:
43
g
|
Protein:
11
g
|
Fat:
23
g
|
Saturated Fat:
6
g
|
Cholesterol:
23
mg
|
Sodium:
653
mg
|
Potassium:
787
mg
|
Fiber:
5
g
|
Sugar:
9
g
|
Vitamin A:
5370
IU
|
Vitamin C:
53.8
mg
|
Calcium:
230
mg
|
Iron:
4
mg
All nutritional information is approximate and intended only as a guide.
Tried this recipe?
Take a pic and tag @applytofaceblog on Instagram. I would so love to see them!
I do try to use organic vegetables if I can. I am loving the #OrganicSeptember challenge at the moment. It beats dry January hands down......
This dish would be perfect to showcase some beautiful organic veg at any time of the year but I shall be making it again for my contribution to the cause.
Do let me know how you get on in the comments below. I love to hear from you.