This Cajun Chicken Burger is about as easy as it gets for a mid week meal. Dust your chicken breast and go. Just what is needed in times of stress and when a real taste sensation is required to lift the hormonal soul. A real foodie fix without the foodie faff.
Cajun Chicken Burger.
But first.......hysterics
I can tell you this for sure people out there. This week I am as peri menopausal as it is possible to damn well be and still have breath in my flaccid body..... For the love of all that is holy...why does it have to be this damn difficult? At any moment I can go any number of ways...
I can weep at the merest sniff of melancholy..... Show me an old person or anyone vulnerable for that matter and I am a complete goner. This emotional Tourettes has a spectrum. I can be wracked with sobs like someone out of a Jane Austen Novel or more of a Pierrot the Clown vibe........it's indiscriminate.
For at least half of the time I have absolutely no idea where I am going and the other half I could break your arm with a baseball bat. I am literally hanging off an hormonal cliff here and am a danger to myself and all around me.
Perhaps I shouldn't be allowed in charge of a car or children and I definitely shouldn't be allowed to dress myself. Seemingly I just do not care what I look like anymore. In fact I find myself drawn mostly to men's t - shirts.......
So consequently all I am fit for is eating massive amounts of chocolate and carbs. Don't even start me on Wine. Apparently it's not good for my indigestion. For the love of GOD.......
Thank heavens for Father's Day is all I can say. Not because my children are filled with joy at the chance to shower their Father with offspring love but because massive Toblerone Bars are lining supermarket shelves everywhere. I'm on my second.....this week....... Apparently I even like male chocolate now.....I knew it was a beard starting to grow on my thighs....
Cajun Chicken Burger Recipe.
This recipe for a Cajun Chicken Burger has been fabulous for me this week. I have been able to deliver an easy mid week meal that is delicious and puts a smile on everyone's lips. A real crowd pleaser. It isn't really even a recipe such is it's simplicity. I can't believe I have never thought of cooking it before. Perfect for when you really cannot be bothered to get your life together. It's a literal dusting then frying. Bob and Fanny would be ecstatic.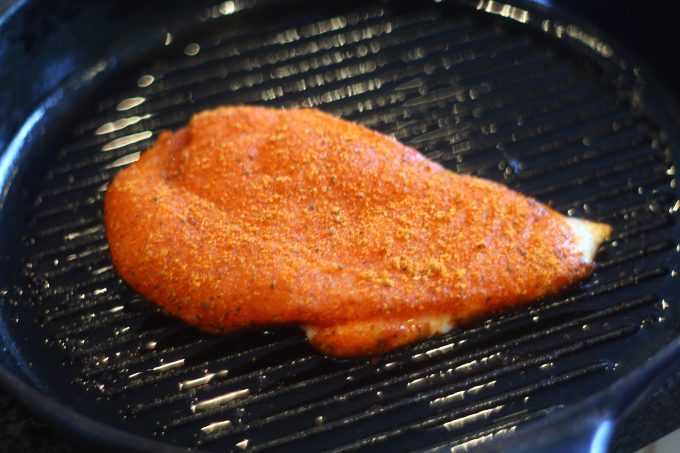 I use a rolling pin to bash the chicken breasts a bit flatter and to tenderise the meat. I pop them in a freezer bag to do this. Otherwise an element of road kill might enter your kitchen. Chicken back splatter is never a good thing. If you BBQ this cajun dusted chicken then oil the griddle. Five mins on each side is enough before cutting the breasts in half and popping in buns. I serve them with my classic coleslaw usually which I try to make beforehand. In the summer I usually have a bowl always in the fridge. You can't beat a bit of cold cabbage. Do take the time to shred the cabbage thinly.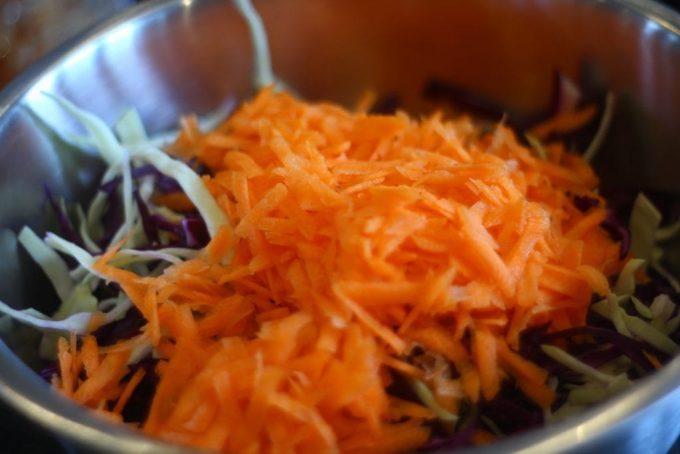 Of course to avoid the calories you could ditch the bun and use a wrap instead. Load it with avocado and it's positively healthy. I use the buns that I personally like the most. I have used a Brioche bun for the picture but to be honest I find most of the Brioche supermarket ones rather dry. It would be a travesty to let the Bun spoil the moment. Pick wisely.
A lovely side to serve with this is my Potato Salad. Another dish that you can grab from the fridge for an easy midweek meal.
Here are some more delicious recipes for easy mid week meals
- Thai Spiced Chicken Noodle Soup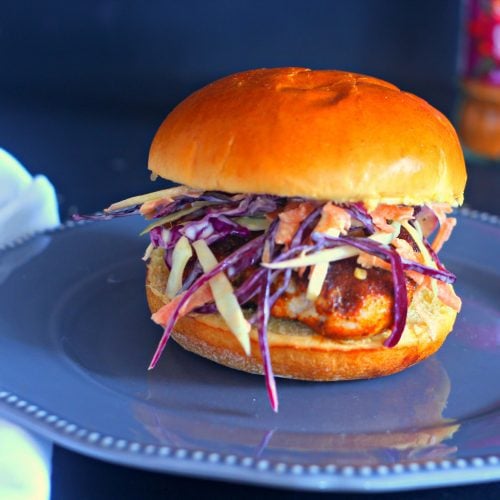 Cajun Chicken Burger and Coleslaw
This delicious recipe for Cajun Chicken Burger and Coleslaw is more of an assembly job. The spicy chicken breast marrys fabulously with the cool,crunchy coleslaw. Maximum result for little effort.
Ingredients
Chicken
2

large

chicken breasts

3

tbsp

cajun seasoning

not spicy

oil

for frying

4

burger rolls
Instructions
Coleslaw
Add all the coleslaw ingredients together and mix well. Cover and refrigerate.
Cajun Chicken
Flatten out the chicken breasts a little with a rolling pin. About 3 cm thick. I do this in a large freezer bag. Add oil to a frying pan and heat the pan.

Dab the chicken breasts in the spices to give an even covering.

Fry for five mins or so each side until cooked through. I always cut  a hole in the middle of the breast to check. Divide into 4.

Load up your buns with the chicken and top with coleslaw.
Nutrition Facts
Cajun Chicken Burger and Coleslaw
Amount Per Serving
Calories 263
Calories from Fat 45
% Daily Value*
Fat 5g8%
Cholesterol 72mg24%
Sodium 350mg15%
Potassium 589mg17%
Carbohydrates 24g8%
Protein 29g58%
Vitamin A 2546IU51%
Vitamin C 2mg2%
Calcium 92mg9%
Iron 3mg17%
* Percent Daily Values are based on a 2000 calorie diet.
Pin Me For Later!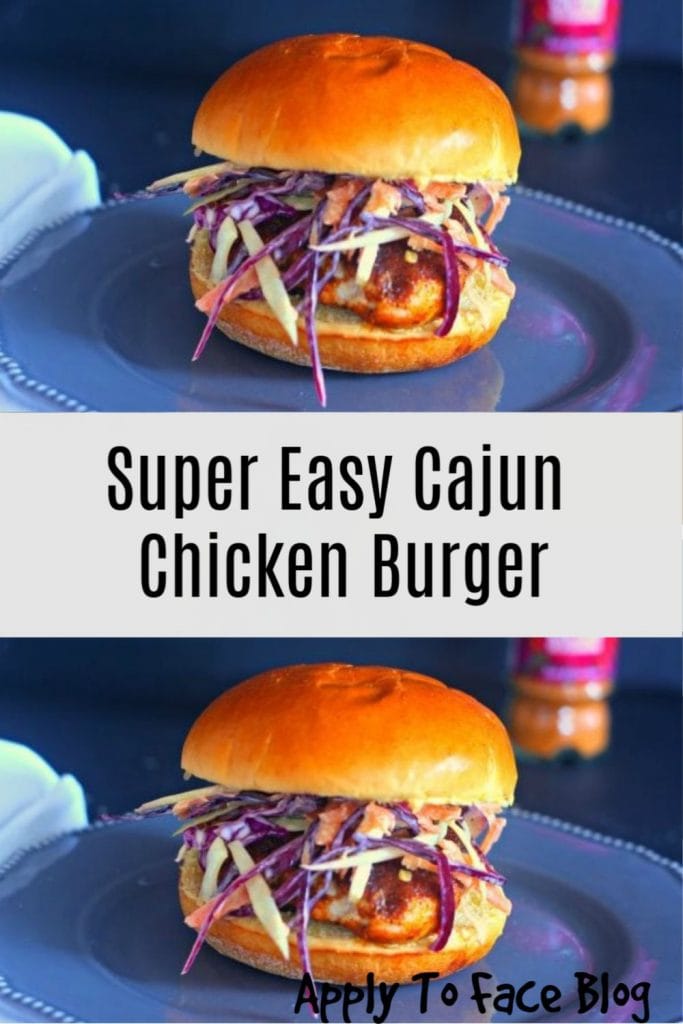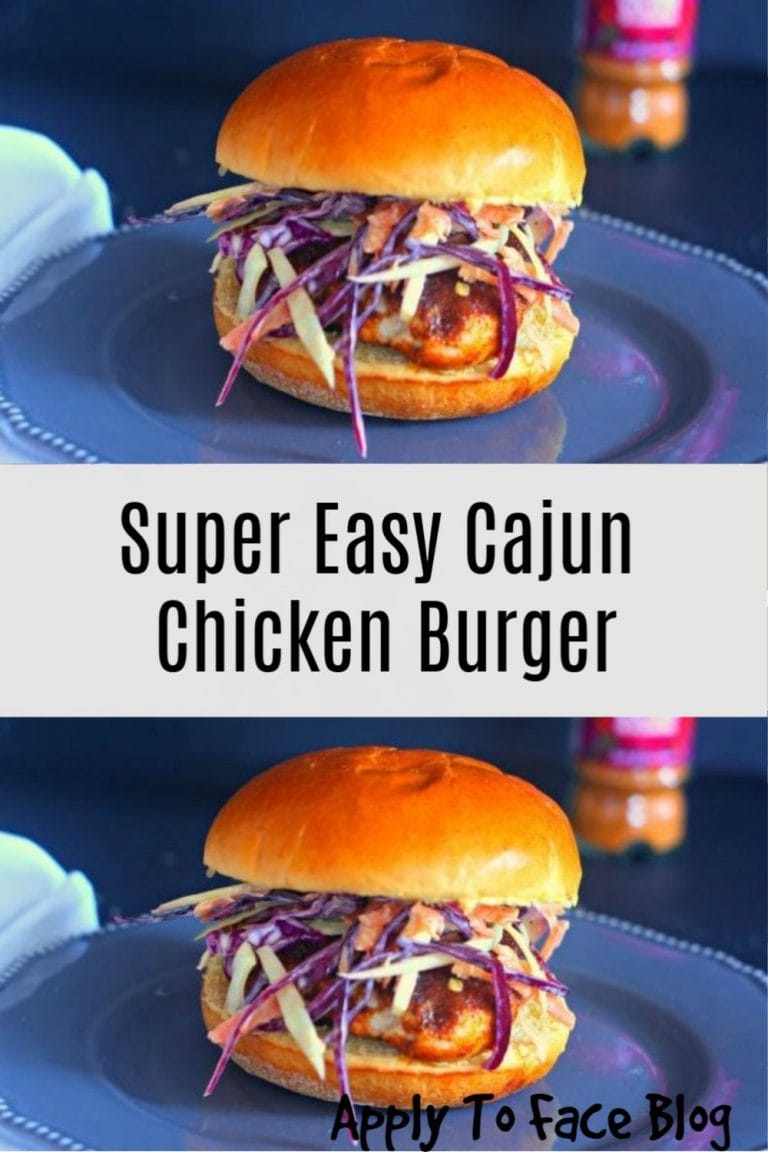 I have linked this post with Cook, Blog, Share over at Recipes made Easy -