BBQ Chicken Kebabs
But first........some ebaying hell....
Oh my days I got the fright of my life this week when I put our Caravan on eBay......
Having only dipped my toe into the swirling eBay pot a couple of times I was completely unprepared for what was to come. Perhaps if I'd worked on our local indoor market I may have been able to cope a little better. I always fancied a little stint. I was desperate for the fingerless gloves and money apron never mind the gift of the gab. But alas I was sat at home watching Tiswas when I could have been learning the art of keeping my nerve whilst bartering with ruthless OAPs. Lost opportunities........
Anyway back to the matter at hand......We ourselves had purchased an old nail of a caravan about a year ago and although rather tatty I had grown to love it's dimples and saggy bits.
Ebaying....
However we decided to bite the bullet and upgrade in anticipation of hitting the caravan trail hard in the next few years whilst the children are still young and willing to be seen with us. So for this reason I found myself placing an ad for our beloved banger on eBay.
As I hit the List button I felt accomplished but somewhat downcast as I strongly suspected she would drift unwanted in the eBay ether due to her shabby exterior and moistness at one end (that's what she said).
I was completely mistaken.....within thirty seconds it started. Message after message after message. "How much you want?" "Send me your address" "Send me your phone number" "I'm close and leaving now" ???? " I'll be there in an hour" "I'm still waiting for your phone number" ????. "Reply now please" "Send me your address" ..... There must have been fifty of them.
Obviously being totally uneducated and pathetic I thought they really were coming and were about to beat on my front door brandishing fistfuls of cash in a very aggressive fashion. WTF????!!!!! With my heart beating out of my chest I managed to ascertain that they were completely unable to see my postcode and my caravan and I were safe. But not before I made my husband hide it somewhere behind a hedge just in case they did a drive by and got lucky.........What????!!!!......... It so could happen......
For the love of God they were absolutely mad bonkers for it. The marketplace for cheap caravans must be scarily cut throat that's all I can say. Luckily I fought my urge to sell to them all immediately and held on to auction and the chancers disappeared after six hours. I'm not embarrassed to say it frightened the life out of me......,,You just know I'm going to give my life savings away when I'm an old woman and the cold callers start knocking at my door........I'll be penniless by the time I'm 59.....
Garlic, Coriander and Mint Chicken Kebabs.
This is one of the best Chicken Kebab recipes and one of the best easy chicken recipes I have ever eaten..........here is the other one......Bang Bang Chicken. Every so often Chicken can be out of the ball park delicious and these two recipes really float my boat. Not only are they are cinch to make they are big crowd pleasers too. You can even bake these Chicken Kebabs in the oven.
I will be making them this weekend for our first foray out in the new caravan. It is absolutely delicious and perfect for a summer BBQ or get together. The lemon juice ensures soft and juicy chicken whilst the mint and coriander packs a fill your face summer flavour punch worthy of a whole winter of rain.
This easy chicken recipe is perfect for the BBQ and about as simples as it gets. Just a whizz of the herbs etc followed by a marinade and threading onto your skewers for some BBQ action. Wallop.
I cut the chicken into big chunks about 2 inches in size.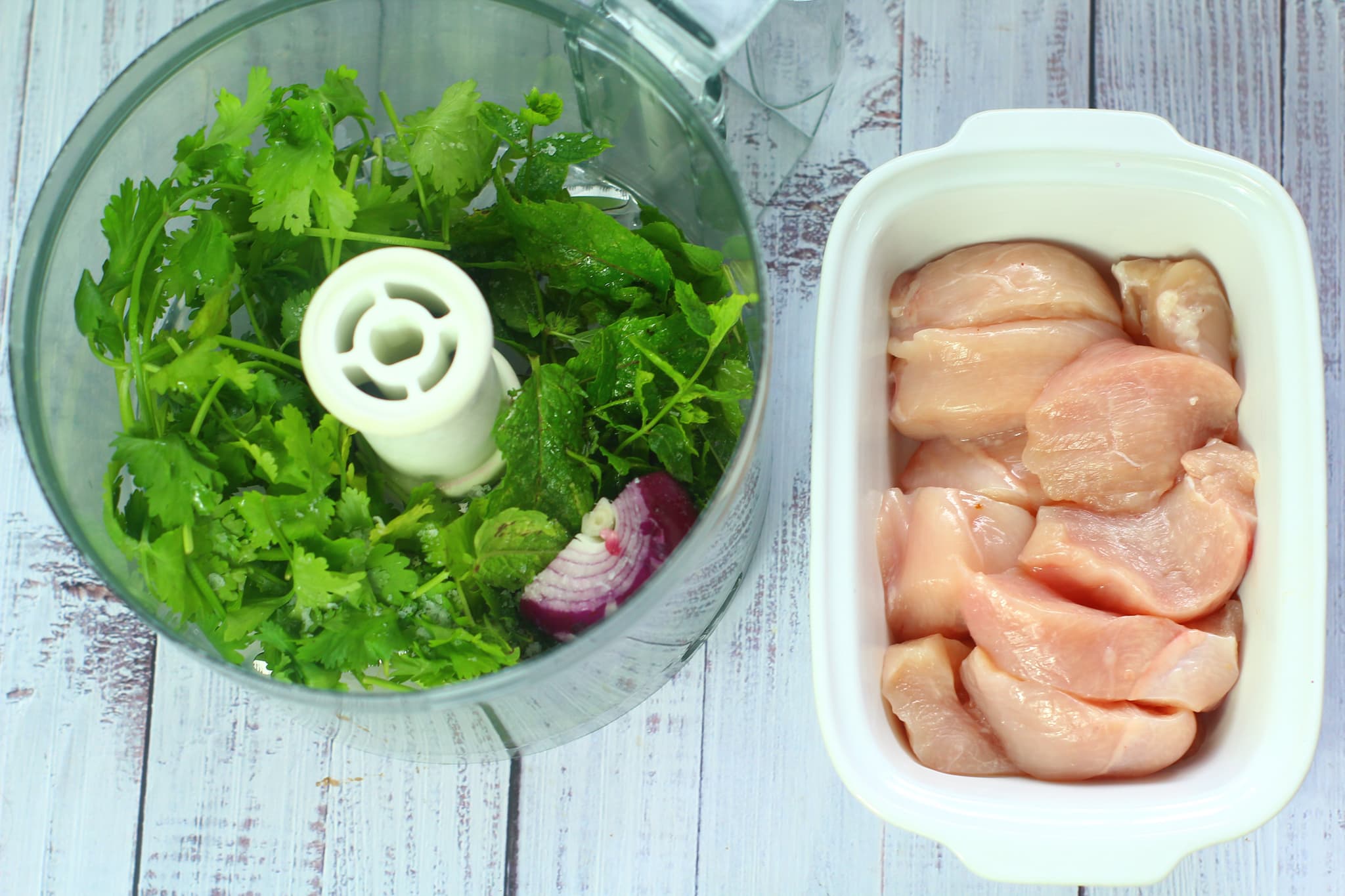 Here are some more Incredible Summer Recipes perfect to serve with them -
Moroccan Roast Vegetable Salad
Simple Chicken Kebab Recipe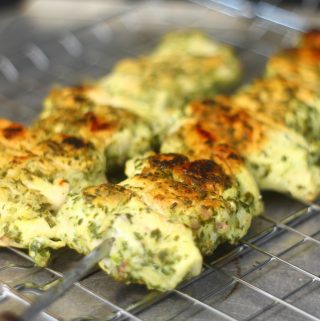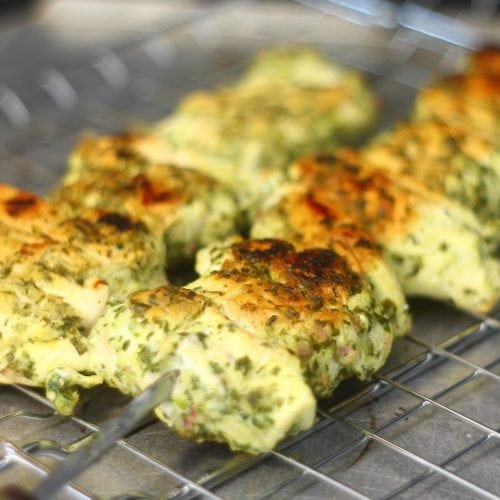 Chicken Kebabs
This recipe for Chicken Kebabs is absolutely delicious and perfect for a summer BBQ or get together. The lemon juice ensures soft and juicy chicken whilst the mint and coriander packs a fill your face summer flavour punch worthy of a whole winter of rain.
Ingredients
650

grams

chicken breast or mini fillets

cut into 2 inch chunks

3

tbsps

fresh lemon juice

8

grams

mint leaves

20

grams

coriander leaves

30

grams

red onion

2

tbsps

olive oil

1

large pinch

salt

2

cloves

garlic
Instructions
Place all the ingredients apart from the chicken and olive oil in a food processor and blitz until as blended as poss.

Add the olive oil to loosen into a paste. You may have to scrape the bowl down a couple of times to make sure it all gets blended enough.

Empty the paste into a medium size bowl and tip the chicken into and give it all a good squish about. Cover and leave for at least an hour in the fridge.

Thread the chicken onto your skewers and BBQ these beauties for about 5 mins. Obvs it depends on the temp of the BBQ but just cut one through to make sure it's cooked.

Apply to Intimidated Face.
Recipe Notes
If the British Summer lets you down then feel free to bake in the oven at  200C for 10-15 mins. Again cut one open to check it's cooked through.
I use metal skewers for all my BBQing and also have a square wire cage that I shut them all in for easy turning.....Can't be doing with all that twiddling.....
Nutrition Facts
Chicken Kebabs
Amount Per Serving
Calories 257
Calories from Fat 99
% Daily Value*
Fat 11g17%
Cholesterol 104mg35%
Sodium 202mg9%
Potassium 661mg19%
Carbohydrates 2g1%
Protein 35g70%
Vitamin A 471IU9%
Vitamin C 9mg11%
Calcium 19mg2%
Iron 1mg6%
* Percent Daily Values are based on a 2000 calorie diet.
PIN ME FOR LATER
Please let me know how you got on in the comments below. I love a good old hairy chin wag.