This Easy Thai Salad is absolutely sensational and one of my most tried and tested favourites. So simple and easy to prepare it belies it's big flavour punch from the thai salad dressing. Full of incredible Asian flavours, pimp it up or down to suit your hottest desires.
It tastes decadent even if it is light, healthy and gluten free. Plus it only takes 15 minutes or so from start to crunchy finish.
If you like the whole Asian Peanut Butter, Lime, Coriander thing then this is so your bag, trust me.
I fell hard for these flavours when I visited the country a few years ago. I could eat a dustbin full of it.
I serve it as a main meal and as a side to suit.
Thai Salad Recipe
It is a favourite of mine for any outdoor eating and easy entertaining.
I have made it for girly dinner parties too, as it is light to eat later in the evening and free from garlic and onion which is, lets face it, not great for the middle aged digestion.
It is both vegetarian and vegan but I do often add chicken or serve it alongside my BBQ Chicken Kebabs.
I sometimes make the chicken as I do here in my Bang Bang Chicken dish and it goes perfectly with it (I use 4-
5 chicken breasts). But you could use store bought rotisserie chicken, supermarket bread crumbed chicken or roast some plain chicken breasts for an even simpler option.
I quite often use leftovers from my Slow Cooker Roast Chicken too.
I love to serve either my No Bake Lemon Cheesecake or my No Bake Lime Cheesecake for afters. Goes down a casual dinner party storm.
I don't add any fresh chillies to it as I am a wimp but you could add a tsp/tbsp of chilli paste to the dressing depending on the heat in the paste and your palate.
I like the gentle heat from the sweet chilli sauce but I know that I am a real spice big girl's blouse.
It serves four/six as a main meal or 8 as a side. But leftovers are never a bad thing so I make it as it is in the recipe and then enjoy it for lunch etc the next day.
STEP 1
The only taxing thing about this recipe is the chopping and grating. Make sure your knife is sharp and watch out for the sake of your fingers.
Slice the 600 grams white cabbage thinly, about 2-3 mm wide.
Slice the red pepper into 1 cm slices.
I use my grater thing on my food processor to grate my 3 carrots but a normal box grater is fine.
I cut my ½ a cucumber in half and then use a teaspoon to scoop out the watery seeds.
Use the largest mixing bowl you have to place all the sliced peppers, cucumber and cabbage.
STEP 2
The thai salad peanut dressing is also very simple to put together.
Put the juice of a lime, 6 tbsp sweet chilli sauce, 30 grams coriander, 10 grams mint leaves, 5 tbspwater, 1 tbsp soy sauce, 4 tbsp ground nut oil and 100 grams of chunky peanut butter in your food processor and whizz until everything is blitzed.
I challenge you not to lick the bowl.....It is incredibly lush.
All that is left is to bring the two together. You do need a big bowl. The bigger you have the easier it will be to dress the salad.
I use two forks and keep turning it over until I get the coverage throughout.
Serve immediately or cover for up to an hour before serving.
How to Store Thai Salad
I have stored it in the fridge covered and eaten it the next day. The slices of cucumber look rather sorry for themselves but the rest of the salad stands up rather well. It has lost some kerb appeal though I admit.
Sometimes some water may collect at the bottom but I just avoid it.....that's what she said.
But it is best served soon or up to an hour after it has been dressed with the Peanut Dressing.
So generally if you want to make this more than an hour ahead then keep the salad and the dressing separate and all will be super fabulous and crisp.
Equipment Required
Grater
Digital Scales
Peeler
Sharp Knife
Food Processor
Large Mixing Bowl
Thai Salad Tips
Make sure your knife is sharp enough
To make ahead simply make the salad up but don't add the dressing until you are ready to serve.
Add more water if your sauce is too thick.
Shred the cabbage thinly.
Use a large and shallow serving bowl to make it easier to toss the salad in the dressing.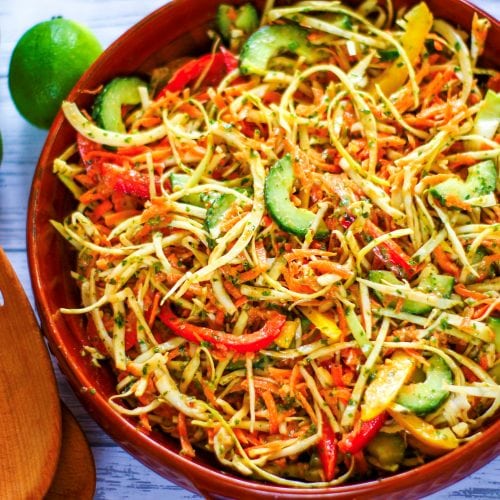 Easy Thai Salad
This Thai Salad is absolutely sensational and one of my most tried and tested favourites. So simple to prepare it belies it's big flavour punch. Full of fabulous Asian flavours like lime, coriander, mint and peanuts, pimp it up or down to suit your chilli desires.


Ingredients
600

grams

white cabbage

stalk centre removed.

½

large

cucumber

1

large

red pepper

½

large

yellow pepper

3

medium

carrots
Thai Peanut Dressing
1

lime

juiced

6

tbsp

sweet chilli sauce

30

grams

coriander

10

grams

mint leaves

5

tbsp

water

1

tbsp

soy sauce

4

tbsp

ground nut oil

100

grams

chunky peanut butter
Instructions
Peel and grate the carrots. Shred the cabbage finely, about ⅔ mm. Chop the ½ cucumber down the middle and scoop out the watery seeds with a tsp. Throw these away. Slice the cucumber up and thinly slice peppers up and place it all in the biggest bowl that you've got!

Put all the ingredients for the dressing in the food processor and blitz well.

Pour the dressing over the salad and mix well. Just keep gently turning it all over until you get everything covered.

Transfer to your serving dish.
Recipe Notes
Use the largest mixing bowl you have. Otherwise it will be rather difficult to mix it all together.
You do want the white cabbage to be very thin strips about ⅔ mm wide. It will alter the flavour of the dish otherwise.
If you want to make this hours ahead of time then simply prepare the salad and keep the dressing to one side to mix with the salad when you are ready to serve.
Nutrition Facts
Easy Thai Salad
Amount Per Serving
Calories 286
Calories from Fat 162
% Daily Value*
Fat 18g28%
Sodium 467mg20%
Potassium 749mg21%
Carbohydrates 28g9%
Protein 8g16%
Vitamin A 6460IU129%
Vitamin C 134.6mg163%
Calcium 134mg13%
Iron 3.5mg19%
* Percent Daily Values are based on a 2000 calorie diet.
Here are another couple of great Asian dishes.
Thai Coconut Chicken Noodle Soup
Or amazing Salad dishes -
Moroccan Roast Vegetable Salad
Pin For Later!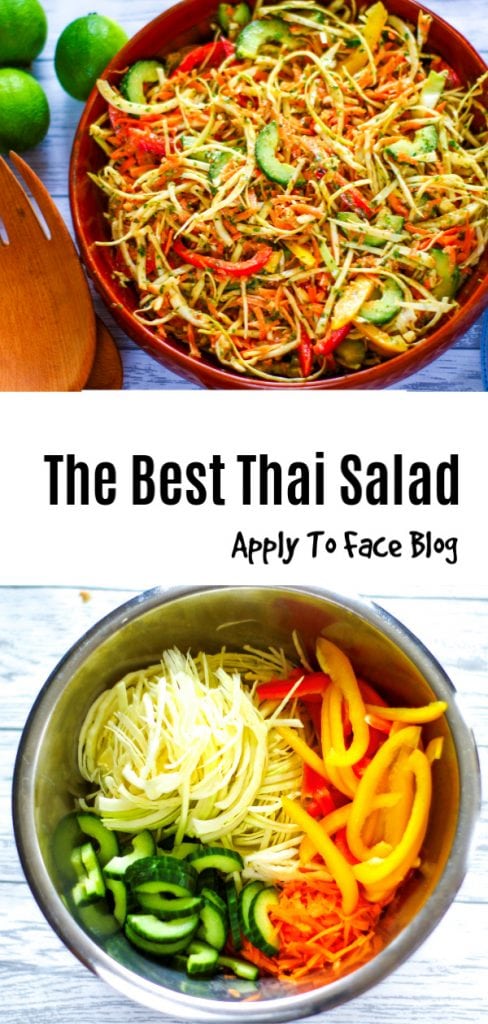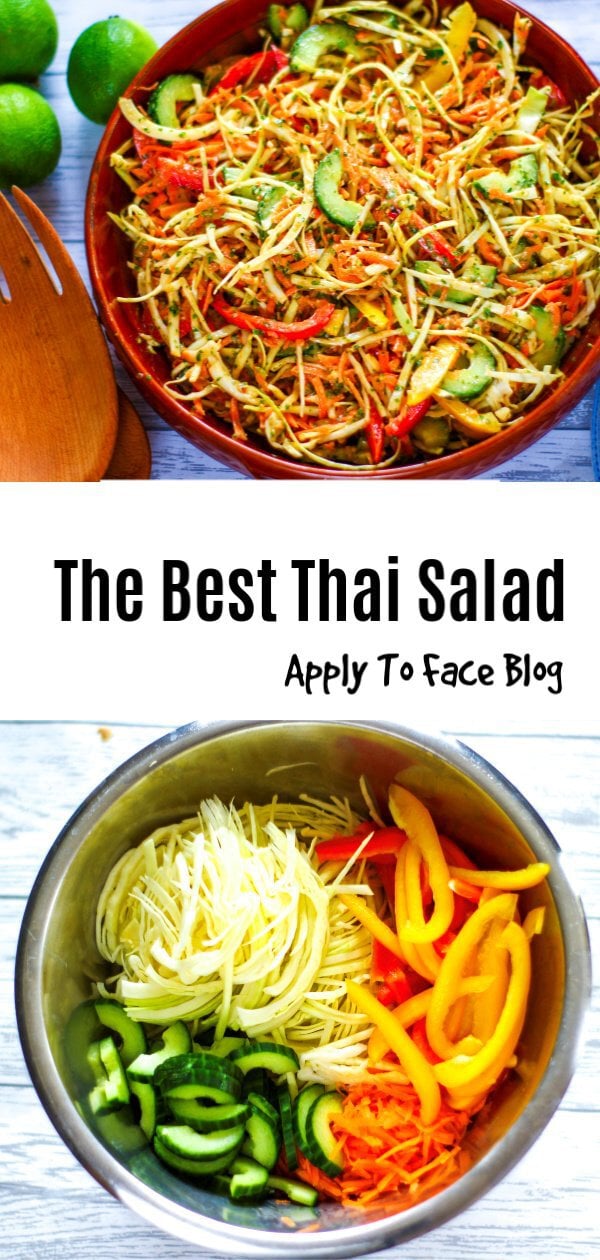 Do let me know how you got on in the comments below. I do love a good old hairy chinwag.