This recipe for easy Coronation Chicken is one of my all time faves and always part of my summer buffet table no matter if it's posh or not.
Coronation Chicken
But first……..some Royal Wedding loving.
Let's be honest this royal wedding malarkey is getting a bit much. I can't watch any breakfast telly anymore for fear of kicking the flat screen into a million pieces…..The will he won't he saga is doing my swede in……..It's like Eastenders. I can't imagine all of this drama is going down well at the Palace. It's like Fergie all over again. Spitting Image should do a wedding special. Imagine…..
But in reality it is like most weddings I went to in my twenties and thirties they were always a hot bed of drama and fallings out. Blinkin loved it. Weddings seem to bring out emotion like no other occasion. Literally every one I went to ended up in some scene from a soap opera and more often than not fighting among lots of paralytic people whilst others were sick in the bushes. The lethal combination of free wine from noon was and is a recipe for disaster. We had an outrageously good time. I'd be horrified now if I was in the middle of all that.
I can remember getting hideously drunk at my brother in law's wedding by 12.30 pm before we had even sat down and then spilling a bottle of red wine all over the lady sitting next to me in a white trouser suit………Things only got progressively worse…..Then tw.tted I must have felt jealous and proceeded to tell everyone (and I mean everyone) right in their faces for hours that I was going to get married next year ( I wasn't even engaged ) before having a huge public row with my boyfriend and trying to walk five miles home in bare feet…. Can you see it??? Cringe City.
Nowadays if I was a witness to all that I would be tutting and calling for a taxi. Harry and Meghan's wedding has made me have a little reminisce about the fantastic weddings gone by. Sad but I had almost forgotten them. Nowadays my main concern would be getting to the buffet first…….
Keep Calm and Coronation Chicken Recipe
This Coronation Chicken recipe is my ode to the royal wedding. Alone as a Chicken Salad or Coronation Chicken Sandwich recipe it is classically English and done properly seriously delicious. There are usually a couple of problems with it however. The first is that it's recipes can be terribly long winded and the second is that the quick version is usually simply mayo mixed with curry powder. I am not a fan of raw spices and just don't like their slightly harsh flavour. So my recipe has taken the best of both types of recipes and come up with this little beauty of a hybrid.
I have been so blown away by my Coronation Chicken fetish that I will be making some again just as soon as I can get my hands on another chicken. I am mad for the stuff……. Perhaps they will have it in some nice vol au vents at THE wedding. I know I so would….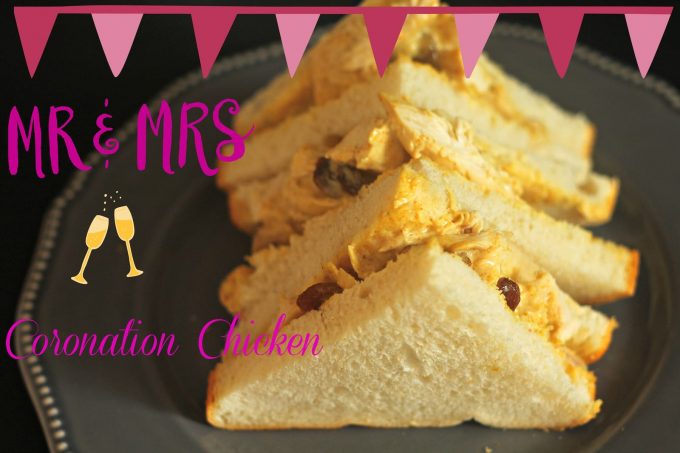 My recipe involves poaching a whole chicken in a snug saucepan it's a simple thing to do and well worth the effort. The chicken itself is then lightly flavoured from the veg and bay leaf and oh so moist. Chicken needs to be moist to be magnificent. After that we return to the land of 'Bob's your Uncle' as it is simply a matter of mixing the sauce ingredients together before sousing the chicken in it's magical sauce. Unroll your picnic blanket and get out your bunting……
Here are other recipe perfect for a Summer picnic –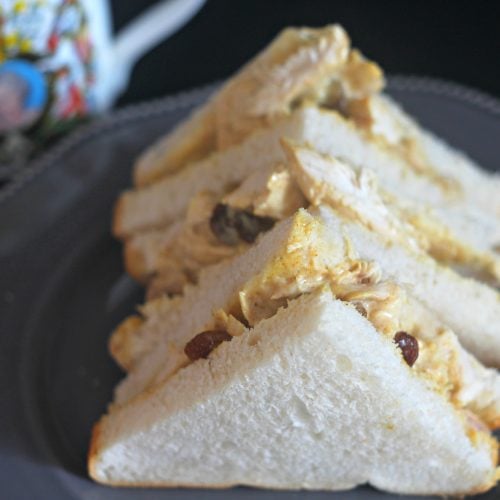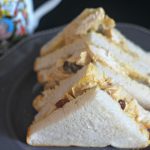 Coronation Chicken
This Coronation Chicken is absolutely delicious. It has a real depth of flavour that hides it's simplicity. Warmly spiced, fruity but creamy it really earns it's classic reputation. Studded with apricots and raisins it is perfect as a salad or filling for sandwiches or suchlike. Quintessentially British Summertime.
Cook Time
1
hour
30
minutes
Total Time
1
hour
40
minutes
Ingredients
Roast Chicken
1.5

kg

chicken

best you can afford

10

whole

black peppercorns

1

large

bay leaf

1

large

carrot

chopped roughly

1

large

onion

chopped roughly

1

cinnamon stick
Coronation Sauce
1 1/2

tbsps

mild curry powder

150

mls

mayonnaise

150

mls

plain yoghurt

2

tsps

worcestershire sauce

30

grams

sultanas

50

grams

ready to eat dried apricots

chopped finely

50

grams

flaked almonds

5

tbsps

mango chutney

1

small

bunch coriander

chopped
Instructions
Put the chicken and ingredients into a snug fitting saucepan and cover the chicken in water. Mine didn't cover it all as the chicken was too high so I turned it over breast side down.

Bring to a simmer then cover and cook gently in the oven for about an hour and a half. I had my oven on at 140 C. I also used a meat thermometer to make sure it was 75 C.

Take it out and set aside to cool enough to be able to strip all the meat from the carcass.

Meanwhile put the curry powder in a saucepan and toast for a minute or so until you can smell the spices in the air. Keep a close eye on the pan as they can burn easily. I keep moving them about with a wooden spoon.

Tip them into a bowl and mix all the sauce ingredients apart from the coriander together.

Add the chicken to the sauce and mix well through. Refrigerate for a couple of hours before adding the coriander when ready to eat.

Apply to Face in a Big Hat.
Nutrition Facts
Coronation Chicken
Amount Per Serving
Calories 449
Calories from Fat 279
% Daily Value*
Fat 31g48%
Cholesterol 77mg26%
Sodium 218mg9%
Potassium 455mg13%
Carbohydrates 22g7%
Protein 19g38%
Vitamin A 1920IU38%
Vitamin C 4.9mg6%
Calcium 83mg8%
Iron 2mg11%
* Percent Daily Values are based on a 2000 calorie diet.
PIN ME FOR LATER
I have linked this post with Cook, Bog, Share over at Recipes Made Easy – Fiesta Friday.