This Quiche Lorraine is an absolute taste sensation. It is both easy and perfect for many an occasion. Made without cream using cream cheese instead it's a game changer. Served warm, a slice of cheesy quiche is a very, very delicious thing.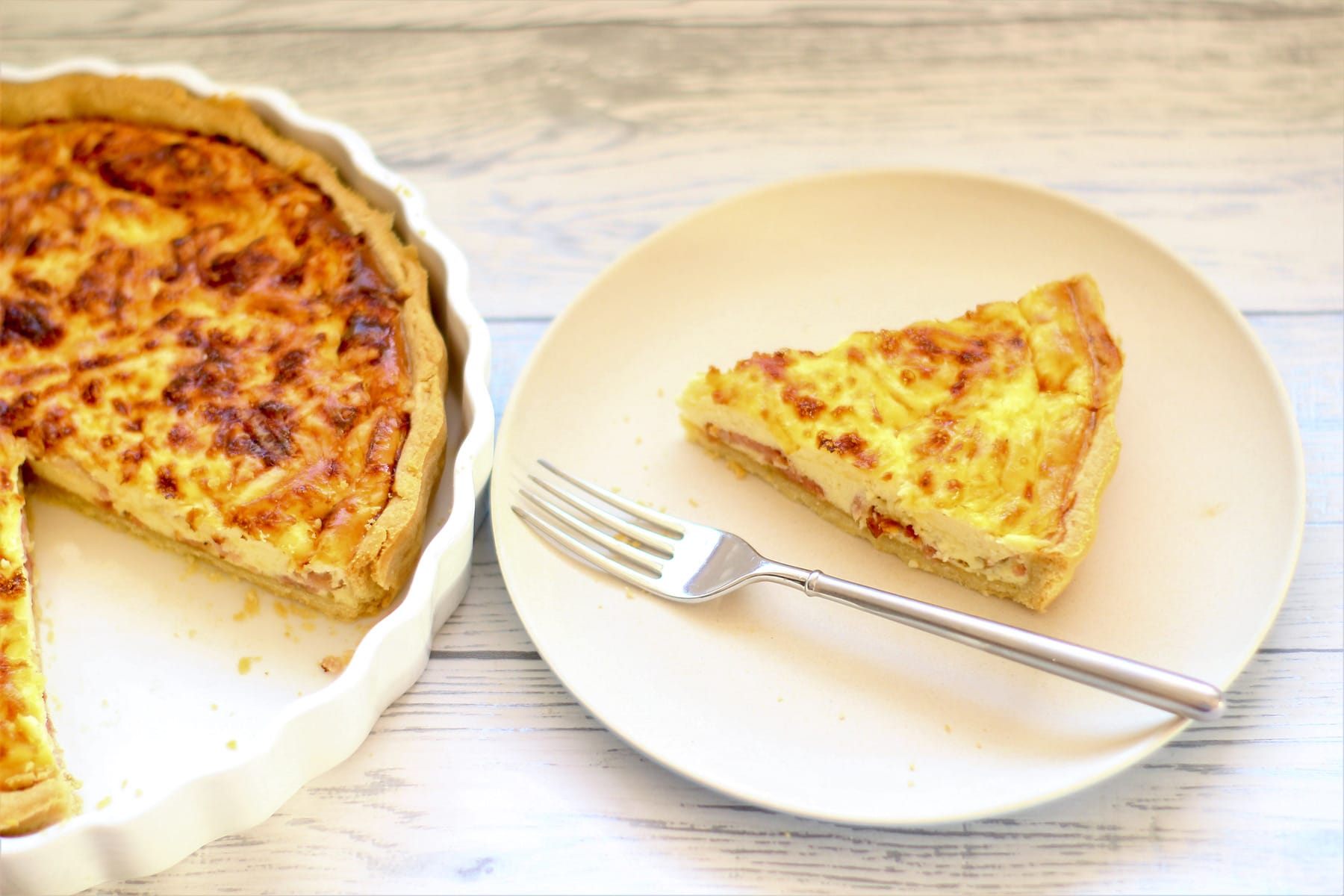 This recipe has the perfect balance between the salty and the cheesy with a smooth, mellow custard that brings it all together into a heavenly mouthful worthy of a moan.
I can eat a warm wedge of it alone or even better with a nice bit of salad. I always feel as if I am eating it in an English Summer Garden somewhere with Delia Smith but the truth is that it is French in origin.
This version is even more far removed from the eggs, cheese and cream versions normally attested to an authentic quiche. I actually substitute cream cheese for cream and am fully converted to it for ever.
I think it provides a more balanced custard that is better without that extra cream richness. I use the same formula in my very popular Cheese and Onion Quiche. It is incredibly good..
*There is a full recipe card at the bottom of this post with exact ingredients and instructions.*
Quiche Lorraine Recipe
280 grams (10oz) Cream Cheese - quiche recipes are generally made with cream but I use full fat cream cheese instead, a cheese and onion flan if you will, it is this that gives it a softness and comforting cheesy mellowness.
100 grams (3.5 oz) mature cheddar
3 medium Eggs - large
200 grams (7oz) smoked bacon rashers
300 grams (10.6 oz) plain flour
150 grams unsalted butter or salted but not baking spread
salt and pepper
oil for frying
*You can of course buy ready made shop bought pastry for ease or to be a get ahead Susan*
Method
Firstly I fry the bacon pieces in some oil. I use scissors to snip the rashers into strips. I usually use smoked bacon rashers.
I drain off any excess water that sometimes comes off the bacon as it starts to cook. You don't want boiled bacon! I like to get them a little bit crisp.
If I have left overs from my Slow Cooker Gammon Joint I also use these. I simply chop them up into little pieces and scatter onto the base without frying them first.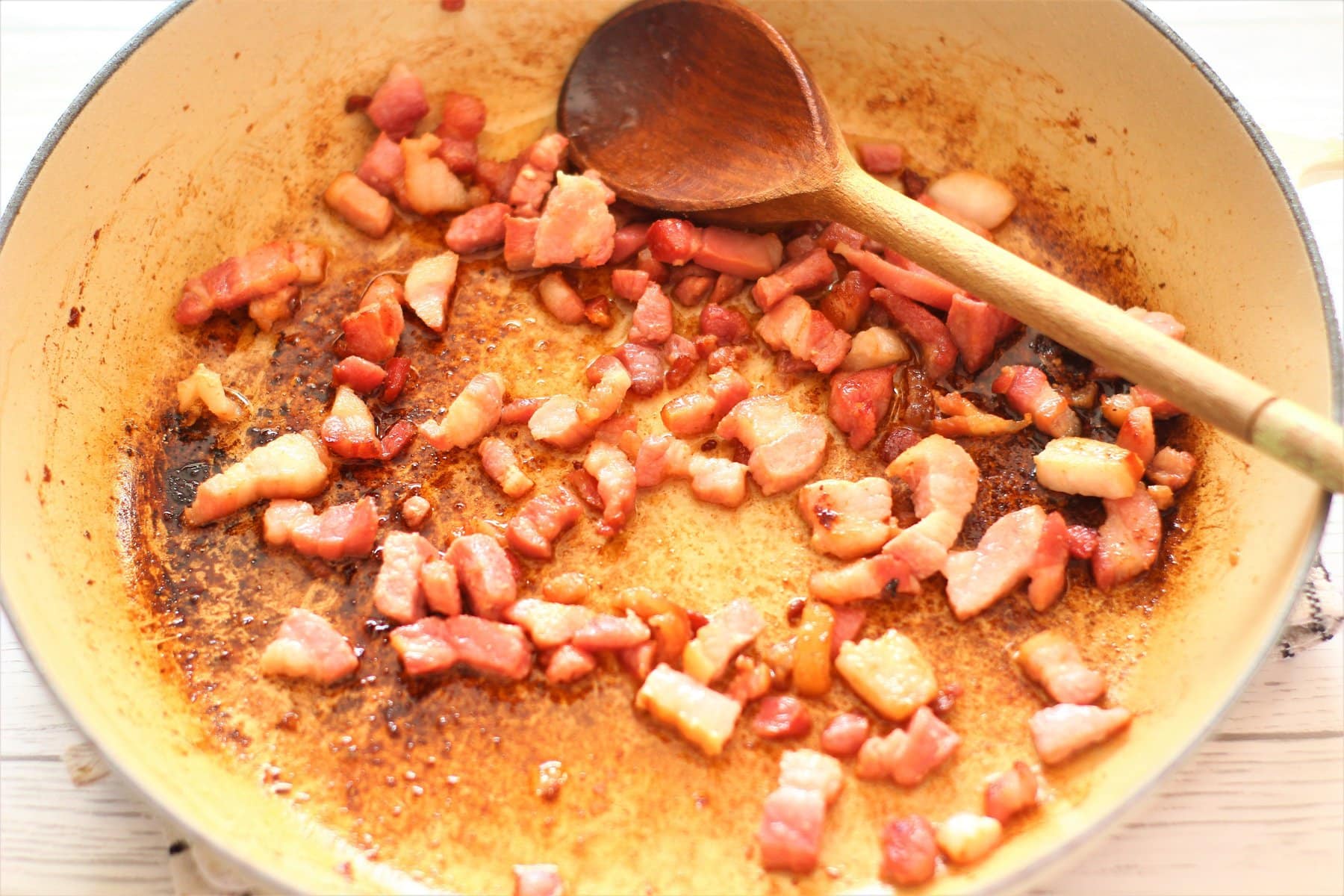 I always use the same shortcrust pastry for my quiches and pies apart from a high fat and sugar version for my monumental, and I feel, life changing Apple Pie.
I always make it in the food processor. I am very fond of a shortcut and this is a very quick way to make pastry. You can of course rub it in the traditional way or buy ready made shop bought.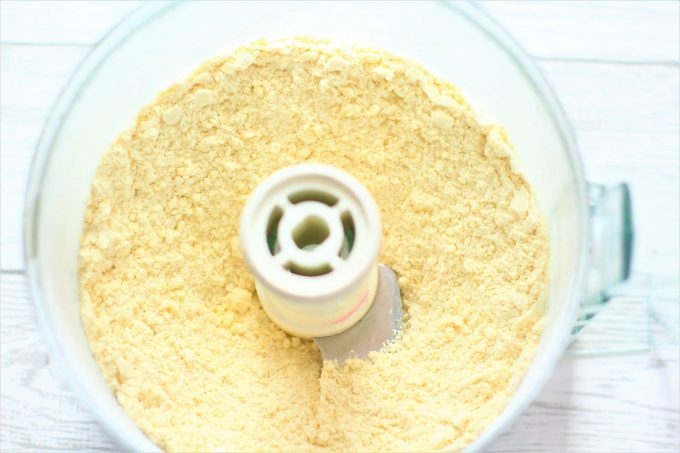 Quiche pastry breadcrumbs
You are after the breadcrumb effect and once achieved you can go ahead and add your water. I usually find it is about ⅚ tbsp of water but it can be more.
Make sure you don't add too much by pulsing the processor as you add each tbsp. Keep checking that it needs still more by your 4th tbsp.
Just as it begins to come together, tip it out onto a work top and use your hands to bring it together. Knead it for a minute into a smooth dough disc. You can cover and chill for 20 minutes but I don't tend to. Maverick.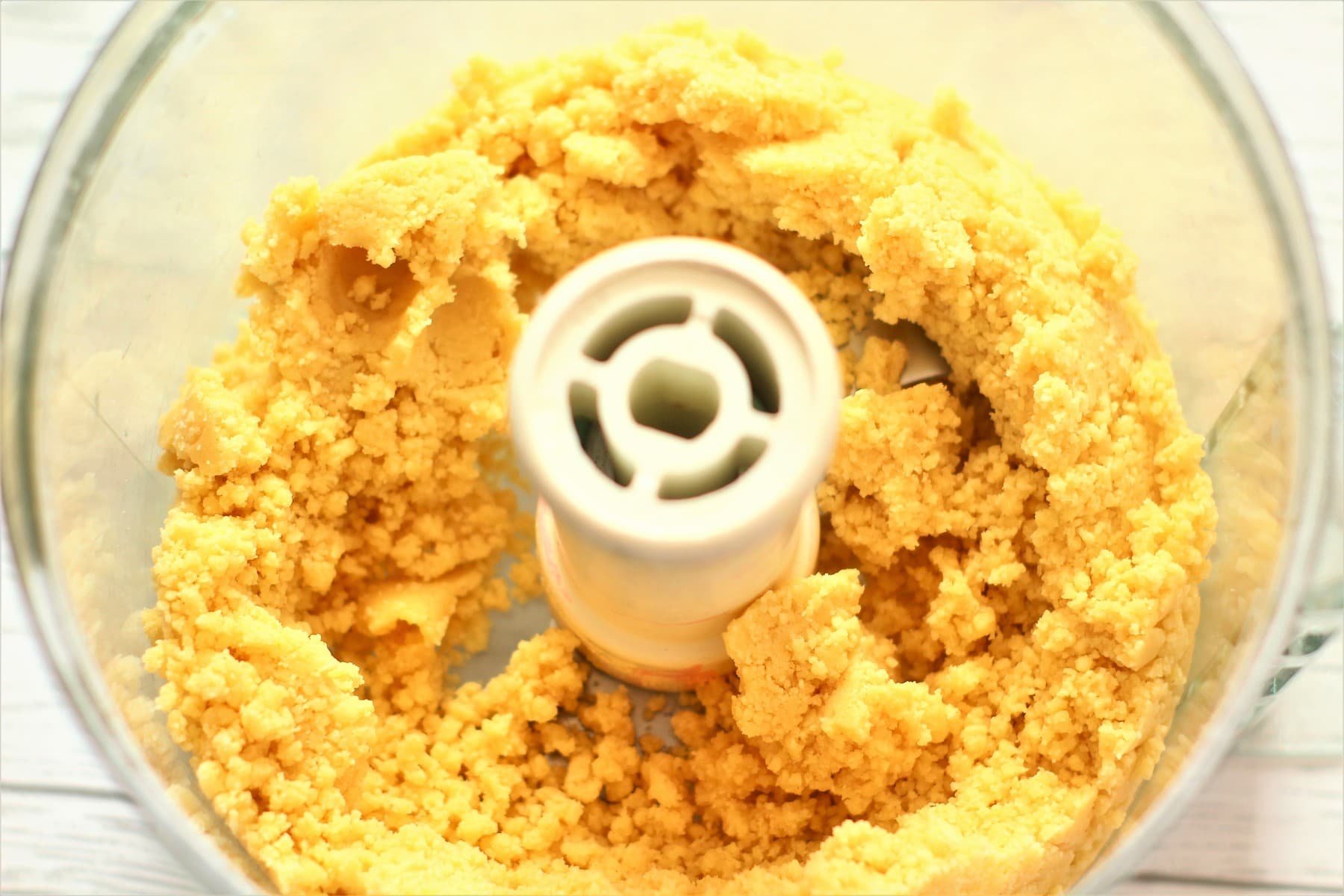 Roll out on a lightly floured work surface to about a 30 cm rough circle. The pastry should be about 4mm thick.
I use a 23 cm fluted flan dish. I use my rolling pin to carry it over to the dish and then lower in. I use the rolling pin to remove the excess pastry by rolling it over the sides.
The left overs I use to make a few jam tarts.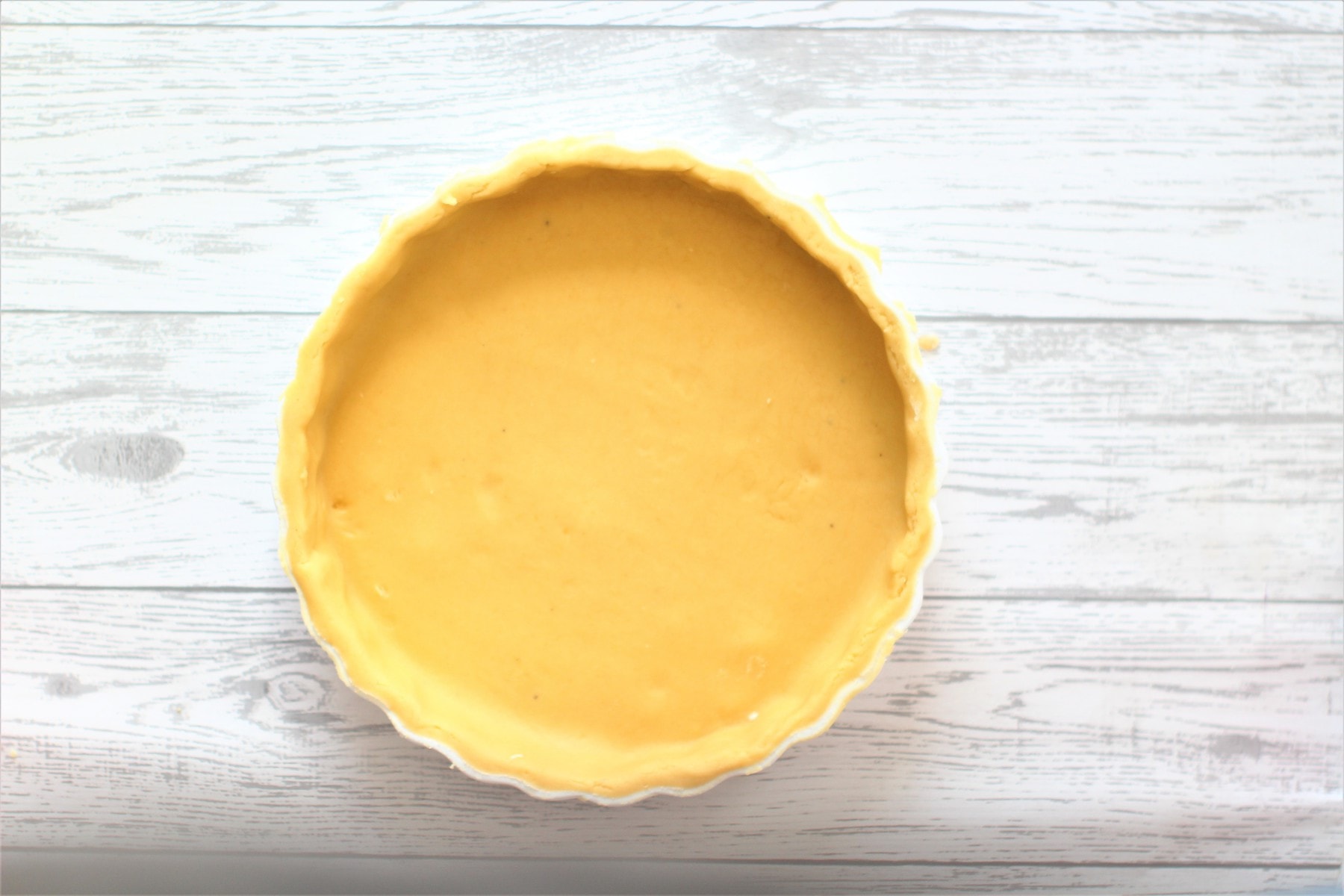 I prick the base of the pastry with a fork all over and bake it blind using a 8 " cake paper liner and some ceramic beans for 25 minutes.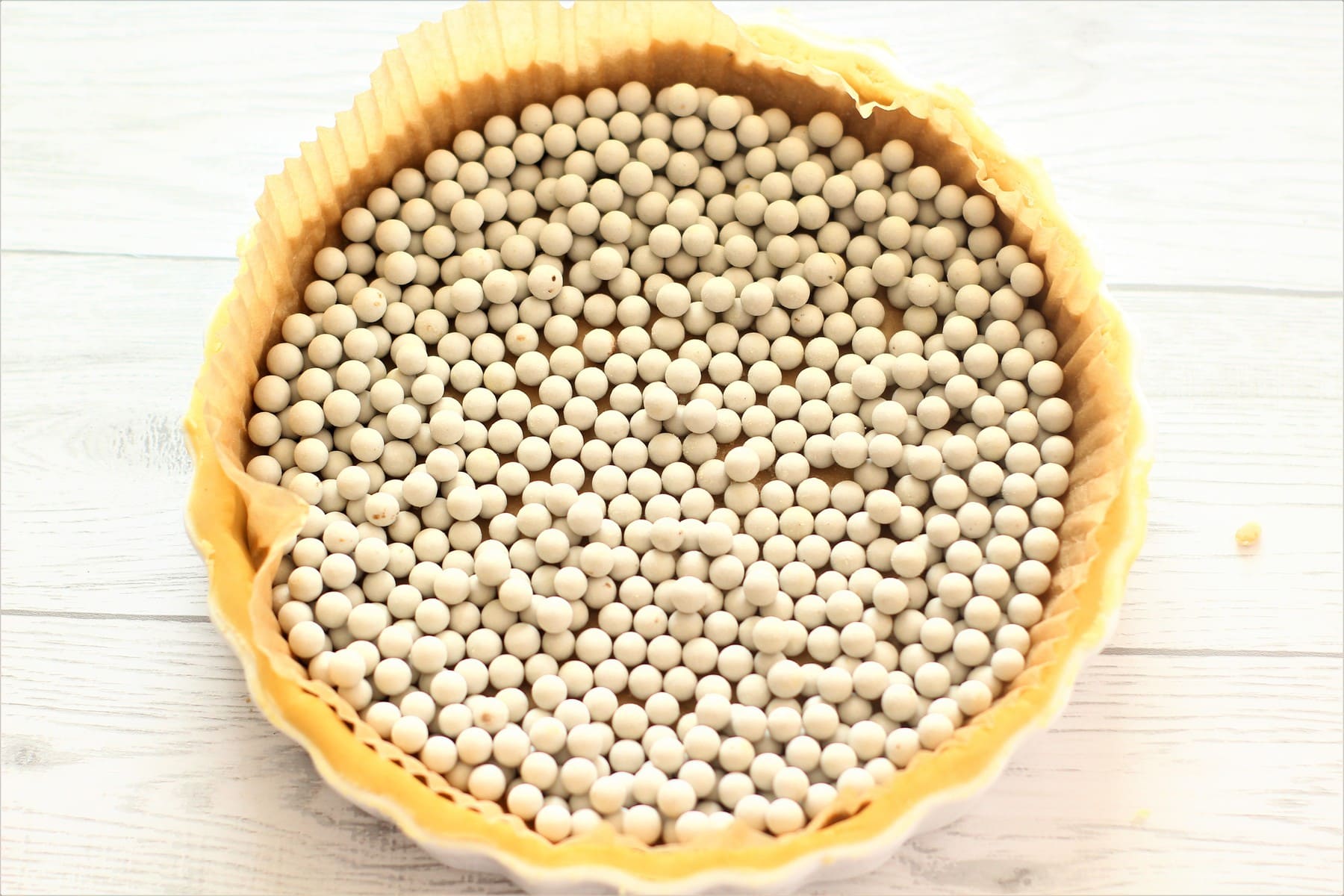 I then brush the bottom with some of the beaten egg and bake again for five minutes to seal the holes.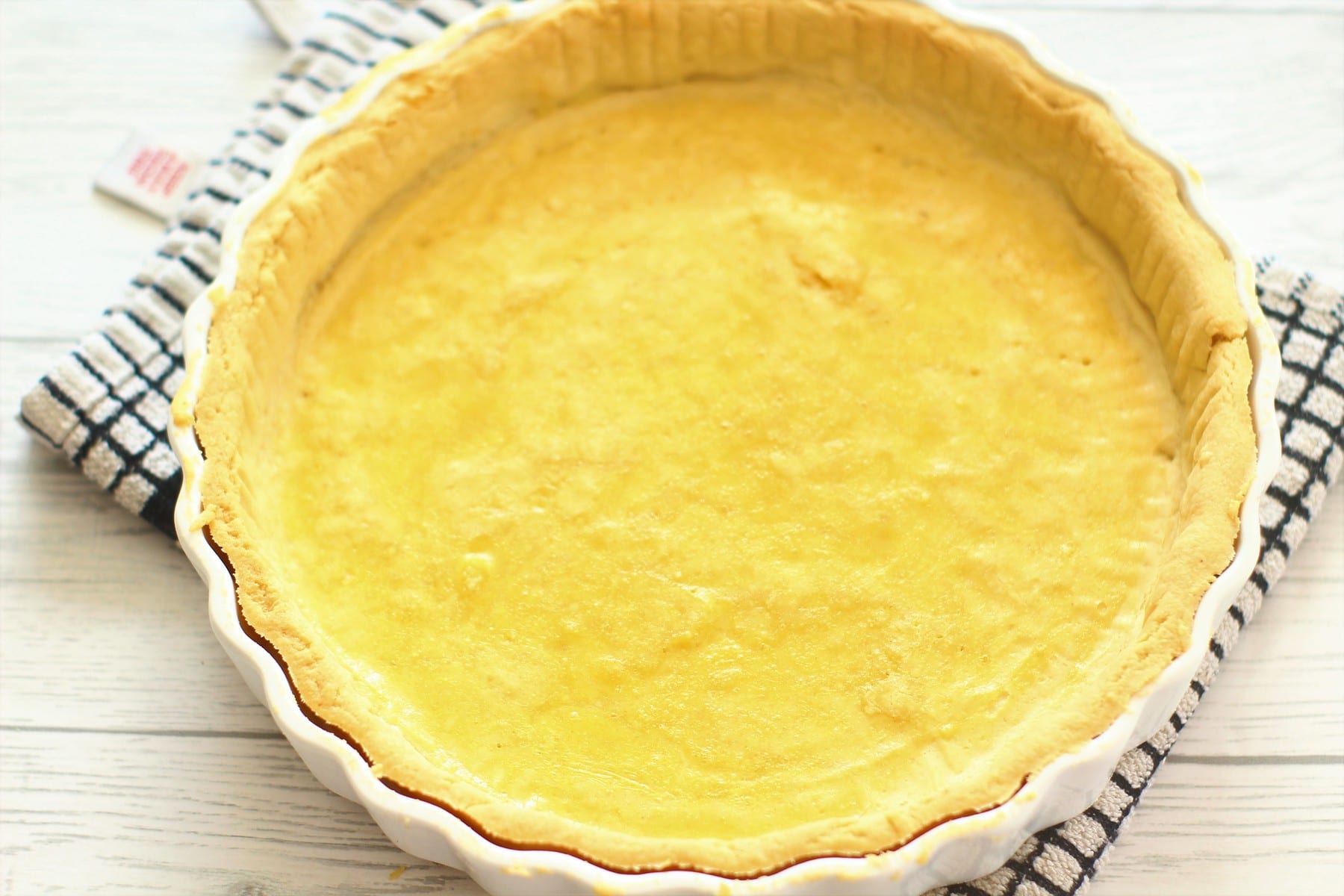 Mix the cream cheese into the beaten eggs. I use my food processor again but you could whisk it in by hand. Break up the cream cheese first if you are going to do this.
Add 5 or 6 twists of black pepper to the custard.
Put the bacon and cheese onto the bottom of the quiche.
Pour the custard carefully on top.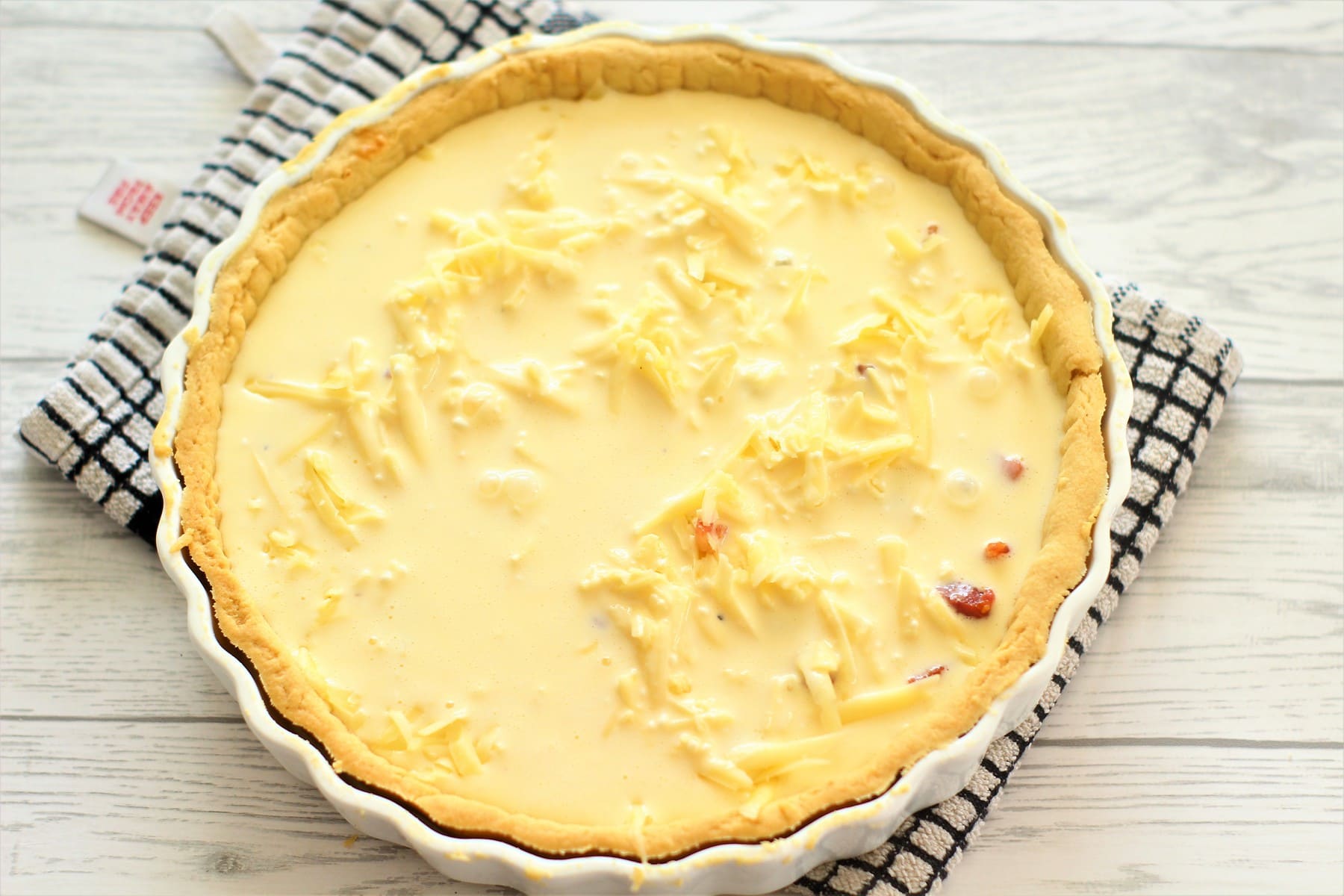 Bake for about 30 minutes until very slightly scorched on top.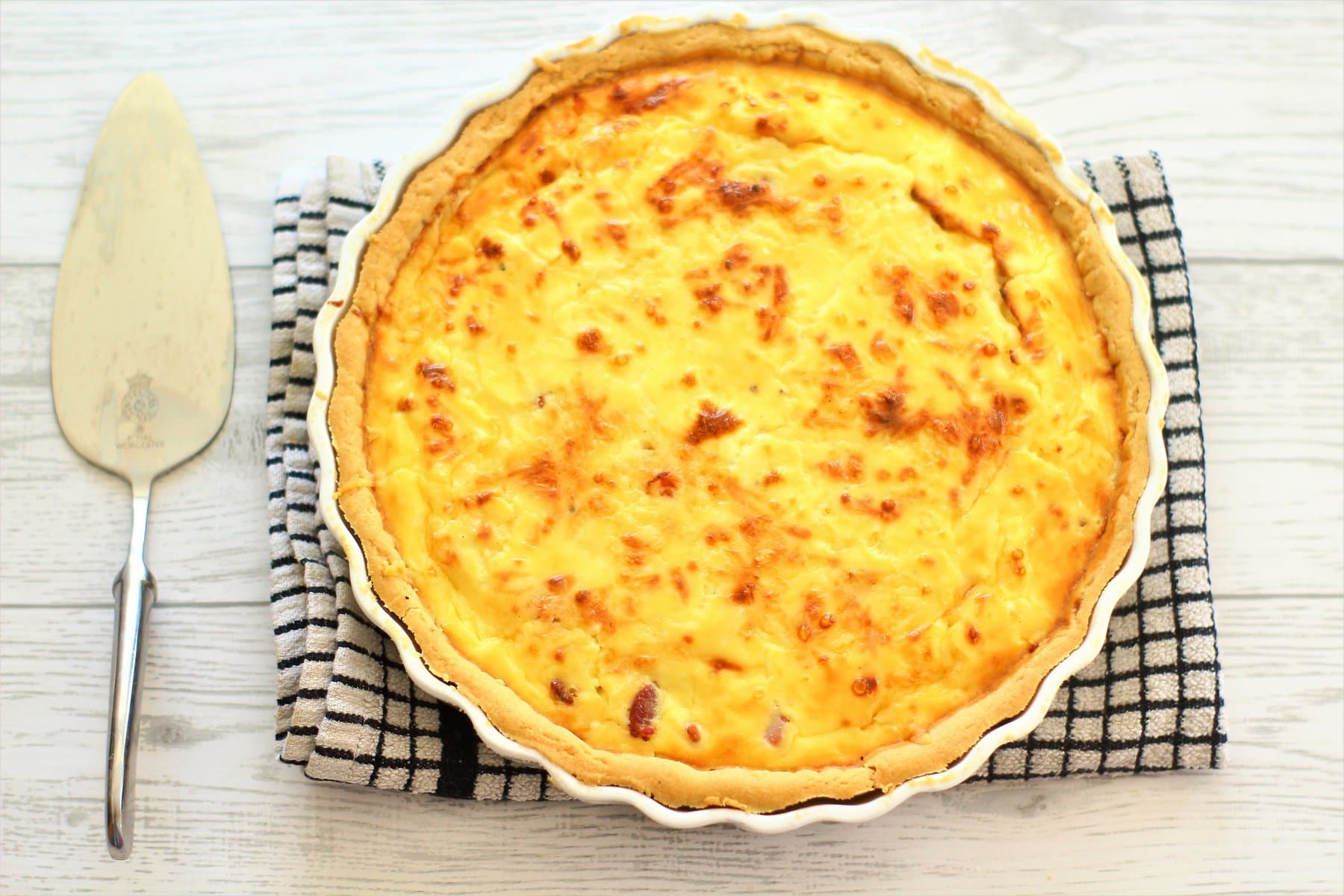 You can of course substitute different fillings along with the egg and cream cheese custard. Pimp that quiche lorraine. One of my favourites is cheese and onion but I love asparagus and feta cheese too.
Just be mindful of the water content of some vegetables i.e spinach or mushrooms and cook them first.
Can You Freeze Quiche?
Yes you absolutely can. I always freeze it already baked in a tupperware container. I get it out the night before and let it thaw in the fridge before heating through at 180 C for 20/30 minutes if it is a whole quiche or approx 5/10 minutes for a slice.
You will have to judge for yourself depending on the size of quiche involved. I stick a blade of a knife into the middle to check if it is hot enough.
How To Make Gluten Free Quiche
To make this quiche gluten free simply use gluten free flour instead of plain flour. You will probably have to use a couple of extra tbsps of water as the flour can need more liquid than the standard plain.
What Equipment Do I Need?
23 cm flan dish
Food Processor or large mixing bowl
Frying Pan
Rolling Pin
Baking Beans or similar
Liner for baking blind ( I use a 8 "paper cake liner)
Digital Scales
Pastry Brush
Oven Thermometer (optional)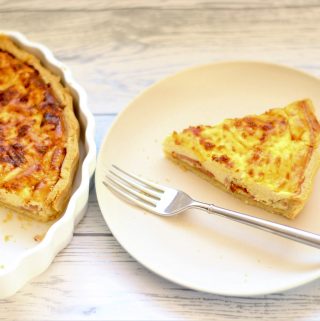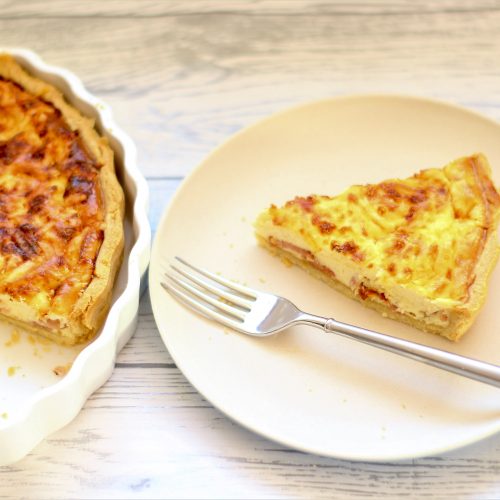 Quiche Lorraine
This recipe for Quiche Lorraine without cream is absolutely delicious. Full of flavour it is hard to beat any time of the year.
Ingredients
1

tbsp

oil

to fry the bacon bits

200

grams

smoked bacon rashers or lardons

300

grams

plain flour

150

grams

unsalted butter

cold

3

large

eggs

beaten

280

grams

full fat cream cheese

100

grams

mature cheddar cheese

grated

2

pinches

salt

black pepper
Instructions
Preheat your oven to 180 C/350 F/Gas Mark 4. Snip the bacon into small strips. Use the 1 tbsp oil to fry the 200 grams of bacon. I like to get some browning to them. If a lot of water pools in the frying pan. Remove it so that the bacon doesn't boil.

Set aside and start the pastry. If using a food processor then put the 300g flour, 150g butter (cut into 3 cm chunks) and 1 pinch of salt into the processor bowl. Pulse until you get a breadcrumb effect. If doing it by hand then go ahead and rub the ingredients together. Add ⅚ tbsps of water and pulse or mix together until dough begins to form. At that point tip it out and use your hands to bring finally together into a smooth dough.

You can cover and chill the pastry at this point but I seldom do. Lightly flour your work surface and roll out the pastry to roughly a 30 cm circle. The pastry should be about 4mm thick. You will have some left over but it makes the job easier! I make a few jam tarts with the left overs.

Use the rolling pin to transfer the pastry to the dish and gently line it. I use the rolling pin to remove the overhang of pastry by rolling it over the edges. Prick the pastry base with a fork all over, line with the cake liner and fill with baking beans or similar. Bake for 25 minutes.

Remove from the oven, remove the liner and beans ( be careful as steam can gather under the liner) and brush the bottom with some of the beaten egg to seal all the holes. Put back in the oven for another 5 minutes. Combine the 280 g of cream cheese, remaining pinch of salt and 3 beaten eggs until smooth. Add ⅚ twists of black pepper.

Putt the bacon and 100 g of grated cheese in the bottom of the pastry case and pour over the egg mixture. Bake for about 30 minutes until golden and scorched in parts. Leave to cool a little before serving.
Notes
All Nutritional Information is only intended as a guide.
I use a oven thermometer as all oven temperatures can vary from the intended temperature shown on the dial.
Nutrition
Calories:
591
kcal
|
Carbohydrates:
30
g
|
Protein:
15
g
|
Fat:
45
g
|
Saturated Fat:
23
g
|
Cholesterol:
187
mg
|
Sodium:
388
mg
|
Potassium:
184
mg
|
Fiber:
1
g
|
Sugar:
1
g
|
Vitamin A:
1190
IU
|
Calcium:
146
mg
|
Iron:
2.4
mg
All nutritional information is approximate and intended only as a guide.
Tried this recipe?
Take a pic and tag @applytofaceblog on Instagram. I would so love to see them!
IF YOU LIKE THIS QUICHE RECIPE YOU MAY LIKE THESE

PIN ME FOR LATER!