These Ham and Cheese Sliders are quick and so easy for feeding a crowd. Seriously delicious and fun to boot. Everyone ALWAYS wants more.
I have only discovered Sliders relevantly recently and what a blinkin boon. They are a genius way of feeding a group of people for squeals all round. The beautiful oozy cheese and the garlic butter elevate this sandwich to another level. One that my children just can't get enough of. They were literally hopping about for seconds. I immediately  took them to my heart and family recipe book. I cannot recommend them enough. Super simple, really delicious and fun. Just the sort of comfort food that rocks my world.
But first some moaning……again
Am I the only parent that finds themselves actually traumatised by school holidays??? It seems to me that every time is the damn same. Constant feed me demands coupled with bickering and fighting on an epic scale. Inevitably I end up permanently speaking like a Sargeant Major, shouting orders trying to maintain some sort of control. I'm not sure they even notice. I keep coming out with terrible one liners that I swore would never be part of my parenting M.O. But they feel so good to say. Cathartic even.
Wait till your father gets home!
Children are starving in Africa!
Because I said so!
Are your legs broken?
Were you born in a barn?
Go and live with them then!
WHAT did you just say?
How many times do I have to tell you!
Get to your room!
Don't you look at me like that!
How dare you!
I started out with good parenting intentions but they have just fallen by the wayside. I need serious crowd control in the holidays. There can be no fannying around in my house. They're like hyena's. I swear they can smell my weakness from twenty paces….so this recipe for Ham and Cheese Sliders has been perfect. No matter what the background noise I can get these in the oven easily. They fall upon them without speaking or even looking at each other. If I back away quietly and without any sudden movement they don't even realise I've gone/run for the hills.
Ham And Cheese Sliders
These are really incredible. I have kept them simple to avoid my children turning their noses up at them but I actually don't think I could better them. Closed minded I know but I don't. Obviously they are American in origin and a lot of them have poppy seeds in the toppings. I knew that wouldn't get the seal of approval at my house so I went simply for garlic butter. It was an excellent decision. I didn't want any faff so I decided to just use garlic powder and it is perfect. I use the rolls that supermarkets sell that they bake themselves and are joined together in packs of 12. I also use a lot of ham and not the expensive stuff either. You want to load the ham quite heavily to make sure the flavour doesn't get lost amongst the cheese and garlic butter. I have given a rough estimate of the weight of the ham required. So the cheaper stuff is the most cost effective answer. If you're rich then what the hell.
The packs of rolls in the U.K are not as robust as those in America so you have to handle them carefully to try and keep them together, at least until the bottom layer is in your roasting tray/dish. I use a sharp bread knife to cut the rolls in half horizontally. Just take your time and try to keep them even. I do strongly recommend that you keep track of the correct tops of the rolls for the corresponding bottom ones. They are not always uniform. So that when it comes to serving them they match up. I didn't the first time and it was much more difficult to get on the plate. It wasn't the end of the world but it went against the whole easy vibe of this recipe. So it made me MAD….  I melt the butter and garlic powder in a saucepan over a gentle heat and using a brush I paint a generous amount over the bottom half of the rolls.
I then topped with the ham and two cheeses. I think that a medium sliced cheddar is better than mature. I found it too strongly cheesy with the mature version but feel free to ramp it up if that's your bag. I used grated mozzarella too for general loveliness and of course some dramatic stringing. You can use grated cheddar too instead of the sliced cheddar that I have used.
Put the top half of the rolls back on and then generously brush with the remaining butter.
I cover them with silver foil and bake for 30 mins at 180 C/250 F/Gas Mark 4 or until the cheese is properly melted. That will depend on the dish you're using. This one here is a big and heavy ceramic dish so mine took longer than 30 mins. It was more like 45 mins before the cheese in the middle was mostly melted. The dish/roasting tray doesn't have to be a perfect fit.
Isn't that beautiful? The smell is incredible too. You just cut them into their roll segments and serve to much applause and more significantly for me….silence.
Tips for Ham and Cheese Sliders
Make sure the right tops go on the right bottoms of the rolls if they are all not uniform in the pack.
Make sure your carving knife is sharp.
Pimp your sliders to your own taste. You could use caramelised onions or roasted peppers instead of ham to make them vegetarian. Any good flavour combo with cheese would work.
To feed 12 people simply double the recipe up.
Equipment Required
Saucepan
Digital Scales
Pastry Brush
Sharp Knife
Roasting Tray/Dish
Ham and Cheese Sliders
These Ham and Cheese Sliders are quick and so easy for feeding a crowd. Seriously delicious and fun to boot. Everyone ALWAYS wants more.
Ingredients
12

joined together rolls

240

grams

sliced ham

enough ham to still be tasted against the cheese.

250

grams

mozzarella

150

grams

medium cheddar cheese

6 square slices

100

grams

salted butter

1

heaped tsp

garlic powder
Instructions
Pre heat the oven to 180 C/350 F/Gas Mark 4. Melt 100 g of butter and mix 1 tsp garlic powder into it. Saw the rolls carefully in half and take the top off the rolls. Keep track of where the rolls need to go back on to line back up with the originals.

Brush the bottoms generously with the melted butter. Top with a layer or layers of ham depending on how thick it is. It needs to be thicker than a ham sandwich would be. Top with the 125 grams sliced cheese and sprinkle 250 grams mozzarella all over.

Put the tops of the rolls back on and brush the tops with the remaining melted butter. Cover with silver foil and bake for 30-50 minutes or until the cheese is melted even in the middle.

Remove the rolls from the dish/tray and slice with a sharp knife into individual rolls. Serve while fabulously warm.

Apply To Windsor Davies Face
Nutrition Facts
Ham and Cheese Sliders
Amount Per Serving
Calories 712
Calories from Fat 468
% Daily Value*
Fat 52g80%
Cholesterol 149mg50%
Sodium 842mg37%
Potassium 164mg5%
Carbohydrates 33g11%
Protein 27g54%
Vitamin A 1310IU26%
Calcium 408mg41%
Iron 2.4mg13%
* Percent Daily Values are based on a 2000 calorie diet.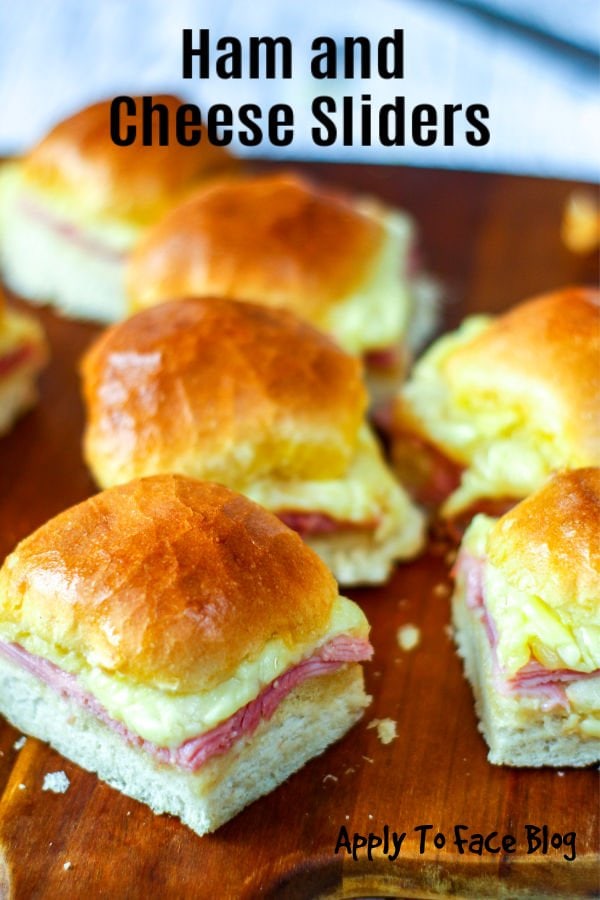 Check out these other easy snacks
I have linked this post with Fiesta Friday
Cook, Blog, Share with Easy Peasy Foodie