Ham and Cheese Sliders are quick and so easy for feeding a crowd. Seriously delicious and fun to boot. Everyone ALWAYS wants more. Great for hungry teenagers especially as there are no green bits in sight.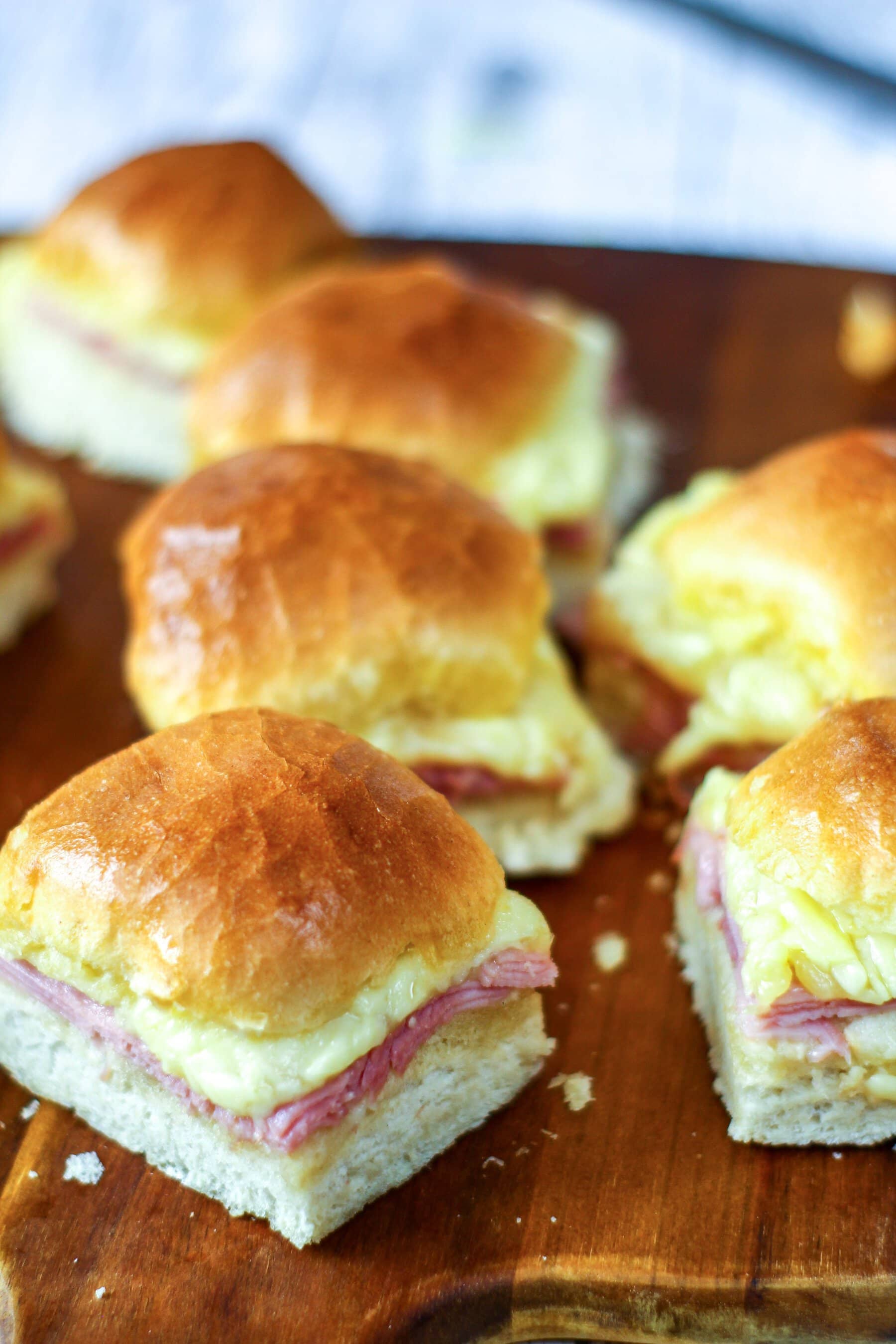 The beautiful oozy cheddar and mozzarella cheese and the garlic butter elevate this sandwich to another level. One that my children just can't get enough of.
They are a genius way of feeding a larger group of people. Completely make ahead too. I cannot recommend them enough.
Super simple, really delicious and fun. Just the sort of comfort food that rocks my world.
I may even take them out on a picnic type thing, still warm and wrapped in a double layer of silver foil silver for outdoor stuffing of face.
All you need is a thermos flask and a layby.
* scroll down for the full printable recipe card*
How do I make Ham And Cheese Sliders?
Ingredients
12 joined together rolls
240 grams (8.5 oz) sliced ham - enough ham to still be tasted against the cheese.
250 grams (8.8 oz) mozzarella
150 grams (5.3 oz) medium cheddar cheese 
100 grams (3.5 oz) salted butter
1 heaped tsp garlic powder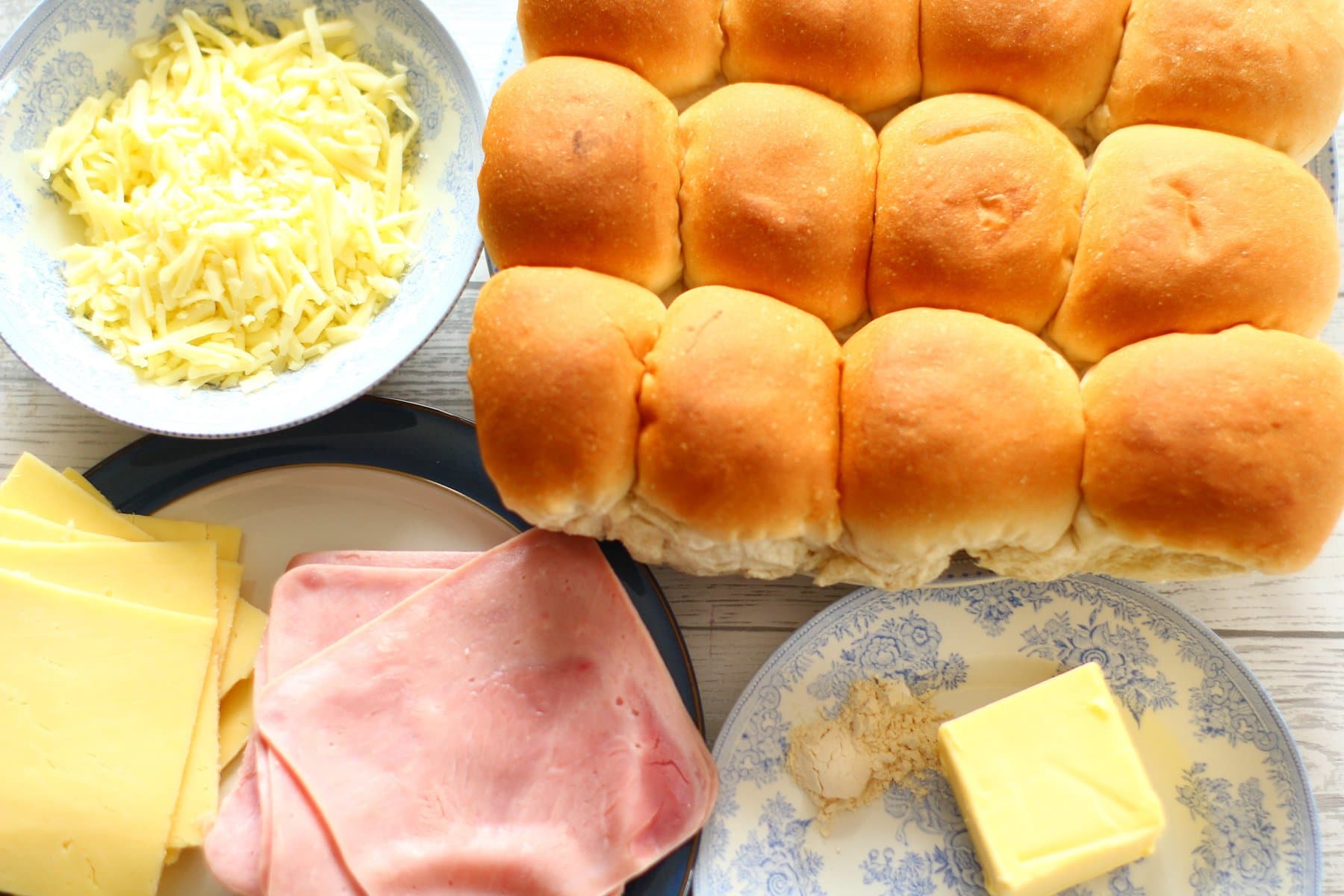 Recipe Steps .
I melt the butter and garlic powder in a saucepan over a gentle heat and using a brush I paint a generous amount over the bottom half of the rolls.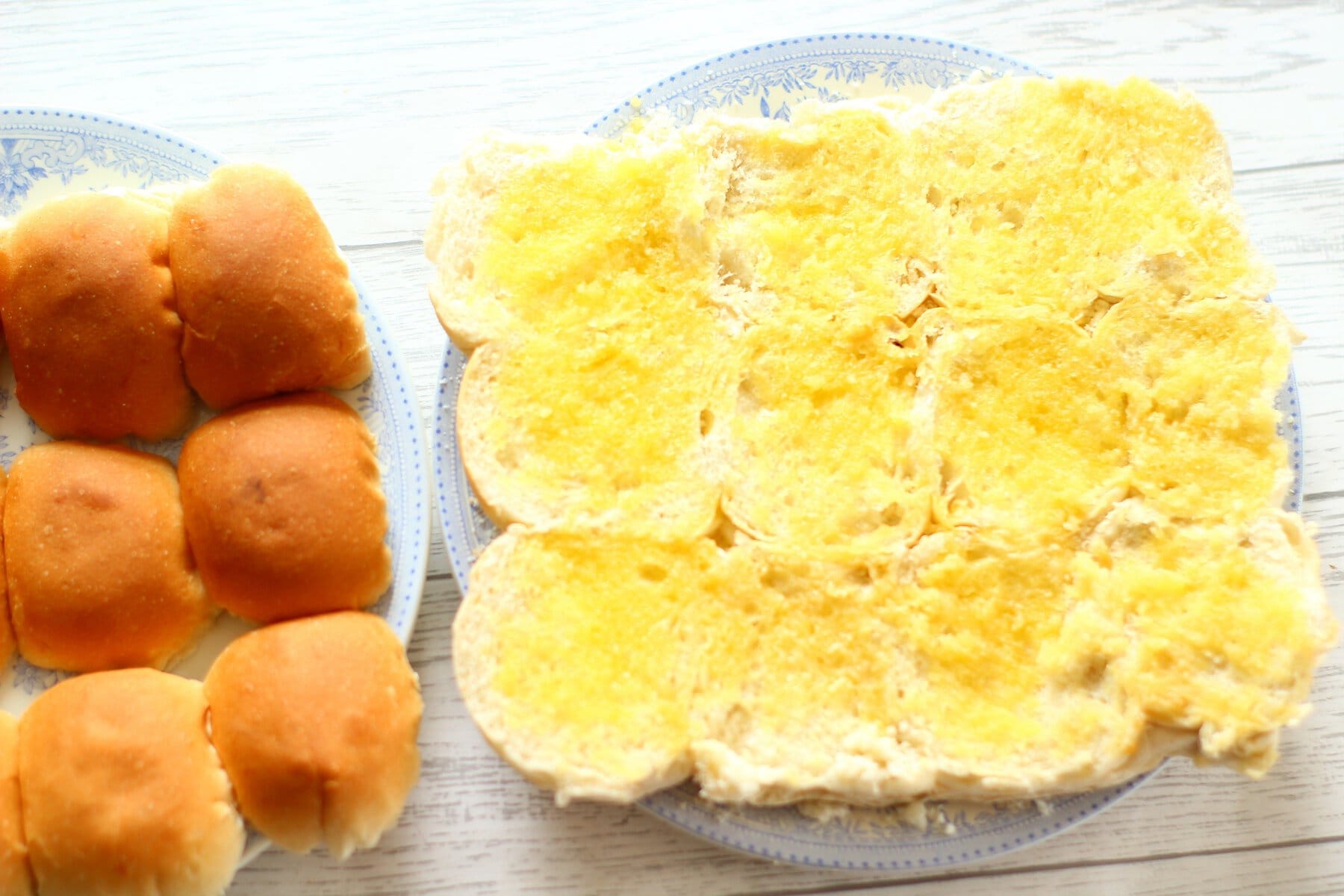 Topp with the ham and two cheeses. I think that a medium sliced cheddar is better than mature. I found it too strongly cheesy with the mature version but feel free to ramp it up if that's your cheesy bag.
I used grated mozzarella too for general loveliness and of course some dramatic stringing. You can use grated cheddar instead of the sliced cheddar that I have used.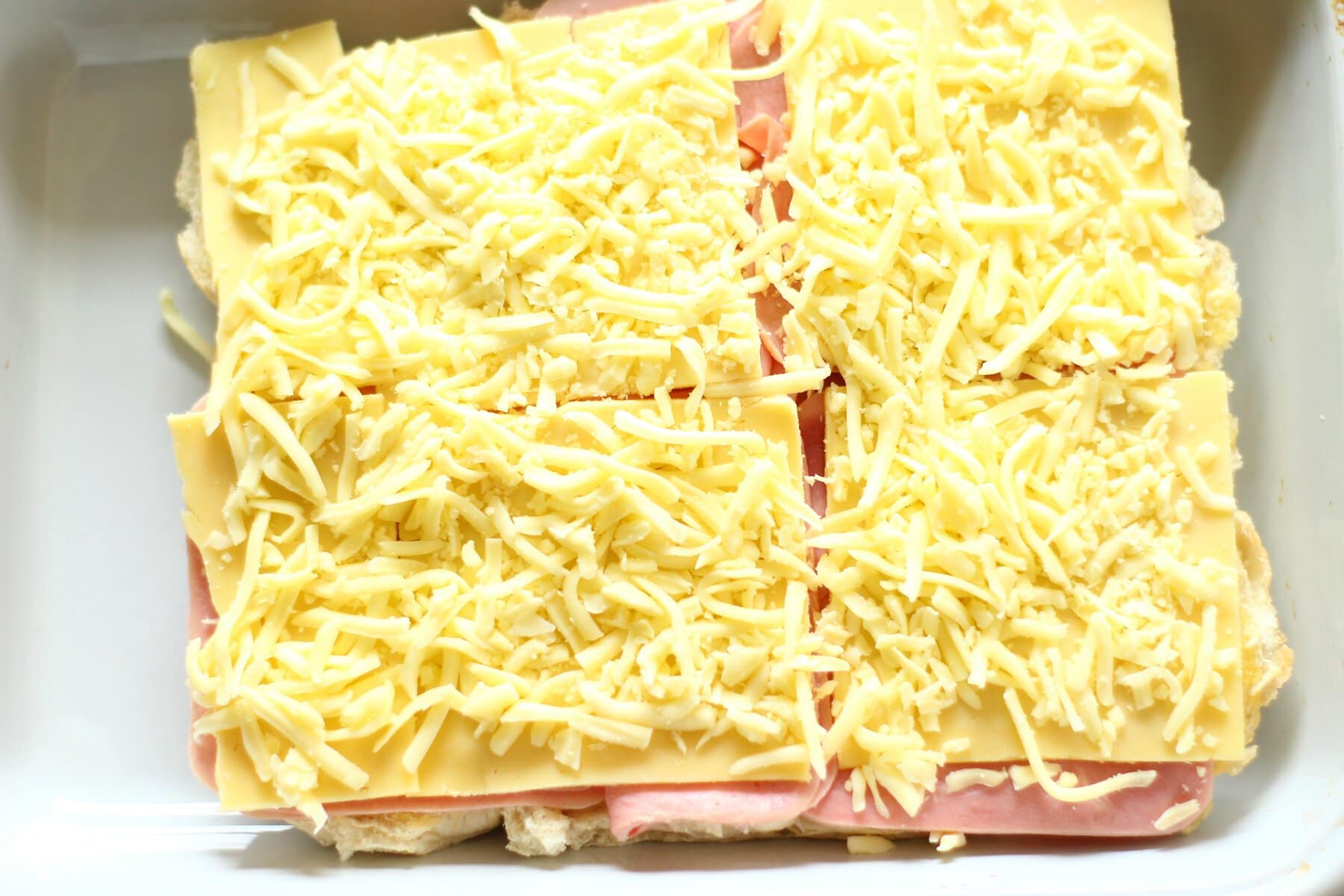 Put the top half of the rolls back on and then generously brush with the remaining butter.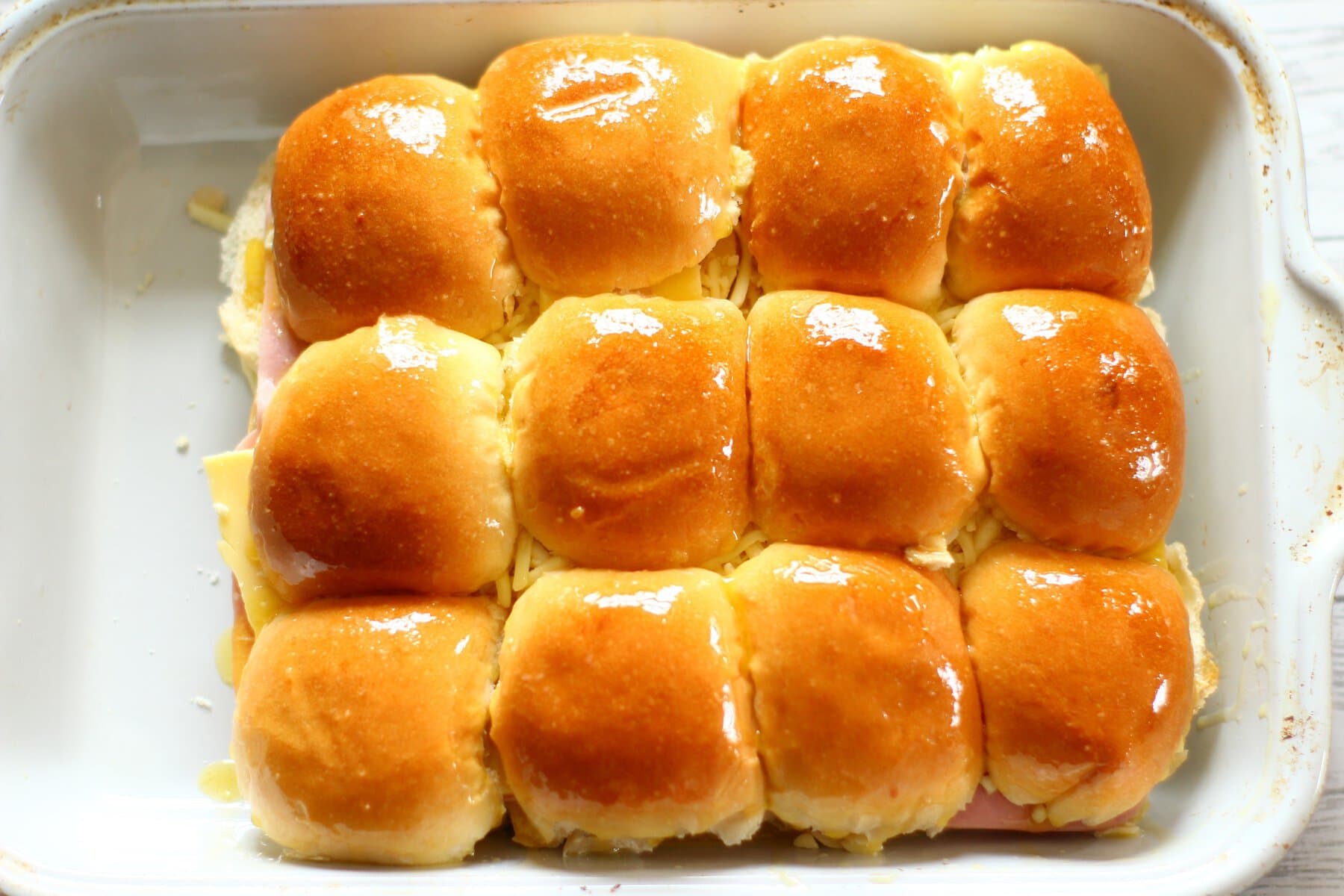 Next cover them with silver foil and bake for 30 mins at 180 C/250 F/Gas Mark 4 or until the cheese is properly melted. That will depend on the dish you're using. This one here is a big and heavy ceramic dish so mine took longer than 30 mins. It was more like 45 mins before the cheese in the middle was mostly melted. The dish/roasting tray doesn't have to be a perfect fit.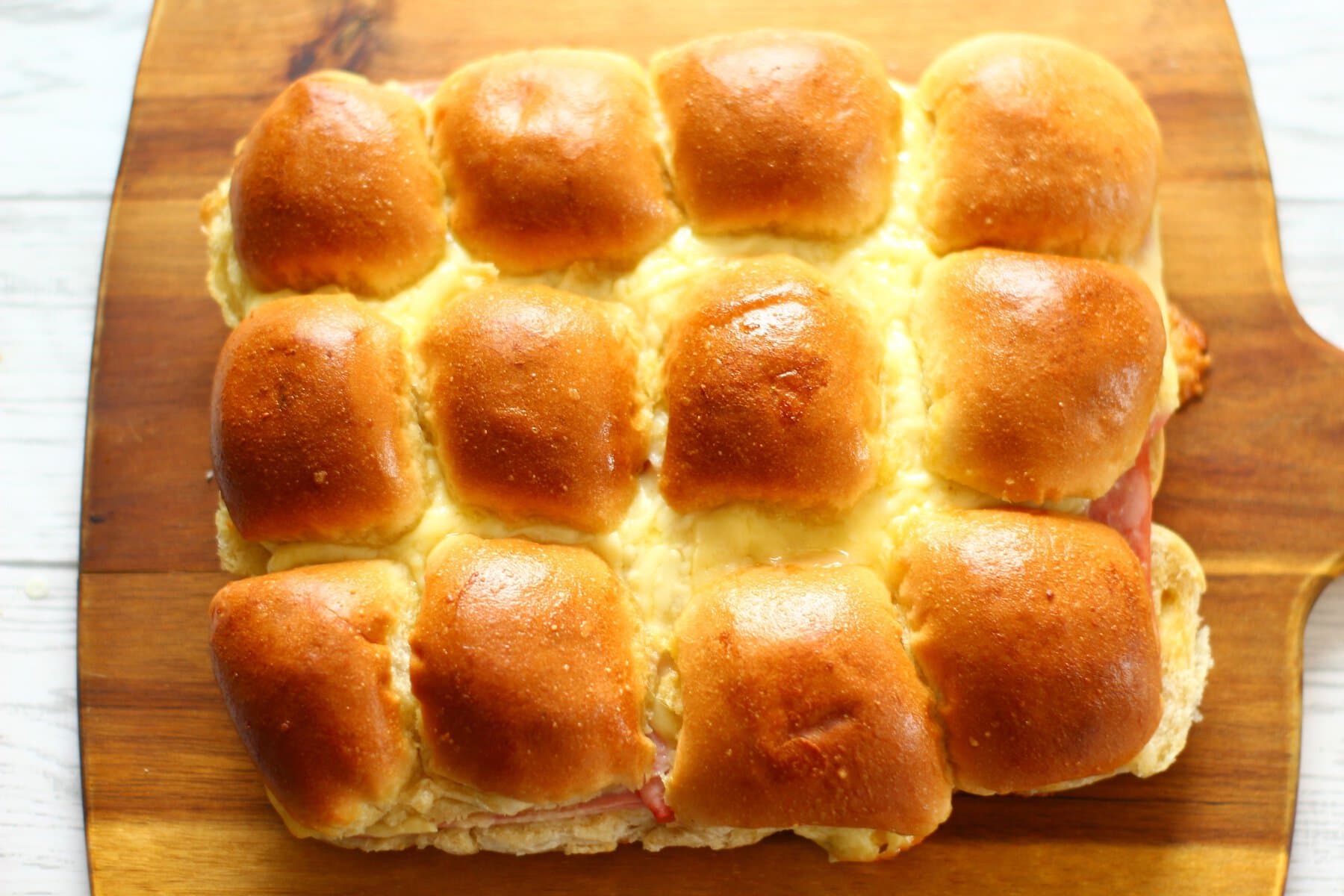 Remove the foil. Isn't that beautiful? The smell is incredible too. You just cut them into their roll segments and serve to much applause and more significantly for me....silence.
Equipment Required
Saucepan
Digital Scales
Pastry Brush
Sharp Knife
Roasting Tray/Dish
Top Tips
Obviously they are American in origin and a lot of them have poppy seeds in the toppings. I knew that wouldn't get the seal of approval at my house so I went simply for garlic butter.
It was an excellent decision. I didn't want any faff so I decided to just use garlic powder and it is perfect.
I use the rolls that supermarkets sell that they bake themselves and are joined together in packs of 12 small rolls. You could use 6 large but decrease the amount of butter. I also use a lot of ham and not the expensive stuff either.
You want to load the ham quite heavily to make sure the flavour doesn't get lost amongst the cheese and garlic butter.
I have given a rough estimate of the weight of the ham required. So the cheaper stuff is the most cost effective answer. If you're rich then what the hell.
The packs of rolls in the U.K are not as robust as those in America so you have to handle them carefully to try and keep them together, at least until the bottom layer is in your roasting tray/dish.
I use a sharp bread knife to cut the rolls in half horizontally. Just take your time and try to keep them even. I do strongly recommend that you keep track of the correct tops of the rolls for the corresponding bottom ones. They are not always uniform. So that when it comes to serving them they match up.
I didn't the first time and it was much more difficult to get on the plate. It wasn't the end of the world but it went against the whole easy vibe of this recipe. So it made me MAD....
IF YOU LIKE THIS RECIPE YOU MAY LIKE THESE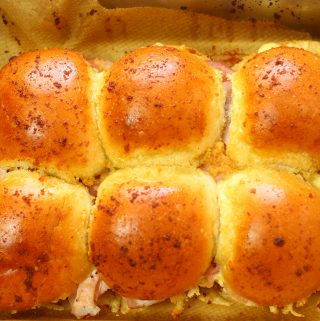 Ham and Cheese Sliders
These Ham and Cheese Sliders are quick and so easy for feeding a crowd. Seriously delicious and fun to boot. Everyone ALWAYS wants more.
Ingredients
12

joined together rolls

240

grams

sliced ham

enough ham to still be tasted against the cheese.

250

grams

mozzarella

150

grams

medium cheddar cheese

6 square slices

100

grams

salted butter

1

heaped tsp

garlic powder
Instructions
Pre heat the oven to 180 C/350 F/Gas Mark 4. Melt 100 g of butter and mix 1 tsp garlic powder into it. Saw the rolls carefully in half and take the top off the rolls. Keep track of where the rolls need to go back on to line back up with the originals.

Brush the bottoms generously with the melted butter. Top with a layer or layers of ham depending on how thick it is. It needs to be thicker than a ham sandwich would be. Top with the 125 grams sliced cheese and sprinkle 250 grams mozzarella all over.

Put the tops of the rolls back on and brush the tops with the remaining melted butter. Cover with silver foil and bake for 30-50 minutes or until the cheese is melted even in the middle.

Remove the rolls from the dish/tray and slice with a sharp knife into individual rolls. Serve while fabulously warm.

Apply To Windsor Davies Face
Notes
Make sure the right tops go on the right bottoms of the rolls if they are all not uniform in the pack.
Make sure your carving knife is sharp.
Pimp your sliders to your own taste. You could use caramelised onions or roasted peppers instead of ham to make them vegetarian. Any good flavour combo with cheese would work.
To feed 12 people simply double the recipe up.
All nutritional information is approximate and intended only as a guide.
Nutrition
Calories:
712
kcal
|
Carbohydrates:
33
g
|
Protein:
27
g
|
Fat:
52
g
|
Saturated Fat:
29
g
|
Cholesterol:
149
mg
|
Sodium:
842
mg
|
Potassium:
164
mg
|
Fiber:
2
g
|
Sugar:
5
g
|
Vitamin A:
1310
IU
|
Calcium:
408
mg
|
Iron:
2.4
mg
All nutritional information is approximate and intended only as a guide.
Tried this recipe?
Take a pic and tag @applytofaceblog on Instagram. I would so love to see them!
Do let me know how you got on in the comments below or come on over and follow me on social media. You could always subscribe to so that you don't miss out on any of my recipes. I would love to connect with you. I love a good old hairy chin wag.