This traditional Toad In The Hole recipe is a meal for kings and queens. A huge crowd pleaser and as English as Fish and Chips....I think. It is a big favourite at my house and one of the ultimate comfort food dishes.
Sausage Toad or Toad In The Hole is something that I make midweek as well as for a casual Sunday Roast. I love the fact that I can still serve the same sides with it but have it on the table in under an hour with the wind behind me.
Sausages are such a family favourite too. Both of my children get so excited to see this billowing baby browning in the oven. Sausages always go down a storm in my house, never mind when they are drowned in eggy batter.
I have served it with an epic onion gravy. Enjoy.

How To Make Easy Toad In The Hole From Scratch.
There are a few simple but important tips to observe here.
I always use a roasting tray to make Toad In The Hole. The metal keeps the temperature high more efficiently. Most important if you want this baby to rise.
I also make sure it is no smaller than 30 cm x 20 cm tin. Any smaller and the bottom of the yorkshire pudding is too thick.
Make sure the oven is able to be 220 C/428F/Gas Mark 7 if it can't keep that temperature you wont get the rise.
The ingredients I use are completely traditional, not a scattering of thyme or a teaspoonful of mustard anywhere.
I like to keep it plain but well seasoned.
This is a Toad In The Hole of much batter. I love the wodginess of it but don't under cook it.
First of all turn on that oven to 220 C/ 428 F/ Gas Mark 7. It needs to be seriously hot.
Put in your baking tray with the oil and let that get smoking hot too.
Fry your sausages in your frying pan at a high temperature just to get a little colour on them. About five minutes is sufficient.
As the sausages are browning put the dry ingredients for the yorkshire pudding in a mixing bowl and the milk and beaten eggs in a jug. If you are using a food processor then just throw the lot in there. Wallop.
Pour in the liquid ingredients on top of the dry and whisk them all together like a mad b.tch.
Lumps are present at first but after 30 seconds of whisking they disappear. Simply blitz until smooth in the food processor if using.
So blinkin simples.
Take out the roasting tin and put it on the stove on a hot heat. Moving quickly carefully tip in the sausages and pour in the yorkshire pudding.
Put it back in the hot oven and bake at 220 C for about 35 minutes. Do not be tempted to open the oven door. It needs to be left completely alone.
Whilst the Toad in the Hole is cooking put the onions back into the frying pan you used to fry the sausages in. Let them cook over a low heat for about 15 minutes until they start to caramelise.
Simply sprinkle over the onions 2 tbsp of flour and mix well until you can't see the flour anymore.
Tip in the beef stock and bring to a simmer. Keep stirring as the gravy thickens.
This will take about 2 minutes. Taste carefully for seasoning. Set aside until you are ready for it.
When very golden brown remove the Toad In The Hole from the oven.
Now it will deflate sadly after about 30 seconds but I scream at everyone to come see before it loses it's poof.
The children must say "Wow" or they don't get any dessert....
Why Is My Toad In The Hole Soggy?
It is usually one of two things. Either your tin is too small making the batter lay too thick or it is undercooked.
Try to leave your Toad In The Hole in the oven as long as you can and check the middle to see if it is cooked when you remove it from the oven.
What to serve with Toad In The Hole?
If I am making this for a Sunday Lunch then I like to serve roast potatoes, cauliflower cheese and vegetables. I feel it is a very worthy contender for the Sunday Lunch crown.
If I am making it for a midweek tea then I tend to just serve it with baked beans or frozen petit pois and sweetcorn. Maverick I know but it is a rather filling meal.
If I am serving it at lunch then I would add some wedges in there too.
Can I make this recipe ahead?
Yes you can and I often do simply putting it back into the oven at 180 C until piping hot.
It is not quite as nice or proud as freshly cooked but if it makes things easier in the week then I won't hesitate.
I do feel here that it is important to not skimp on the seasoning. I don't use pepper here but salt is King. I use sea salt by default and a packet or tube sits permanently next to my hob but table salt is fine.
It is obviously too late to season once the batter goes in the oven but I sometimes fry a little spoon of batter in a spare pan to taste the seasoning.
Can I Freeze Toad In The Hole?
Although best hot and fresh from the oven you can freeze this dish.
If you are freezing it as a whole then simply allow to fully cool before covering in double layers of clingfilm (plastic wrap) and then foil, still in it's dish.
If freezing portions then either freeze in a stout plastic container or double wrap as above.
Freeze for up to a month. Defrost still covered in the fridge before reheating through in the oven until piping hot.
Freeze the gravy in a plastic container before thawing in the fridge and reheating in a saucepan until piping hot.
Gluten Free Toad In The Hole
Substitute the flour for gluten free flour and the sausages for gluten free sausages.
If you like this recipe you may like these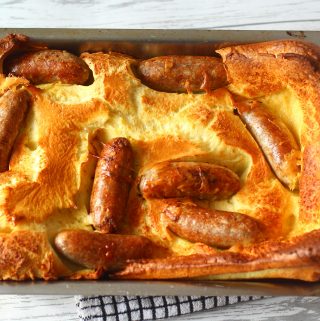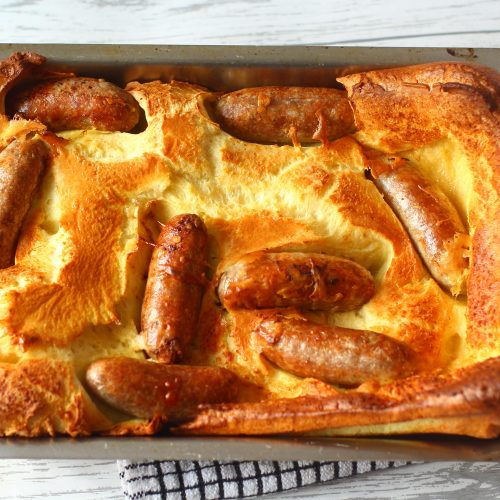 Toad In The Hole
Toad In The Hole is a meal for kings and queens. A huge crowd pleaser and is a big favourite at my house. Perfect for a midweek meal or Sunday Lunch.
Ingredients
8

quality

sausages

4

medium

eggs

300

mls

milk

5

grams

sea salt

225

grams

plain flour

5

tbsp

olive oil
Onion Gravy
1

large

onion

cut into half moons

2

tbsps

flour

500

mls

beef stock

strong- I use 1 ½ stock cubes/pot

1

tbsp

vegetable oil
Instructions
Preheat the oven to 220 C/ 425 F/ Gas Mark 7. Put 4 tbsps oil in the tin and put the tin in the oven to heat up and get smoking hot. Measure out your flour and salt into a large mixing bowl or food processor. Mix the eggs and milk together in a jug.

Put the sausages in a very hot frying pan with 1 tbsp of oil and brown for a couple of minutes all you want is to get some colour on them.

Whisk the wet ingredients into the dry. Don't worry if lumps form just keep whisking and they will disappear. If using a food processor then whizz for twenty seconds or so.

When the tin is smoking hot about 10 mins after the oven reached 220 C then get it out and put it onto the hob on a high heat. Put the sausages in the tin and moving quickly pour in the yorkshire pudding batter.

Put back in the hot oven and bake it for approx 35 minutes and deeply golden brown. Do not open the oven door for anything.

Meanwhile put the onions back in the frying pan with 1 tbsp of oil and caramelise over a low heat for about 15 minutes. They should start to go a deep brown  colour. Sprinkle in the flour and mix through until you can't see it anymore. Add the beef stock and mix well.

Bring the onion and beef stock up to a simmer and stir whilst it starts to thicken. Allow to bubble away for a couple of minutes. Set aside until you are ready for it.

Remove the Toad In The Hole from the oven and serve hot smothered in onion gravy.

Apply to Very Grateful Face
Recipe Video
Recipe Notes
Make sure your oven is 220 C. It needs to be able to stay scorchio.
Don't skimp on the salt.
Nutrition Facts
Toad In The Hole
Amount Per Serving
Calories 496
Calories from Fat 198
% Daily Value*
Fat 22g34%
Cholesterol 193mg64%
Sodium 850mg37%
Potassium 513mg15%
Carbohydrates 54g18%
Protein 17g34%
Vitamin A 390IU8%
Vitamin C 2.8mg3%
Calcium 140mg14%
Iron 4.1mg23%
* Percent Daily Values are based on a 2000 calorie diet.
PIN ME FOR LATER!
Do let me know how you got on in the comments below. I love a good old hairy chinwag.