These Dauphinoise Potatoes are just to die for. A decadent potato gratin bathed in unctuous, garlicky cream, a dish of royalty and heavenly flavours. Extremely simple to put together and perfect with many dishes from roasted meats and steak to a simple green salad.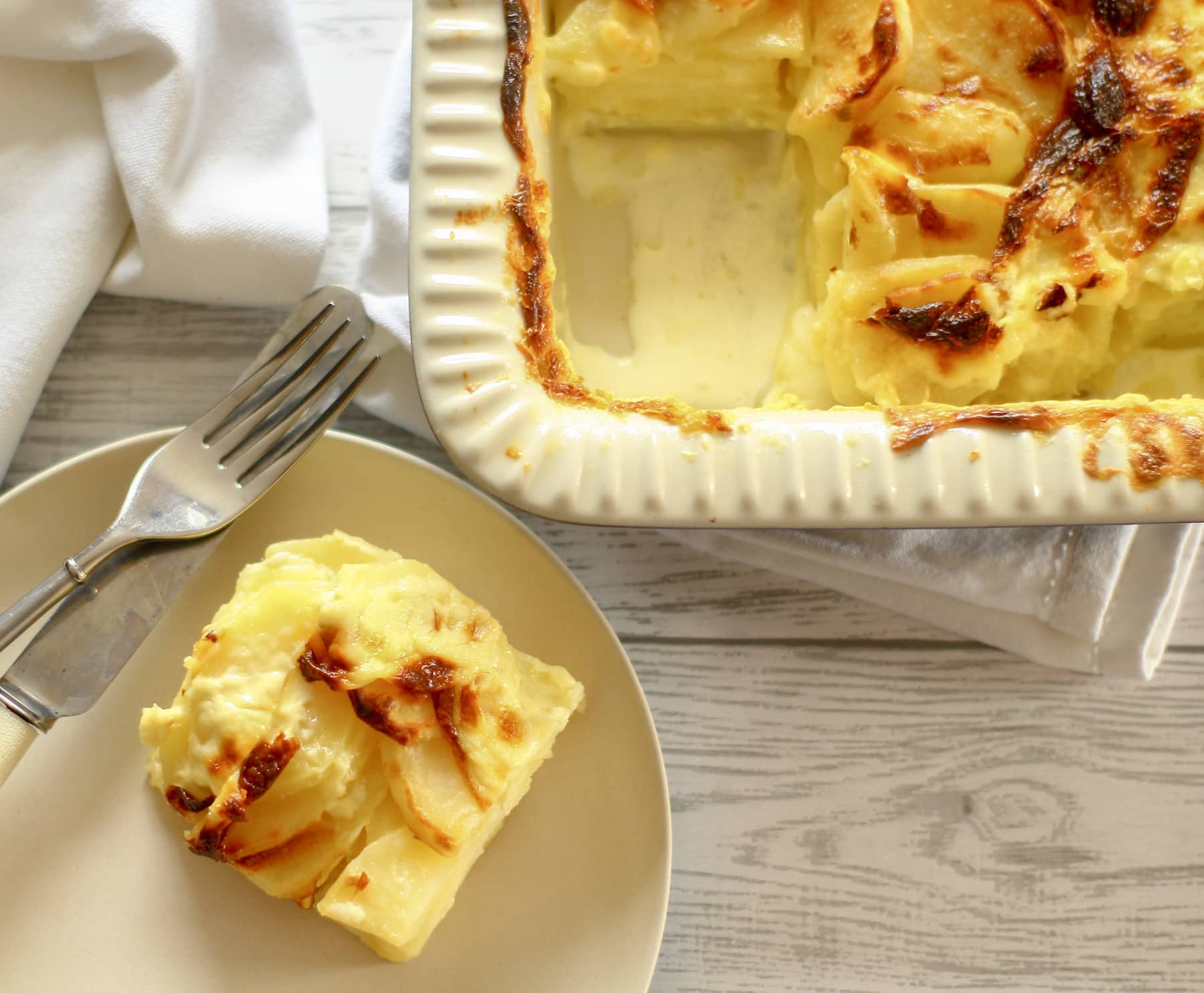 Potato Dauphinoise done well are very hard to beat. They are one of my most favourite side dishes ever. They can transport a meal to another stratosphere.
Plus my daughter calls them dolphin potatoes.
What are Potatoes Dauphinoise?
This recipe originates from the Dauphin region of France. It consists of layered potato cooked in milk and cream. There are a number of variations but a common addition to the recipe is garlic.
They are great for Sunday Lunch, dinner parties, salads and any meal with roasted meats. They can be easily made ahead and reheat perfectly. On top of that they are comfort food really at it's best.
How Do I Make Dauphinoise Potatoes?
This is a simple and easy recipe. I'm not joking. Slicing the potatoes is the most taxing part of the whole thing.
Executed properly these potatoes are incredible. There are a few tips to follow which are the difference between nice and stupendous but if followed, I really can't encourage you to have a go at these enough.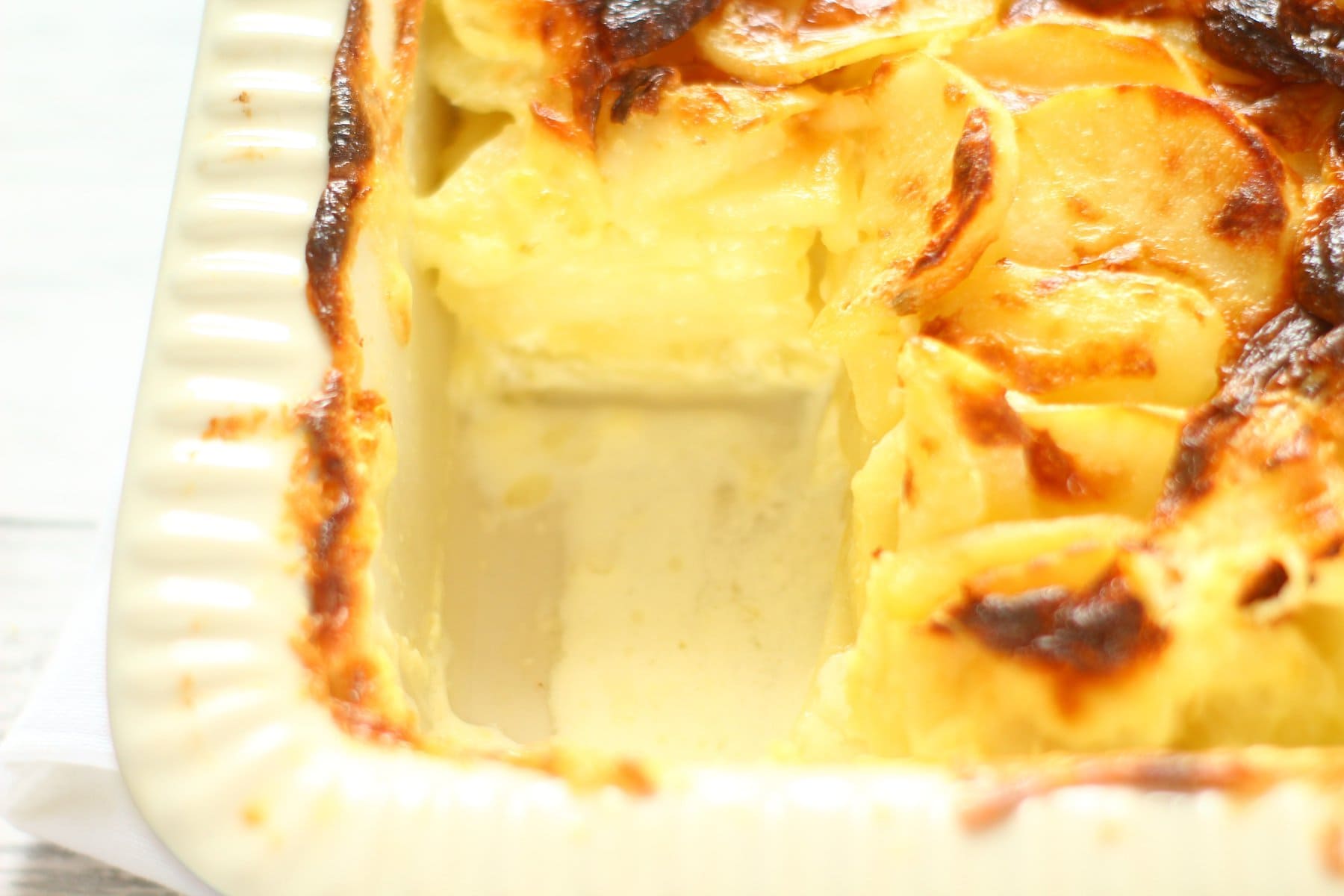 This recipe serves 8 people moderately and 6 very generously.
The ingredients are very simple but one thing I recommend is that you use Maris Piper potatoes if possible. They produce the best texture when baked in my opinion. King Edwards are a good option too.
Just the right amount of stodge is to be carefully considered.

Step 1 - Preparing The Potatoes
I slice the peel and slice the potatoes and put them in a large bowl.
Do not soak them in water as you want that starch to stick around to help thicken and meld the potatoes into the incredible sauce.
I slice them into 3 mm thickness, no thicker. Try to stick to that as much as possible as it influences the final cooking time.

Step 2 - Preparing The Garlic Cream
4. Crush 3 medium cloves of garlic or 3 tsps of garlic paste into a medium sized saucepan and pour in the cream and milk. The salt goes in too.

Don't skimp on the garlic. If your cloves are skinny then add another clove to bring the volume back up. You'll thank me for it later.
5. Bring to a gentle simmer and remove from the heat. Pour the mixture over the potatoes in the bowl.

Step 3 - Layering The Potatoes
Leave for a few minutes until the potatoes are cool enough for you to handle with your hands. Choose your baking dish carefully. Too big and they will dry out and too small and they will take too long to cook.
Don't worry though the area in the middle of these two parameters is large. I have used both a 20 x 20 cm baking dish and a 20 x 30 cm baking dish.
The smaller I cook for an hour and fifteen minutes and the bigger for an hour. Butter your dish all over the inside.
Make sure that the cream has coated each potato layer. Some of them will have stuck together, so unstick with a blunt knife.
Layer your potatoes into your dish as tightly together without overlapping as you can but don't sweat it.
Pour over the cream that is left in the potato bowl. Pour in enough to cover just below the top layer of potatoes.
The cream will bubble up during cooking.

As you can see I didn't do such a good job this time of layering the potatoes! Whateves....
Finally Pop in the oven and bake for 1 to 1 and a ½ hours. You are looking for no resistance when you push a semi sharp knife through the layers. The potatoes need to be really soft.
Potato Dauphinoise Tips
Use Maris Piper or Desiree Potatoes.
Slice them no more than 3 mm thick.
Take time to sort out a good sized baking dish.
Don't skimp on the garlic - although it sounds like a lot, the garlic mellows considerably whilst baking.
Don't skimp on the salt - seasoning is crucial to this dish.
Don't water the cream down with more milk. Let's not be scaredy cats people.
I like to keep my Potatoes Dauphinoise without cheese. For me it's all about the garlic and cream. But if you fancy some oozing then scatter on some cheese of your choice 15 minutes before the approx end of your cooking time. My choice would be 50 grams Gruyere. Let's keep it in the French family.
Once baked I like to leave it for at least five minutes to allow some settling and final melding to set in.
I do like to cut out wedges/wodges to serve, a bit like a lasagne. You can get arty and cut out circles etc with scone cutters but give me a fish slice and I'm good to go.
To feed a crowd in a gloriously easy way simply double up to serve 14 people easily.
This is where making ahead comes into it's own. You can bake it before hand and then reheat until piping hot at 160 C. I would guess about 45 minutes depending on type of dish used and therefore the depth of the potatoes.
This recipe is gluten free but definitely not dairy free!
You can use single cream or even Elmlea cream but the dish will not be quite as rich as if using the full fat strength of double cream.
How To Store Left Overs
I cover any left overs and keep in the fridge. I reheat in the microwave and oven to suit.
Any longer than 15/20 minutes reheating in the oven then cover with silver foil until hot enough.
I don't recommend heating it at too high a temperature as that may burn the top and split the cream.
You can freeze after baking. Raw potatoes do not freeze well but it is fine to freeze after baking. Cool down and cover the baking dish well with a double layer of silver foil.
Freeze for up to a month. Bring up to room temperature and then bake at 160 C/320 F again for about an hour until piping hot throughout. Keep one layer of silver foil on until the last fifteen minutes of baking.
What to Serve with Dauphinoise Potatoes?
I love to serve it with Steak, Roast Beef, Roast Beef Brisket, Slow Cooker Beef Joint.
I have also served it with my Slow Cooker Roast Chicken and Slow Cooker Sausage Casserole. Usually with a green vegetable.
It really is a versatile dish and will go well with any roasted meats, sausage dishes and even salads.
They are also great as leftovers. I often have them warmed up with a green salad in the days after the big event. Thirty seconds or so in the microwave and you have yet another very special plate in front of you. Top potato bombing my friends.
Equipment Required
Digital Scales
Small saucepan
Large mixing bowl
Potato peeler
Knife
Baking Dish 23 cm square or similar.
Spatula to serve
Oven Thermometer (optional) oven temps can vary greatly from your dial
If You Like This Dauphinoise Potatoes Recipe Then You May Like This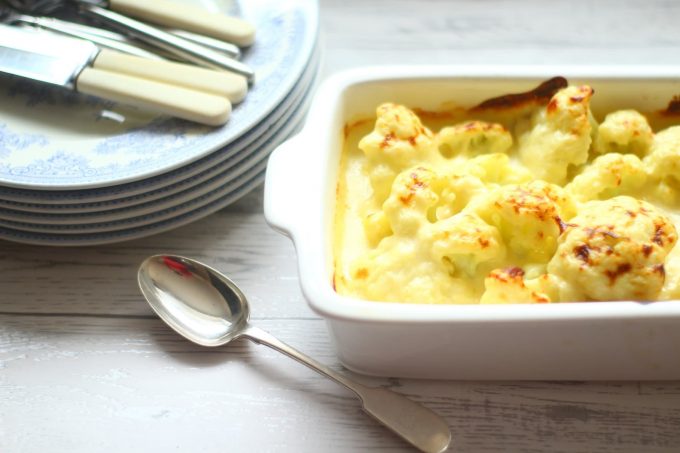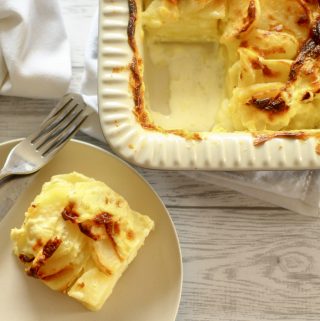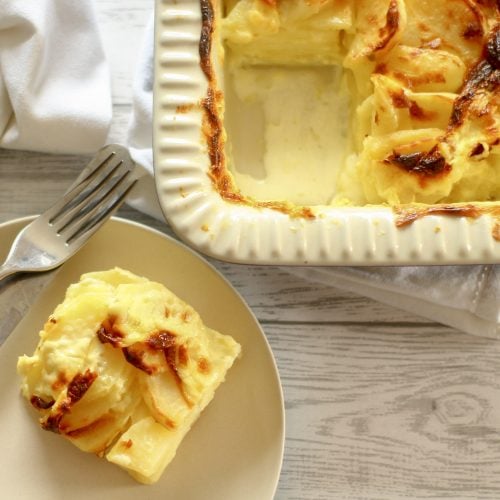 Dauphinoise Potatoes
These Dauphinoise Potatoes are sublime. Easy to make and sensational to eat they are a crowd pleaser everytime.
Ingredients
1

kg

maris piper/desiree

3

big

garlic cloves

or 3 tsp garlic paste

2

tsp

fine sea salt

400

mls

double cream

100

mls

milk

butter for greasing the dish
Instructions
Preheat your oven to 160 C/320 F. Peel and slice your 1 kg potatoes into no thicker than 3 mm slices. Place in a large bowl.

Heat the 3 minced garlic cloves, 400 mls cream, 100 mls milk and 2 tsp salt in a saucepan until it begins to simmer.

Pour onto the potatoes and allow to cool a little. lightly butter your baking dish. When the potatoes are cool enough to handle then begin to layer up your dish. Tightly place them in single layers making sure that each potato has been dunked in the cream mixture fully as some of them stick together in the bowl.

When finished push down with the back of a large spoon and then pour over the left behind cream. You are wanting to ensure that the cream comes up to just below the top layer. You want it to just kiss the underside of the top potatoes.

Pop in the oven and bake for at least an hour maybe an hour and a half until fabulously golden and bubbling. Check with a knife to make sure the potatoes are super soft. Allow to sit for five minutes before serving.

Apply to Beardless Face....hopefully.
Notes
Use Maris Piper or Desiree Potatoes.
Slice them no more than 3 mm thick.
Take time to sort out the correct sized baking dish.
Don't skimp on the garlic - although it sounds like a lot the garlic mellows considerably whilst baking.
Don't skimp on the salt - seasoning is crucial to this dish.
Don't water the cream down with more milk. Let's not be scaredy cats people.
Nutritional information is meant as a guide only.
Nutrition
Calories:
253
kcal
|
Carbohydrates:
17
g
|
Protein:
4
g
|
Fat:
19
g
|
Saturated Fat:
11
g
|
Cholesterol:
69
mg
|
Sodium:
618
mg
|
Potassium:
570
mg
|
Fiber:
3
g
|
Vitamin A:
755
IU
|
Vitamin C:
14.7
mg
|
Calcium:
84
mg
|
Iron:
4.1
mg
All nutritional information is approximate and intended only as a guide.
Tried this recipe?
Take a pic and tag @applytofaceblog on Instagram. I would so love to see them!
PIN ME FOR LATER!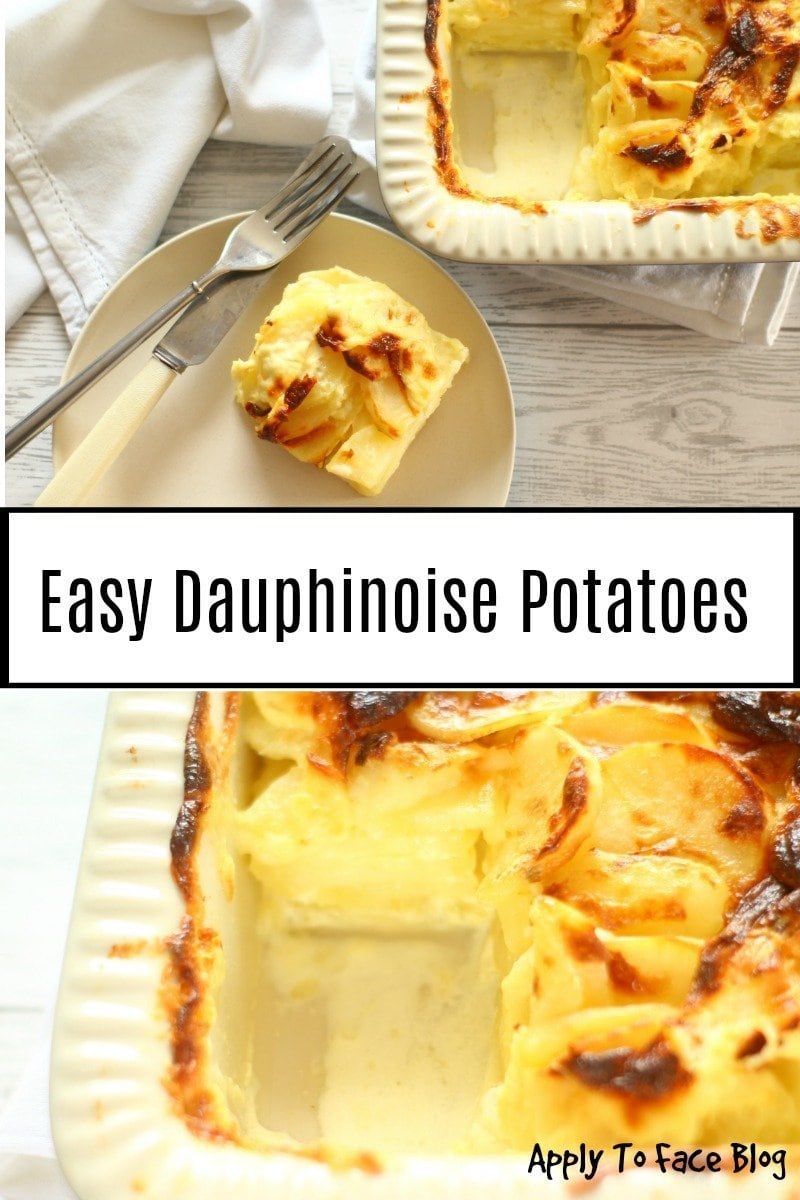 Do Let Me know How You Got On In The Comments Below. I Love A Good Old Hairy Chin Wag.