This Sausage Bake is absolutely delicious and completely make ahead for an easy and fabulous midweek tea. It is positively dreamy. I love to serve it with frozen petit pois or tender stem broccoli. The sweetness of them is just perfect with the meaty gravy. Not to mention hardly any bother at all.
But first some………..what was I going to say??????
These last few weeks have found me almost constantly lost for words. I simply cannot seem to keep my mind on point no matter what techniques I try to employ. It is the strangest sensation, much like drowning in treacle I imagine. It is with a sinking heart that I acknowledge the brain cells dying off probably to be replaced with a desire for collecting car stickers or knitting machines.
I realised how bad things had got when I was caught dumbfounded in my children's school corridor whilst waiting to accompany my son on a school trip.
As my daughter's teacher passed me in a doorway she indicated her surprise that I was attending another school trip after my experience on the last one merely a week earlier. I had absolutely no idea what she was referring to apart from some niggling "whatchamacallit" in the very flaccid recesses of my mind.
I nodded vigorously, grinning inanely at the woman as she relayed how they had laughed about my escapades in the staff room……I had absolutely no idea whatsoever what to say in reply as I hadn't a clue what she was talking about.
NO matter how I searched back there the damn thing just wouldn't come. So with more inane grins, nods and false laughing, I pretended I was needed for role call in the hall and managed to escape without a health care official being called.
Wtflip, I thought????? What happened you old fool?????? Think!!!!!!!……… Then, in a flash, it finally came…….
On a trip last week to a nearby museum I had accompanied the children on a toilet break before lunch. As somewhat of a crisis unfolded I had volunteered to climb over from one cubicle into the next as some poor child had got locked within and all efforts to force the lock from the outside proved futile.
With no other obvious option I had mounted the toilet paper dispenser and thrown a meaty leg over the cubicle wall.
Concerned for my trousers I heaved myself as gently as I could over the other side and down onto the floor. The child was successfully released from her captivity and I exited rather incredulous at my luck.
Usually in my world the toilet roll dispenser would have broken as I climbed upon it or my coat would have got caught on the dividing wall or some such humiliating awkward moment…….however the day wasn't over.
As we were eating lunch on the grass in a nearby beautiful park I heard a child cry out……On a wave of smug parent ( I should have my own whistle ) school trip helping, I was the first to rise from my low carb picnic (dust ).
As I reached the distressed child all around her were backing away and screaming in true glass shattering girl style. The poor thing had been eating her lunch whilst kneeling in dog poop…….not only was it on her trousers it was also all over her new winter coat….someone clearly didn't scoop…….
Very luckily one of the teachers would have been equipped for an earthquake and so we gloved up and set to with a whole packet of sensitive wet wipes.
As I gingerly began the clear up I could not help but be struck with the thought that I would find it very difficult to forget this particular school trip…………so very wrong……
Sausage Bake
This Sausage Bake recipe is absolutely to die for. Again I wasn't expecting it to be so damn delicious. I was a gonna at the first bite.
The mushroom and onion gravy is the perfect match for the crispy, buttery mash and this mash was one of the best. I try to use Maris Piper potatoes if I can, I do find they make a big difference to the overall taste.
Let's face it, mash when it's good is right up there with the finest of foods. I did add some cream and butter which of course you can omit, it will diminish the fabulousness a little.
I made it for a mid week meal and then reheated, until piping hot, the left overs for another easy feast.
It really is almost an assembly job. After browning the sausages I place them in a roasting dish along with the mushrooms.
I fry off the half moon onions until brown and then scatter in the flour before pouring in the stock to make a gravy. Keep stirring and bring to a bubble. Pour over the gravy.
Make the mash and cover the sausages etc with a good thick layer. This will help to keep the gravy bubbling within.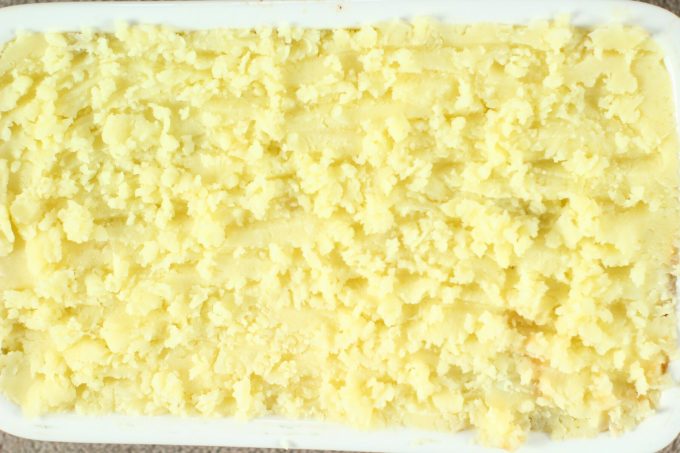 I used a deep roasting dish which was 25 cm x 15 cm and 5 cm deep. Keep the dish on the small size otherwise the mash won't be able to sit on top properly.
Obviously you can use whatever stock cubes or jelly pots that you like. I use the jelly stock pots, which I notice you can now buy gluten free and organic.
The Knorr jelly pots are the ones I use. The gravy will be salty at this point but it won't be after baking. You could also use a gluten free flour to thicken your gravy.
This Sausage Bake is really only a blueprint. But don't forget to taste your mash for seasoning. Feel free to add any veggies in that you fancy. Seriously enjoy this is an incredible recipe.
What to serve with Sausage Bake?
I serve green veg of some variety. I love tender stem broccoli and they are so easy and quick to boil.
Or petit pois go very well. I always keep some in my freezer ready at a moments notice for a quick blast in the microwave. I do the same with sweetcorn. They both survive the freezing process so damn well.
Humble Baked beans are another easy and delicious option.
Sausages lend themselves so well to just about anything really.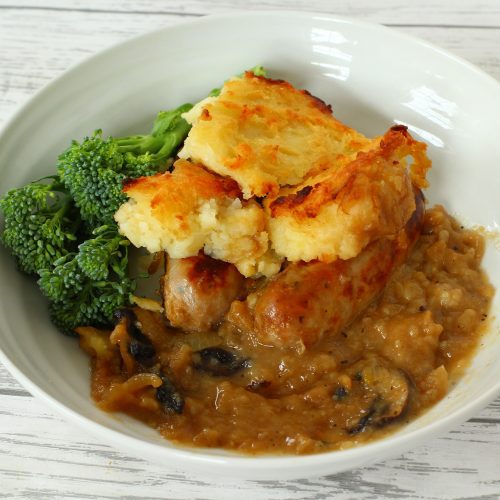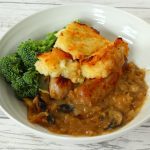 Deliciously Easy Sausage Bake
This easy sausage Bake is just sensational. Comfort food at it's absolute best.
Total Time
1
hour
5
minutes
Ingredients
8

quality

sausages

1

medium

onion

sliced half moons

150

grams

brown mushrooms

2

stock cubes/pots

I use the jelly stock pots

500

mls

boiling water

1500

grams

potatoes

maris piper

60

grams

butter

80

mls

double cream

2

tbsps

olive oil

2

heaped tbsps

flour
Instructions
Peel the potatoes and cut into medium chunks and boil in salted water until tender. leave for a few mins to drain and then mash with a potato masher or ricer together with the cream and butter. Season with salt to taste.

Meanwhile in a largish frying pan heat the olive oil to a high temp and brown off all the sausages. Then place in your baking dish. Add the sliced mushrooms. This is just to put colour on them they will cook fully in the oven.

Turn the heat down and add the sliced onions. Let them cook for ten minutes or until brown and caramelising. Boil the kettle and make the beef stock with 500 mls of water and the two stock cubes/jellies. Preheat the oven to 180 C/350 F/Gas Mark 4

Sprinkle the flour over the onions and mix in well. When you can see no more white flour in the onions then add the beef stock and allow to simmer. As the gravy begins to simmer then mix well as it thickens. Let it blip away for a few mins.


Top with the mash. Smooth it over very roughly. Place on a baking tray to catch the gravy drips.

Bake for about 45 minutes and it emerges golden and bubbling.

Apply to Whatchamacallit Face..........
Nutrition Facts
Deliciously Easy Sausage Bake
Amount Per Serving
Calories 486
Calories from Fat 252
% Daily Value*
Fat 28g43%
Cholesterol 61mg20%
Sodium 655mg28%
Potassium 1772mg51%
Carbohydrates 52g17%
Protein 12g24%
Vitamin A 669IU13%
Vitamin C 45mg55%
Calcium 146mg15%
Iron 12mg67%
* Percent Daily Values are based on a 2000 calorie diet.
Click here for another perfect recipe for more easy midweek meals –