These Beef Tacos are so quick and so easy they are just the ticket for a healthy mid week meal. Easily assembled for a full on fabulous feast. Do it.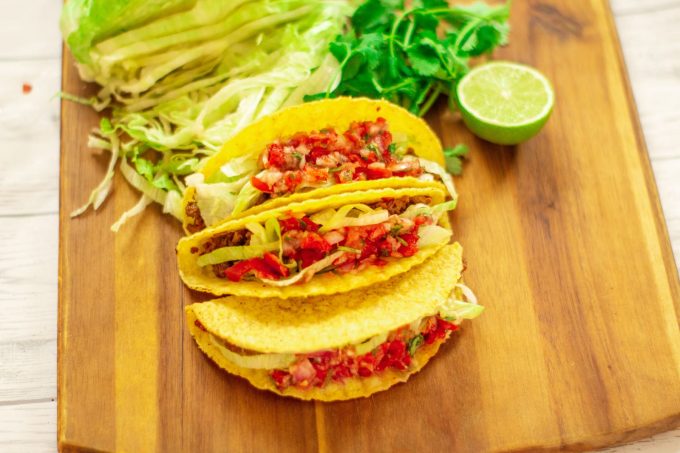 This recipe is very good and very simple. I'm sure it is not authentic though. It includes my own personal favourite flavours and probably has only the skeleton ingredients from an authentic Mexican dish.
However I'm not fussed if you're not. This recipe is delicious. The whole point of this dish is that you can make it really quickly and that it is full of flavour.
It feels like a treat whilst being an healthy option. So I'm not going to sweat it's provenance and what's more I'm going to absolutely fill my face with it.
They are not the daintiest things to eat but that's kind of a positive thing for me. I love the fact that you have to commit yourself to each lush bite and ram them in. Not a small insight into my personality.
I have included my favourite Salsa here too as a suggestion but the "Fixins" are up to you. I like to simply slice up an Avocado or two along with some Iceberg Lettuce as well as the Salsa but do pimp as you please people. Load them up baby.
Beef Taco Recipe
The first thing I do is whizz two roasted peppers from a jar and a medium onion through the food processor.
I use the jarred roasted peppers for easiness. You could chop them finely too.
Personally I can't cope with onions at the best of times and nobody wants their tacos full of tears either. A couple of good blasts through the food processor and Bob's your Auntie.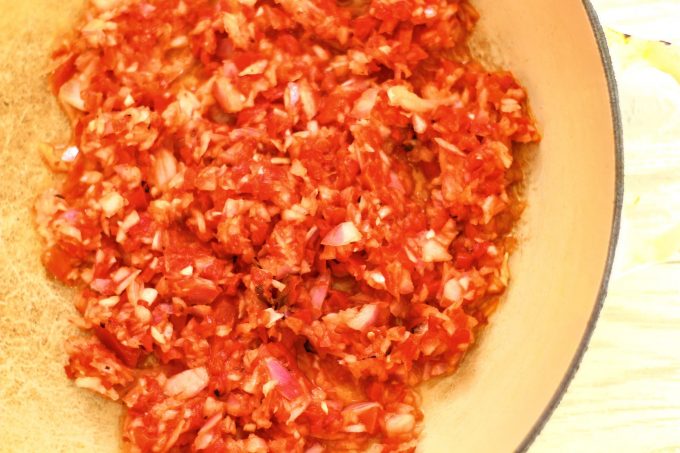 I then add the mince and brown for a couple of minutes over a medium heat.
Then the spice goes in for another few minutes of sizzling.
Following that then chuck all the rest of the taco mince ingredients in and stir really well through.
Leave to cook through for another five minutes.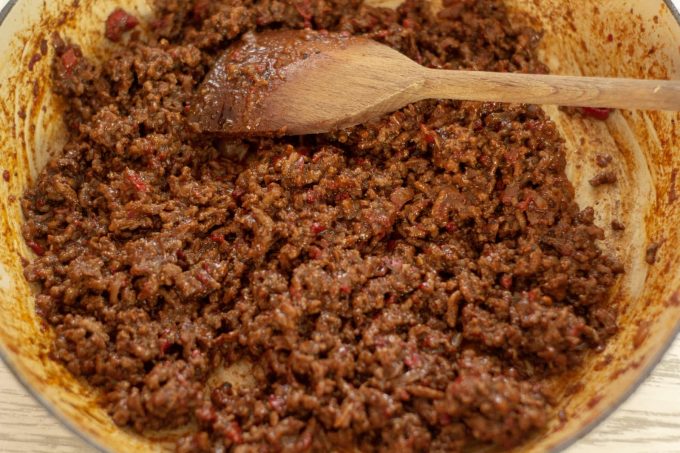 And you're kinda done with the beef mince filling Taco people.
Tomato Salsa
I simply chop 150 grams or so of really good, ripe tomatoes in half.
Using your thumb just push most of the seeds out and discard.
Mind out you don't get a squirter in the face....
I then blitz all of the ingredients together in a food processor including the coriander and decant to a small bowl. Simples.
It is THE best Salsa I tells you.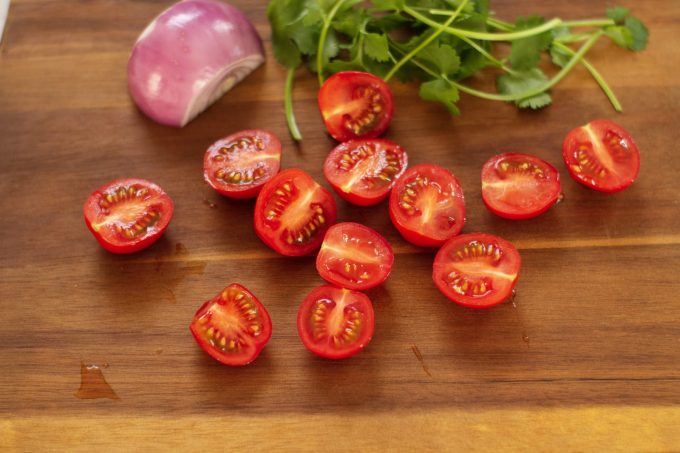 I warm the Tacos through then for 3 or 4 minutes at 180 C to crisp them up.
I use an upturned muffin tin to do this otherwise they tend to shut in the oven like Venus Fly Traps.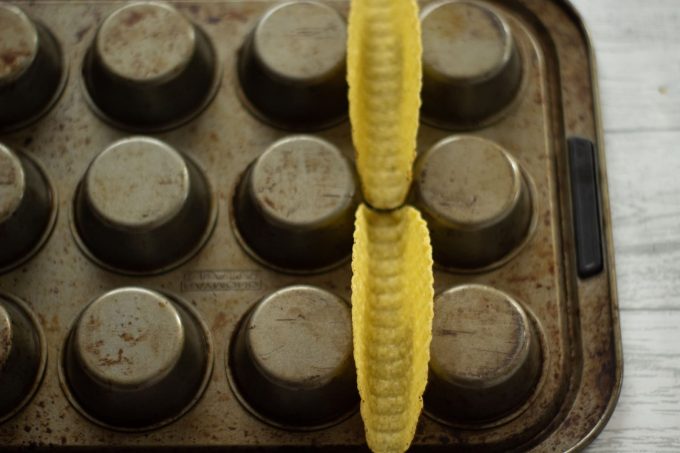 That's all there is to it. Fill your boots and your Tacos.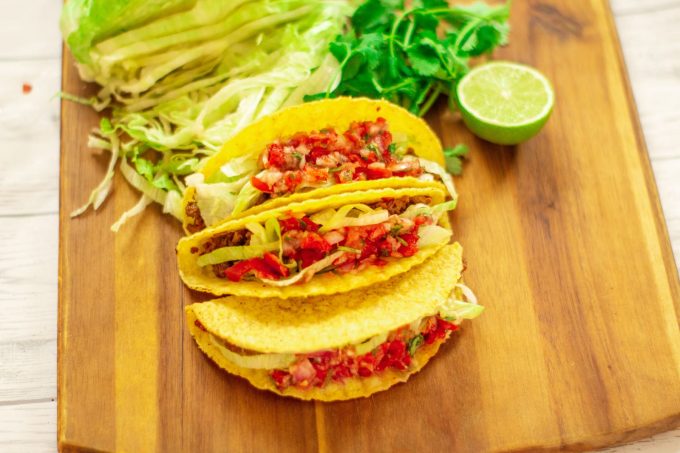 Here are some more delish mid-week meals-
Teriyaki Minced Beef with Noodles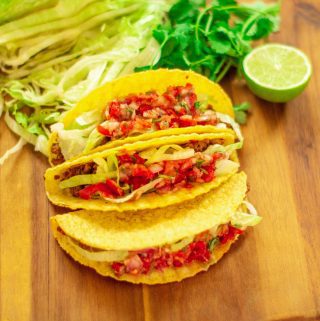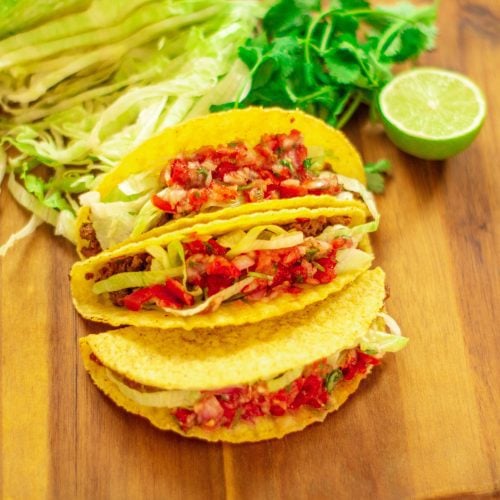 Beef Tacos
This Beef Taco Recipe is both speedy and delicious. Perfect for a midweek meal or quick lunch.
Ingredients
2

large

roast peppers from a jar

approx 120 grams

1

medium

onion

500

grams

lean mince

approx 12 % fat

2

tbsp

double concentrate tomato puree

2

tbsp

cajun seasoning

fajita seasoning too

1

tbsp

worcestershire sauce

1

tbsp

black treacle

½

jelly beef stock pot or cube

I use knorr

1

tbsp

balsamic vinegar

2

tbsp

olive oil
Salsa
150

grams

very good tomatoes

5

grams

fresh coriander

including stalks

½

medium

lime

juice
Instructions
Preheat the oven to 180 C. Cut the tomatoes in half and de seed with your thumb. Pulse the peppers and onion in a food processor or dice finely.

Rinse out the food processor and blitz the salsa ingredients including the de seeded tomatoes, together to a rough dice. Set aside in a small bowl.

Soften in a large frying pan over a medium heat for a few minutes in 2 tbsp olive oil. Add the mince and brown for a few minutes. Add the spice and do the same again.

Now add all the rest of the ingredients and stir well. Simmer the lot for a couple of minutes more. Put the tacos in the oven for 3-4 minutes to crisp up. I use an upside down muffin tray to keep them upright and open.

Taste carefully for seasoning. Fill your Tacos and top with Salsa.

Apply to Sweaty Cheese Face.
Notes
I use the jelly stock pots which produce 500 mls of beef stock
Use the ripest and best tomatoes you can find for the Salsa.
You could of course use Tortillas instead of Tacos and just wrap it all up.
Nutrition
Calories:
286
kcal
|
Carbohydrates:
11
g
|
Protein:
28
g
|
Fat:
13
g
|
Saturated Fat:
3
g
|
Cholesterol:
77
mg
|
Sodium:
260
mg
|
Potassium:
783
mg
|
Fiber:
2
g
|
Sugar:
7
g
|
Vitamin A:
2110
IU
|
Vitamin C:
9.2
mg
|
Calcium:
59
mg
|
Iron:
4.9
mg
All nutritional information is approximate and intended only as a guide.
Tried this recipe?
Take a pic and tag @applytofaceblog on Instagram. I would so love to see them!
Do let me know how you got on in the comments below or come on over and follow me on my social media pages. I would love to see you over there.
Jenny x