Traditional Panzanella Salad is a simple celebration of the best tomatoes, basil and olive oil you can bring to the table. Classic ingredients enthusiastically come together to make a sensational salad. My kind of summer eating.
Traditional panzanella salad is born of an Italian thrifty desire to use up stale bread. It is historically a peasant dish and at it's heart is a firm, rustic loaf able to stand up to soaking and turning in the gutsy tomato dressing. To this end it needs to be on the stale side. I always buy a good freshly baked supermarket ciabatta. The pre packaged ones I find a little rubbery.
Rather disorganised as I am, I have sometimes forgotten to make sure my bread has been left out over night to stale and so have resorted to drying it out in a low oven. That did work well but stale is still best and a whole 24 hours left out is perfect.
The other really important point of note is that the tomatoes and extra virgin olive oil should be the best you can afford. I always buy on the vine and I would go so far as to say if you buy the pale, grainy supermarket cheapest tomatoes then don't bother. The flavour just won't be there.
I do strongly recommend salting the tomatoes to bring out the flavour for half an hour before you get down and dirty with the salad but even with that the cheapest tomatoes just won't cut the mustard. Silk purse, sow's ear and all that. I recommend medium sized, on the vine as good and ripe as you can manage.
Panzanella
This salad is one of my favourites. It is quite simply sensational and it will lift everything around it to the same heady stratosphere.
It is perfect for a BBQ or simple supper, a laid back lunch or part of a buffet table. I even like to serve it with Roast Chicken for a fuss free summer Sunday lunch.
The ingredients are simple but are best well considered. As mentioned before the best tomatoes and extra virgin olive oil you can manage are important.
The first thing I do is trim the crust of the ciabatta. Be careful as it is a bit tricky/fiddly. I cut into cubes of about 2.5 cm and put on a wire tray to keep on drying out.
I buy a big one from the supermarket bakery. It weighs something like 320 grams but with the crusts trimmed away it gives you the 250 grams you need.
I then quarter the tomatoes. I don't peel them to keep things simple but you can if you'd rather. I do slice a little off the tops of the tomatoes before I cut into quarters to remove the woody part.
I then tip the quarters into a sieve which is over a bowl and salt them with 1 tsp of fine sea salt. The bowl beneath then catches all the juices for the dressing later. I call them tomato drippings.
Set those aside and then slice up your onion very thinly. About 1 mm thickness.
I put them in my serving bowl with the minced garlic (no more than ½ a medium sized clove) and pour in the vinegar. The vinegar will take away the fierceness of the onion.
After the tomatoes have been sitting there for about 20/30 minutes then use your thumb to deseed the tomatoes. Discard the seeds and put the tomatoes either into a food processor or onto a chopping board.
I use my food processor to blitz the tomatoes into a coarse pulp but you can do the same with a knife.
Empty them into the serving bowl on top of the onions and garlic.
I then add another tsp of fine sea salt and a ¼ tsp of sugar. The sugar is required so don't skip it. It is only a very small amount but the tomatoes do need it. It adds a real depth to them and the basil too.
Next throw in the ciabatta and chopped basil. I know it's fashionable to tear but I would rather get a ribbon of basil than ½ a leaf.
Although remember to check your teeth later.
Pour over the extra virgin olive oil and 120 mls of tomato drippings and carefully mix and turn it all over. I tend to use my clean hands to do this but if you have cuts then wear a pair of disposable gloves or use some utensils as the acid in the salad will sting.
Turn it all over as much as you need to do in order to get the bread well covered in everything.
What to Serve with Panzanella
I like to serve it with Roast Chicken and some green beans. It really, really rocks.
Any BBQ meat goes well with it really although the salad is gutsy and full of flavour so anything heavily spiced or herbed might clash. So sausages are perfect as are pork chops, steaks and chicken.
I do serve it midweek in the summer and pair it with sausages or chicken breasts baked simply in the oven. Again I would pair it with a green vegetable. Tender stem broccoli and green beans are perfect baby.
For a vegetarian meal you could just eat it with some good cheese of your choice. Mozzarella would be perfect.
Expert Tips
The best tomatoes you can manage. It really makes a huge difference. I find medium sized is best too as they are easier to deseed. Don't keep them in the fridge either!
The best extra virgin olive oil you can manage. The good stuff adds an incredible flavour and make sure it isn't just olive oil, it needs to be extra virgin olive oil.
Slice the onions thinly.
Be careful with the garlic as too much can overpower the dish. No more than ½ a medium sized clove.
Wear disposable gloves if you are mixing by hand as the dressing can sting.
Equipment Required
Sharp Knife
Sieve
Food Processor or chopping board
Digital Scales
Large, shallow serving dish
Mixing bowl
Measuring jug
Wire rack
Here are some more fabulous salads-
Moroccan Roast Vegetable Salad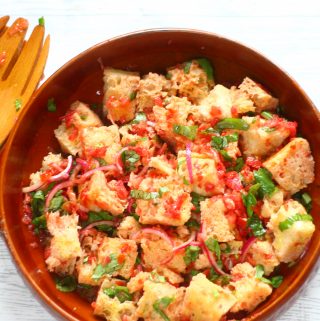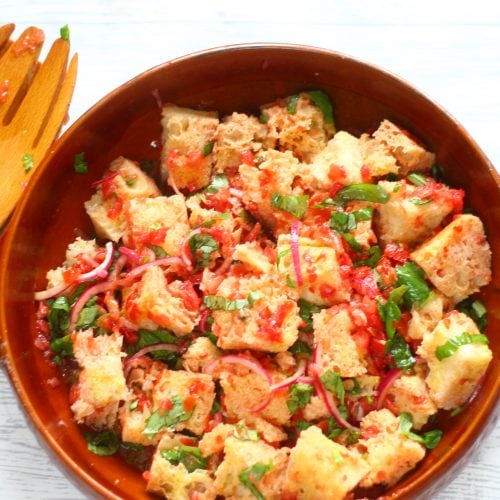 Panzanella
This panzanella recipe is easy and delicious. A real celebration of simple ingredients. The ripe tomatoes, basil and extra virgin olive oil make this peasant salad a real feast.
Total Time
2
hours
45
minutes
Ingredients
250

grams

stale ciabatta

after trimming

500

grams

ripe tomatoes

1

small

red onion

3

tbsp

red wine vinegar

½

clove

garlic

¼

tsp

caster sugar

large

130

ml

extra virgin olive oil

25

grams

basil

2

tsp

fine sea salt
Instructions
Trim the crusts carefully from the ciabatta and cut into roughly 2.5 cm cubes. Place on a wire rack to continue drying out.

Wash and slice a thin slice from the top of the tomatoes to remove most of the woody stem. Quarter them and place in a sieve over a bowl. Salt with 1 tsp of fine sea salt and give them a gentle mix. Set aside for half an hour. The tomatoes will drip into the bowl beneath.

Slice the red onion very thinly about 1 mm thick and place in the bottom of your serving dish. Mince or finely grate the garlic and add that to the bowl. Tip in the vinegar and give a mix to coat well.

After half an hour remove the seeds from the tomatoes. I find using my thumb the most effective way.

Discard the seeds and chop up the tomatoes finely. I use my food processor here but feel free to chop, chop, chop away. You are after a tomato roughly chopped soup.

Tip them into the serving bowl and sprinkle the tomatoes with another 1 tsp of fine sea salt and ¼ tsp of caster sugar. Give the lot a mix.

Add the ciabatta cubes, chopped basil, extra virgin olive oil and 120 mls of the salty tomato drippings from the bowl beneath the sieve. There will be some left over in the bowl after you have taken 120 mls. You could keep and use it to flavour sauces, dressings, stews or a bolognese etc.

Turn the whole lot carefully together. I use my clean hands but wear disposable gloves if you have any cuts. Cover and leave for at least two hours at room temperature to steep. You can leave it for up to 6 hours.
Nutrition Facts
Panzanella
Amount Per Serving
Calories 469
Calories from Fat 297
% Daily Value*
Fat 33g51%
Sodium 315mg14%
Potassium 355mg10%
Carbohydrates 37g12%
Protein 7g14%
Vitamin A 1370IU27%
Vitamin C 20.3mg25%
Calcium 30mg3%
Iron 0.8mg4%
* Percent Daily Values are based on a 2000 calorie diet.
I have linked this Panzanella with Cook, Blog, Share over at Easy Peasy Foodie
Do let me know how you got on in the comments below. I love a good old hairy chinwag.