This Roasted Butternut Squash Salad is packed full of flavour along with the Feta Cheese and caramelised Onions. Savoury sweet but salty this winter salad is so very good it will make healthy eating a big old pleasure.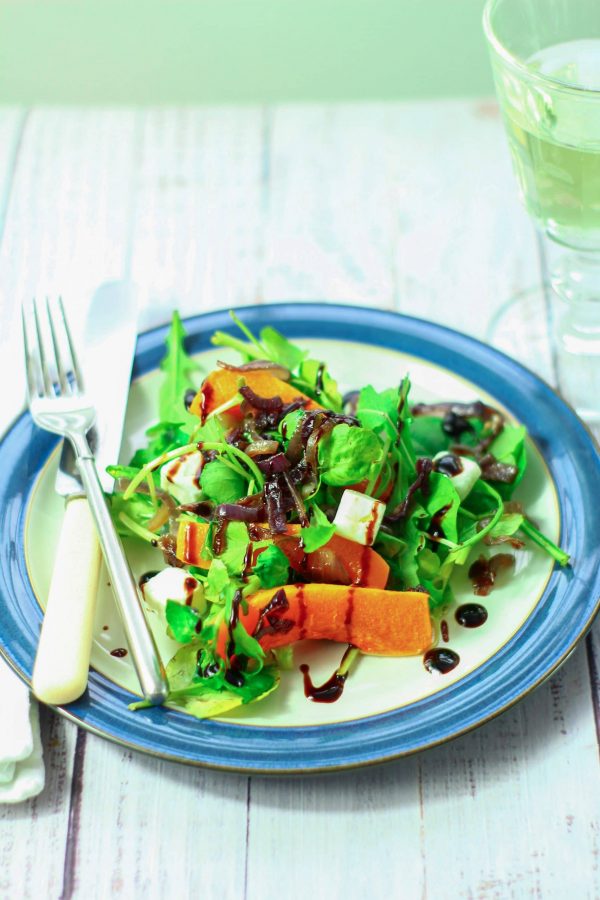 Roasted Butternut Squash and Feta Salad
This New Year I am all about the new me. I am attempting some consistent healthy eating and have made an earnest promise to make more effort with my appearance.
Sick of resembling a middle aged fat poodle that's losing it's fur, I am enlisting the help of a local beauty therapist and an assortment of tasty healthy eating recipes.
Of which, this Butternut Squash Salad is absolutely and deliciously one.
I start as I mean to go on here with spicy roasted squash, salty feta cheese and sweet, sticky onions all on a bed of salad leaves drizzled with a balsamic glaze.
Who needs chips?????
But first…….
I have just returned from my first skiing holiday. I loved so much of the experience but hit the slopes with as much grace as a paraletic elephant.
My children were, as children invariably are, naturals and left me knock kneed and petrified at the very first slope.
I had mistakenly thought that I would take to it well due to my attendance at lots of roller discos in my teens.
I was deluded…….
After spending a small fortune on all the gear, I was equipped to live in an igloo for a week but sweating profusely due to all my state of the art alpine layers and sheer terror at the mild inclines before me.
As soon as I realised I was suffering from old person's fear I knew I had to face it down or pull on those elasticated waists and tartan slippers as soon as I returned home.
To that brave/stupid end I found myself shaking, terrified and just plain mad that first day. But I somehow managed to keep going, dragging my black and blue body back up that slope to come back down again whilst silently screaming.
I must have stood out like a sore thumb as I was effortlessly passed by sophisticated french, stylish types swishing this way and that around me as I hesitantly, bum sticking out, made my way down the nursery slopes.
The day ended fittingly when I fell heavily on the button lift as I ascended the nursery slope towards the cable car that was to take us back down the mountain.
These button lifts consist of button shaped small seats on a vertical rope which is attached to an overhead pulley that slowly ascends the snow covered slope.
I felt myself begin to wobble in the first ten seconds of my ascent before falling hard on my a.se and side. I instinctively kept hold of my rope as I knew I was incapable of getting back up on my feet alone without a small tractor.
I therefore allowed myself to be dragged up the slope by my armpit, in front and in between of all the stylish Frenchies.
How they must have laughed.
I would of…..
So upon my return I find myself filled with all kind of resolutions to better my life and aging body.
This Butternut Squash Salad is part of my regeneration and healthy eating plan. And it is a humdinger.
Butternut Squash Salad with Feta Cheese
This Squash Salad really is something else. It is absolutely delicious. The sweet flavours of the roasted squash along with the sharp feta cheese and heat of the chilli flakes are so good, add the caramelised onions and its verging on incredible…….Virtuous eating may be within my chubby grasp after all.
This Winter Salad would be delicious served with some of my warm Cheese Scones
It really is another simple affair with simple ingredients.
STEP 1 – Roasting the Butternut Squash.
I use a small butternut squash or half of a larger one. You could use the leftover squash from this recipe for a soup or curry.
I use a potato peeler to peel the squash. It is the most taxing bit of the whole recipe.
I cut the squash in half and then scoop out the seeds.
Then slicing the squash into slices 2 cm thick.
I put 1 tbsp of olive oil and a pinch of chilli flakes into a mixing bowl. I tip the squash slices into the bowl and use my hands to coat the wedges with the oil and flakes.
Once coated I tip the wedges onto a lined flat baking tray and bake at 200 C for 12-15 minutes until just tender.
STEP 2 – Caramelising the Onions
I slice the onions into 1/2 moons that are about 1/2 cm wide.
Forgive me if you cry like a b.tch.
I fry the onions in a large frying pan with 1 tbsp of olive oil and 1 tbsp of butter. The oil prevents the butter burning. I also add 1 tbsp of dark brown sugar.
It takes about 15/20 minutes over a medium heat for the onions to caramelise. stir every minute or so.
They go a deep brown colour when ready.
Set aside to cool a little.
STEP 3- Dressing the Butternut Squash Salad
I simply place the salad leaves in a serving bowl and place the squash slices and cubes of feta cheese on top.
I then scatter over the onions and either drizzle the balsamic dressing over or leave that aside for people to add themselves.
If you are anticipating leftovers definitely leave it off as it may wilt the salad leaves somewhat.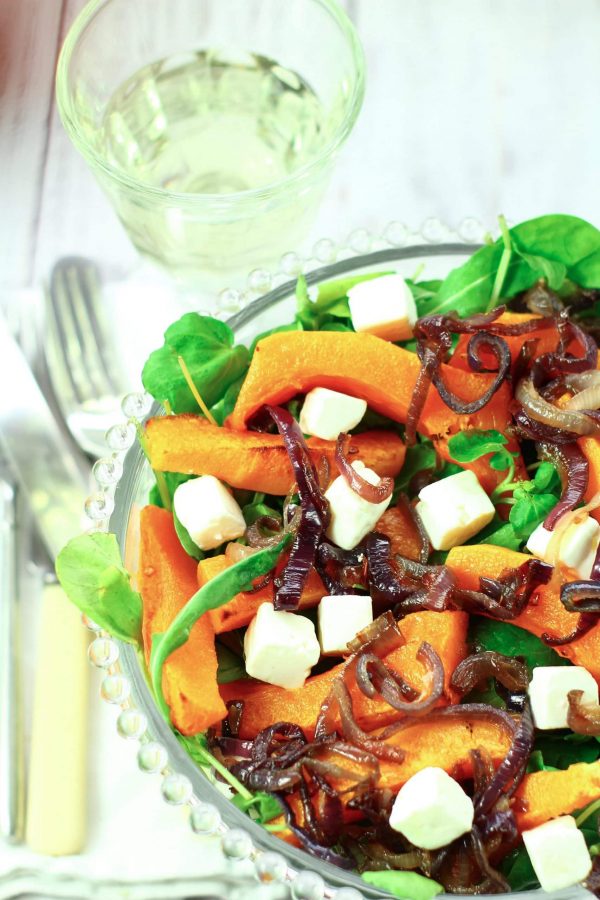 What to serve with Roast Butternut Squash Salad
I actually tend to serve it as a main meal. I think it hold's it's own enough on a plate to earn it's main meal status.
However it would go well as a side with pork or beef steaks. I often serve it with pork sausages too.
I also think it would be a great BBQ salad.
Butternut Squash Salad Tips
I sometimes add some pecans for a little crunch. Or you could play about with the cheese. A blue cheese would work very well.
It is a gluten free salad. Although check that your balsamic glaze is gluten-free.
Store any leftovers covered in the fridge for up to 4 days, although the salad leaves may wilt after 2 days.
Try not to overcook your squash. Let it still have a little bite.
Leave the balsamic dressing off the salad until you are ready to eat.
Some other similar delicious salads to spread the healthy eating love:
Baby Kale, Honey-Roast Butternut, Chicken, Parmesan & Pine Nut Salad from Gluten Free Alchemist.
Spiced Roast Squash and Goats Cheese Salad – From The Larder
Butternut Squash with Pecans and Blue Cheese from Nigella Lawson
Watermelon and Feta Salad from Apply To Face Blog
Easy Thai Salad from Apply To Face Blog
Coronation Chicken Salad from Apple To Face Blog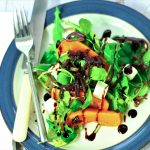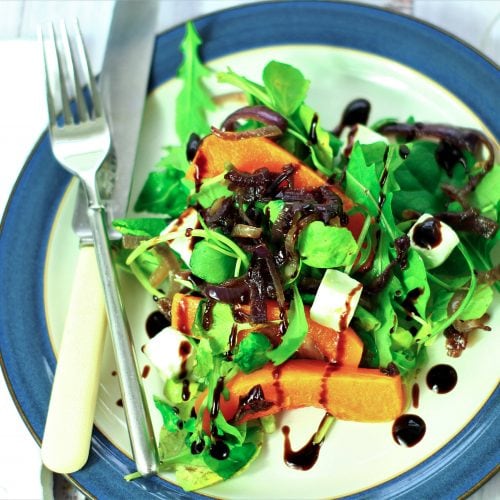 Roast Butternut Squash Winter Salad.
This Butternut Squash Salad with Caramelised Onions and Feta Cheese is really sensational. The Chilli flakes together with the Balsamic Glaze bring a vibrancy that makes the whole salad really rather special. This would be perfect as a side salad for meat or chicken but it would also more than hold it's own as the main attraction. Feel free to add some toasted pine nuts for some added crunch.
Ingredients
2

tbsp

olive oil

1

tbsp

butter

1

tsp

salt

1

pinch

chilli flakes

1

medium

butternut squash

500

grams

red onions

150

grams

feta cheese

200

grams

salad leaves

rocket should be included.

1

tbsp

brown sugar

balsamic glaze

shop bought
Instructions
Pre heat the oven to 200° C/400°F/Gas Mark 6. Peel and slice the squash into wedges of about 2 cm thick. Place into a large bowl and in a smaller one-I use a mug-mix 1 tbsp of olive oil, a pinch of chilli flakes and the salt. Pour that over the squash and using your hands mix well. Tip into a roasting tray. To aid caramelisation you could have had the tray in the oven for five minutes beforehand.

Wash your hands to remove any sneaky chilli flakes. Roast in the oven for about 15 minutes or until tender. Whilst they are roasting chop up your onions into half moons and fry in a large frying pan over a medium heat with the butter, sugar and remaining tablespoon of oil. You want the onions to turn brown and look like worms! This will take usually about 20 minutes.

Allow the squash and onions to cool to just warm before putting on top of your salad leaves and crumbling the feta on top and drizzling over the balsamic glaze.

Apply to Brit On Tour Face.
Nutrition Facts
Roast Butternut Squash Winter Salad.
Amount Per Serving
Calories 338
Calories from Fat 135
% Daily Value*
Fat 15g23%
Cholesterol 33mg11%
Sodium 1028mg45%
Potassium 1039mg30%
Carbohydrates 44g15%
Protein 9g18%
Vitamin A 20660IU413%
Vitamin C 63.9mg77%
Calcium 322mg32%
Iron 2.3mg13%
* Percent Daily Values are based on a 2000 calorie diet.
Here are some more fabulous winter recipes.
Slow Cooker Spaghetti Bolognese
Thai Chicken Spiced Noodle Soup
I have linked up this post with Recipe of the Week at A Mummy Too Cook Once Eat Twice at Searching for Spice and Cook, Blog, Share over at easypeasyfoodie.com