This recipe for Mexican Pulled Pork Wraps is so good and so easy to prepare you wont believe it. This recipe is my go to when I want to feed a crowd easily and with as little faff as possible. One of these wraps with roast peppers, onions and cheese is my idea of heaven.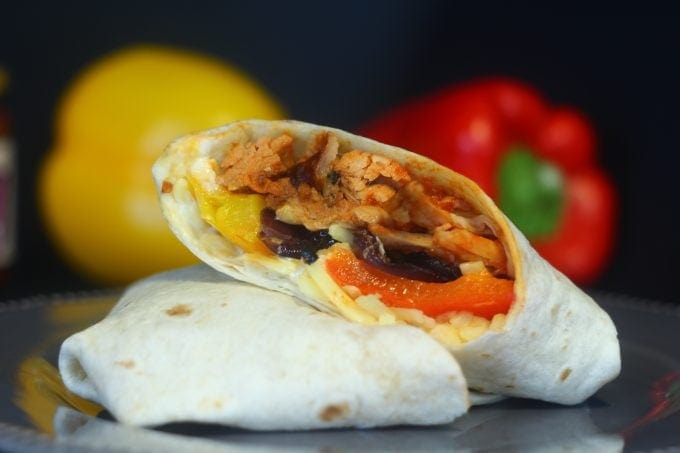 Fabulously Easy Pulled Pork Wraps.
About as simple as it gets I can make pulled pork in my sleep. It is delicious, versatile and very importantly make ahead.
I have made it so many times it's like a pair of big, old and terribly off white comfy pants. Being totally make ahead it stops me having heart palpitations when I've got to cater for anymore than four.
My absolute, absolute favourite sort of recipe......This time I am making it two days ahead along with roasted peppers and onions before nestling it down in tupperware for the long journey ahead. I'm planning to take it on our caravan trip this weekend along with pots of sour cream and strong cheese for much dolloping, scattering and wrapping.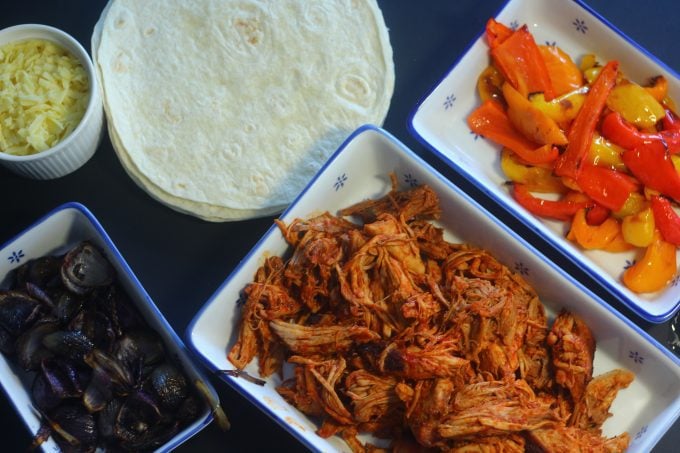 If made ahead it is best reheated gently at 180 C in a baking tray with baking parchment wet under a tap then scrunched  up to make it soft and easy to handle. Open the paper back out to completely cover the pork. I place it  over the top of the pulled pork followed by a layer of silver foil over the baking tray itself. 
Included here are the timings for those without an Aga but if you have one then cook overnight - just put it in the Hot oven for 30 mins uncovered before putting in the Simmer oven overnight covered tightly in foil.
Sides
I roast onions and peppers until scorched in places. These are non negotiable for me.
I serve with lots of grated cheddar and sour cream to go on top and meld INCREDIBLY with all the roasted fabulousness.
The beauty of this Mexican Pulled Pork is that you can pimp your sides to totally suit your wants. You could try hummus, chillies, coleslaw, anything that holds a place in your heart. You can even serve without the tortillas if you are watching your carbs.
When I'm serving this at home I make my own Guacamole but obvs it's not really make ahead..... so don't feel that you have to. You can get some really good quality store bought Guacamole if you do your research before you buy.
This weekend however I require just the oven in my caravan to heat the pork ,peppers and onions through before wrestling the lids from the tupperware pots and loading up my tortilla.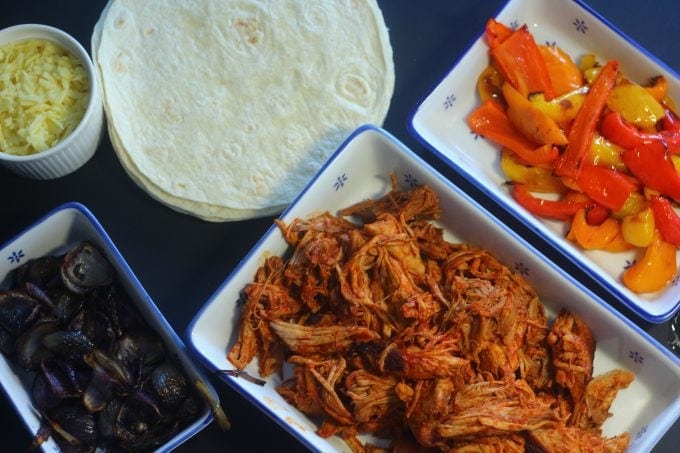 Here are some more incredible slow cooked meat recipes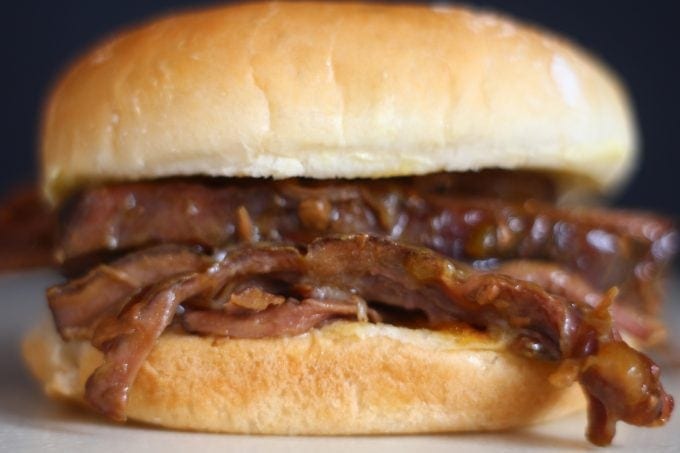 Or here's my Roast Pork Loin recipe. Another porky fave.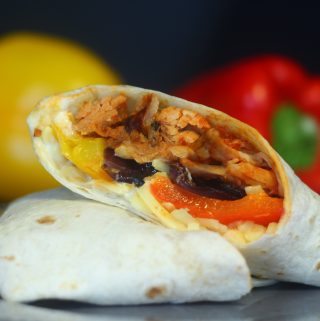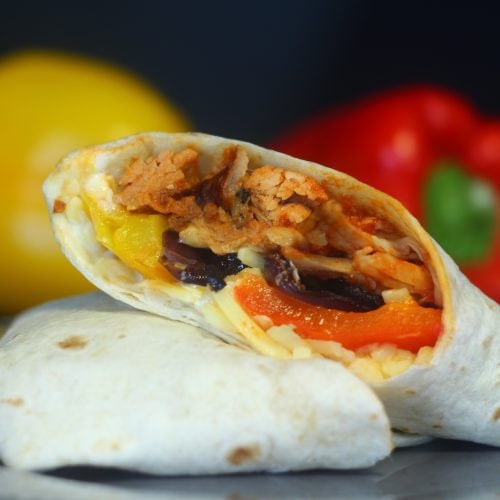 Mexican Pulled Pork Wraps
This recipe for Mexican Pulled Pork Wraps is easy and delicious. Using a boneless Shoulder of Pork the spicy shredded meat tastes absolutely incredible wrapped in a Tortilla with Roast Peppers, Onions, Cheese and Sour-Cream.
Ingredients
2

kg

boned pork shoulder

500

mls

passata

3

tbsps

harissa paste

3

large

peppers

4

large

onions
Instructions
Preheat the oven to 150 C. Snip the string off the pork and unfurl into your baking tray. Cover with foil and roast for 4-6 hours. You know when it's ready when you stick a knife in and it's very soft. Be careful to keep it TIGHTLY completely covered even the edges of the baking tray when it returns to the oven. It should create it's own liquid and you don't want that to evaporate away.

When it is soft enough then remove from the oven and place on a carving board to cool. Pour any roasting juices into a saucepan.

Add the passata and harissa to the cooking juices and bring gently to a bubble before simmering until the sauce is thick enough to coat the back of a spoon well. It depends how much of the roasting juices there were.

Preheat the oven to 200 C. Chop up the peppers and onions into wedges and place onto a large, flat baking tray. Pour over a tablespoon or so of olive oil and sprinkle with a good pinch of salt. Roast for about fifteen minutes until starting to blacken on the edges.

When the pork is cool enough rip it all apart. Discard any unwanted fat and rind. I use my fingers too as I find the fork shredding thing too fiddly for my builder's hands. Tip the sauce in and mix well.

Serve it hot with tortillas dips and strong cheese. Add what ever floats your mexican boats.

Apply to Axe Wielding Child's Face.
Notes
You can control the heat by how much Harissa you add. I suggest you taste as you go perhaps adding just one tbsp at first if you are feeding children too.
I always like to use British Pork. The best I can afford. 
Nutrition
Calories:
396
kcal
|
Carbohydrates:
22
g
|
Protein:
43
g
|
Fat:
14
g
|
Saturated Fat:
5
g
|
Cholesterol:
136
mg
|
Sodium:
284
mg
|
Potassium:
1376
mg
|
Fiber:
5
g
|
Sugar:
11
g
|
Vitamin A:
790
IU
|
Vitamin C:
85
mg
|
Calcium:
75
mg
|
Iron:
4.5
mg
All nutritional information is approximate and intended only as a guide.
Tried this recipe?
Take a pic and tag @applytofaceblog on Instagram. I would so love to see them!
Do let me know how you get on in the comments below or follow me on my
Facebook
or
Instagram
pages. I love to connect and have a good old hairy chin wag!