This Beef Brisket in Buns is one of my favourite recipes of all time and that is a fact. It is all about pulled Brisket, almost effortless and off the delicious scale. It is a meal of many, many talents. I serve it in buns with chips/wedges and coleslaw for a Saturday night casual tea for a crowd, a mobile mini Sunday Lunch in the caravan and a Sunday night tea when we have been out all day.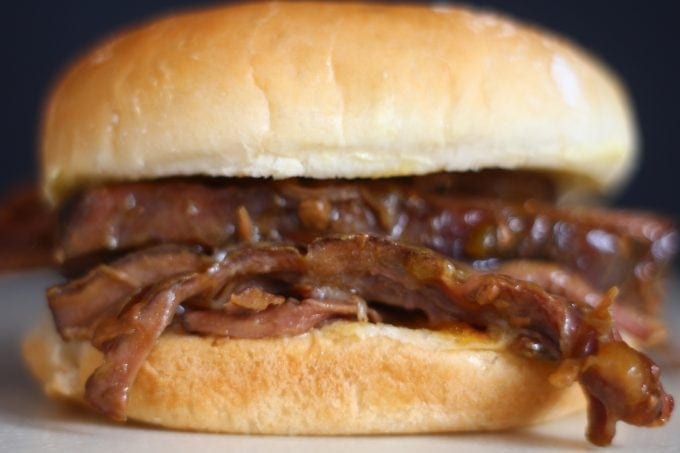 This recipe is about as beefy as you can get and super versatile. My family go absolutely bonkers for it and I mean bonkers. It creates the same enthusiasm as Ice Cream. That's how flipping good it is.
I love to feed a crowd with it much as my Easy Ham and Cheese Sliders. Children and teens seem to not be able to get enough of cramming meat in buns. Always asking for more as the gravy dribbles down their chins. My kind of catering.
There is a full printable recipe card at the bottom of this post
Beef Brisket Buns Recipe.
Ingredients
1.5 kgs brisket
1 heaped tbsp corn flour
8 soft buns
Equipment Required
Slow Cooker if using
Silver Foil
Baking Paper if reheating
Roasting Tray
Saucepan
Whisk
What does a good bit of Brisket look like?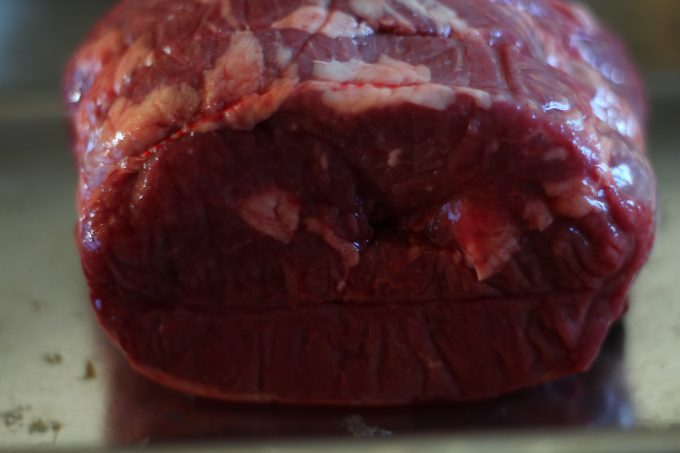 It looks thick and not too much visible fat is showing. You want the chunkiest end as the narrower end of brisket tends to be fattier. I find that supermarkets actually tend to only sell the thicker end in the size used in this recipe but be sure to check if you're buying from your butcher.
Method
Pre-heat the oven to 220 C/425 F/Gas Mark 7
Put the brisket in the oven naked in a roasting tin. Roast for 20 minutes before removing, turning down the oven to 110 C and leaving the oven door open for 30 seconds or so until the temperature drops. 
I then cover the tray and brisket completely with silver foil. Roast for 9 hours or until super soft when you insert a fork. I quite often leave it cooking overnight. I put it in just before I go to bed and then out first thing.
If using the slow cooker after the initial browning in the oven simply put in the slow cooker and cook on low for 9 hours or until soft enough to shred.

I remove the beef and set aside covered in foil for at least 30 minutes. I tip the meat juices into a saucepan and bring to the boil.

I mix the 1 tbsp cornflour with 3 tbsps of cold water and add to the juices whilst whisking. Simmer then gently for a few mins. Repeat if it does not thicken enough. If there isn't enough gravy then add some good beef stock. Set aside.
Using two forks shred the beef in the roasting tray and then pour the gravy back over and ensure that all the meat gets a good coating. if it is cool enough to handle I sometimes use my hands to pull it into shreds.
I cover it well if I am not serving it immediately and can often keep in the fridge for several days. You simply just reheat it covered with foil in the oven. I use baking paper crushed up in your hand and dunked under the tap. It makes it go soft and easy to use. I tuck that on top of all the meat in a snug fit before covering the tray with silver foil. I reheat it at 180 C for about fifteen mins covered in the gravy.

If it is a tender piece to begin with then the cooking time can be less. I have cooked brisket before that is soft enough to shred in 6 hours.

You can just feel if it is tender by squeezing it. Of course this relies on experience and that only comes with cooking this 10 times or so but the difference between the pieces of brisket from the get go and how tender they are can be marked.

It doesn't ever hurt to overcook it as long as it is well covered and your heat is low. The piece of brisket does shrink in size through the long cooking and fat melting, making the fabulous flavour infuse throughout.

Plus your kitchen will smell amazing. I love getting up in the morning after I have put this in the night before and walking downstairs. I get a wonderful waft on the very first stair. I feel accomplished before the day has even begun.

This recipe usually produces lots of meat juices too with which to make the best gravy ever and to allow it to stay moist if reheating.

Brisket gravy

Piled high with a couple of spoonfuls of gravy in a Bun brings delight to all.

Brisket Buns

IF YOU LIKE THIS RECIPE THEN YOU MAY LIKE THESE

Slow Cooker Brisket with Gravy

Roast Beef Brisket

Brisket Buns

This is one of my best ever recipes if you can call it a recipe. It is Simple with a capital S. It never ever disapoints! The only note of caution is to make sure you buy a thick piece, the thinner pieces tend to be too fatty. (See pic in instructions)

Ingredients

1.5

kgs

brisket

1

heaped tbsp

cornflour

mixed in 3 tbsps cold water

8

soft

buns

Instructions

Pre-heat the oven to 220 C/425 F/Gas Mark 7. Put the brisket in the oven naked in a roasting tin. Roast for 20 minutes before removing, turning down the oven to 110 C and leaving the oven door open for 30 seconds or so until the temperature drops. I then cover the tray and brisket completely with silver foil. Roast for 9 hours or until super soft when you insert a fork. I quite often leave it cooking overnight. I put it in just before I go to bed and then out first thing.

If using the slow cooker after the initial browning in the oven simply put in the slow cooker and cook on low for 9 hours or until soft enough to shred.

I remove the beef and set aside covered in foil for at least 30 minutes. I tip the meat juices into a saucepan and bring to the boil. I mix the 1 tbsp cornflour with 3 tbsps of cold water and add to the juices whilst whisking. Simmer then gently for a few mins. Repeat if it does not thicken enough. If there isn't enough gravy then add some good beef stock. Set aside.

Using two forks shred the beef in the roasting tray and then pour the gravy back over and ensure that all the meat gets a good coating. if it is cool enough to handle I sometimes use my hands to pull it into shreds.

I cover it well if I am not serving it immediately and can often keep in the fridge for several days. You simply just reheat it covered with foil in the oven. I use baking paper crushed up in your hand and dunked under the tap. It makes it go soft and easy to use. I tuck that on top of all the meat in a snug fit before covering the tray with silver foil. I reheat it at 180 C for about fifteen mins.

Apply to Face and let the gravy drip off your chin

Nutrition

Calories:

157

kcal

|

Protein:

20

g

|

Fat:

7

g

|

Saturated Fat:

2

g

|

Cholesterol:

62

mg

|

Sodium:

83

mg

|

Potassium:

330

mg

|

Calcium:

5

mg

|

Iron:

2.1

mg

All nutritional information is approximate and intended only as a guide.

Tried this recipe?

Take a pic and tag @applytofaceblog on Instagram. I would so love to see them!

Do let me know how you got on in the comments below. I love a good old hairy chin wag.

]

Reader Interactions