This Thai Soup recipe constantly calls to me at the moment. It is an Asian taste sensation and just so quick to put together making it perfect for dinner during the week when time is tight and the inclination non existent. A steaming bowl of this is enough to lift any mid week blues.
Thai Chicken and Coconut Noodle Soup.
This Thai Chicken Soup is lush. Served with noodles and chicken I can't tell you how good it is if you love Asian flavours as I do. It is super easy to prepare and you could add your favourite vegetables to make it your own.
I like to add baby sweetcorn and mange tout.
But first....... some Kate Bush
As we are moving into Summer I am loving watching my daughter grow into herself. She has always given me endless hours of entertainment but now is embarking on a whole new chapter all of her own and I find myself constantly shielding my eyes from her light.
At seven she has become a cross between the heroine in a Jane Austen novel and a mini Kate Bush. The likeness is uncanny as well as hilarious. I'm sure she has been repeat watching "The Hounds of Love" on You Tube.
The fabulous drama that she fills her life with is infectious and uplifting. Where it has come from I do not know. In reality I am a down to earth frumpy person that feels silly accessorizing. Yet she is at her happiest arms outstretched in a full skirt running through the fields with the wind whistling in her ears....I know because she told me exactly so. Apparently it makes her feel fantastic.......
In recent months she has also developed a closet fondness for swear words. They obviously deliver the emphasis she requires in her dramatic delivery.
She knows it is wrong but whispers into our ears that she loves the feel of them on her tongue......... Sh.t..........
With stern words and suppressed hilarity she is sent, chastised, on her way but Oh God I love her for it.......At least the disparity between our characters will always be slightly diminished by a passionate love for the use of offensive language.
She will always be her Mother's daughter.
Thai Chicken Noodle Soup Recipe.
Oh my goodness this recipe is seriously good and sooooo easy. Perfect for a sensational mid-week meal as well as a fabulous dinner party dish. Here is another crazily hassle free Chicken dish- Chicken Herbed Kebabs perfect for the BBQ or oven.
Back to the soup.......... Bob and Fanny are once more heavily involved again here and I thank them dearly for it. All that is required to produce a sensational deep bowl of food is a whizz in the food processor, a chargrilling of the chicken and a few mins of bubbling the whole heavenly lot together.
I make this in it's entirety ahead of time mostly and store in the fridge ready for rapid assembly and a heat through. I have served this at a Dinner Party with homemade Flatbreads/Naans and for an easy midweek meal. It is a dish of many hats....
Top Tips
Once the Thai paste is made just add the coconut milk and simmer for a few mins in a large saucepan. I fry the chicken in a large frying pan separately and try to get as much colour/scorching on it as I can.
You can use chicken mini fillets here. I usually use chicken breasts but do flatten them down a bit with a rolling pin beforehand. All that remains is to add the chicken that I have now sliced into bite sized pieces or at least a size that is bite sized once broken in half with a spoon.
I use the already cooked noodles that you snip out of their bag and straight into the soup. It is the best short cut when producing this mid-week. I do feel that I would like to source some more authentic Thai noodles if I was cooking this for a dinner party.
I blinkin love them. However you could easily leave them out and use the light coconut milk if you were looking for a more calorie controlled healthier option. Either way this warmly spiced Thai soup recipe always delivers on taste.
This would be a FANTASTIC way of using up any Roast Chicken Leftovers from Sunday Lunch.
Here are some other easy chicken dishes.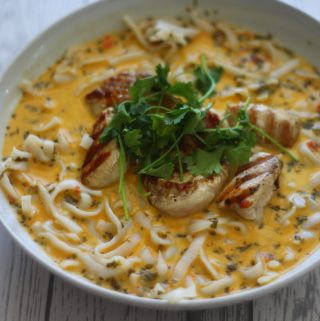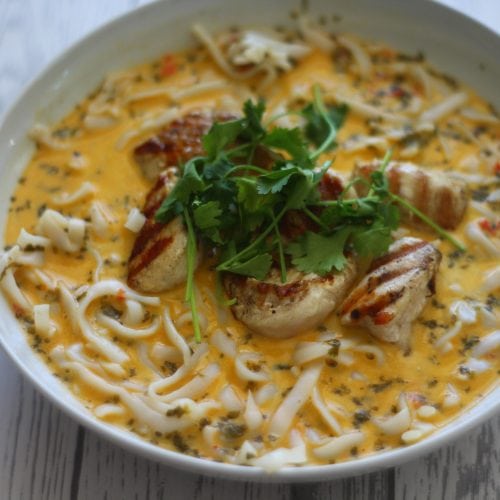 Spiced Creamy Thai Coconut and Chicken Soup
This warmly spiced Coconut and Chicken Noodle Soup is absolutely delicious and as happy at a midweek meal as taking centre stage at a dinner party. Perhaps one amongst friends though as the noodles can require a little slurping at times! Full of incredible Thai flavours this soup is a real crowd pleaser.
Ingredients
1 ½

tsp

dried chilli flakes

or one/two red chillis

2

inner stalks

lemon grass

3

cloves

garlic

2

medium

limes

juiced

4

tbsp

ground nut oil

10

grams

mint leaves

30

grams

coriander

1

tbsp

fish sauce

6

medium

chicken breasts

4

tsp

tumeric

2

tins

coconut milk

750

grams

"Straight to the Wok AMOY" ribbon rice noodles

They come in 150g pairs in a pack.
Instructions
Place all the paste ingredients into the bowl of your food processor and whizz until a paste forms.

Fry the flattened chicken at a high heat to give it some deep colour/scorching. Set aside and slice into bite sized pieces.Keep warm if you are serving straight away.

Fry the paste gently in a large saucepan for a couple of minutes. Add the coconut milk and mix well allow to simmer for five mins to thicken up slightly. Season to raste with salt. Add the chicken and noodles. Stir to break up the noodles and bring everything up to temperature.

Spoon into bowls and top with a fresh scattering of Coriander.
Notes
Obvs the level of heat in this Thai Soup is up to you. Feel free to add more or less. You can play around with the paste too. Add real Chillis, Ginger whatever floats your Thai boat
I have said that this amount feeds six. It does so easily.
You could serve this as a Starter too. Obvs in half sized portions. This will sit as left overs in the fridge so I am never concerned if I have over catered.
Nutrition
Calories:
506
kcal
|
Carbohydrates:
38
g
|
Protein:
50
g
|
Fat:
15
g
|
Saturated Fat:
2
g
|
Cholesterol:
144
mg
|
Sodium:
542
mg
|
Potassium:
1153
mg
|
Fiber:
3
g
|
Vitamin A:
590
IU
|
Vitamin C:
38.9
mg
|
Calcium:
95
mg
|
Iron:
4.1
mg
All nutritional information is approximate and intended only as a guide.
Tried this recipe?
Take a pic and tag @applytofaceblog on Instagram. I would so love to see them!
Do let me know how you got on our come on over and follow me on my social media pages. I would love to meet you.
Jenny x