This Easy Butter Chicken is absolutely divine. The flavours are deep, buttery and quite frankly to die for. It is always a huge crowd pleaser and just perfect for easy entertaining. It is one of my absolute faves.
This beautiful, warming curry is one of my absolute favourites. I make it as a family curry and as a dinner party meal. It always has rave reviews.
It is deep but moreish and tastes as if the flavours and spices have been developing for a week. There is no need to marinate just bring it all together and simmer.
But first……..some customer service issues…….feel free to scroll past to the recipe below if you are feeling hungry.
Is it only me but is M & S losing it's comforting, old school quality charm?!! I feel so bereft I have to speak out. My friend and I are now resorting to moving along the clothes stands picking up lemon jumpers with bows and highly flammable glittery blouses for extreme comedy value. We move incredulously amongst the aisles quietly guffawing and exclaiming WTF!!!
Listen, M & S was never really cutting edge and there was always a large section for the much older lady that felt elasticated waists and velcro slippers were a priority and rightly so.
However things have definitely changed. There seems to be not a whole lot at all in the middle with a whole pantomime section targeted at eccentric people that don't mind lighting up in the dark or being ruched half to death in bright mustard or stripey crop tops.
Perhaps I am wrong and there is indeed a large market for all this foofery but I and my aging fat friends still want thigh length tops in three shades of navy blue, black and sage.
If there is to be any tailoring on our garments then it must be outwards not inwards for the love of God! We want length and breadth for when we need it most….middle age.
If we cant look to M & S for it, the bastion of the wider middles but well turned out, then can the high street ever be the same??? I can't see Tesco taking up the slack.
Thank goodness they haven't messed with the Percy Pigs.
Here is my Easy Indian Butter Chicken recipe quite sure to gladden any and every baa humbug soul. It is both simple and delicious and perfect for a family meal or a gathering of friends. I always tend to make it ahead and reheat just beforehand and as is usually the case, it is a whole load of better for it.
I make mine with chicken fillets but I know it is advised to use the darker meat for optimum flavour but it does nothing for me. I am a breast girl always.
It is also a great leftover chicken recipe. Winner Winner….
Easy Indian Butter Chicken Recipe
This Butter Chicken really is super delicious but I have found it must be spiced carefully. Too much and the incredible flavour of the butter can be lost.
I am a complete wimp where heat is concerned so I add chilli conservatively here. I serve it with Basmati rice and home made Naan-recipe to follow. God it is absolutely and incredibly lush.
Firstly brown the chicken pieces and set aside. You are simply wanting a little colour from the browning. It helps with the flavour.
Next soften the onion and garlic in the same pan and add the spices to the oniony mix. Fry these off for a few minutes before adding your passata and simmering away for a further 5 minutes.
Add the cream and yoghurt, put the chicken back in and simmer again for another 15 minutes. Add the remaining butter and you are ready to serve. It's that simple.
If you want to serve at another time allow it to cool and then refrigerate until required. Heat through until piping hot. I actually think that it is almost better for standing a day or so.
I have made it with left over chicken usually from a roast chicken. I make the sauce from start to finish and then add the chicken pieces and heat through until piping hot.
It is extremely simple to make and fabulous as dinner party food or a fakeaway at the weekend. Every one I have ever served it to just swoons. I quite often make it ahead a day or so. It is exactly the sort of sensational food I love to cook.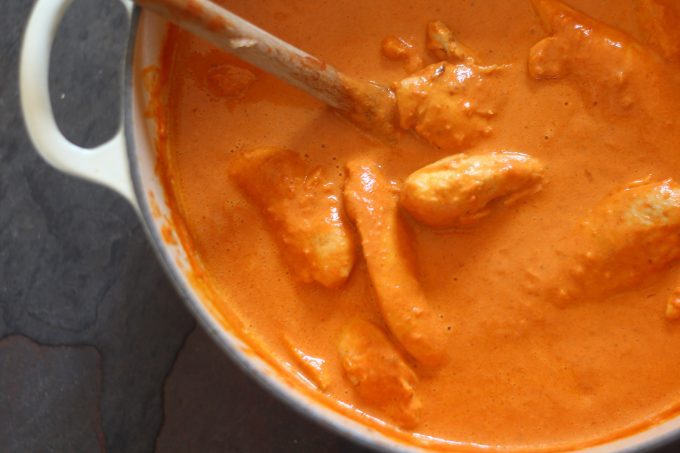 IF YOU LIKE THIS RECIPE FOR BUTTER CHICKEN THEN YOU MAY LIKE THESE
Thai Spiced Chicken Noodle Soup.
Perfect with this are my Homemade Garlic Naans.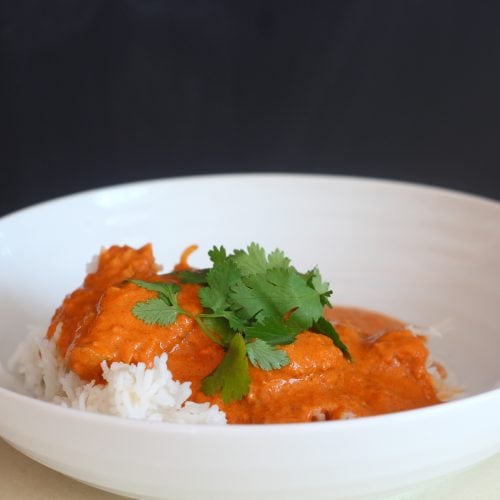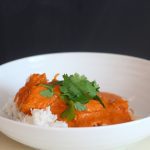 Easy Butter Chicken
This easy Butter Chicken recipe delivers a sensational curry every time. It is a warmly spiced, mellow curry with a divine, buttery an deep tomato sauce. Served with Basmati rice and home made Naan it is the dogs.
Ingredients
1

kg

mini chicken fillets or fillets

500

mls

tomato passata.

1

tbsp

garam marsala

1/2

tsp

mild chilli powder

add more to suit

1

tsp

cumin

1/2

tsp

cayenne pepper

3

medium

garlic cloves

1

medium

onion

240

mls

double cream

200

mls

natural yoghurt

100

gms

butter

2

tbsps

olive oil
Instructions
Brown all the chicken pieces in a very large saucepan, I used a large casserole pan, in a couple of tbsps of butter and a splosh of oil. Best to do so in batches and set aside. It does not matter that it isn't cooked through as it's just the colour we are after.

Blitz the onion and garlic in a food processor until finely chopped. In the frying pan that you browned the chicken in melt 2 more tbsps of butter and another splosh of oil. Add the blitzed onion and garlic and simmer gently until soft.

Add the spices and cook through for a couple of mins.

Pour in the passata and bring to a gentle simmer. Add the cream and yoghurt and mix well. Add the chicken pieces and simmer gently for fifteen minutes. Finally add the remaining butter and gently stir through.

Season carefully to taste.

Apply to Outraged British Face
Recipe Notes
This recipe feeds 6 but if you were doing it for 8 just add another 300g of chicken in as the sauce is bountiful enough already for 8.
Nutrition Facts
Easy Butter Chicken
Amount Per Serving
Calories 606
Calories from Fat 414
% Daily Value*
Fat 46g71%
Cholesterol 184mg61%
Sodium 272mg12%
Potassium 692mg20%
Carbohydrates 12g4%
Protein 35g70%
Vitamin A 1090IU22%
Vitamin C 12.6mg15%
Calcium 128mg13%
Iron 3.3mg18%
* Percent Daily Values are based on a 2000 calorie diet.
PIN ME FOR LATER!