This Sage and Onion Pork Stuffing recipe is delicious and packed full of flavour. I make it every year and it is always a huge crowd pleaser. It is the perfect accompaniment to Roast Turkey or Chicken.
This is a really easy stuffing recipe and is just incredibly delicious. It is my go to at Christmas and I make it way before and freeze ready for the big day.
Being a natural flapper I am always about the make ahead. To that end in order to ease my stress levels I cook my Turkey in the Slow Cooker to serve alongside this pork stuffing on the day. However this stuffing is fantastic served with Roast Pork or Chicken too.
It is made with pork sausagemeat, apple sauce, smoked streaky bacon, sage, breadcrumbs and seasoning. I caramelise the onions in butter too before adding to the rest of the Xmas stuffing ingredients.
The caramelised onions really take it to another level. Paired with the background sweetness from the apple sauce, sage and small kick from the black pepper this stuffing really delivers. I could not imagine Christmas without it.
How Do You Make Stuffing From Scratch?
I do strongly recommend that you get the best sausage meat that you can. Otherwise the texture is too soft and the flavour is not as good. You are looking for a sausage meat with a high meat content.
If possible 80 % pork content. It should say on the side of the packet.
Step 1 - Preparing the Onions
Chop the onions into half moons about 3 mm thick and place in a large pan with 2 tbsps of olive oil and 1 tbsp of butter.
Cook until they turn a deep brown and caramelise. This takes at least 20 minutes over a medium heat.
STEP 2 - Mixing the Pork Stuffing
I get all the ingredients ready now that the onions have caramelised.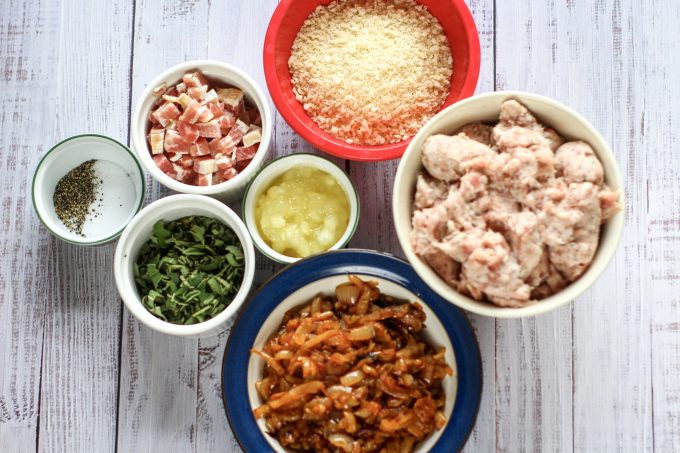 Apple Sauce - I buy shop bought and prefer the chunkier ones.
Sage - chopped
Sausagemeat - good quality with chunks not smooth (high meat content)
Streaky Bacon- smoked for extra flavour
Ground Black Pepper
Salt - fine table or sea salt
Breadcrumbs - Fresh or dried
Onions - Caramelised
Butter - unsalted or salted
Olive Oil
I put them in my free standing mixer and mix them all together slowly with the paddle beater, I'm all about the easy. Alternatively you can use a wooden spoon or your hands.
All that remains is to put in your roasting dish. The right size dish is important and will affect the cooking time.
A larger dish will take less time than a smaller and therefore deeper stuffing mix.
Mine is 18cm x 26cm
STEP 3 - Baking the Sage and Onion Stuffing
I bake it in a preheated oven at 190 C/375 F/Gas Mark 5 for about 45 minutes.
If your sausage meat has produced a lot of fat then very carefully tip most away by tipping the dish up. You may need another pair of hands to help here.
Can I Freeze Pork Stuffing?
Yes you can. I do exactly this to get ahead for Christmas Day.
If freezing then allow to fully cool and double wrap in clingfilm and then silver foil before freezing for up to a month.
Allow to defrost in the fridge for 24 hours before reheating until piping hot 71 C. I do that covered in silver foil at 180 C/350 F/Gas Mark 4.
I take off the silver foil for ten minutes or so before it's ready to make sure the top is crispy.
IF YOU LIKE THIS RECIPE THEN YOU MAY LIKE THESE
Garlic Roast Chicken and Lemon
Pork and Mushroom Spinach Lasagne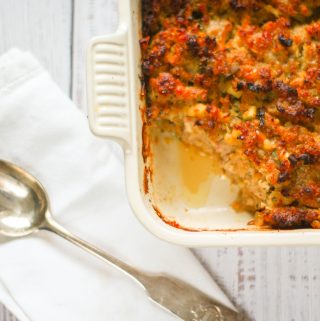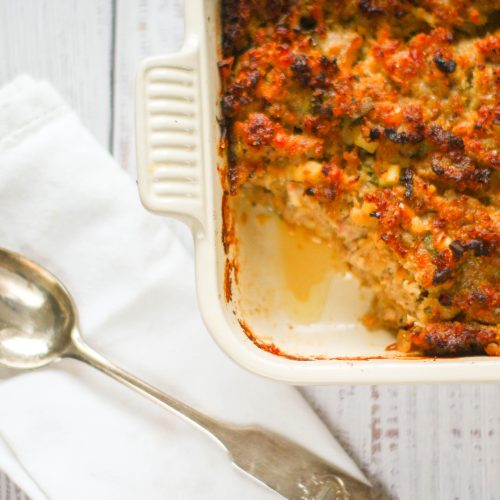 Christmas Pork Stuffing.
This is the best Xmas Stuffing that I have ever had. It is simply amazing. I don't stuff the bird with it but that is not to say that you can't. It is simply my preference. It is packed with the flavours of sage and caramelised onions which just rock it with the pork. Seriously good.
Total Time
1
hour
30
minutes
Ingredients
3

large

brown onions

or 4 medium

30

grams

sage

100

grams

breadcrumbs

2

tsps

salt

½

tsp

ground black pepper

900

grams

pork sausagemeat

6

heaped tbsps

apple sauce

30

grams

butter

2

tbsps

olive oil

6

rashers

smoked streaky bacon

chopped (I use scissors)
Instructions
Slice the onions into thin half moons and place in a sauce pan with the butter and olive oil. Fry gently for about 20/25 minutes until the onions become caramelised and brown. Preheat your oven to 190 C.

Strip the leaves from the stems of the sage and slice finely. Put all the ingredients including the sage into a large mixing bowl and mix well.

I use my hands as it's really the easiest way. I then fry a little sample pattie of the mix to check for seasoning. Add more seasoning if required.

Tip into your roasting tray and smooth out evenly. It's best to have a thickness of stuffing about 4 cm so choose your dish accordingly.

Bake in the oven for about 35 minutes. Keep an eye on it to ensure it doesn't catch. Put a silver foil hat on it if it does so before the cooking time is up. Of course different dishes will result in differing cooking times. If in doubt use a probe, the stuffing should have reached 71 C.

If you are freezing ahead of the big day then allow to cool completely before covering well in silver foil and putting inside a carrier bag. Place in the freezer before defrosting completely and reheating.
Recipe Notes
Because you get vastly different types of sausagemeat then it is important to try tsps of the mixture by frying in olive oil to get your seasoning right. Some are heavy on the salt and pepper already so hold back until you are in control of it.
It's best to have a thickness of stuffing about 4 cm so choose your dish accordingly. Mine is 18 cm x 25 cm
Nutrition Facts
Christmas Pork Stuffing.
Amount Per Serving
Calories 343
Calories from Fat 243
% Daily Value*
Fat 27g42%
Cholesterol 61mg20%
Sodium 999mg43%
Potassium 281mg8%
Carbohydrates 9g3%
Protein 14g28%
Vitamin A 55IU1%
Vitamin C 2.6mg3%
Calcium 35mg4%
Iron 1.5mg8%
* Percent Daily Values are based on a 2000 calorie diet.
Here are some more fabulous Christmas recipes
Do let me know how you got on in the comments below. I love a good old hairy chinwag. Or come on over to my Facebook Page or Instagram Profile. I would love to engage with you.