Pork Stuffing
This Pork Stuffing is just incredibly delicious. It is my go to at Xmas and I make it way before and freeze ready for the big day. The secret ingredient here is the caramelised onions, they really take it to another level. A very special stuffing for a special day.
But first Some Xmas Loss……
Well I have sat through my very last Nativity…….and I feel like I have lost my womb. In fact as I left the school hall I practically heard it hit the icy playground floor with a dry thwack……..Perhaps they will let me plant a little tree there, to mark this pivotal barren moment. Any perennial would do. Maybe this is a custom we should all take up. I certainly feel like I need a ceremony of sorts. A gathering of my nearest and dearest to ring in life's changes once more. At the very least there should be some nice sandwiches.
Having come a little late to motherhood I am now more than  past my fertility sell by date. The only eggs left on the table would, I'm sure, require careful sifting and a liberal dusting of steroids, not to mention blind optimism…….I would have so loved to go on to have had more little blighters……..I'm going to miss the magic of it all…….I find Christmas is the parent equivalent of going on a bender. Endless binges of little people Christmas stuff and I have been a proverbial pig in poop…….. I can practically smell Santa's old man halitosis, he feels so close in our house…….  I shall do my best to bleed the little time I have left, absolutely and completely dry…..now where did I put that Turkey Hat???
Pork, Sage and Onion Stuffing Recipe
This recipe is for the best stuffing recipe I have ever eaten. It is full of flavours that just compliment each other brilliantly. I do strongly recommend that you get the best sausagemeat that you can.  I caramelise the onions in butter before adding to the rest of the Xmas stuffing ingredients. This is a big part of it's success along with just the right amount of sage and some sweetness from the apple sauce. I could just eat the whole dish. It really is wonderful. A special Xmas Stuffing for a special Xmas Lunch. I make it ahead and freeze ready for the big day.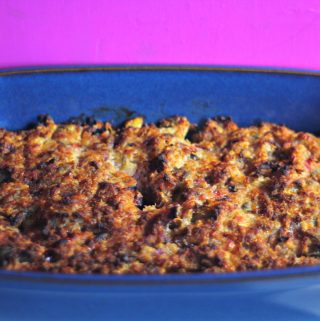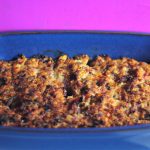 Xmas Pork Stuffing.
This is the best Xmas Stuffing that I have ever had. It is simply amazing. I don't stuff the bird with it but that is not to say that you can't. It is simply my preference. It is packed with the flavours of sage and caramelised onions which just rock it with the pork. Seriously good.
Total Time
1
hour
30
minutes
Ingredients
3

large

red onions

or 4 medium

30

grams

sage

100

grams

breadcrumbs

2

tsps

salt

1/2

tsp

ground black pepper

900

grams

pork sausagemeat

6

heaped tbsps

apple sauce

30

grams

butter

2

tbsps

olive oil

6

rashers

smoked streaky bacon

chopped (I use scissors)
Instructions
Slice the onions into thin half moons and place in a sauce pan with the butter and olive oil. Fry gently for about 20/25 minutes until the onions become caramelised and brown. Preheat your oven to 190 C.

Strip the leaves from the stems of the sage and slice finely. Put all the ingredients including the sage into a large mixing bowl and mix well. I use my hands as it's really the easiest way. I then fry a little sample pattie of the mix to check for seasoning. Add more if required.

Tip into your roasting tray and smooth out evenly. It's best to have a thickness of stuffing about 4 cm so choose your dish accordingly.

Bake in the oven for about 35 minutes. Keep an eye on it to ensure it doesn't catch. Put a silver foil hat on it if it does so before the cooking time is up. Of course different dishes will result in differing cooking times. If in doubt use a probe, the stuffing should have reached 71 C.

If you are freezing ahead of the big day then allow to cool completely before covering well in silver foil and putting inside a carrier bag. Place in the freezer before defrosting completely and reheating.

Apply to tear strained and barren face.
Recipe Notes
Because you get vastly different types of sausagemeat then it is important to try tsps of the mixture by frying in olive oil to get your seasoning right. Some are heavy on the salt and pepper already so hold back until you are in control of it.
Nutrition Facts
Xmas Pork Stuffing.
Amount Per Serving
Calories 343
Calories from Fat 243
% Daily Value*
Fat 27g42%
Cholesterol 61mg20%
Sodium 999mg43%
Potassium 281mg8%
Carbohydrates 9g3%
Protein 14g28%
Vitamin A 55IU1%
Vitamin C 2.6mg3%
Calcium 35mg4%
Iron 1.5mg8%
* Percent Daily Values are based on a 2000 calorie diet.
Here are some more fabulous Xmas recipes
 I have linked this post with Cook,Blog,Share and Bloggers Club UK.