These incredible Hot Cross Buns are softly spiced and just fabulous with an enriched yeasted dough. Served warm and slathered in butter they really are divine.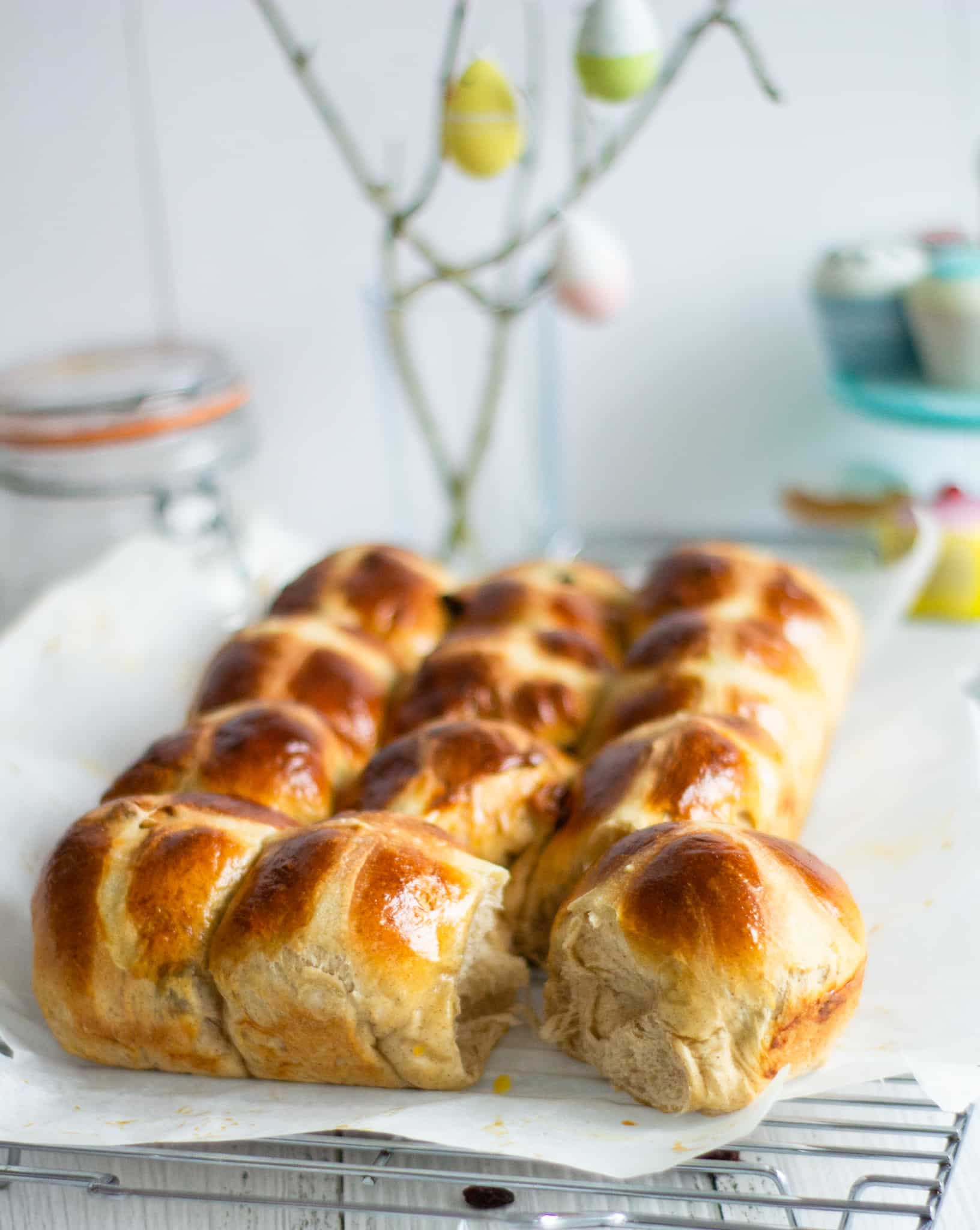 These Spiced Buns are traditionally eaten on Good Friday. The eating of Hot Cross Buns signifies the ending of Lent as they are made with dairy food stuffs, something that is forbidden during this time. The white cross piped onto the buns is obviously rooted in Christianity and the rise of Christ.
As synonymous with Easter as Chocolate Eggs these beautiful buns are something I love to bake for my family each year.
All that cinnamon wafting around my kitchen makes me giddy for the whole warm with salted butter experience. I want it dripping from my chin baby.
Hot Cross Buns Recipe
So here is a fabulous and simple Hot Cross Buns recipe for Easter. This recipe is as straightforward as Hot Cross Buns get and produces a delicious, warmly spiced, sweet bun filled with raisins.
They are incredible when served warm and slathered in butter. My children love them and I have been putting them back the next day in the oven at 120 C for fifteen minutes before cutting and spreading with butter as an after school snack.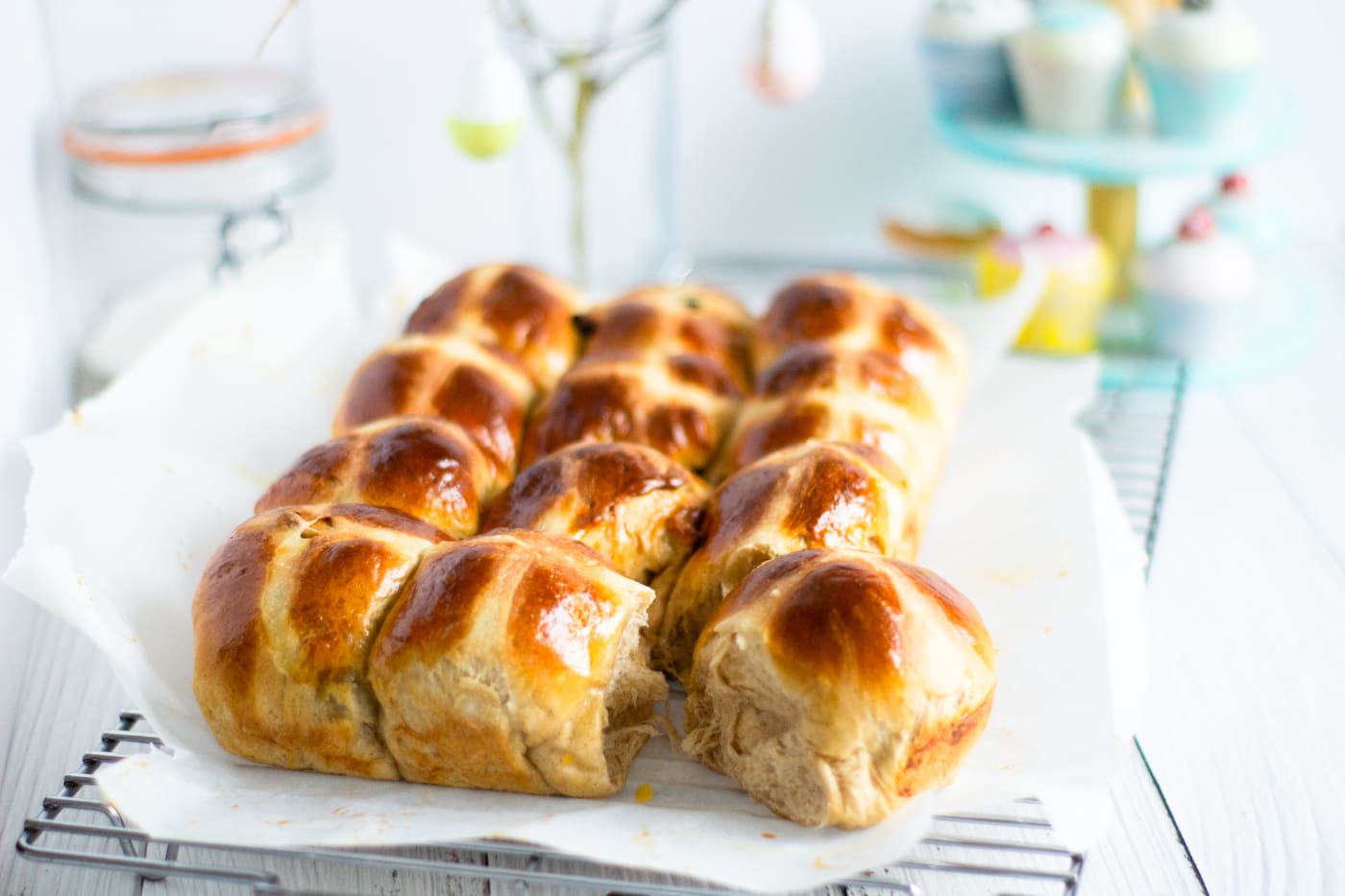 It makes me feel like Delia Smith.....always a Brucey Bonus.
It is made with a fabulously enriched dough that does take longer to prove than a standard bread dough so I always try to do it when I am in the house for at least five hours straight otherwise I get stressed about getting the proving right.
Place the flour, salt, yeast and sugar in a large mixing bowl and melt the butter with the milk gently in a saucepan over a low heat. Add the spices and stir.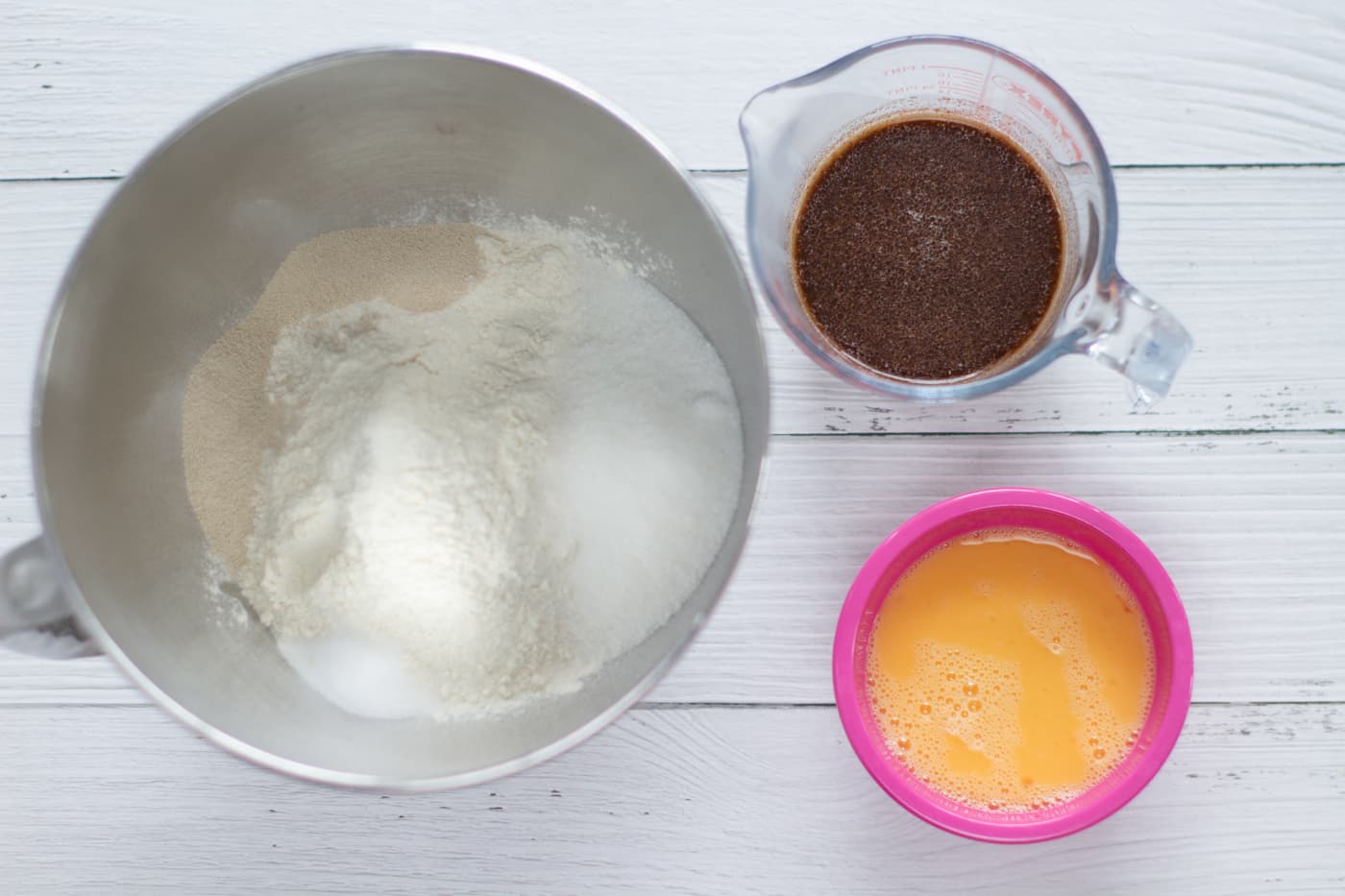 Add the buttery, spiced milk to the flour etc along with the beaten eggs.
Mix until the dough comes together and then knead or use a dough hook to knead the dough until it is smooth and slightly stretchy.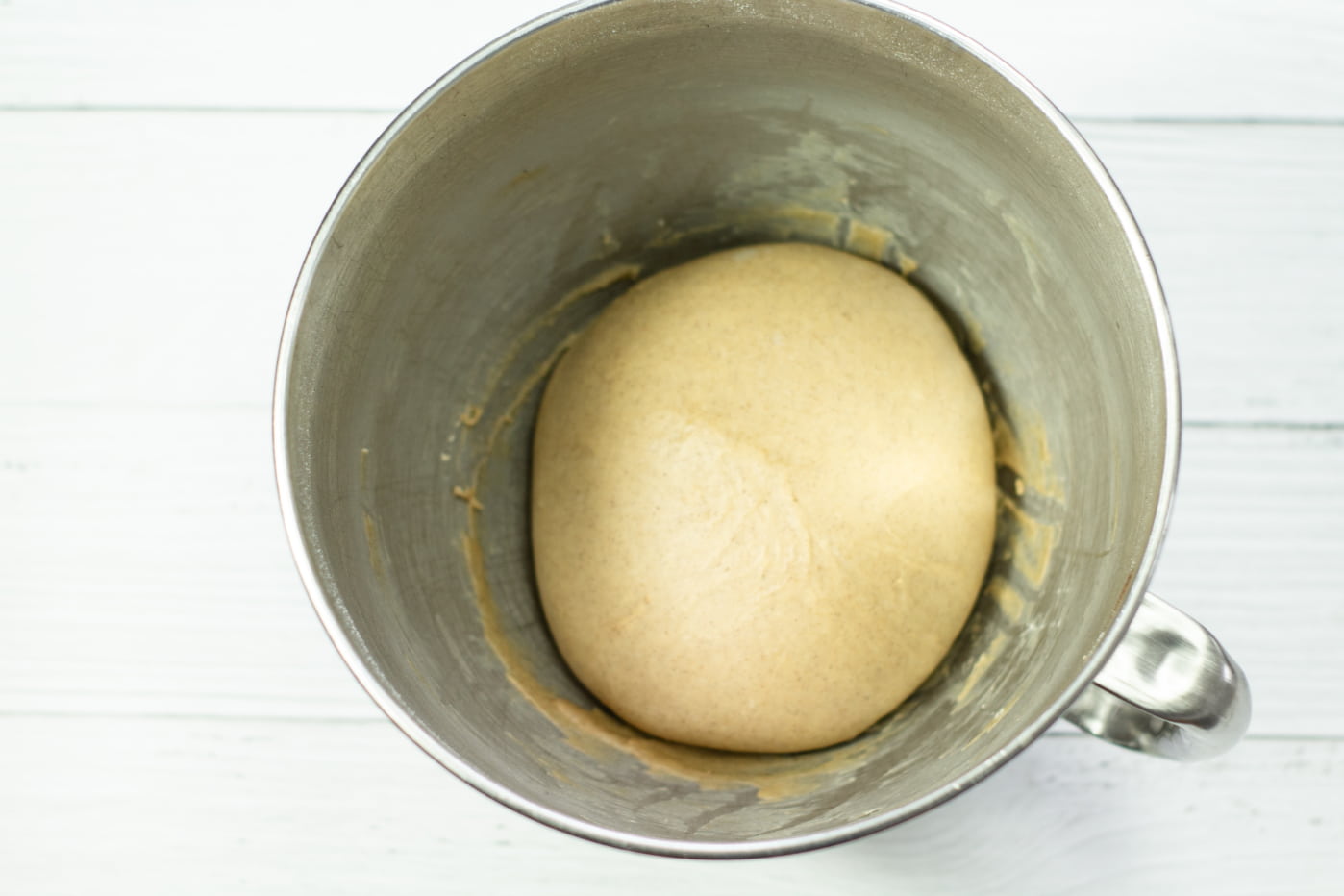 Add more milk if your dough is not wet enough.
Cover your bowl with clingfilm or whatever you like to use. I have a shower cap! Leave somewhere warm to double in size for 1-2 hours.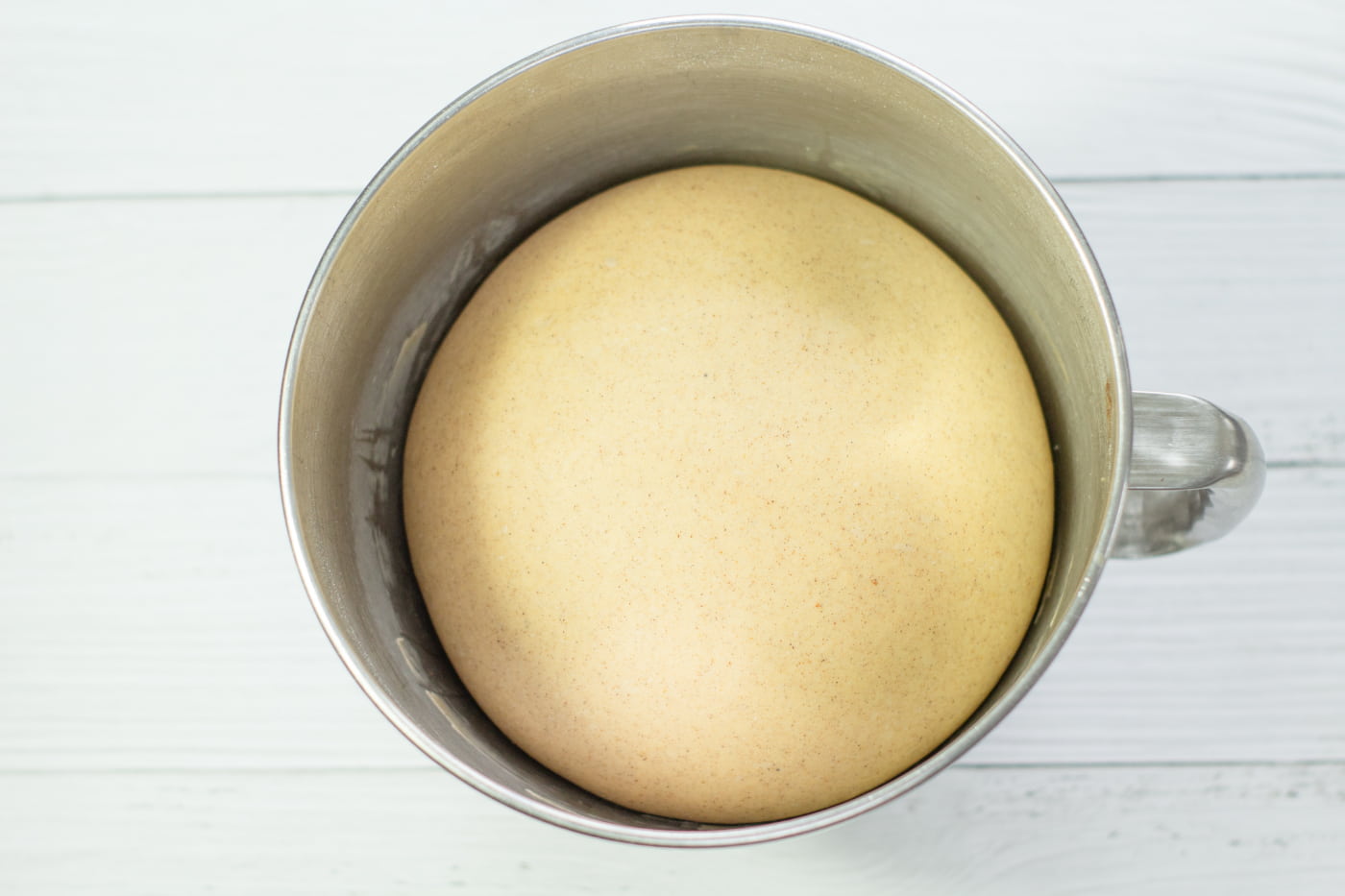 Knock the dough back by punching the air out of it in the bowl and then removing it from the bowl and giving it a little knead.
I roughly roll it out using a rolling pin into a rough rectangle and sprinkle over the sultanas/raisins.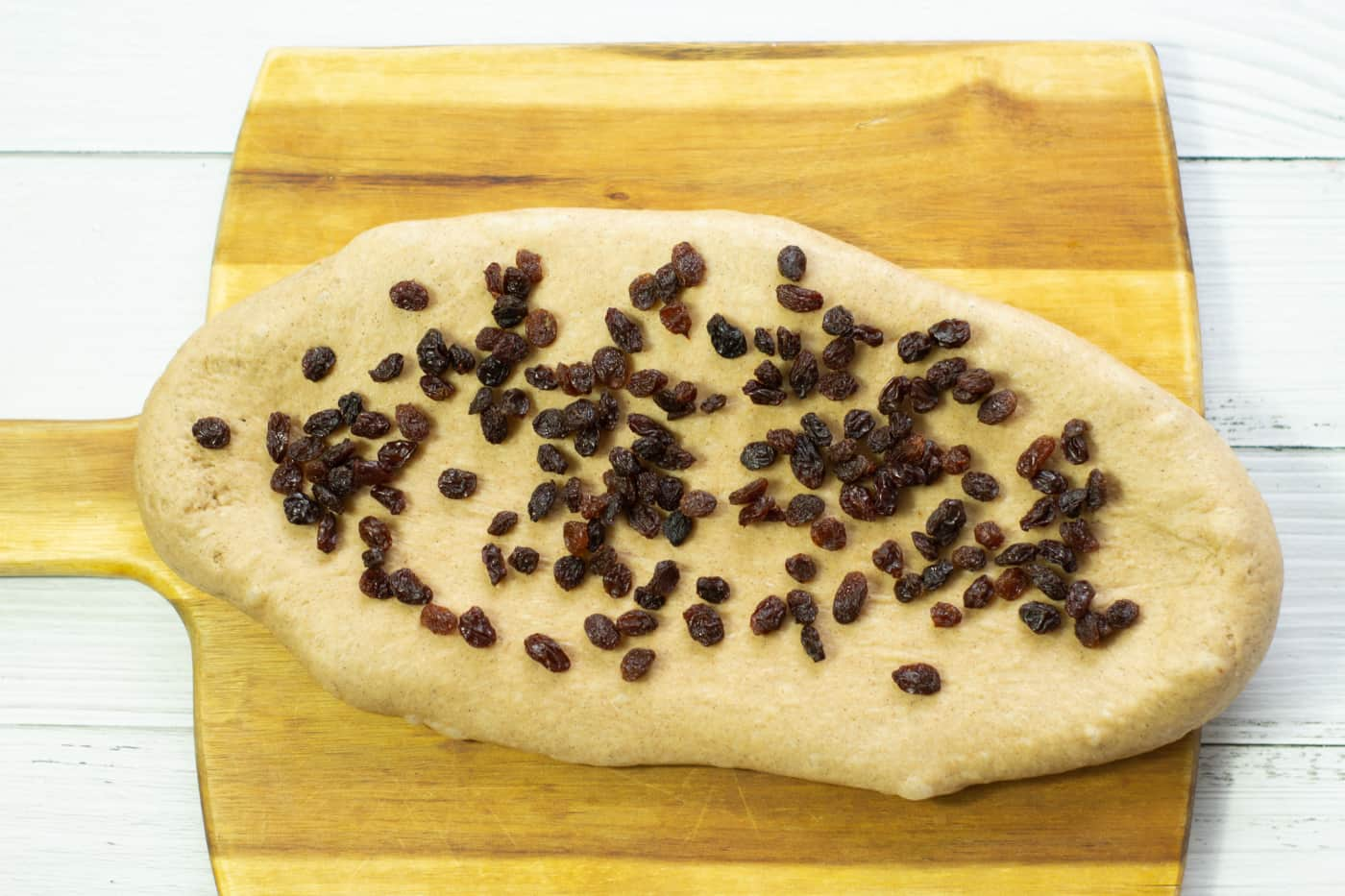 Roll it up and then knead the whole dough for a few minutes so that the raisins get distributed through out.
Weigh your dough and work out how much each bun needs to weigh to make 12 buns.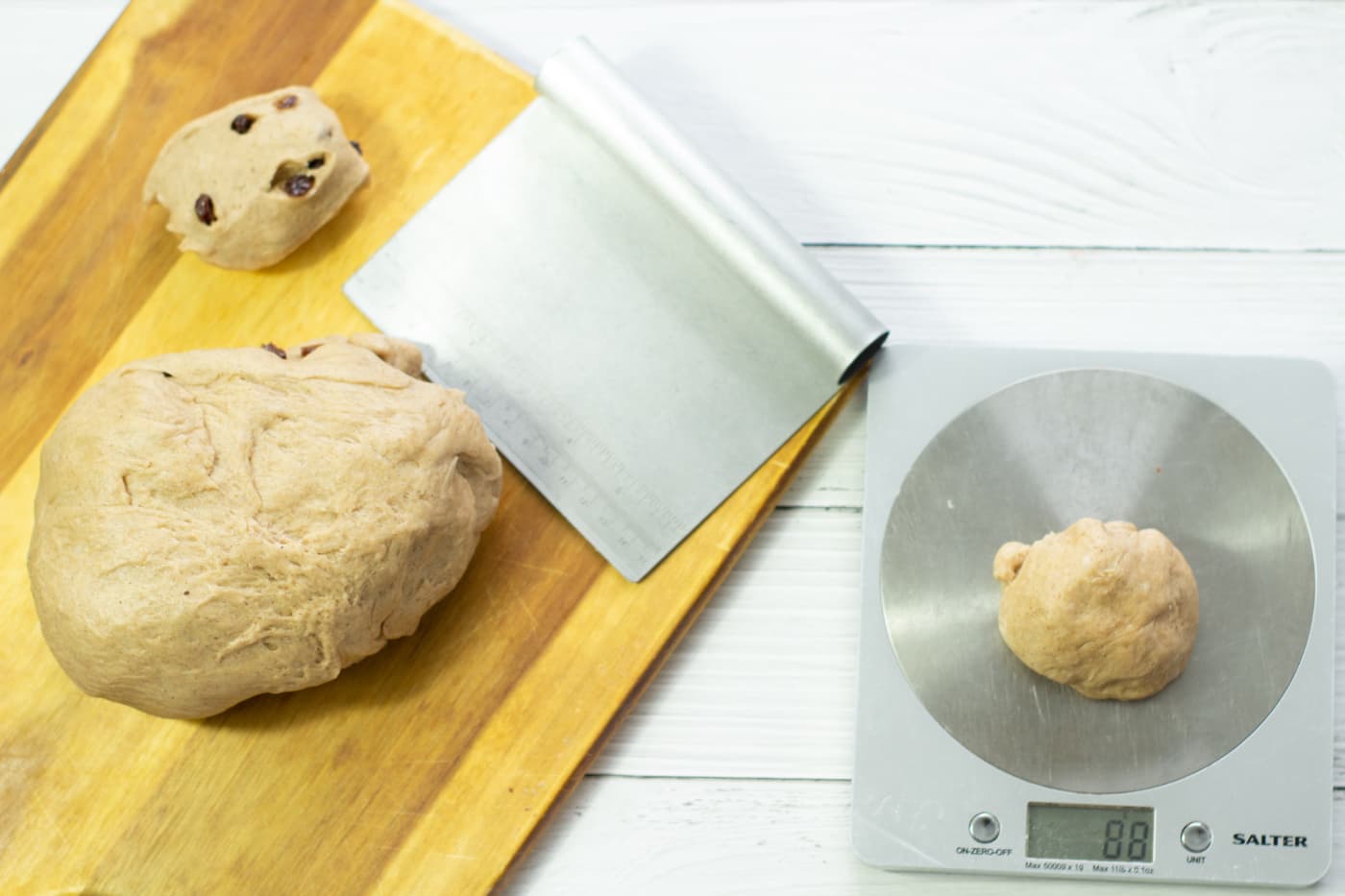 I roll the dough into balls by using my hands in a cupping motion on the work surface or by pulling the dough tight from the top to the bottom like a draw stringed purse.
This does tend to give a smoother finish. I do remove any naked raisins sticking out. as they will burn.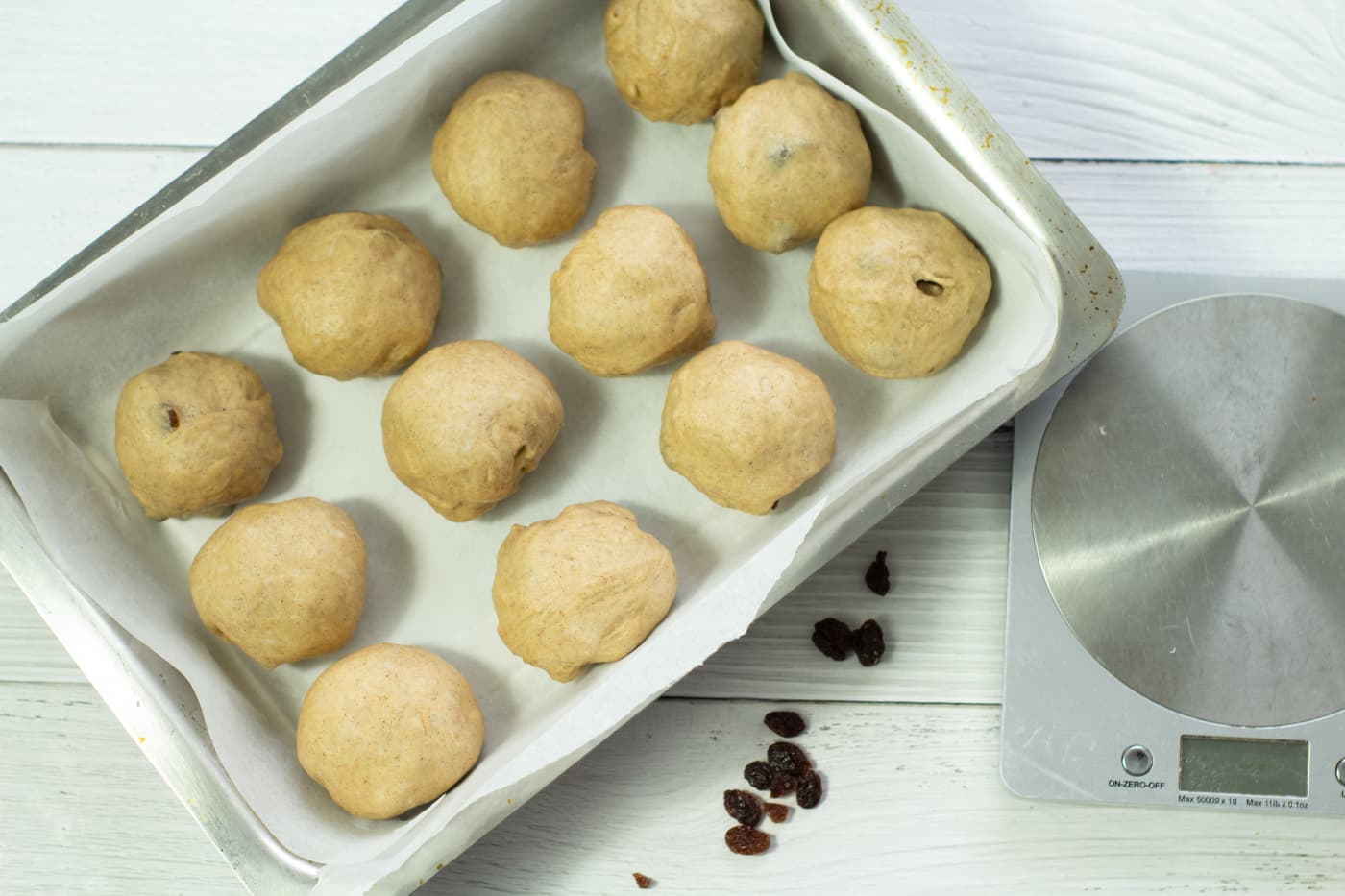 Cover with oiled clingfilm and leave somewhere warm to puff up. It can take up to an hour.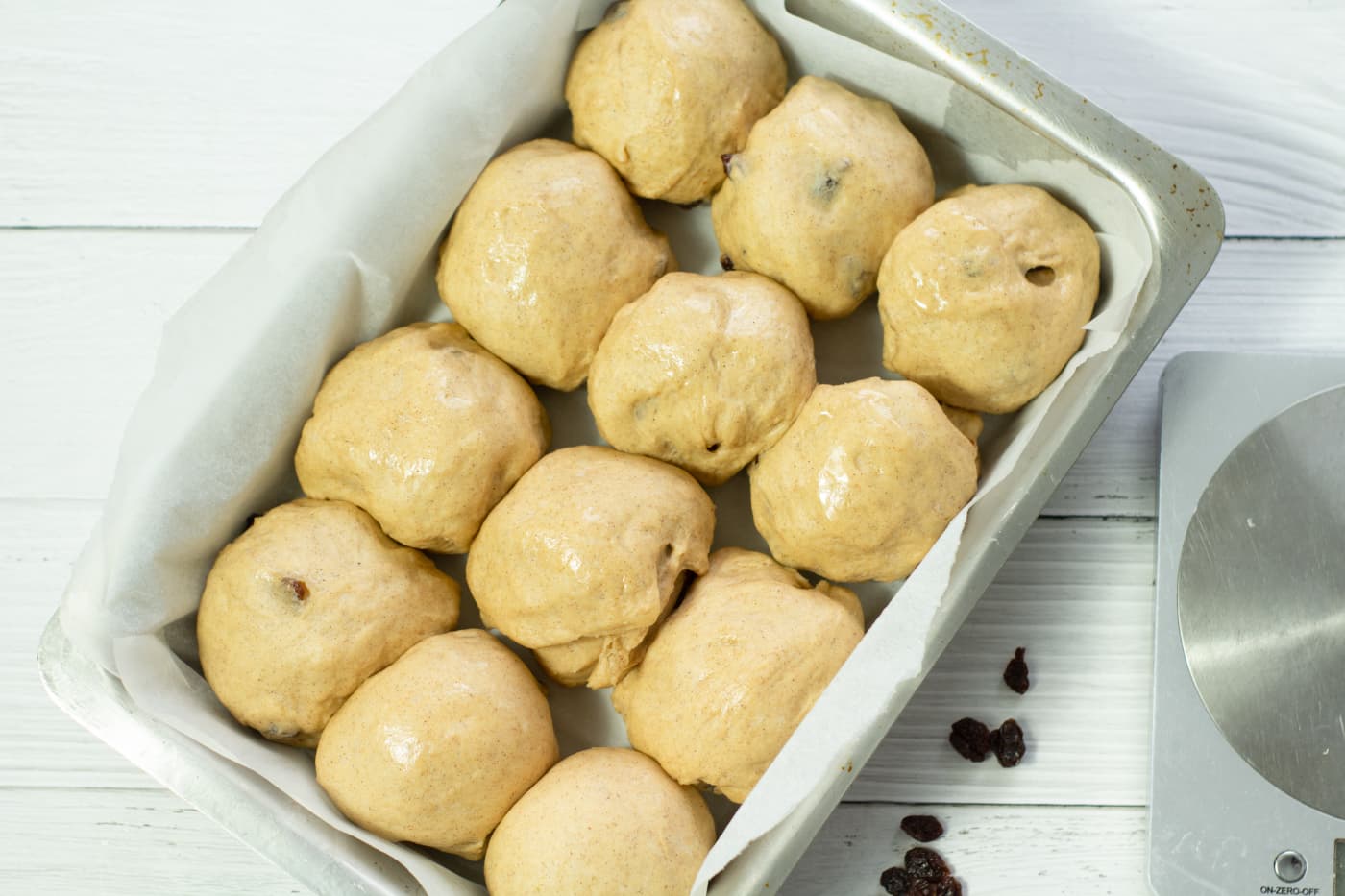 I brush them with egg wash before piping over my white cross. I make this by mixing water to the flour to make a sticky paste that will hold it's shape when piped.
I think the easiest way to pipe is to use disposable piping bags and snip the end so that you have about a 3mm hole.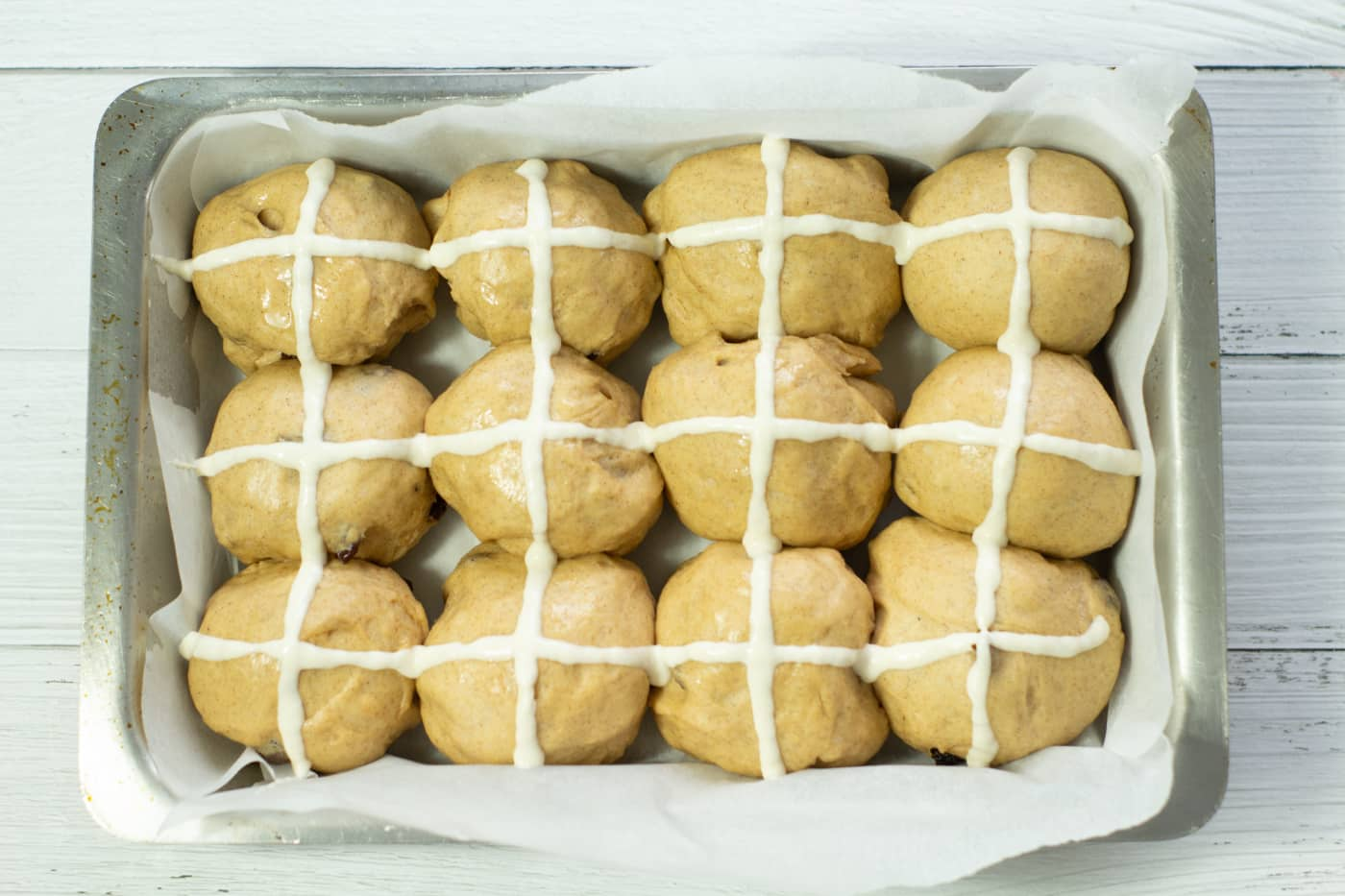 Bake for 20-25 minutes until turning a deep brown and hollow when tapped on the bottom. Not the easiest thing to do I grant you but carefully give it a go.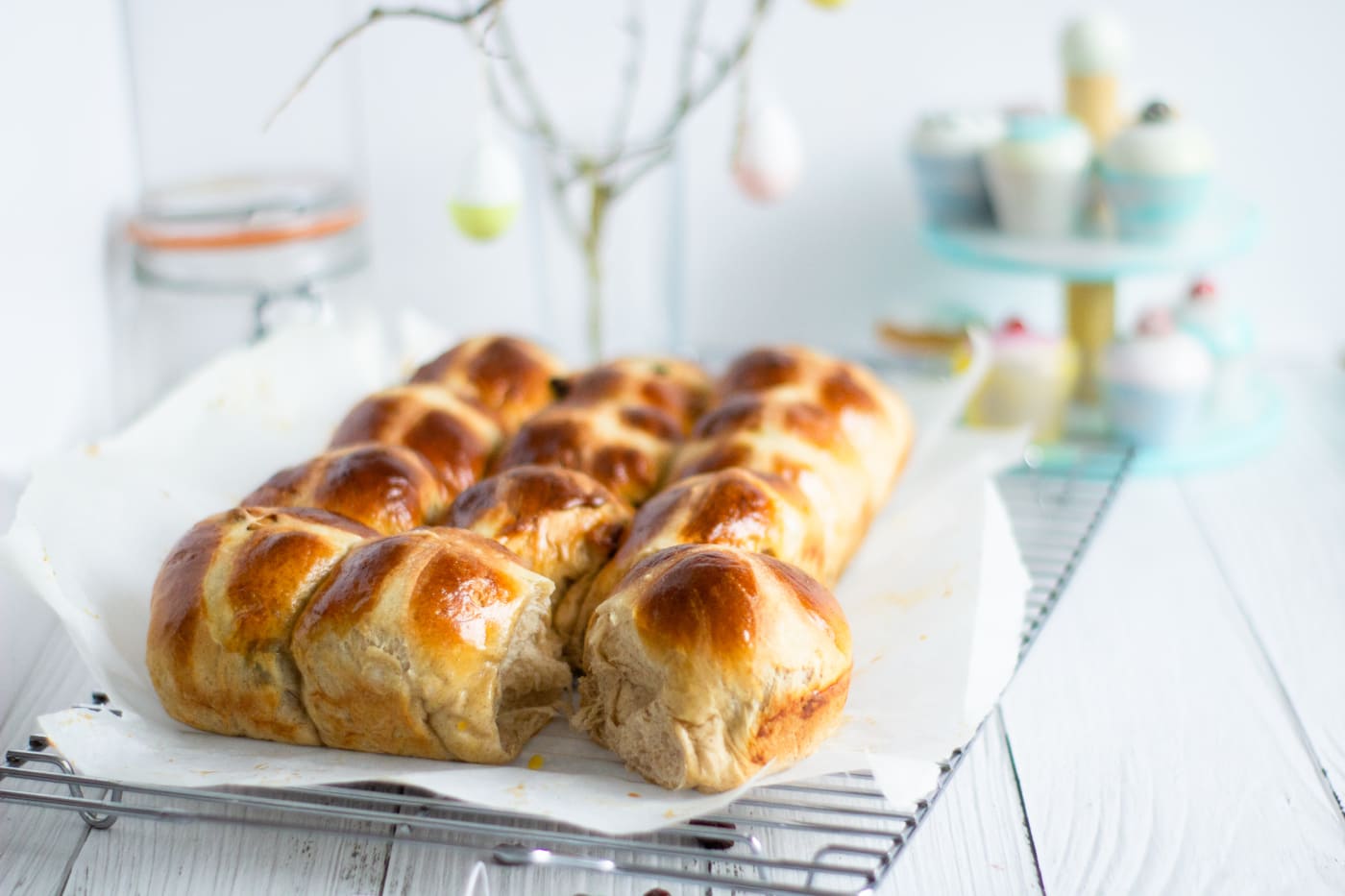 Here are some more Easter recipes.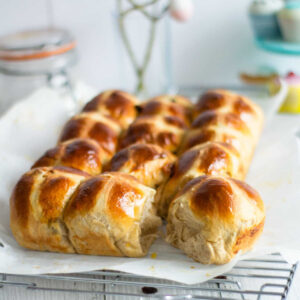 Simple Hot Cross Buns.
So here is a fabulous and simple Hot Cross Buns recipe for Easter. This recipe is as straightforward as Hot Cross Buns get and produces a delicious, warmly spiced, sweet bun filled with raisins. They are incredible when served warm and slathered in butter.
Ingredients
Buns
500

grams

strong white bread flour

1

tsp

salt

2 x 7

grams

instant dried yeast

¼

tsp

ground nutmeg

1

tsp

mixed spice

2

tsp

ground cinnamon

100

grams

melted butter

unsalted

200

mls

milk

80

grams

caster sugar

3

medium

eggs

one for egg wash.

75

grams

raisins
White paste cross
3

tbsps

plain flour

3 ½

tbsps

water
Instructions
Bread dough
Put 200 mls milk and 100 grams butter with all the spices into a sauce pan and simmer gently until all the butter is melted. Set aside to cool a little. If it is too hot when it goes in the flour it will kill the yeast.

Beat two of the eggs in a small bowl or mug and do the same for the last egg in a separate container.

I use a free standing mixer but you could do the same by hand. Put  500 grams flour, 1 tsp salt, 7g x 2 instant yeast and 80 grams caster sugar into your large mixing bowl.

Take care to put the salt and yeast on opposite sides.

Pour the contents of the saucepan into the big mixing bowl as well as the two beaten eggs. Mix with the dough hook on a medium speed for five mins or knead by hand for ten. The dough should be soft and elastic. Oil your bowl and cover until doubled in size. I usually find that this takes about 1 ½ to 2 hours.

Tip out the dough and pull out to a rough rectangle. Scatter all the raisins across it and gently roll up and knead for a few mins until the raisins are evenly dispersed.

Weigh the dough and divide by 12 or 13. Roll into balls and place on a lined baking tray a little apart to allow for puffing up. Remove any naked raisins on the top of your rolls.

Cover with oiled clingfilm and put somewhere warm to prove again. See pics. Preheat the oven to 200 C.

Mix the flour and water vigorously together for your flour paste. When gloriously puffed up brush gently with the single beaten egg wash all over and pipe or use a spoon to drizzle over the crosses. This can be a little tricky but stay strong.

Bake for about 15 minutes until browned and burnished.

Apply to Unbalanced and Psychotic Face.
Nutrition
Calories:
291
kcal
|
Carbohydrates:
44
g
|
Protein:
7
g
|
Fat:
9
g
|
Saturated Fat:
5
g
|
Cholesterol:
65
mg
|
Sodium:
281
mg
|
Potassium:
132
mg
|
Fiber:
1
g
|
Sugar:
7
g
|
Vitamin A:
300
IU
|
Vitamin C:
0.3
mg
|
Calcium:
41
mg
|
Iron:
0.9
mg
All nutritional information is approximate and intended only as a guide.
Tried this recipe?
Take a pic and tag @applytofaceblog on Instagram. I would so love to see them!
Do let me know how you got on in the comments below . I love a good old hairy chin wag.