These incredible Hot Cross Buns are softly spiced and just fabulous with an enriched yeasted dough. Served warm and slathered in butter they really are divine.
These Spiced Buns are traditionally eaten on Good Friday. The eating of Hot Cross Buns signifies the ending of Lent as they are made with dairy food stuffs, something that is forbidden during this time. The white cross piped onto the buns is obviously rooted in Christianity and the rise of Christ.
As synonymous with Easter as Chocolate Eggs these beautiful buns are something I love to bake for my family each year. All that cinnamon wafting around my kitchen makes me giddy for the whole warm with salted butter experience. I want it dripping from my chin baby.
Incredible Hot Cross Buns
But first......way back when..feel free to scroll past my story to the recipe below if you're feeling hungry...
This week has found me an emotional psycho b...h. I have been completely at the mercy of mofo mood swings and huge emotional crashes. At the end of everyday I feel as if I've been watching "Beaches" on repeat.
At the weekend my daughter was dancing in a show held at my old secondary school. I knew I may well be moved by my return but I had no idea to what degree........I started crying in the car park......
As I mounted the steps and moved inside I felt as if I had been sucker punched. It was all I could do not to sob hysterically outside the headmistresses office, which is now something to do with pastoral care??? Wtflip????.........
I needed to get my sh.t together as I was surrounded by normal people clutching sequined outfits and large cans of hairspray..........
I could barely hear anything though as I was hit hard with memories from another lifetime. What I really wanted to do was give in and sink to my knees convulsively weeping for at least an hour in memory of a wonderful time long gone by........
But I would have been sectioned and spoilt my daughter's debut so I swallowed hard and blurry eyed handed my daughter and her outfits over to the normal people before running back to my car snivelling, snotty and broken.
What's sure is that I cannot carry on in this vein without Valium, when will this hormonal roller coaster cease? GIVE ME OESTROGEN SOMEBODY FOR THE LOVE OF GOD..............
At least I will have access to large amounts of chocolate shortly even if I have to take it from the mouths of babes.....
Hot Cross Buns Recipe
So here is a fabulous and simple Hot Cross Buns recipe for Easter. This recipe is as straightforward as Hot Cross Buns get and produces a delicious, warmly spiced, sweet bun filled with raisins.
They are incredible when served warm and slathered in butter. My children love them and I have been putting them back the next day in the oven at 120 C for fifteen minutes before cutting and spreading with butter as an after school snack.
It makes me feel like Delia Smith.....always a Brucey Bonus.
It is made with a fabulously enriched dough that does take longer to prove than a standard bread dough so I always try to do it when I am in the house for at least five hours straight otherwise I get stressed about getting the proving right.
I use a free standing mixer with a dough hook, in part because I am a lazy so and so and because it keeps mess to a minimum.
Add more milk if your dough is not wet enough.
Here are pics of the first prove before and after of my Simple Hot Cross Buns recipe.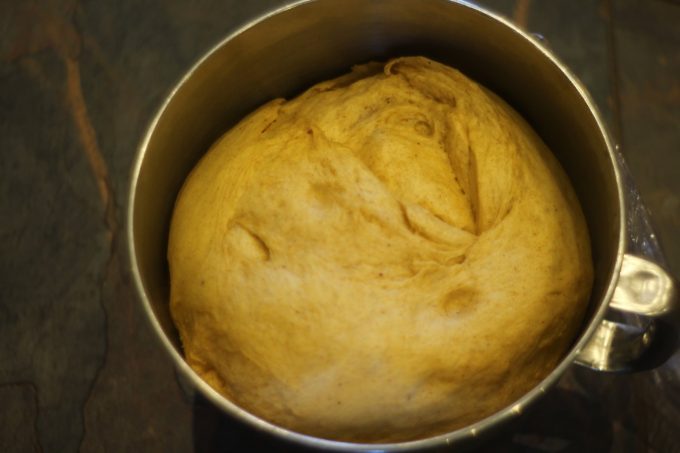 I then pull/squish the dough out to a rough rectangle and sprinkle over the raisins before gently kneading them into the dough.
I don't like lots of raisins and I especially don't do mixed peel but do feel free to add anything that floats your boat.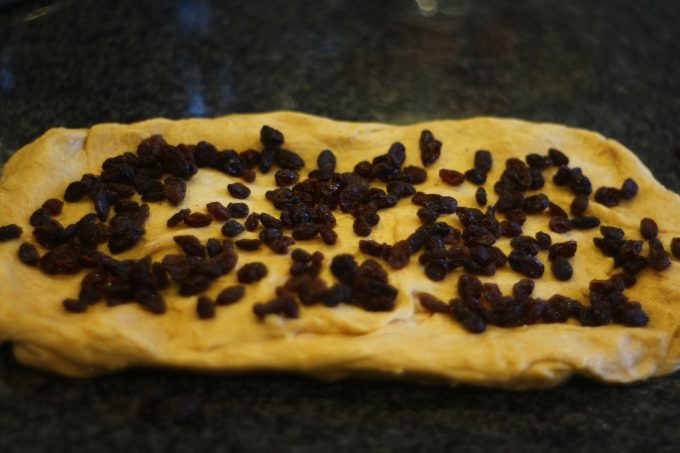 I then divide into 13 if I'm doing the circle of buns or 12 if I'm doing a standard 3 straight lines of four on a baking tray.
I weigh the dough and then use a calculator to divide equally. I roll the dough into balls by using my hands in a cupping motion on the work surface or by pulling the dough tight from the top to the bottom like a draw stringed purse.
This does tend to give a smoother finish. I do remove any naked raisins sticking out. as they will burn.
Cover with oiled clingfilm and leave somewhere warm to puff up.
I brush them with egg wash before piping over my white cross. I make this by adding just enough water to the flour to make a sticky paste that will hold it's shape when piped.
It is hard to gauge but just make it as thick as you dare bearing in mind you don't want it to stand rigid in a thick line. Suck it and see.
About 3 tbsp of plain flour is enough and about 3 tbsp water. It needs to be able to hold a line.
I think the easiest way to pipe is to use disposable piping bags and snip the end so that you have about a 3mm hole.
Here is some more in a more classical bake.
Here are some more Easter recipes.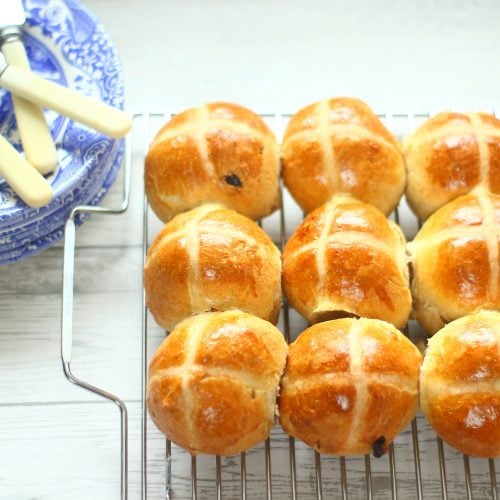 Simple Hot Cross Buns.
So here is a fabulous and simple Hot Cross Buns recipe for Easter. This recipe is as straightforward as Hot Cross Buns get and produces a delicious, warmly spiced, sweet bun filled with raisins. They are incredible when served warm and slathered in butter.
Ingredients
Buns
500

grams

strong white bread flour

1

tsp

salt

2 x 7

grams

instant dried yeast

¼

tsp

ground nutmeg

1

tsp

mixed spice

2

tsp

ground cinnamon

100

grams

melted butter

unsalted

200

mls

milk

80

grams

caster sugar

3

medium

eggs

one for egg wash.

75

grams

raisins
White paste cross
3

tbsps

plain flour

3 ½

tbsps

water
Instructions
Bread dough
Put 200 mls milk and 100 grams butter with all the spices into a sauce pan and simmer gently until all the butter is melted. Set aside to cool a little. If it is too hot when it goes in the flour it will kill the yeast.

Beat two of the eggs in a small bowl or mug and do the same for the last egg in a separate container.

I use a free standing mixer but you could do the same by hand. Put  500 grams flour, 1 tsp salt, 7g x 2 instant yeast and 80 grams caster sugar into your large mixing bowl.

Take care to put the salt and yeast on opposite sides.

Pour the contents of the saucepan into the big mixing bowl as well as the two beaten eggs. Mix with the dough hook on a medium speed for five mins or knead by hand for ten. The dough should be soft and elastic. Oil your bowl and cover until doubled in size. I usually find that this takes about 1 ½ to 2 hours.

Tip out the dough and pull out to a rough rectangle. Scatter all the raisins across it and gently roll up and knead for a few mins until the raisins are evenly dispersed.

Weigh the dough and divide by 12 or 13. Roll into balls and place on a lined baking tray a little apart to allow for puffing up. Remove any naked raisins on the top of your rolls.

Cover with oiled clingfilm and put somewhere warm to prove again. See pics. Preheat the oven to 200 C.

Mix the flour and water vigorously together for your flour paste. When gloriously puffed up brush gently with the single beaten egg wash all over and pipe or use a spoon to drizzle over the crosses. This can be a little tricky but stay strong.

Bake for about 15 minutes until browned and burnished.

Apply to Unbalanced and Psychotic Face.
Nutrition Facts
Simple Hot Cross Buns.
Amount Per Serving
Calories 291
Calories from Fat 81
% Daily Value*
Fat 9g14%
Cholesterol 65mg22%
Sodium 281mg12%
Potassium 132mg4%
Carbohydrates 44g15%
Protein 7g14%
Vitamin A 300IU6%
Vitamin C 0.3mg0%
Calcium 41mg4%
Iron 0.9mg5%
* Percent Daily Values are based on a 2000 calorie diet.
Do let me know how you got on in the comments below . I love a good old hairy chin wag.