How do I love thee Strawberry? Let me count the ways. I love thee naked and swimming in cream obvs but I also love thee chopped up and scattered atop a White Chocolate Sponge or freeze dried in a Rocky Road. I love thee made into jam and cuddling up with a pillow of cream and I love thee 30 more Strawberry Sensational ways .
A big welcome to #CookBlogShare week 24 and a whole lot of summer loving. #CookBlogShare is a weekly link party where recipes are shared, we comment on each other's cooking creations and generally indulge in all things food related!
It's the place where food bloggers can share their latest posts and for you to find new food blogs. Next week the linky will be with Chloe at Feast Glorious Feast.
Strawberry Recipes
As the Summer Sun shows it's welcome face once again, I feel impelled to bring you some Strawberry love and recipe fun. A real summery Summer feels almost tangible and Strawberries really are British Summer on a plate.
A celebration of sunshine and all things sweet. Just one look at a big bowl of these beauties and I cannot help but reach for the Pimms or the squirty cream (only joking).
To that end I do have a few fruity recipes of my own here on Apply To Face Blog. We loves the strawberries muchly on the blog and in our kitchen.....apart from my son...he begrudgingly accepts that they should be in the jam for Doughnuts and in ice cream and milkshakes but that is IT.
Silly and annoying child. So many lost strawberry opportunities.
The most popular Strawberry recipe on the blog is my Strawberry Jam Cupcakes. These hold little jammy surprises inside and are topped with the best strawberry jam icing.
I baked them here for my daughter's Birthday. They were such a hit and I gave them away to her guests at her Birthday Party.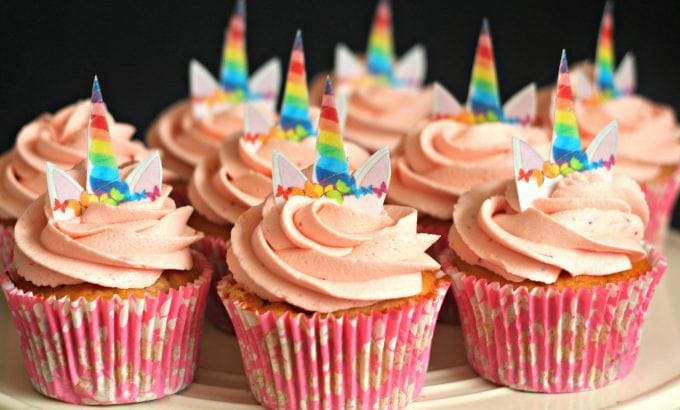 This Eton Mess Rocky Road from The Baking Explorer looks perfect for Birthday Parties too as well as general summer nibbling.
Kat has packed this rocky road with shortbread biscuits, meringue pieces, mini marshmallows, dried strawberries and also some freeze dried strawberries on top. They sound delicious and lots of fun to make and eat.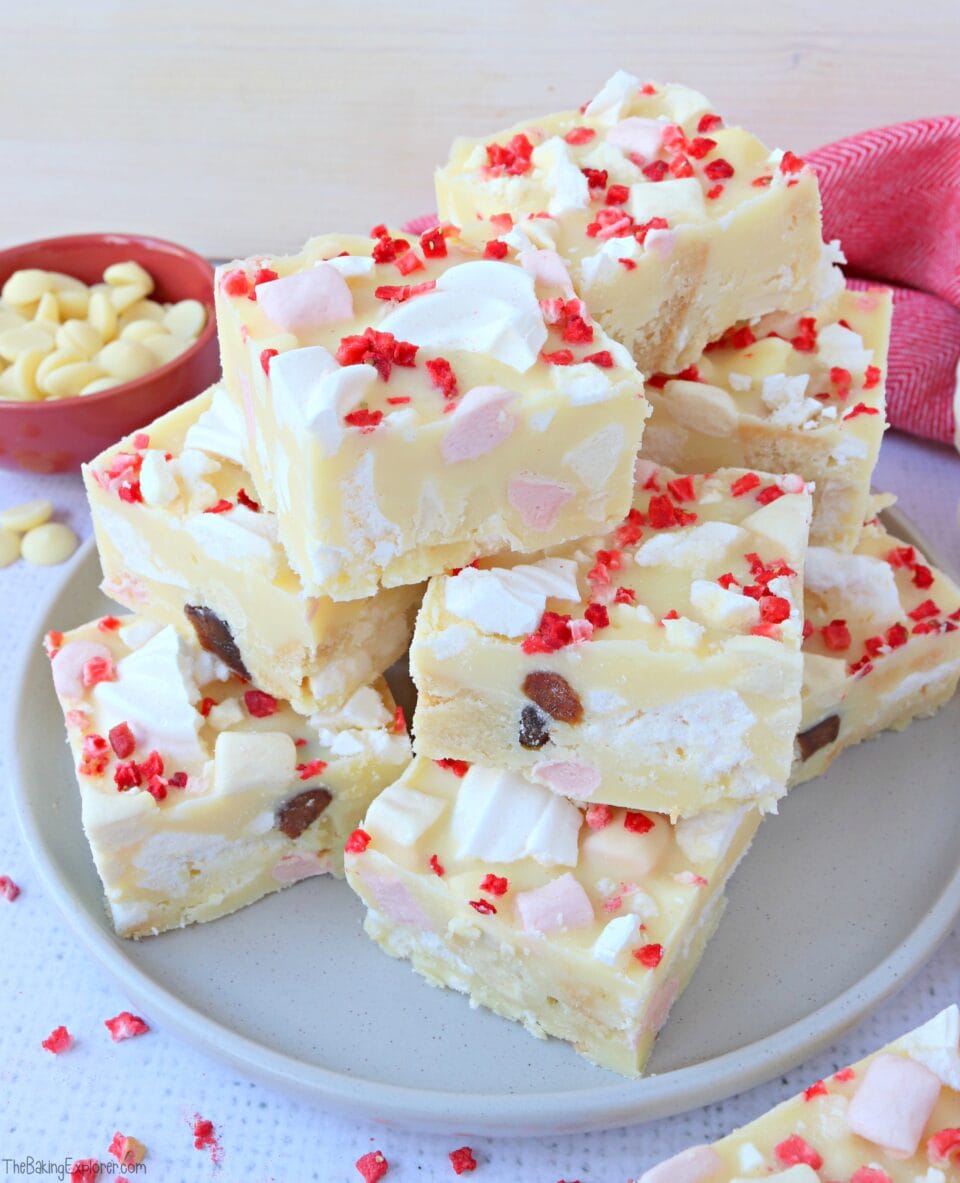 Another strawberry recipe perfect for a special occasion is this epic White Chocolate Strawberry Cream Cake from Famersgirl Kitchen.
This is a delicious light sponge made with white chocolate and orange zest and filled and topped with whipped cream, orange or lemon curd and lots of strawberries. Doesn't it look a summer picture?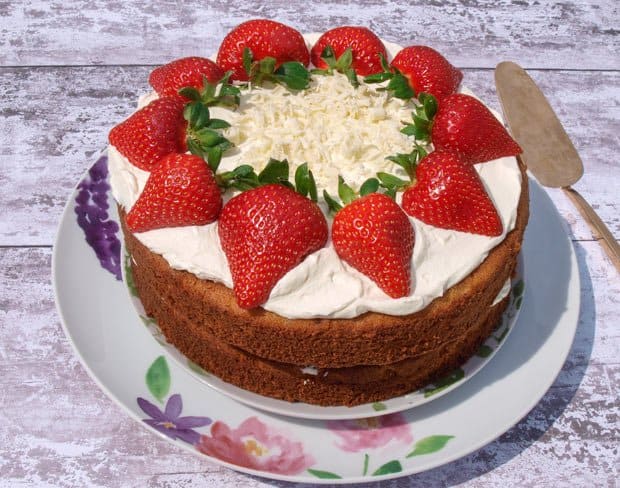 We also have a Gluten Free Sponge Cake from Tin and Thyme for your strawberry perusal. This is a gluten free sponge cake sandwiched together with homemade strawberry jam and whipped cream flavoured with rose syrup.
I just the love the sound of this. Perfect for an elegant afternoon tea in the garden.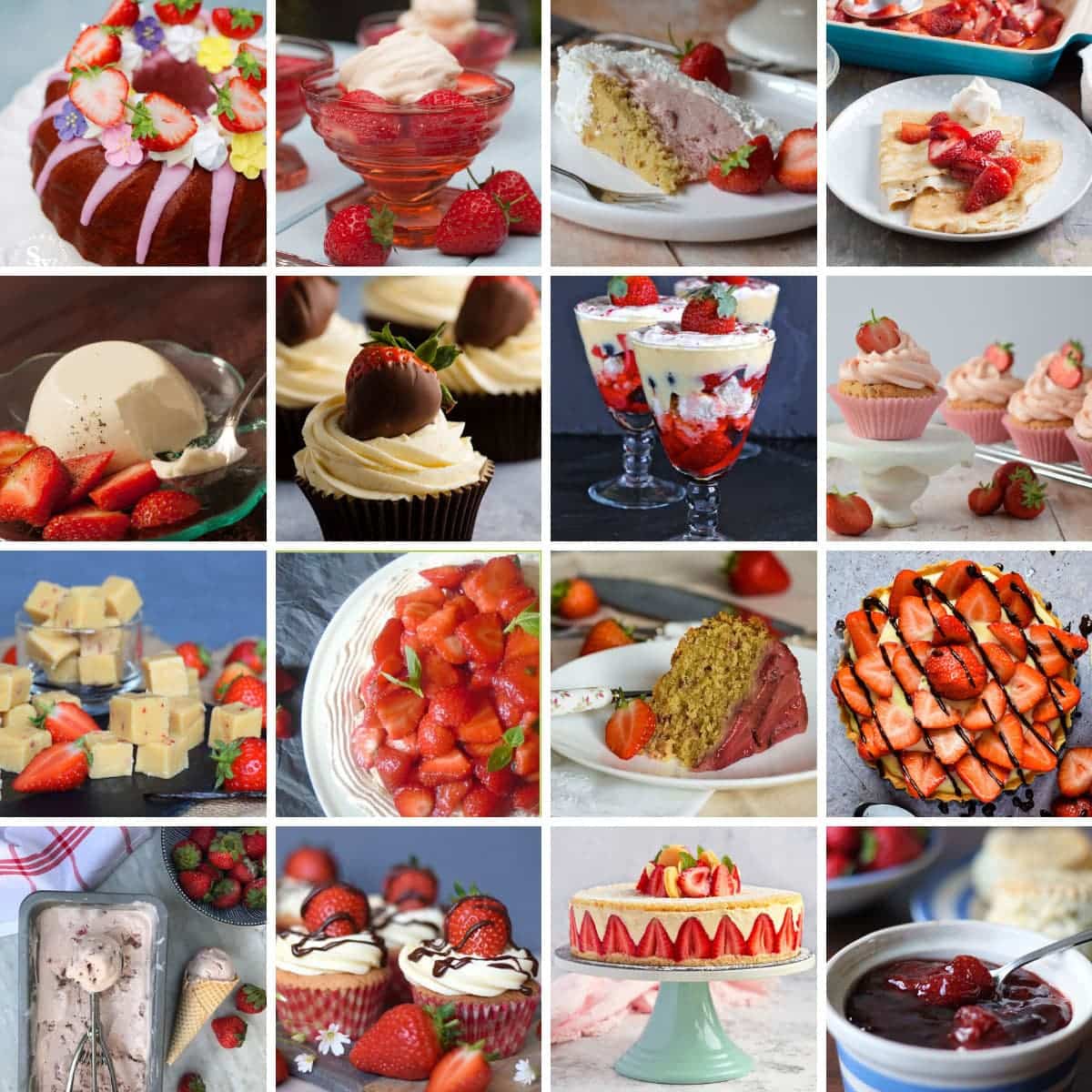 Our last strawberry recipe is an actual roundup of 30 Sensational Strawberry Recipes from Only Crumbs Remain. This is an outstanding recipe collection of all things strawberry. A really fantastic round up to bookmark for future strawberry indulgence.
I wish you all a long hot summer, filled with bowls of strawberries and cream and everything strawberry inbetween. Have a good one, albeit it mostly in the garden and without Wimbledon this year....sob. Let's do our bit and make sure we eat up all those surplus strawberries.
#CookBlogShare 2020 week 24
Non-bloggers – skip to the bottom of the page and click on the thumbnails that catch your eye to take you to the website where the recipe can be found. Remember they will be added to as the week goes on, so don't forget to pop back and take a look again later.
Bloggers Linking up this week?
You can link up any foodie posts you have. Both old and new posts are welcome as long as they have not been linked to #CookBlogShare before. All you need to do is:
Link up a recipe or foodie post by clicking the blue 'add your link' button below and following the instructions. You can link up to 4 posts.
Add a link from your post back to this post (so everyone else can find it and link up too!) and / or add the NEW #CookBlogShare badge to your post (Code below – for WordPress copy and paste the code below into the text view of your post).
Comment on some of the other recipes linked up here (at least 2 for each link added but the more you can the better) and generally share the love with a bit of social media action!
Plus comment on either this post or one of the posts labelled HOST in the linky.
Just to remind you, by joining in you are giving the #CookBlogShare hosts permission to use your pictures in a roundup and on social media if your recipe is selected as one of our favourites!
Don't forget to add #CookBlogShare to your Instagram post and check out/comment on what others are posting on the #CookBlogShare feed.
You can also post your recipe on the Cook Blog Share Facebook Page.
I will visit and comment on all the posts linked and I share them on social media.
I will also pin the recipes to our #CookBlogShare group board. If you wish, you can tweet me a link to your recipe @applytofaceblog as well as (if you have room on the tweet!) my co-hosts @lostinf00d using the #CookBlogShare hashtag and @recipecrumbs we will retweet all that we see.
SO, IT'S OVER TO YOU. I CAN'T WAIT TO SEE WHAT YOU'VE ALL BEEN COOKING!
You are invited to the Inlinkz link party!
PIN STRAWBERRY FUN FOR LATER!