As the weather here has become balmy and even scorchio at times, I have found it hard to even think about turning the oven on. It has been all about the salads. But such is the British weather the rain has returned and with much vigour. As we put away our flip flops and pull out the wellies I find it hard to be disappointed when it will be so much easier to bake . At least we can eat the gorgeous retro cake.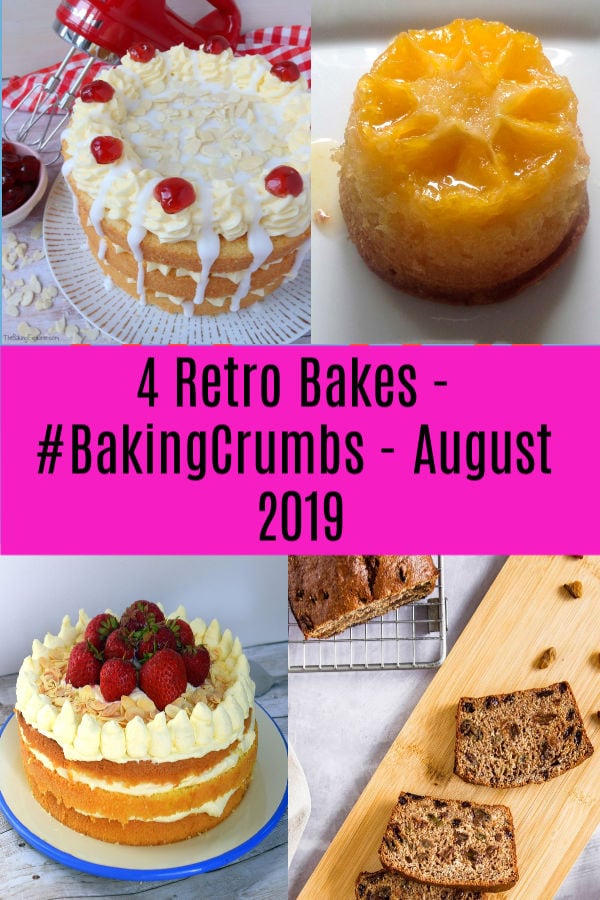 I love an old fashioned bake. In fact they always make me smile. Food evoking memories are some of my absolute favourites. I suppose in part because I love food so much (any excuse) but I also think that there is a real truth in why reinvent the wheel ? The flavour combinations of the classics still stand up deliciously to the test of time. Perhaps I am swayed by my own aging, but I think it is more to do with the flavours themselves. They are just still so damn good. I for one will make a point of sharing them with my children.
This August #BakingCrumbs was full of incredible recipes as usual. I have had a fabulous time reading them all and learning so much. I feel very lucky to have the opportunity to do so, so thank you all for joining in and linking up.
Are you sitting comfortably?
Here are some of the bakes that caught my eye and gave me a bit of a wink. The first was these stunning Courgette Cupcakes with Lemon Curd Cream Cheese Icing from Curly's Cooking followed by these Double Chocolate Zucchini Muffins from A Baking Journey. I have never baked with courgettes but have always meant too. Both of these bakes look outstanding.
We also had a couple of sweet potato bakes albeit from the same batter mix. A very clever recipe from Gluten Free Alchemist allows us to make not only amazing gluten free Spiced Sweet Potato Breakfast Muffins but also some incredible Healthier Spiced Sweet Potato Baked Doughnuts. I love a recipe that is so versatile.
These Vegan Neapolitan Cheesecake Bars from The Baking Explorer really stood out. Absolutely beautiful and expertly bought together to produce a perfect summer vegan dessert.
Yumsome also gave us a fabulous vegan sweet treat with her Vegan Cookie Butter Macadamia Blondies. These blondies are sure to put a smile on everyone's face apparently and I can believe it. They look absolutely delicious.
I couldn't help but mention Curly's Cooking White Chocolate and Peanut Butter Cookies. I love a peanut butter cookie and so do my children. These would go down a damn treat.
Be sure to pop over to last months #BakingCrumbs @Jo's Kitchen Larder to get even more of the baking low down and links to more great baking recipes from bloggers.
This Months Retro Bakes Featured Recipes
As retro baking is a small passion of mine my blog contains quite a few retro bakes. Perhaps my most popular is my Quiche Lorraine followed closely by my Meringues. Meringues always take me back to my childhood. I have championed them in my house and they are now one my children's favourite desserts. I love that they will have the same connection to them as me.
Now onto the features......
This genius bake from Easy Peasy Lemon Squeezy is a super simple recipe that delivers fantastic mini versions of an old retro classic, Upside Down Cake. Placing a slice of Clementine in the bottom of individual muffin holes and covering with a sponge batter before pouring over an orange syrup when baked and still warm from the oven! It really sounds drop dead incredible.
This is another show stopper bake from The Baking Explorer. A fantastic retro classic that is made with three tiers of almond sponge sandwiched together with cherry jam and almond buttercream. Finally icing is decadently dripped and dribbled down the sides and topped with the obligatory glace cherries. A real beauty.
Strawberry Gateaux
This is a Gateaux of epic proportions. A light genoese sponge is sandwiched together with a strawberry homemade compote and white chocolate cream in another three tier affair that is sure to wow with every wedge. These were all the rage back in the day of the gateaux. I can totally understand why. Another great dessert for summer too.
This is made with the breakfast of my generation, or to be accurate, my parents. A box of All Bran was always on our kitchen table at breakfast. I can even remember the smell of it, all malty and oaty. How brilliant to make a fruit loaf from it. This is something I would love to bake for them it looks so fruitily good.
What I Made This Month In Apply To Face's Kitchen
This month I made Everyday Healthy Recipe's Easy Blueberry Cake. My children are not fond of blueberries so I substituted strawberries instead. It was a great hit and such a simple recipe to follow. Great for feeding a crowd. It is something I will definitely bake again this holiday.