This Cheesy Chicken Pasta dish is just fabulous for a quick and simple meal that is bound to please all the family.
Full of flavour and served all out of the one pot. I love it's easy catering style.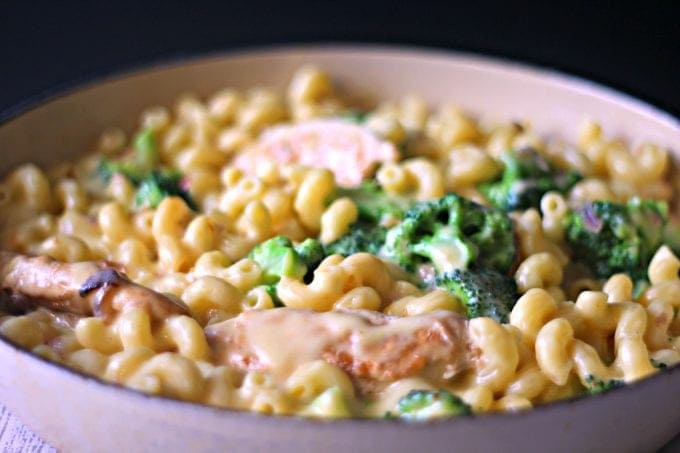 Cheesy Chicken Pasta Recipe.
This easy chicken recipe for me is the epitome of a working family life. I can make this quickly and easily for a family meal. It serves everyone's likes and I don't have to faff.
Chicken pasta recipes are perhaps my favourite of all for mid week meals as invariably it is a one pot serving if not quite a one pot cooking. You can also reheat the leftovers for round two later in the week or alone in the dark for a clandestine cheesy fix in your dressing gown.
The Cheese sauce is made from a simple roux. A sauce that in reality is EASY to make. As long as you whisk like a wotsit for thirty seconds or so, it is fail safe. It does look terribly lumpy at first but those lumps will go.
I like to use the elbow pasta that is a bit like macaroni. It is stouter and not as floppy as the usual Fusilli that's in my cupboard. It is more a match for the cheese sauce.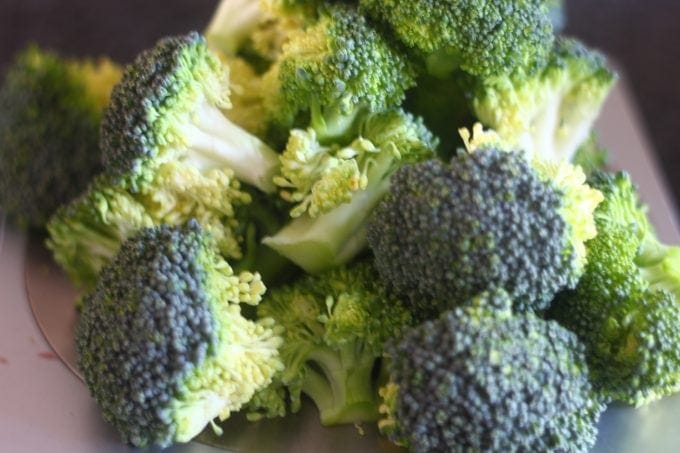 The Broccoli is cut into small bite size pieces and cooked along with the pasta for the last couple of minutes of cooking time.
I fry the chicken and onion in a very large frying pan that I use to serve everything from.
I then set aside whilst I put the pasta on to boil and make the cheese sauce.
Cook the pasta according to the packet instructions. Tip the broccoli into the boiling pasta water a few minutes before the pasta is ready.
When the pasta and broccoli is cooked I drain and tip straight onto the chicken. Before adding the cheese sauce and mixing gently through.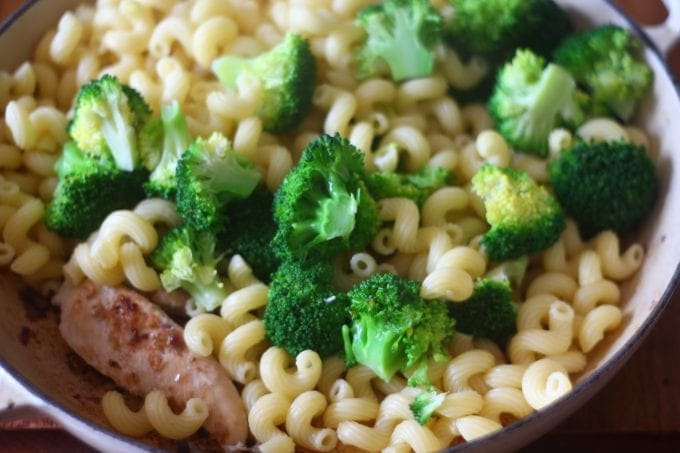 Cheese Sauce.
Once the butter and flour have melded together over a gentle heat ( it looks like greasy sand). I tip in 250 mls of milk and then chicken stock, or in American language, 1 cup of each.
Whisk like the aforementioned wotsit and all will be smooth.
Tip in your cheese and stir until melted and seriously delicious.
Pour over the pasta etc in the frying pan and gently mix the sauce all through.
Season to taste carefully. I eat a couple of the pasta pieces before I season.
The cheese sauce can often be almost too salty but when eaten with the pasta it actually needs a little more. Suck it and see....always.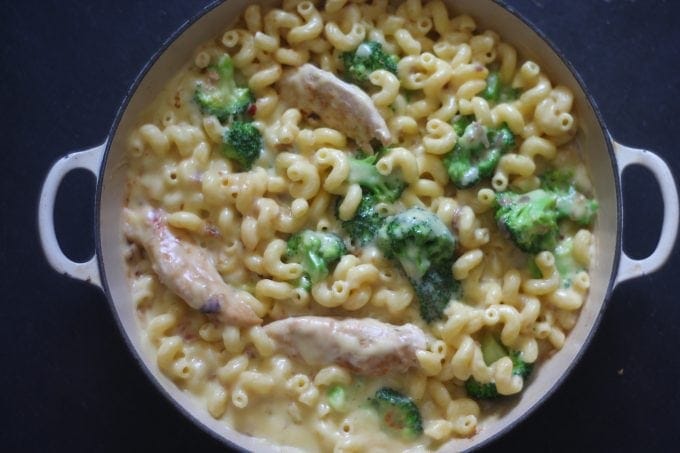 Fill your Family Faces with this five star midweek meal. Nursery food at it's best.
IF YOU LIKE THIS RECIPE YOU MAY LIKE THESE
- Thai Spiced Chicken Noodle Soup -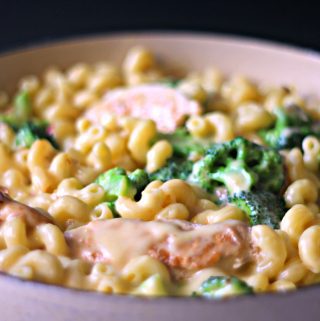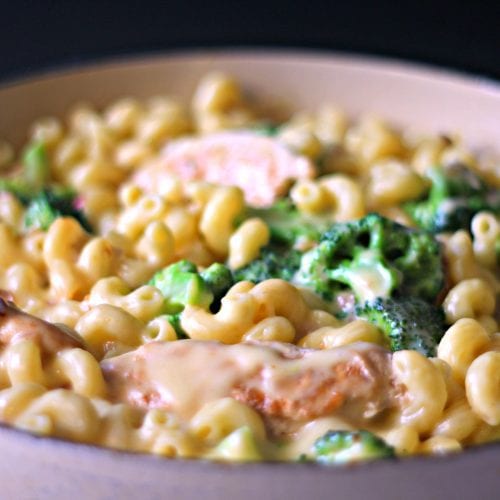 Cheesy Chicken Pasta with Broccoli
This is a Cheesy Chicken Pasta recipe with bite sized pieces of Broccoli. It is quick and simple to bring to the table and one of my favourite Chicken Pasta Recipes of all time.
Ingredients
500

grams

mini chicken fillets

you can use chicken breasts

300

grams

elbow pasta

200

grams

mature cheddar

1

tsp

french dijon mustard

1

large

onion

finely chopped or whizzed in the food processor

250

mls

milk

250

mls

chicken stock

250

grams

broccoli pieces

already cut into bite size

4

tbsps

butter

7

tbsps

flour

any white will do
Instructions
Put the chicken, onion and broccoli in a very large frying pan or saucepan with some olive oil and fry gently until cooked through. Set aside.

Bring some salted water to the boil for the pasta and empty it in.

In another saucepan melt the butter and then add the flour and allow to cook gently for a couple of mins giving it the odd stir.

Pour in the milk and chicken stock and whisk continuously until thickened and smooth. About 5 minutes.

Add the cheese and let gently bubble away whilst stirring through until all is melted. About five minutes.

Add the broccoli to the pasta for the last two mins of cooking time. Drain when ready and tip on top of the chicken. Pour the cheese sauce on top of the whole lot and mix wonderfully through.

Apply to Bereft Face for a Cheesy Grin.
Notes
For more of a cheesy kick if you are cooking for just adults add 50 grams of grated Parmesan and another tsp of Dijon Mustard.
It is best served straight from the pan but you can gently reheat it perhaps adding a splash of milk to aid the cheese sauce softening.
If there are leftovers I refrigerate them in the same frying pan for ease of reheating but make sure you put it in the fridge as soon as it is cold.
Nutrition
Calories:
781
kcal
|
Carbohydrates:
82
g
|
Protein:
56
g
|
Fat:
24
g
|
Saturated Fat:
12
g
|
Cholesterol:
140
mg
|
Sodium:
613
mg
|
Potassium:
1152
mg
|
Fiber:
5
g
|
Sugar:
9
g
|
Vitamin A:
1030
IU
|
Vitamin C:
60.1
mg
|
Calcium:
491
mg
|
Iron:
3.3
mg
All nutritional information is approximate and intended only as a guide.
Tried this recipe?
Take a pic and tag @applytofaceblog on Instagram. I would so love to see them!