Chicken Gratin
But first.......some seasonal sadness.
What's with the damn rain? We are off for a couple of days in the caravan tomorrow and I'm tempted to abort. Who the hell wants to be damp and claustrophobic in a caravan with two children who mostly hate each other and a man who snores like an overweight bear????................ Really, really not me.......Lying ba.tard awake for hours on a bed only wide enough for a child and sweating like a bit.h, sweat pooling in my cleavage tangled up in a highly flammable sleeping bag is not my idea of holiday chic........... On the plus side it spares everyone my beach look.
As I sit and write this post a fly is seemingly intent on a suicide mission as it relentlessly dive bombs my face and I have spotted a singular ant about it's business under my dining table, so there are indeed some signs of the season's change but still it rains on and on and on.........Oh to have access to a small fortune for Centre Parcs where rain never stops play and Cafe Rouge, beer and frites are always just around a few corners. Instead I shall be knee deep in carrier bags, carnage and condensation..........Christ.....I can smell it already.
Chicken Gratin Recipe.
So this Chicken and Broccoli Gratin is a dish to brighten even the rainiest of days. I really kid you not. It is incredibly delicious and always a crowd pleaser. I have served it as a Sunday Lunch and a Dinner Party main as well as for general quality filling of face. It can be made ahead and popped in the oven to completely suit you sir. Always a priority for me when entertaining. It is one of my all time favourite meals and I cannot recommend it enough. I am taking it away on this holiday from hell along with lots of lovely Gin. Needs must.........
I try to use a whole chicken for this but you can just use chicken breasts. I find though that the chicken is more tender when cooked whole and it gives a better flavour to the stock. I do try to buy the best chicken that I can afford for this too.
A head of Broccoli is blanched until tender and once the chicken is cooked the stock is boiled down until a pint or so remains and then the cream and wine is added along with a simple roux. As the chicken becomes cool enough to strip all the ingredients are then added to the baking dish in readiness for the topping.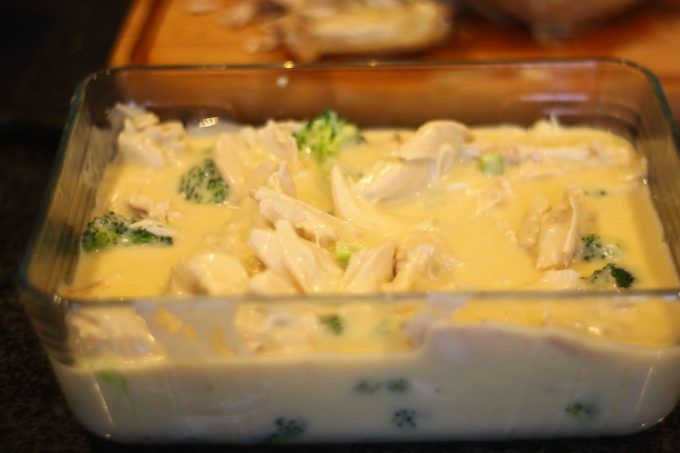 The topping of this Chicken and Broccoli Gratin is a glorious, golden duvet of cheesy crunch. Divine. I like to serve it with small roast potatoes or suchlike and maybe some buttered and peppery green beans. A truly magnificent meal for any and all occasions. Feed me Seymour...........
Here are other fabulous cheer your soul main meal recipes -
Butter Chicken
Cheesy Chicken and Broccoli Pasta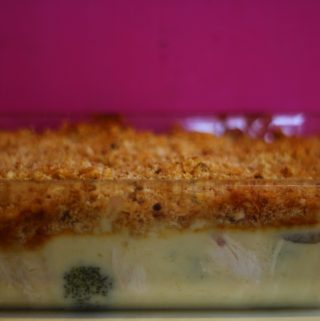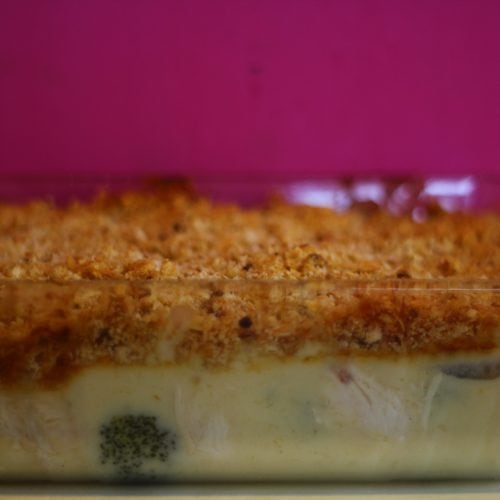 Chicken and Broccoli Gratin.
This Chicken and Broccoli Gratin is simply outstanding. It is incredibly delicious and the wearer of many hats. It can be made hours ahead and baked on cue. It is one of my all time favourite dishes, perhaps even in my top three. I cannot recommend it enough.
Ingredients
1

medium

chicken

5 chicken breasts
1

medium

onion

roughly chopped

2

medium

carrots

roughly chopped

1

large

bay leaf

10

whole

black peppercorns

2

medium

celery sticks

roughly chopped

1

medium

head of broccoli

50

grams

strong cheese

3

tbsps

olive oil

2

pints

chicken stock

100

mls

dry white wine

100

mls

double cream

50

grams

butter

50

grams

plain flour

110

grams

breadcrumbs
Instructions
Put your whole chicken in a snug fitting casserole dish along with the onion, carrot, peppercorns, bay leaf and pour over enough chicken stock to just cover the chicken. Season with salt and black pepper. Slowly bring to the boil and then simmer until cooked. About 45 mins/hour for the whole chicken and fifteen/twenty for the breasts. If cooking the breasts then use all the stock.

Blanche the broccoli until just tender, drain and set aside to cool.

Remove the chicken from the pan and set aside to cool. Strip the meat from the carcass. I just rip it into chunks.

Strain the cooking liquid and return to the pan. Boil until reduced to about a pint and a half left of liquid. I have a measuring jug handy to check. I blitz the remaining veg from the pot in the food processor and add it back into the broth.

Preheat the oven to 180 C.

Make the roux simply by melting the butter and then adding the flour over a low heat for a few mins in a saucepan. Pour in the reduced chicken broth, cream and wine and bring back to the boil stirring with a whisk constantly until thickened into a beautiful sauce. Season to taste.

Pour the sauce over the chicken and broccoli in your intended baking dish.

Mix the cheese and breadcrumbs together in a bowl and then drizzle over the oil. Mix again well before sprinkling it over the top of your chicken mix.

Bake for about 30/45 mins or until golden brown and bubbling.

Apply to Very Grumpy and Clammy Camping Face.
Nutrition
Calories:
663
kcal
|
Carbohydrates:
39
g
|
Protein:
37
g
|
Fat:
38
g
|
Saturated Fat:
12
g
|
Cholesterol:
131
mg
|
Sodium:
557
mg
|
Potassium:
959
mg
|
Fiber:
5
g
|
Sugar:
7
g
|
Vitamin A:
4545
IU
|
Vitamin C:
95.3
mg
|
Calcium:
189
mg
|
Iron:
4.1
mg
All nutritional information is approximate and intended only as a guide.
Tried this recipe?
Take a pic and tag @applytofaceblog on Instagram. I would so love to see them!