Easy Chocolate Muffins.
But first..........some disorganised chaos.
God I'm disorganised. I seem to run round in ever decreasing circles achieving sweet F.A. most of the time. Somehow I imagined that as the kids got older I would be able to tackle all the jobs in the house that I had been putting off for the last few hectic years:
Tackle the shit tip / dangerous hoarding area of the loft. It is a bin liner mountain. There may well be a small child lost amongst it. At the very least a dead cat.
Compile wonderful, lengthy and labelled photo albums encapsulating the children's early childhoods and my extensive problems with weight gain.
Clear out the back of the fridge. There are jars of pickled beetroot and chutneys there from my early thirties. I swear I saw a couple of Cherry Panda Pops back there the end of last year.....or was it the year before......?
Collect all the loose change from the bottom of the drawers, old Quality Street Tin, coat pockets, back of the sofas and, with the aid of a wheel barrow, take it into the bast.rd bank. I reckon there HAS to be an all inclusive holiday to Majorca for a family of four in it.
Recycle the 1546 batteries I have in a carrier bag that would break open immediately if I ever had the strength to lift it from it's bowed bottom drawer........
Clear out all the out of date drugs and medicines that I have pilfered away just in case of that raging tooth or ear infection that I need to immediately treat with three different sorts of antibiotics because I only have two left of each type......on the other hand if your child goes down with nits then I'm your gal.......but again you'll have to mix and match, half a head with each treatment.......I could practically treat a girl band, I have them all.
.........and finally the ironing basket. I swear there are two pairs of high waisted jeans and some stripy crop tops from 1995 half way down.......just in time to be back in fashion again. However my substantial middle roll would sit just in the right place for full frontal fat roll nudity. On the plus side it would practically put a complete stop to upper torso chafing......maybe I could even bin the Lanacane from the medicine cupboard......kiss my organised ass.
In the meantime I remain gladdened by this simple chocolate muffin recipe. Robust, moist and chocolatey this muffin can stand alone with or without icing, it cares not and neither do I.
Recipes for chocolate chip muffins are ten a penny so I have seriously pimped these babies up....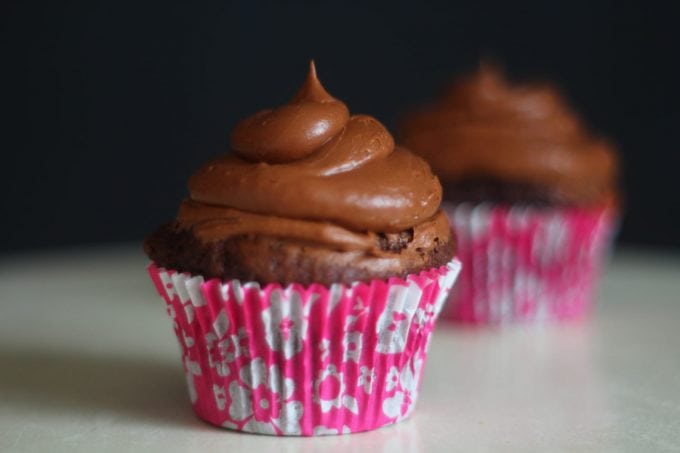 Chocolate Muffin Recipe
In essence it is a Chocolate Chip Muffin recipe and I pimped them with Galaxy Caramel Eggs pushed into the mixture which I thought was lush. I think if you were not using icing then you could put two eggs in per chocolate muffin but as I doubled up, I just used one.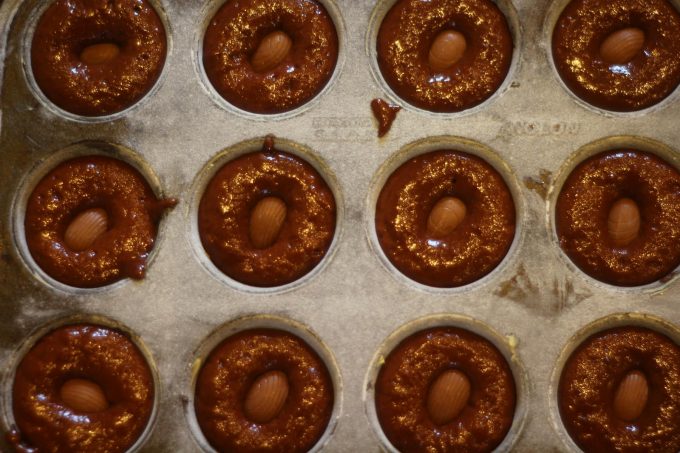 I used a Chocolate Ganache as my icing. In this combo I think it works better than Buttercream. You can pimp this easy Chocolate Muffin recipe as much as you like. My kids really only like milk chocolate chips so I usually just add those but you could use any chunks of chocolate that float your boat. The Galaxy Eggs really were delish but I was also thinking of trying the Lindt Chocolate Balls.......yeahhh baby....
I have made these without paper cases as well as with. It is def much easier with otherwise you have to grease and flour each individual muffin hole like your life depended on it. The recipe itself is very simple dimple. Just a mix of the wet and dry ingredients together and you're away. Enjoy........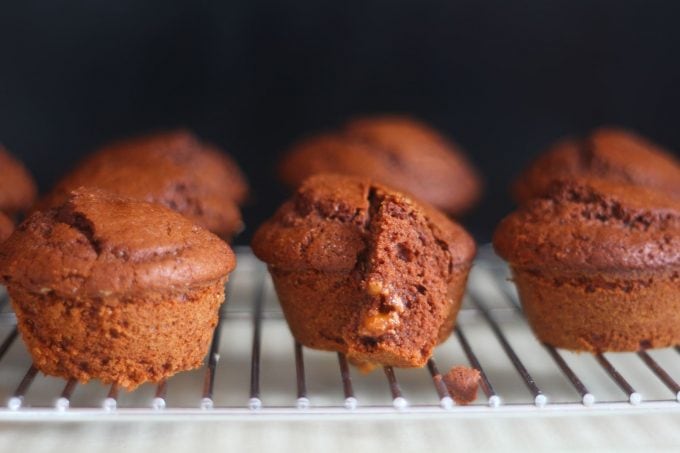 More Chocolate Baking -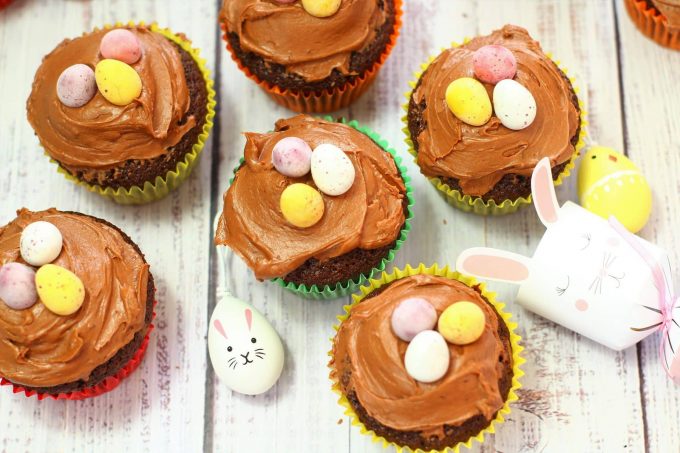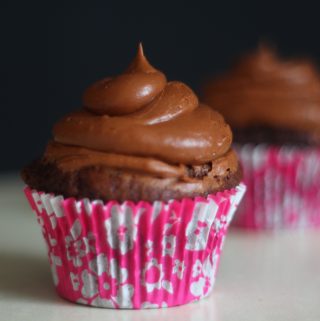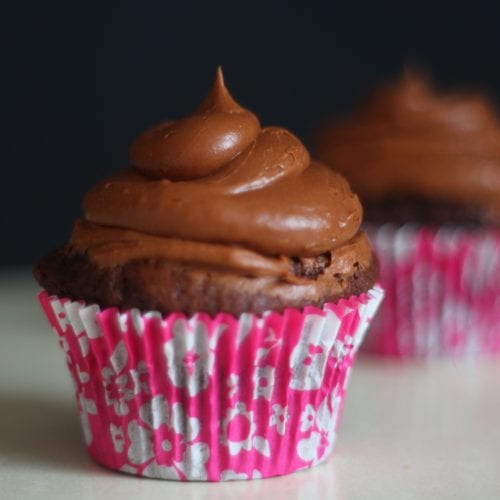 Chocolate Muffins.
An incredibly simple recipe for delicious Chocolate Muffins. Pimp as you see fit or just stick to classic chocolate chips. I like to add this Chocolate Ganache but my children prefer them plain. Either way they're very good.
Ingredients
Chocolate Muffins
300

grams

self raising flour

30

grams

quality cocoa powder

1

tsp

baking powder

½

tsp

salt

250

grams

caster sugar

2

medium

eggs

1

tsp

vanilla extract

120

mls

vegetable oil

220

mls

milk

150

grams

chocolate chips

or any choc to suit
Chocolate Ganache
150

grams

dark chocolate

cooking

240

grams

double cream

250

grams

icing sugar
Instructions
Pre-heat your oven to 200 C. Put all the dry ingredients for the muffins into a large bowl. I sieve the cocoa to remove any lumps. Mix well to combine.

Mix all the liquid ingredients for the muffins together well.

LIne a muffin tray with paper cases.

Pour the liquid ingredients into the dry and mix well until no pockets of flour remain.

Dollop into the paper cases the muffin batter.Fill ⅔ to the top. Bake for 15/20 minutes.

Place on a wire rack to cool.
Chocolate Ganache.
Chop the chocolate into small pieces about ½ cm chunks.

Bring the cream to the boil in a saucepan. Pour over the chocolate, leave for a few minutes and then stir until the choc is completely melted.

When the mixture is cool add the icing sugar, mix well until smooth and then refrigerate for an hour or so.

Decorate your muffins either piped or freehand it matters not.
Nutrition
Calories:
574
kcal
|
Carbohydrates:
77
g
|
Protein:
7
g
|
Fat:
27
g
|
Saturated Fat:
18
g
|
Cholesterol:
62
mg
|
Sodium:
137
mg
|
Potassium:
245
mg
|
Fiber:
3
g
|
Sugar:
53
g
|
Vitamin A:
400
IU
|
Vitamin C:
0.2
mg
|
Calcium:
87
mg
|
Iron:
2.4
mg
All nutritional information is approximate and intended only as a guide.
Tried this recipe?
Take a pic and tag @applytofaceblog on Instagram. I would so love to see them!
Do let me know how you get on in the comments below. I love a good old hairy chinwag.