This Easy  Mid week Vegetable Lasagne is just delicious and quite frankly I could eat it every day. The buttery tomato sauce provides a wonderful back note for the garlicky vegetables and cheesy layers of fresh egg lasagne.
But first……dress up day…….
Thank God World Book Day is over. I sent mine off to school this morning with a "Thank Friday for that"……  this time I had managed to pull it off. They were actually looking forward to showing their costumes off. For the love of God though, what a nightmare! Giving birth was easier….. I absolutely dread this dressing up nonsense………I never know which way it's going to go……but more often than not it goes t.ts and I end up feeling the worst parent ever.To make matters worse my Facebook feed is usually flooded with their classmates amazing outfits that have evidently all been acquired from the BBC Drama Costume Department  ?????
The obvious answer when you're about as arty and creative as a brick is to spend a sh.t load of money on Amazon. However, obstinate tight arse that I am, I made a stand when my youngest hit Year 2. It was, and still is, never bloody ending. I mean seriously school authorities people??????? It must make more children feel unhappy and embarrassed than it does empowered and fabulous . I can't believe that I am in the minority as a useless dresser upper parent. I know mine usually take it in turns for the preceding 24 hours to sob, scream and make hysterical declarations about never going to school again. Breakfast is then a stress fest as I navigate my way through the tears, alternating between mouthfuls of Rice Krispies and  "you can't make me's" …..Surely we can't be alone.
There was never any of this tom foolery in my day. Good job too otherwise I would of been sent to school in a pair of rolled up pyjamas and a headscarf whatever the occasion or theme………..
The Best Easy Vegetable Lasagne Recipe.
As the usual term drudgery starts and I can think not what to make for easy mid week teas this amazing vegetable lasagne recipe saves the day and would lift any tense situation. My recipe here is absolutely yummy. A word I am not fond of but it is very applicable here. I like to make it on a Wednesday when levels of enthusiasm are perhaps low and a general cheering is required. This incredibly delicious vegetable lasagne recipe is more than up to the job.
Apart from the deliciousness thing the ease and simplicity with which this is rustled up is the real boon. Easy dinner recipes just make me soooooo happy inside. No white sauce  shenanigins, just the one veggie sauce, a scattering of whole veg, pasta and a load of cheese. It is for this reason alone that I suggest it's suitability for it's title "Easy Vegetable Lasagne" Midweek is not a time for bechamel.
I puree the butternut squash, garlic and pepper. Then I simmer the passata for fifteen minutes with a quartered onion and a big knob of butter. This makes the passata tastes INCREDIBLE! I lie not. I then chuck all the veg in, pureed and whole and simmer for another fifteen.
I then just layer this baby up. I am a huge fan of the fresh pasta that you can buy at supermarkets, I buy the sheets and what I don't use I cut into strips for pasta later in the week. You just have to be careful that you wrap it back up well as it dries out very easily. I also freeze it double wrapped. A layer of veg loaded with half the cheese (tear the mozarella up well so that it melts sufficiently), another very scant layer of just sauce (I just scoop out the puree and passata sauce from the saucepan leaving the whole veg behind), another pasta layer and then remaining veg and the cheese. I push the cheese down into the sauce a bit. Just a note to use the cheapest mozzarella as the nicer ones can contain too much water.
Then bake for about forty mins. Paired with garlic bread it's as good as a large glass of wine for spreading the midweek love. Obvs you could prep the veg beforehand and the simmering of the passata with an onion and butter is not essential but if you're having a bad week……do it, you'll thank me for it later.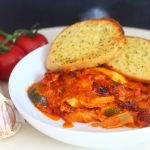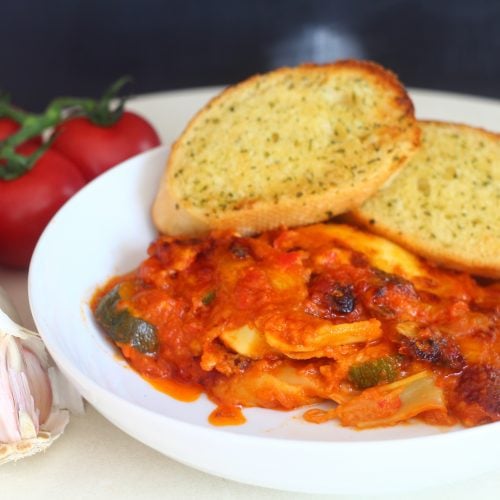 Easy Midweek Vegetable Lasagne.
This Vegetable Lasagne is not only super delicious it is super easy too. It is without bechamel relying instead on two cheeses to provide contrast to the garlicky vegetable sauce and soft pasta. Just what is required on a Wednesday.
Total Time
1
hour
15
minutes
Ingredients
150

grams

chestnut mushrooms

1/2 cm slices

1

large

red pepper

100

grams

butternut squash

frozen chunks from supermarket.

1

medium

courgette

1cm disc slices

500

grams

passata

1

medium

onion

cut into 1/4's

25

grams

butter

150

grams

mature cheddar cheese

grated

250

grams

mozarella

2 balls-the cheap stuff

3

medium

cloves garlic

2

sheets

fresh pasta
Instructions
Put the passata,onion and butter into a medium saucepan and simmer for fifteen mins. Puree the squash, garlic and red pepper in a food processor.

When the passata is ready scoop out the loose onions as best you can and throw away. Tip the puree and then the sliced veg all into the saucepan. Simmer again for ten mins. Season carefully to taste.

Preheat the oven to 180 C and spoon into the bottom of your dish roughly nearly a half of the veg mixture. Sprinkle the cheeses all over the veg layer. Put a layer of pasta on top and then a scant layer of just the sauce before another layer of pasta. Top with remaining veg mixture and then cheese.

Bake in a oven for forty five mins or until the top is brown and bubbling.

Apply to Nailed World Book Day Face.
Nutrition Facts
Easy Midweek Vegetable Lasagne.
Amount Per Serving
Calories 508
Calories from Fat 243
% Daily Value*
Fat 27g42%
Cholesterol 104mg35%
Sodium 675mg29%
Potassium 1221mg35%
Carbohydrates 37g12%
Protein 30g60%
Vitamin A 5475IU110%
Vitamin C 82.3mg100%
Calcium 652mg65%
Iron 4.4mg24%
* Percent Daily Values are based on a 2000 calorie diet.
Here are some more  quick midweek meals  – Pork, Spinach and Mushroom Lasagne.
I have linked this recipe with Fiesta Friday  & Laurena @ Life Diet Health