All children love Pizza right? And all children love Halloween, double right?! These are the Halloween Pizza Ideas that I always bring to my party table. Super simple Halloween Pizza Ideas and lots of fun. Boo!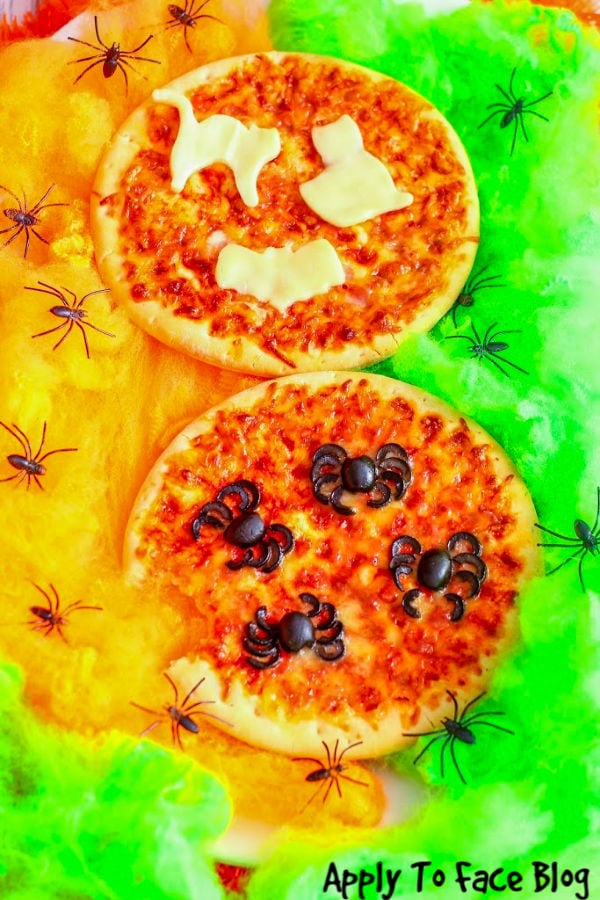 But first…….
I had an absolute nightmare yesterday. A morning of sweating and fretting and about 20 miles traversed in shoes too small for me and a bra that gave no better support than a couple of limp lettuce leaves tied together with a cheese string.
Obviously I would have dressed more for action if I had had any inclination that things were going to get tough. Nowadays my body needs all the help it can get for anything more than a relaxed amble.
The trouble at hand was securing more HRT patches. Apparently they are rarer than a Brexit deal.
My usual chemist refused to meet my gaze as I passed over my prescription. Sorry, I haven't seen any for months…….before turning away and leaving my oestrogen receptors in a world of pain. What??????
He was unhelpful to say the least so I quickly found myself out in the cold doing all I could to track some hormones down.
At last I located a box across town and set off, more than annoyed that my morning was rapidly disappearing. As I drove into the chemist's car park I quickly realised that there was a major altercation going on. Arms were flapping and horns were blaring as an older lady had become confused and blocked the entry. Poor woman…..
I'm sure she could have done with a patch or ten. I know the man having a go could have done with a sedative. What a prat….Aren't some men ….heads?
I had to leave her to her fate and reverse out of there. Aware that there was only one box left in the whole of my home town and thousands of anxiety ridden, very angry women were after it.
So I did what any self respecting menopausal woman would do who doesn't give a flip anymore. I parked on double yellows and ran as fast as my rubbish bra would facilitate almost hoping I would be challenged so I could swear profusely at someone……
The running was not a good look….. I rocked and rolled my way to the chemist only to be turned away again because I had come to the wrong one….. What??? I swore profusely at myself….
Jogging back again to my illegally parked car I came upon a huge artic unable to deliver it's load because I had parked where I so shouldn't.
I made the decision to pretend as if I was completely unaware of the problem I had caused and nonchantly got into my car ignoring the angry gestures and mutterings from the pavement.
Armed with directions I eventually pulled into yet another damn car park. I was losing the will to live by now and made yet another poor choice. I couldn't be arsed to cross the car park to get a parking ticket. I chose to keep glancing out the window of the chemist instead…..
Obviously a traffic warden soon appeared and yet again I quickly sprinted/flapped myself back across the car park just in time to prevent a hefty fine.
By now I was chafing in places I really didn't want to chafe in. My shoes were not suited to speed and my bra had all but left the building. I really didn't blame it.
So I was forced to leave this car park and go to the nearest one I could find as I had to pretend to the traffic warden that I had just been dropping something off. For the love of God and all that is holy…..
Unbelievably this next car park's ticket machines were all Out Of Order. I could have wept. They instructed me to walk into yet ANOTHER car park to purchase said ticket. By now I had well and truly learnt my lesson and decided there was nothing for it but to behave. I dutifully trotted another frickin mile to the damn ticket machine. Obviously I didn't have the right money and at that moment I genuinely thought about just giving up and going home to shrivel up alone with lots of biscuits.
The thought of panic attacks and full blown rages kept me committed however and I reached again into my pocket and could not believe my luck to find another pound coin hiding out amongst all the fluff.
My luck had finally turned. I could feel it in all my fat. After another trek back to the chemist that paper bag was damn well mine.
The moral of this story is of course…… Don't be such a disorganised old fool. A morning like that now takes years off my life. Good job I can indulge myself in all these childish Halloween frivolities. I think I am just as excited as my children and the real beauty of it is that I can do it in my slippers with my bra off.
Halloween Pizza Ideas
These simple Halloween Pizza Ideas are always what I bake on Halloween for my children. I do the whole Halloween Party Tea thing before we go trick or treating. I find them perfect as they can be prepped before hand and simply popped in the oven. Just what is required when the kids are off their nuts on excitement and I can only just about cope.
The first option is a pizza hand complete with red pepper talons. I buy the cheapest ready made pizzas I can find because there is a bit of waste. I also buy the medium size to make sure they are big enough. I then simply draw around my wrist and hand and carefully remove the excess pizza. I then cut out talon triangle shapes from a red pepper and place them on the top of the fingers. Bake per the pizza instructions when you are ready for it.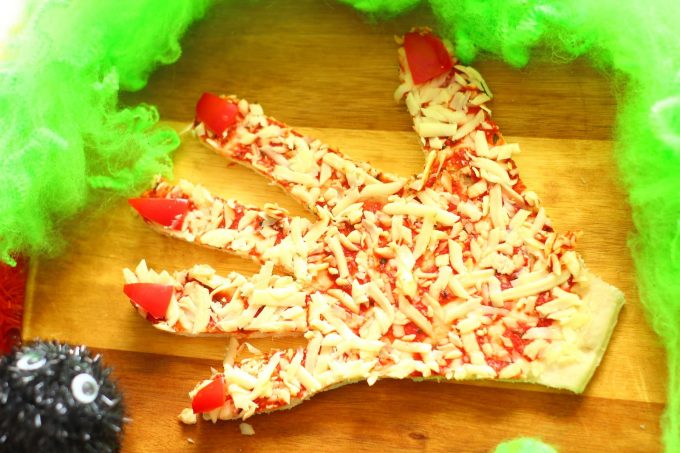 The next option is the Olive Spider Pizzas. I buy the small pizzas here for the children but of course you could make them with larger ones. I do know that olives are perhaps not an average favourite of children but the olives can always be left discarded on the plate.
I buy black olives in a jar and slice them in half. I leave some whole and then slice up a whole load of the other halves into 1 mm slices for the legs. arrange the spider legs around the olive bodies. Again bake as per pizza instructions when you are ready for them.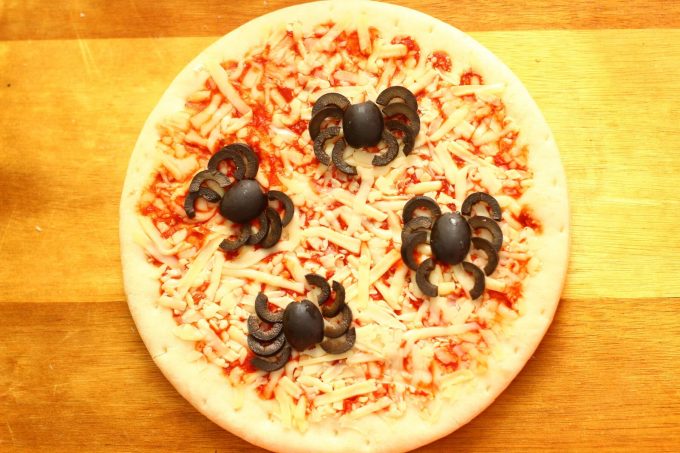 The final option is my children's favourite. I bought some Halloween shape cutters from Amazon making sure they were small. Mine measure on average 5 cm across and up. I buy blocks of mozzarella for pizzas. You want the more robust mozzarella. I then slice the pizza into 2 mm slices. It is a bit fiddly to do. I then cut out the mozzarella shapes with the cutters.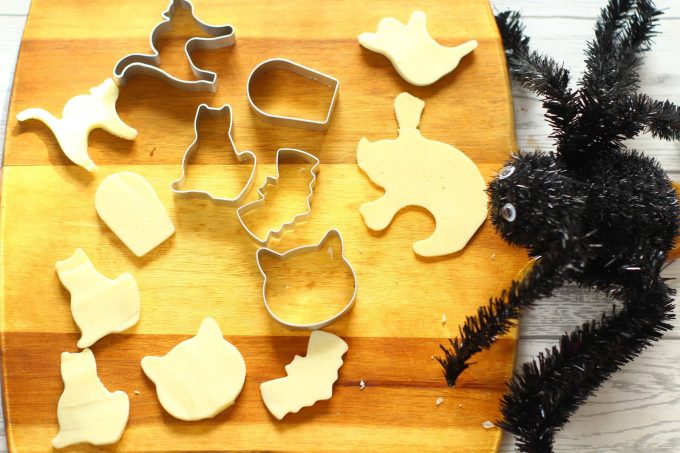 Bake your pizzas without the cheese shapes and then place on the pizza immediately when you fetch them from the oven. Then the shapes will be warmed through from the hot pizza but not melt and lose their spooky shapes.
I also do the same with red pepper but bake these in the oven with the pizza. Sometimes the red pepper can be very thick in depth. I will trim it thinner if that is the case otherwise it will be still be raw by the end of the pizza cooking time.
I like to have a group of children round for my Halloween Tea Parties and obviously I like to over cater so the parents can tuck in too. These Halloween Pizza Ideas always go down a storm and I love how I can do all the prep before the little snotters arrive. Check out my article for BritMums on some more Halloween Party Treats. I absolutely love a Halloween Party Table.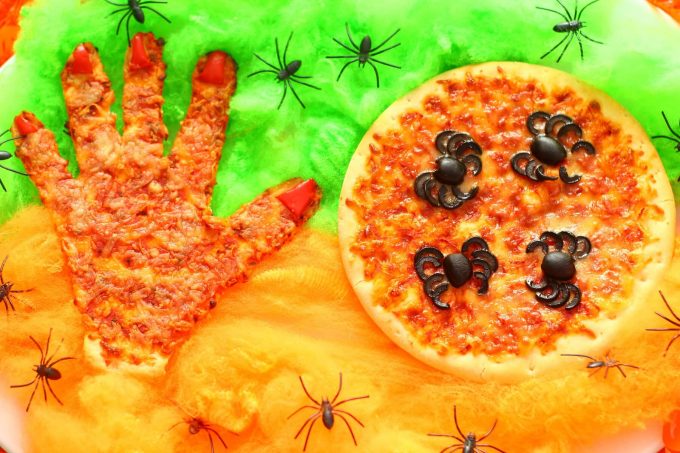 Halloween Pizza Tips
Use the cheaper pizza mozzarella as it keeps its shape better
Make the pizzas ahead and cover until you are ready to bake. This gives you more time for the hysteria
Use a medium pizza for the monster hand pizza and keep your fingers spaced well apart when cutting around.
Don't put the mozzarella on until the pizza is baked. Otherwise it will lose it's shape.
Trim the peppers if the flesh is thick so as to make sure they cook enough.
Obviously you can make just one type of pizza to suit your family. You will need to change the amounts of ingredients accordingly.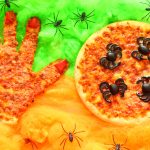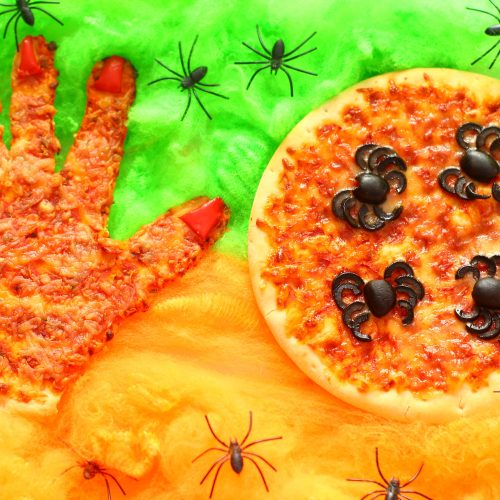 Halloween Pizza Ideas
Halloween Pizza Ideas. Simple and easy ways to dress up ready made pizzas for the Halloween Party Table.
Ingredients
4

small/medium

ready made margerita pizzas

100

grams

mozzarella

pizza mozzarella

1

large

red pepper

12

stoned black olives
Instructions
I use a medium pizza for the monster hand pizza. I use my own hand to carefully cut around making sure that I keep my fingers spread apart. Make sure that you don't drag the knife when cutting as the pizza base can rip. Carefully remove the cut off waste from around the hand shape and set aside. Cut out triangle talon nail shapes and place on the top of each finger.

To make the olive spider pizzas I use a small pizza and cut all the olives in half. Place 4 olive halves on the pizza and then slice the remaining olives into 1mm strips for legs. Place 8 strips around each olive half.

To make the halloween shape pizzas I again use the small pizzas. I cut the mozarella blocks lengthways in 2 mm layers. Do the same out of red pepper 1/4's. I cut the pepper into four and use the leftovers for the monster hand talons. I press the pepper as flat as I can before punching out the shapes. The shapes are on average 5 cm high and wide. If the pepper is very thick I trim some of the thickness off otherwise the pepper will not be cooked by the end of the pizza baking time.

The mozzarella shapes when cut out should be set aside and only placed on the pizza immediately after baking. Otherwise it will melt hopelessly in the oven.

Bake the pizzas according to the instructions.

Apply To Chafed To Hell Face
Recipe Notes
Use the cheaper pizza mozzarella as it keeps its shape better
Make the pizzas ahead and cover until you are ready to bake. This gives you more time for the hysteria
Use a medium pizza for the monster hand pizza and keep your fingers spaced well apart when cutting around.
Don't put the mozzarella on until the pizza is baked. Otherwise it will lose it's shape.
Trim the peppers if the flesh is thick so as to make sure they cook enough.
Nutrition Facts
Halloween Pizza Ideas
Amount Per Serving
Calories 392
Calories from Fat 72
% Daily Value*
Fat 8g12%
Cholesterol 20mg7%
Sodium 345mg15%
Potassium 106mg3%
Carbohydrates 3g1%
Protein 17g34%
Vitamin A 1500IU30%
Vitamin C 52mg63%
Calcium 135mg14%
Iron 1mg6%
* Percent Daily Values are based on a 2000 calorie diet.
Check out these other Halloween recipes.