These Halloween Brownies are really fun and super cute. Easy to assemble and packed full of chocolate they are always a real Halloween Party hit.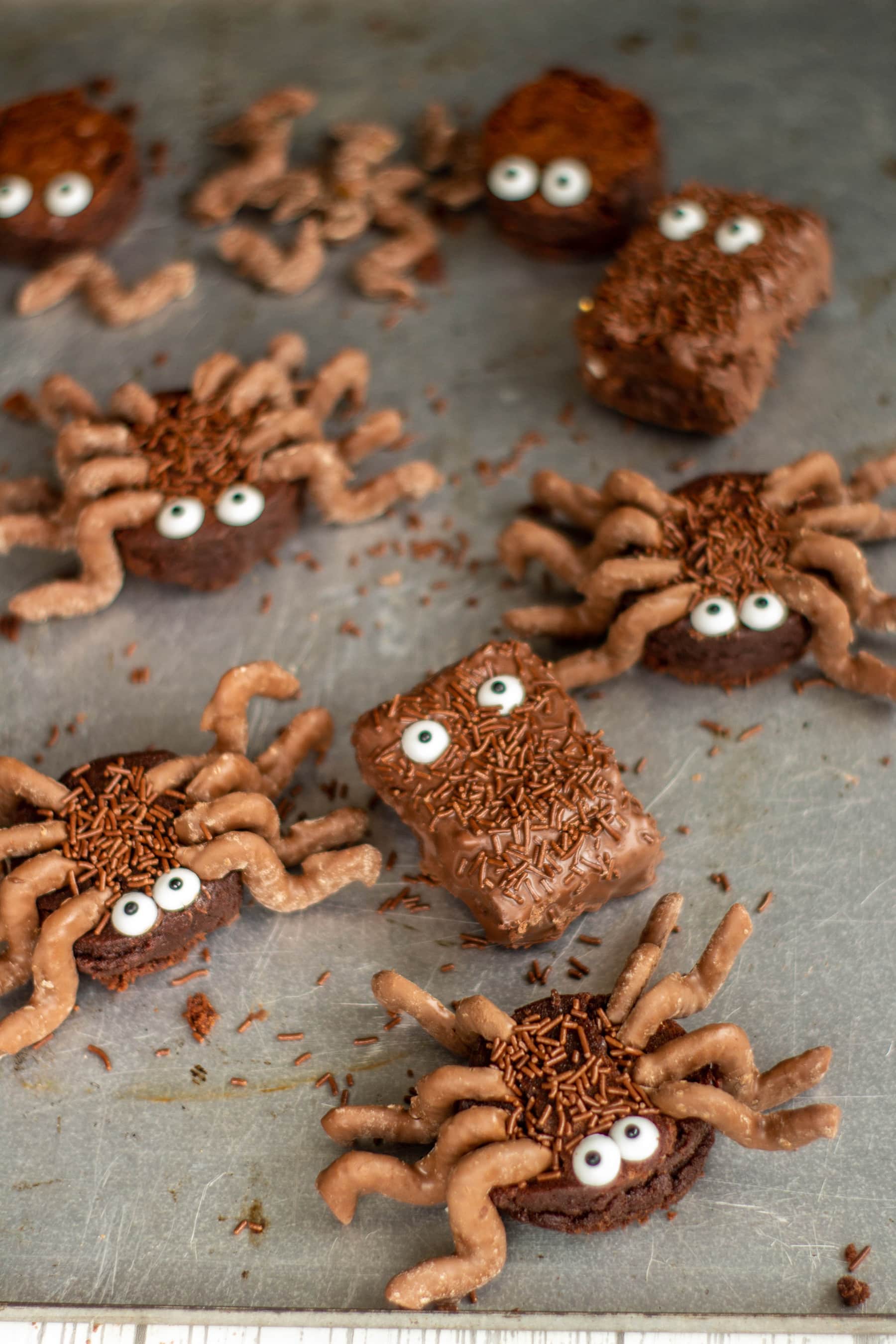 I love/am obsessed with Halloween. Don't get me wrong I am not one of these die hards that gets dressed up. I leave that to the kids. However I adore all the stuff that comes with it, all the Halloween trimmings if you will. These Halloween Brownies stole my heart at first sight. Any excuse to ram my face with Brownies is obviously an incentive but the adorable cuteness of them just screamed out to me. I'm a sucker for a pair of candy eyes.
Halloween Brownies
Last week I shared my Halloween Pizza Ideas with you. Super easy and again really just an assembly job. Also perfect to make with the kids.
These Brownie Spiders and Monsters will be on my Halloween Table alongside those goofy Pizzas. I'm going for the whole cute, spooky vibe with a smattering of blood and snot....just a smattering.
I love them because they are easy to make, full of chocolate and can be made ahead. I literally want almost all of the prep done before any hysterical kids are under my feet doing my head right in. Otherwise the blood may well be real.
Lets begin with the Monster Brownies. I make a batch of my Easy Chocolate Brownies and melt some milk chocolate. I do this in a bowl over a saucepan of simmering saucepan. I always melt milk chocolate like this rather than in the microwave. I find it burns more easily than dark chocolate.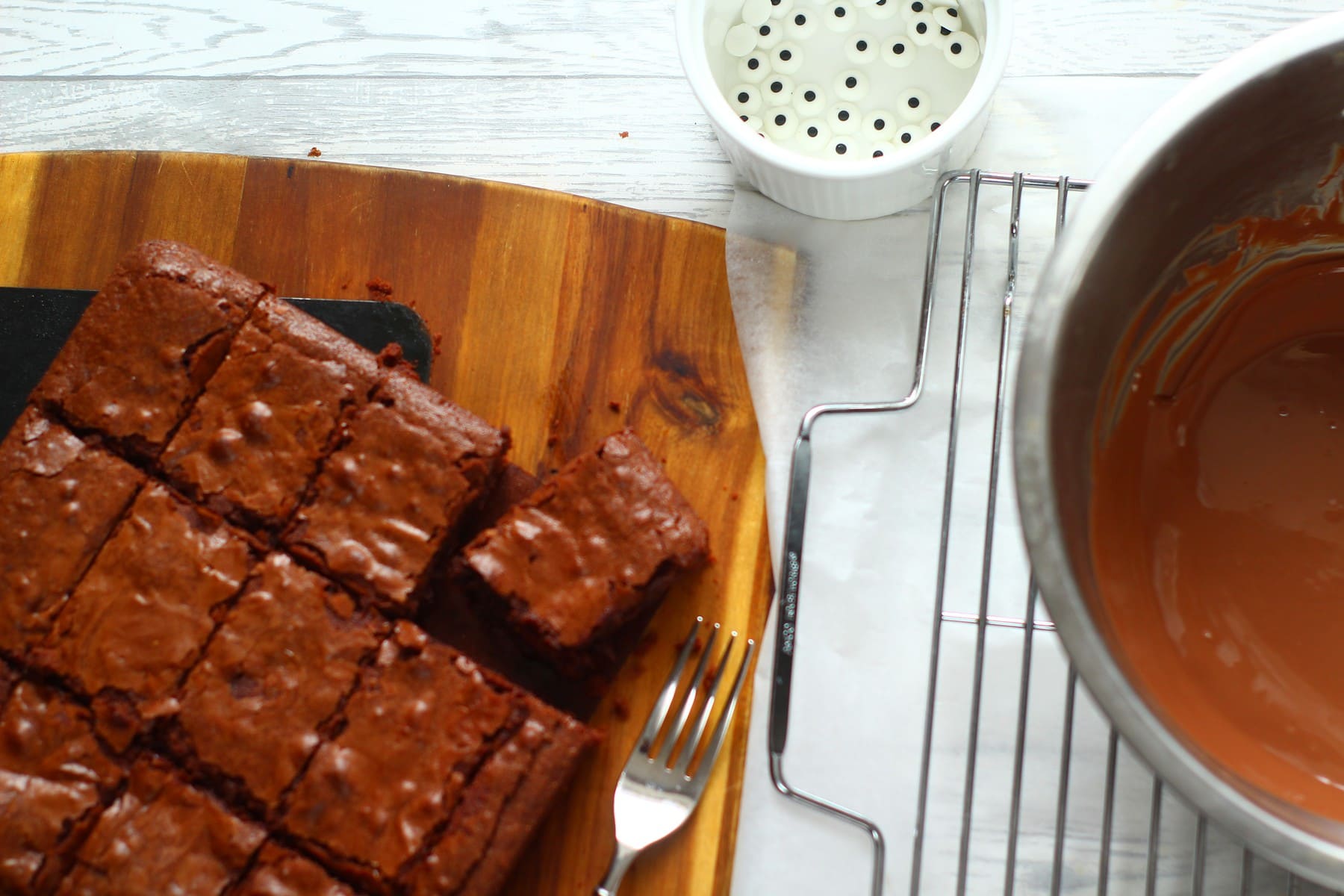 I let the brownies cool completely before coating in the melted chocolate and leaving to set on a wire rack. Before it sets I cover with chocolate sprinkles and place two candy eyes on the top of the brownie. So simples.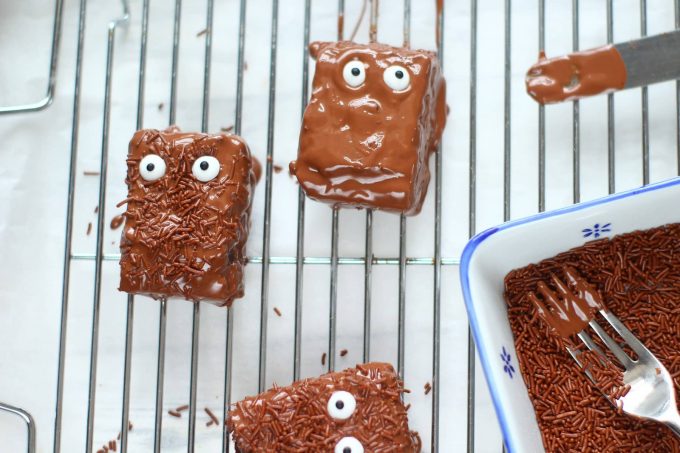 You can let the kids help you here if you have the patience of a saint and you are prepared to hose them down before they set foot anywhere else in the house.
Let them set and cover. I use a cake dome or tupperware. But they need their own space. I know how they feel....So don't layer them.
The Brownie Spiders are perhaps my favourites but are slightly more fiddly. You can either use one batch for half and half of each monster/spider shapes or make one batch each.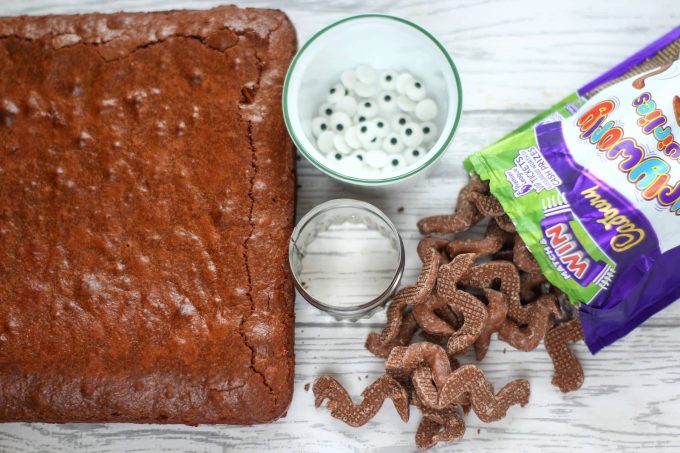 These are super simple to make. Plus the fact that Cadbury Curly Wurly Squrlies are absolutely gorgeous. A chewy Cadbury caramel little squirl. I'm in Cadbury love all over again. And each Brownie Spider gives you eight of them....more than enough reason to make these beauties.
I use a cutter to cut out a round brownie body and then use a knife to make eight little dashes in the brownie so that I can push the squirls/legs in.
I do turn the brownie circles over so I get the soft side to put the legs into. It is much easier than dealing with a slightly crusty top.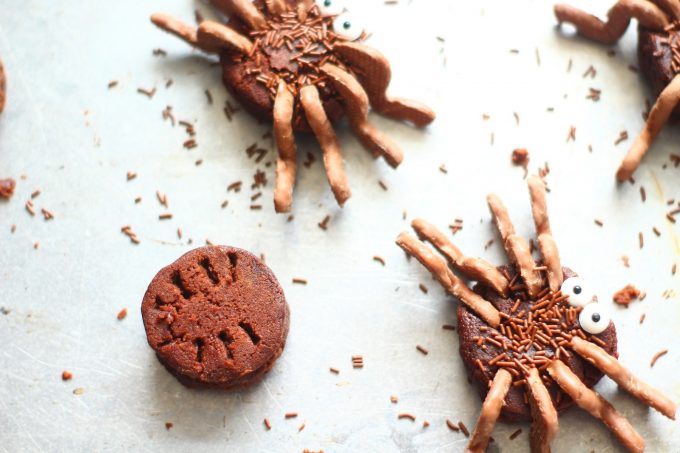 I use a bit of melted chocolate or icing to fix the candy eyes on top. I then sprinkle over some chocolate sprinkles.
Just push the tops of the squirlies into the holes that you have made just enough to make them stand without leaning. Support the brownie as you do so.
Moving them is a careful business but if a leg falls off in transit just replace when it reaches it's destination. Try to resist the overwhelming urge to snaffle it unless your child is not old enough to count....in that case eat at least three.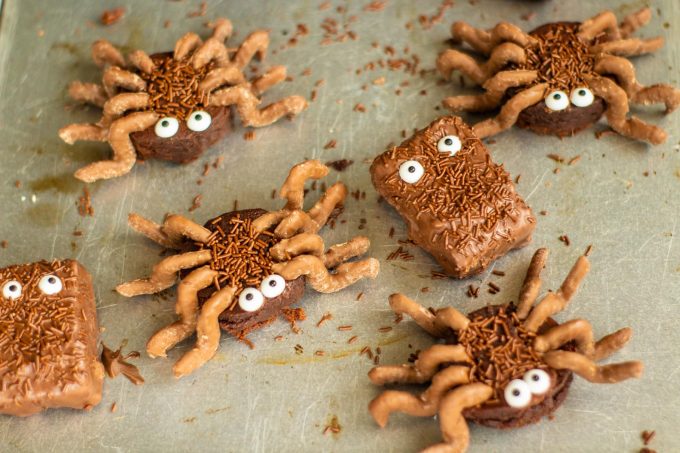 Here are some more great Halloween Recipes
Or you could make them with Nutella Brownies instead.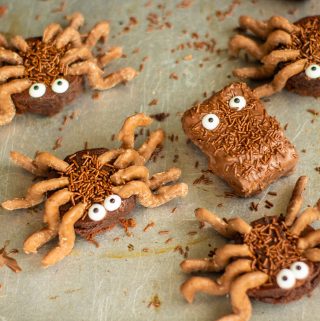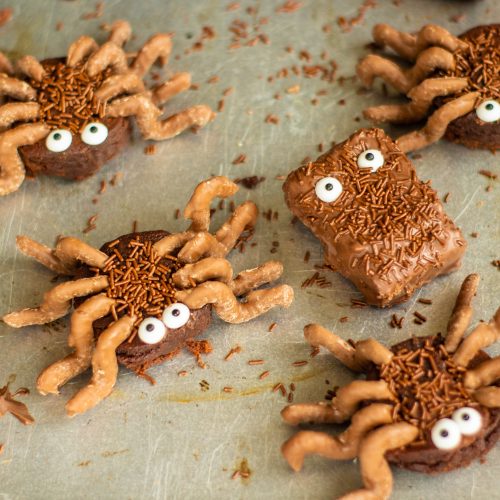 Halloween Brownies Ideas
Halloween Brownie Chocolate Spiders and Monsters. Easy to put together and super cute. Great to get the kids involved with too.
Ingredients
Brownie Monsters
½

batch

brownies

14

medium

candy eyes

100

grams

cooking milk chocolate

10

grams

chocolate vermicelli
Brownie Spiders
½

batch

brownies

8

medium

candy eyes

2

bags

curly wurly squirlies

10

grams

chocolate vermicelli
Instructions
Monster Brownies
If you are making a ½ a batch of each then slice ½ of the brownie square and cut into small rectangles. I make mine about 4 x 6 cm. Melt the chocolate carefully in a bowl over a simmering pan of water. Don't let the children do this bit!

Using your fingers or a couple of forks, carefully coat the brownies in chocolate and set on a wire rack over a sheet pf baking paper to catch the chocolate drips. Sprinkle with milk chocolate sprinkles and fix a couple of candy eyes. Allow to set.
Spider Brownies
Using a round cutter (mine is 5 cm) cut out rounds of brownies and turn over to the soft side. Make 8 little cuts in the brownies for the legs/squirlies to go into. Push the legs gently into the holes. Support the brownies with your fingers as you do so.

Fix on a pair of candy eyes with some melted chocolate or icing and sprinkle with milk chocolate sprinkles.
All nutritional information is approximate and intended only as a guide.
Tried this recipe?
Take a pic and tag @applytofaceblog on Instagram. I would so love to see them!
Do let me know how you get on in the comments below. Or do come on over and follow me on Facebook or Instagram. I do love a good old hairy chin wag.